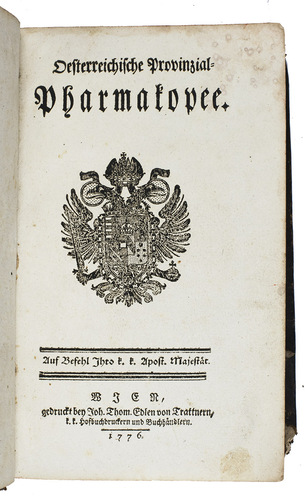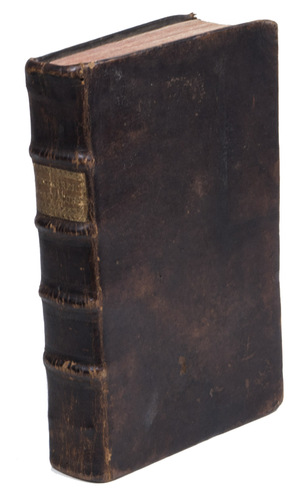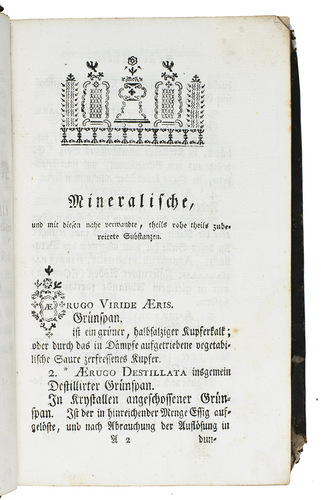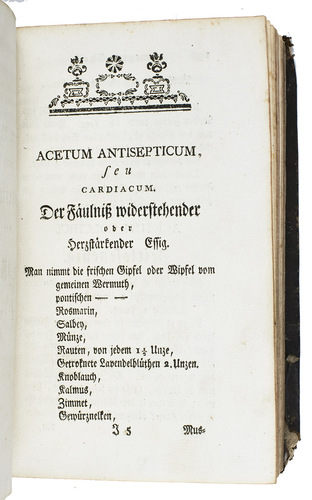 [AUSTRIA - PHARMACOPOEIA].
Oesterreichische provinzial-Pharmakopee...
Vienna, Johan Thomas Edlen von Trattnern, 1776. 8vo. With a woodcut coat-of-arms on the title-page and typographical head- and tailpieces. Contemporary calf, light brown morocco spine label with title in gold, red sprinkled edges. [10], 384, [18] pp.
€ 300
First edition of the German version of the Pharmacopoeia Austriaco-Provincialis, first published in 1774. Many editions of both, the original Latin and German translation followed.
Based on a thorough analysis it can be determined that pharmaceutical care was on a high level in the area of South-Eastern Europe and that it followed the scholarly pharmacy in the Habsburg monarchy.
The necessity to publish the pharmacopoeia in German was because it was used by minor medical professions without knowledge of Latin, such as surgeons. A Dutch translation of the pharmacopoeia entitled Apotheek der Oostenrijksche Staaten which was based on the edition of 1775 was published in Rotterdam in 1780. The content and the format of the new pharmacopoeia had changed dramatically compared to the former one. While the Viennese Dispensatory represented a Baroque pharmacopoeia in size and in its abundance of recipes, the new Pharmacopoeia Austriaco-Provincialis was a rather small booklet with a drastically reduced number of formulations.
Two sections built up the body of the pharmacopoeia. The first one cited the Materia Pharmaceutica (minerals, crude drugs of plant and animal origin) in separate chapters mentioning the Latin name, the scientific identification and the Austrian local name of all items. Another chapter listed the chemical characters, some of them still representing alchemical signs. The second part consisted of formulated preparations in alphabetical order, followed by an index. The pharmacopoeia had a new concept, and, for the first time, specified the medicinal ingredients alphabetically and listed the formulations in alphabetical order according to the recipes names.
Corners slightly bumped, otherwise in very good condition. Christa Kletter, The civil Pharmacopoeias of Austria (Paper Austrian International Society for the history of Pharmacy, 2015), pp. 7-8.
Related Subjects: