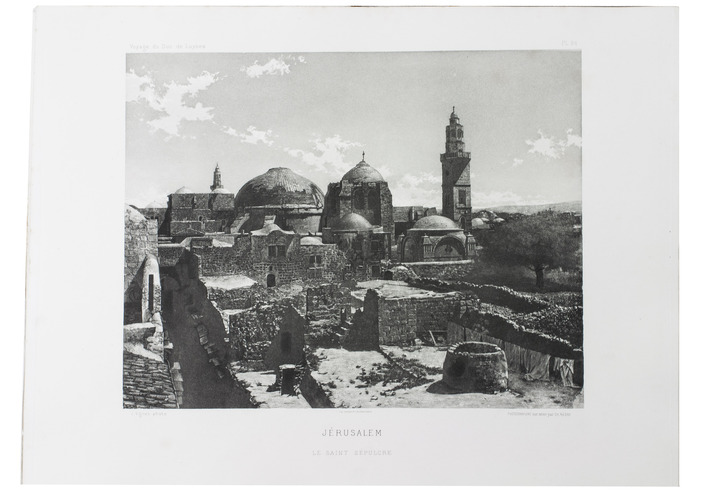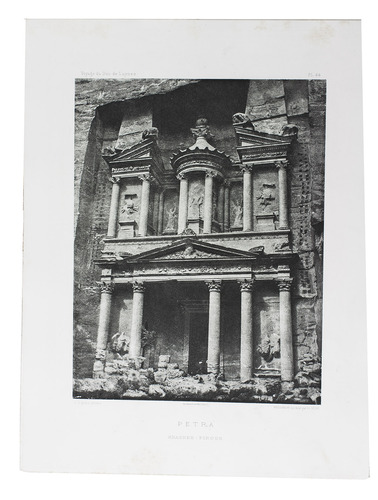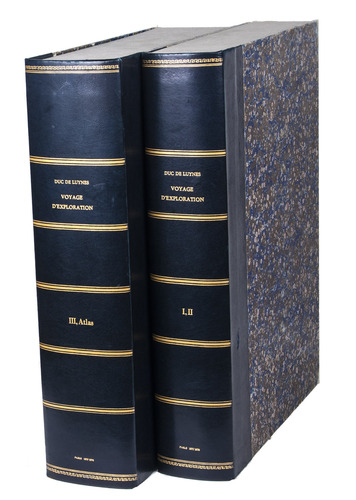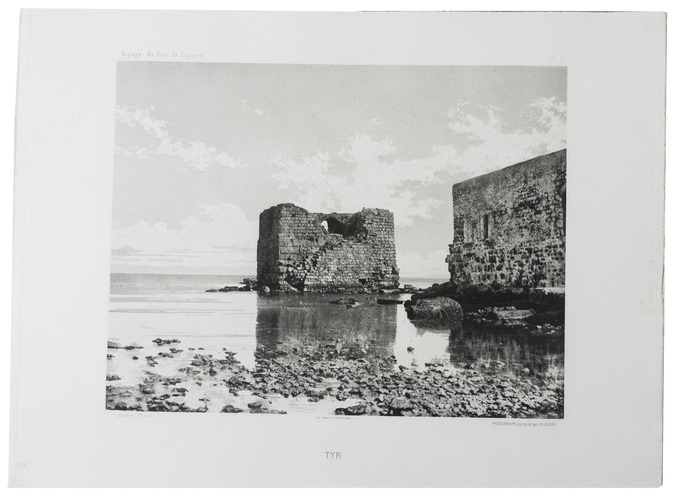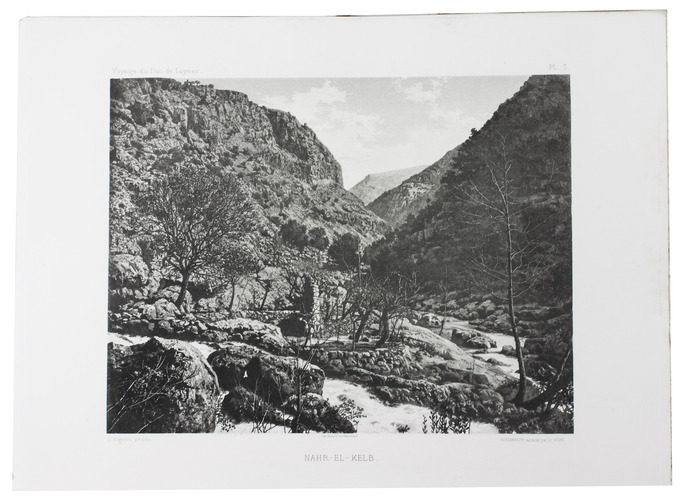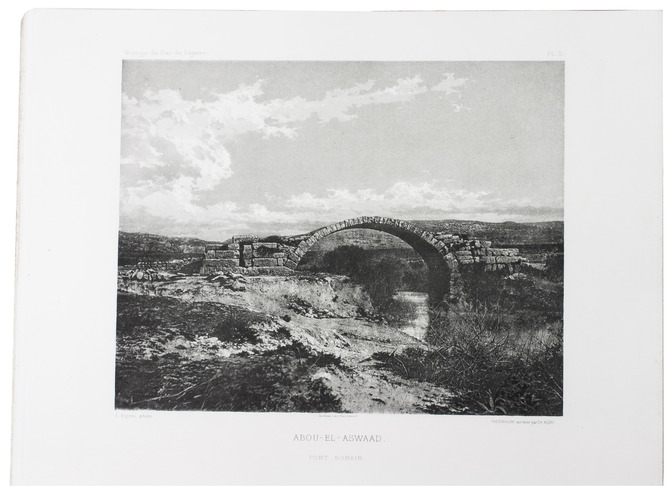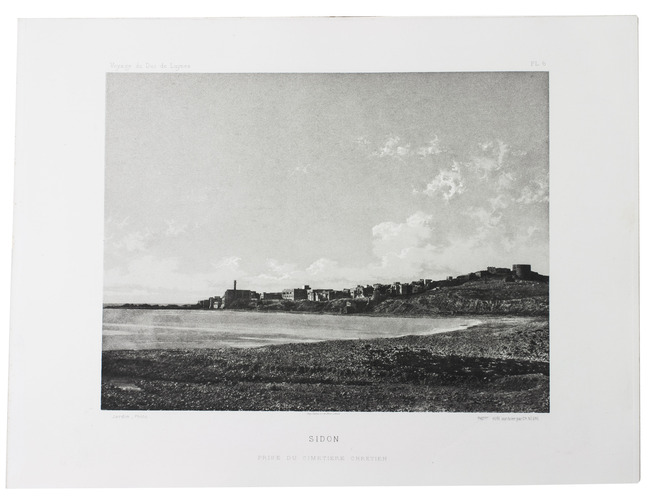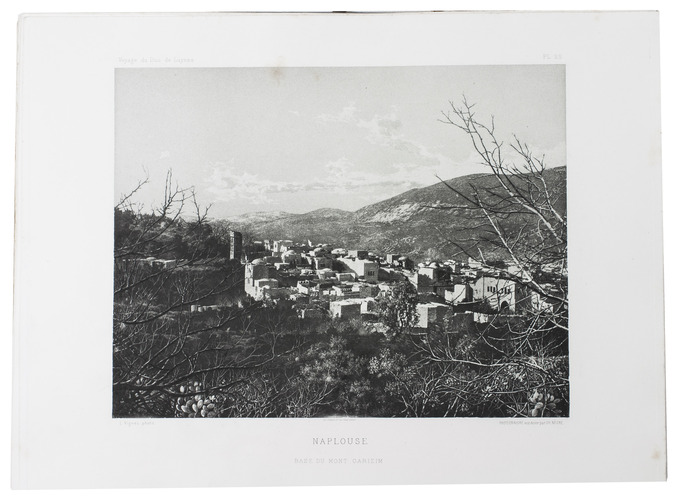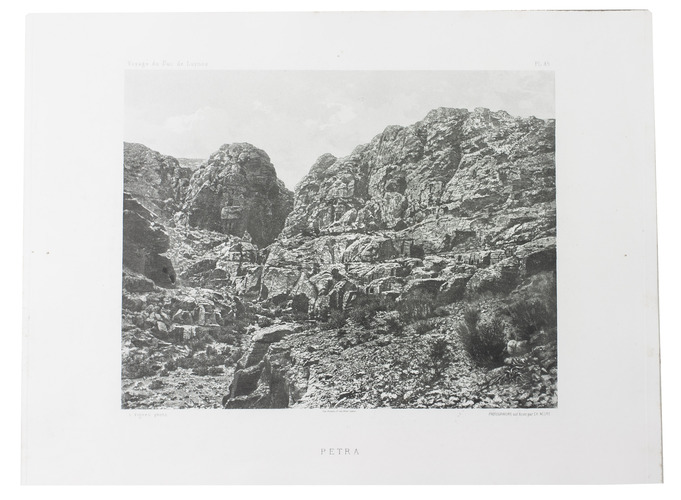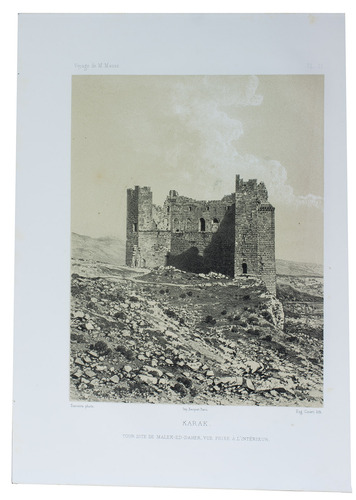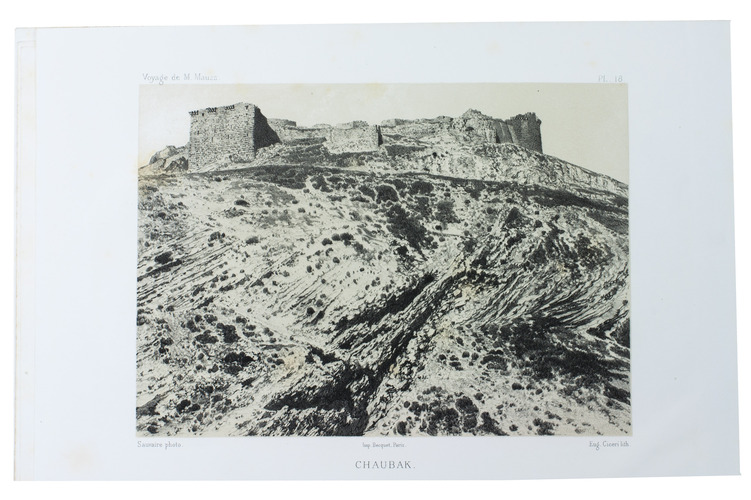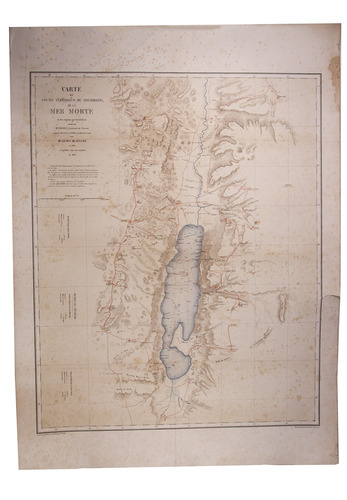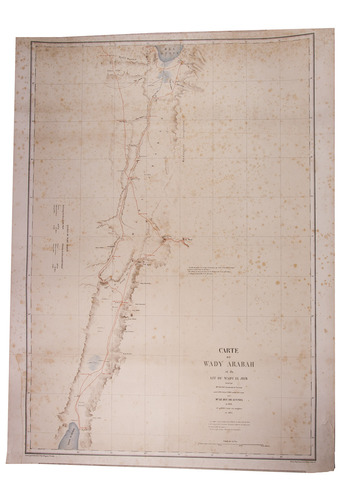 LUYNES, Honoré d'Albert de.
Voyage d'exploration à la mer Morte, à Petra et sur la rive gauche du Jourdain. ... Oeuvre posthume publiée par ses petit-fils sous la direction de M. le Comte de Vogüé.
Paris, Arthus Bertrand (on back of half-title: printed by E. Martinet (vols. 1-2) and Arnous de Rivière (vol. 3)), [1874]. 3 volumes of text and 1 atlas of plates. Imperial 4to (35.2 x 26.5 cm). With 14 numbered lithographed plates in volume 3 (4 double-page chromolithographed maps, views and geological sections; 2 further geological plates and 8 plates showing archaeological specimens), 85 plates in the atlas volume (including 65 photogravures and double-page chromolithographed maps) and numerous wood-engravings in the text. Set in roman and italic types with occasional passages in Greek and especially Arabic. Text volumes in original publisher's letterpress-printed light blue wrappers, atlas in half cloth portfolio with the original publisher's letterpress-printed paper sides, matching the text volumes; the 4 volumes preserved in 2 modern black half calf clamshell boxes. [8], 388; [6], 226; [4], VI, 326; [4] pp.
€ 35,000
First and only edition of a monumental, influential and luxuoriously illustrated account of an archaeological expedition in the Middle East by Honoré Théodore Paul Joseph d'Albert, Duc de Luynes (1802-1867), famous numismatist who inherited several French titles and an immense fortune. It is especially rich in accounts and illustration (including some of the earliest photographs) of the Dead Sea, Petra (with its extraordinary buildings carved out of the rock cliffs), the east bank of the Jordan, including al-Karak castle. Luynes is remembered most for the collection he gave to the Cabinet des Médailles in 1862.
The work is very rarely found complete: only 2 copies sold at international auctions of the past decades (both incomplete). It is a rare expedition report describing the scientific expedition to Palestine undertaken by the French archaeologist de Luynes in 1864.
Some foxing, mainly in the front wrapper and first leaves of vol. 1, but generally in fine condition and with the text volumes untrimmed and the bolts unopened, giving wide margins. Even the spines of the wrappers show only minor wear and tears. Stunning complete set in the original printed wrappers. Henze III, p. 312; A. Pariot et al., Le voyage du Duc de Luynes (1980); Parr & Badger, The photobook I, 33; Tobler, p. 203.
Related Subjects: