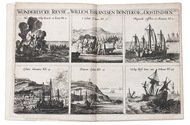 BONTEKOE, Willem Ysbrantsz.
Journael ofte gedenckwaerdige beschrijvinge van de Oost-Indische reyse. Begrijpende veel wonderlijcke en ghevaerlijcke saecken hem daer in weder-varen. Begonnen den 18. December 1618. en vol-eynd den 16. November 1625. Waer by gevoegd is het Journael van Dirck Albertsz Raven, als oock verscheyden gedenckwaerdige geschiedenissen, op veel plaetsen verbetert en een groot deel vermeerdert.
Amsterdam, Joost Hartgers, 1648. 2 parts in 1 volume. 4to. With a double-page engraved plate with 6 views of the ship at fire and in a storm, the islands St. Mary, Samatra and Princes Eyland, and an image of flying fishes. Modern marbled wrappers. [4], 76 pp.
Full description
€ 6,500