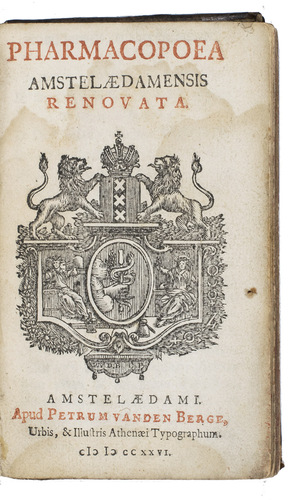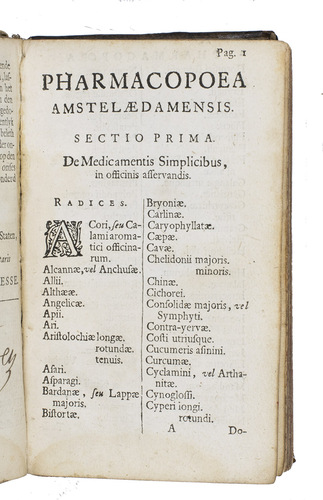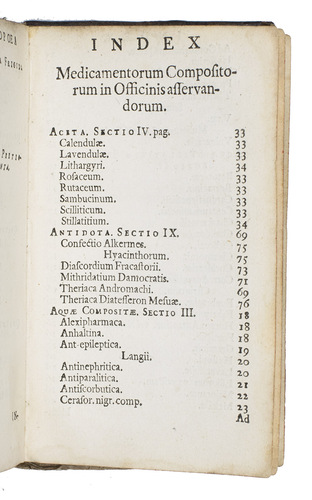 [AMSTERDAM - PHARMACOPOEIA].
Pharmacopoea Amstelaedamensis renovata.
Amsterdam, Pieter van den Berge, 1726. 12mo. Title in red and black, woodcut initials. Contemporary calf, gold-tooled spine, marbled endpapers, remnants of manuscript spine label. [12], 164, [16] pp.
€ 1,200
The second to last edition of the Latin Pharmacopoea Amstelodamensis, the official pharmacological recipe book issued by the Collegium Medicum of Amsterdam. In the same year Pieter van den Berge also issued an edition in 4to. The Pharmacopoea Amstelredamensis, first appeared in 1636 on the initiative of the well-known professor Nicolas Tulp (the subject of Rembrandts famous painting "The anatomy lesson by Dr. Nicolas Tulp"): Daems & Vandewiele, pp. 38-39. It was mainly based on the Pharmacopoeia Augustana (Augsburg) and went through at least eight editions to 1792. A Dutch translation appeared by 1682.
Front board slightly damaged, front hinge cracked, but still in good condition. Daems & Vandewiele, p. 57; STCN (3 copies).
Related Subjects: