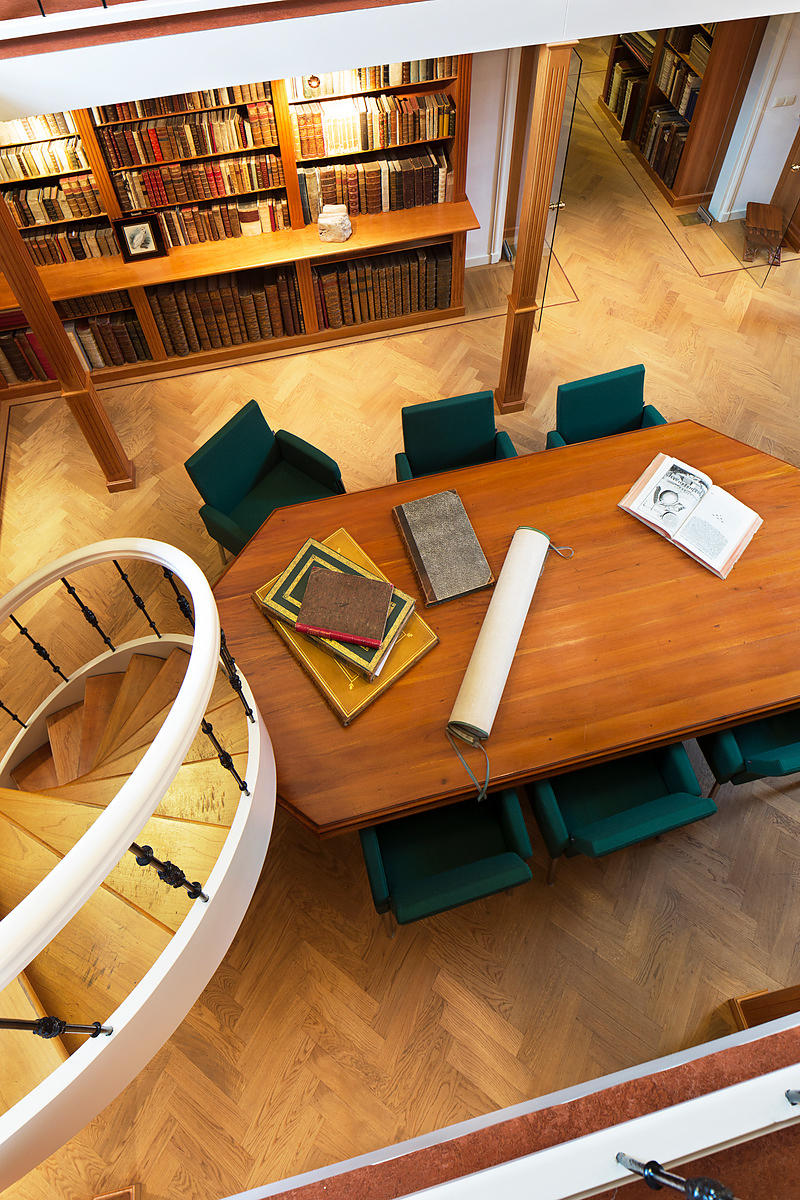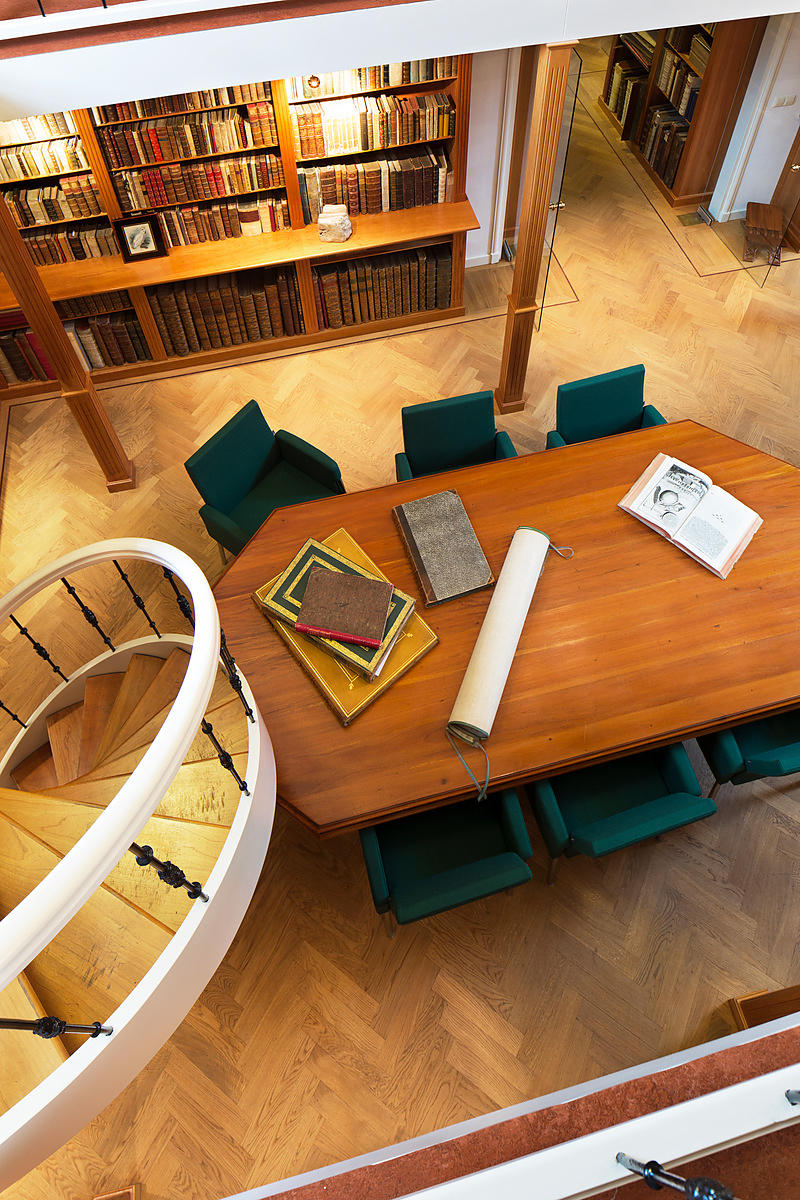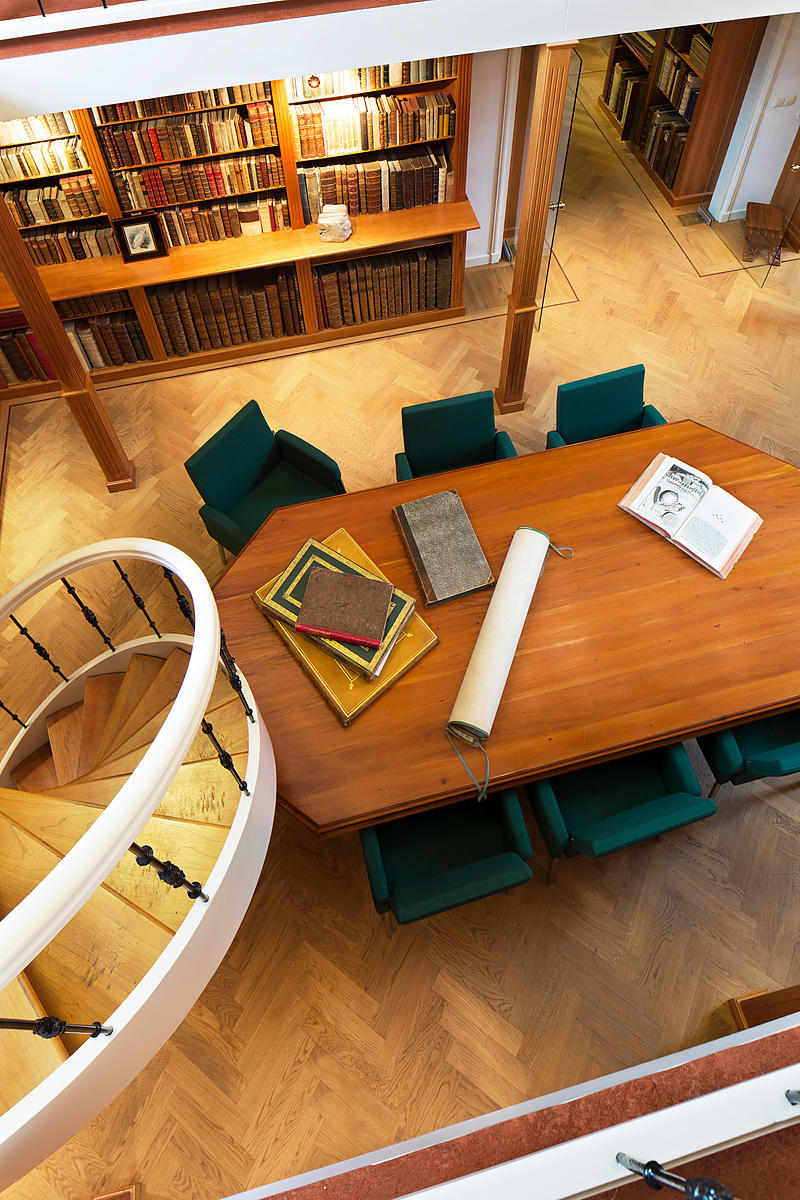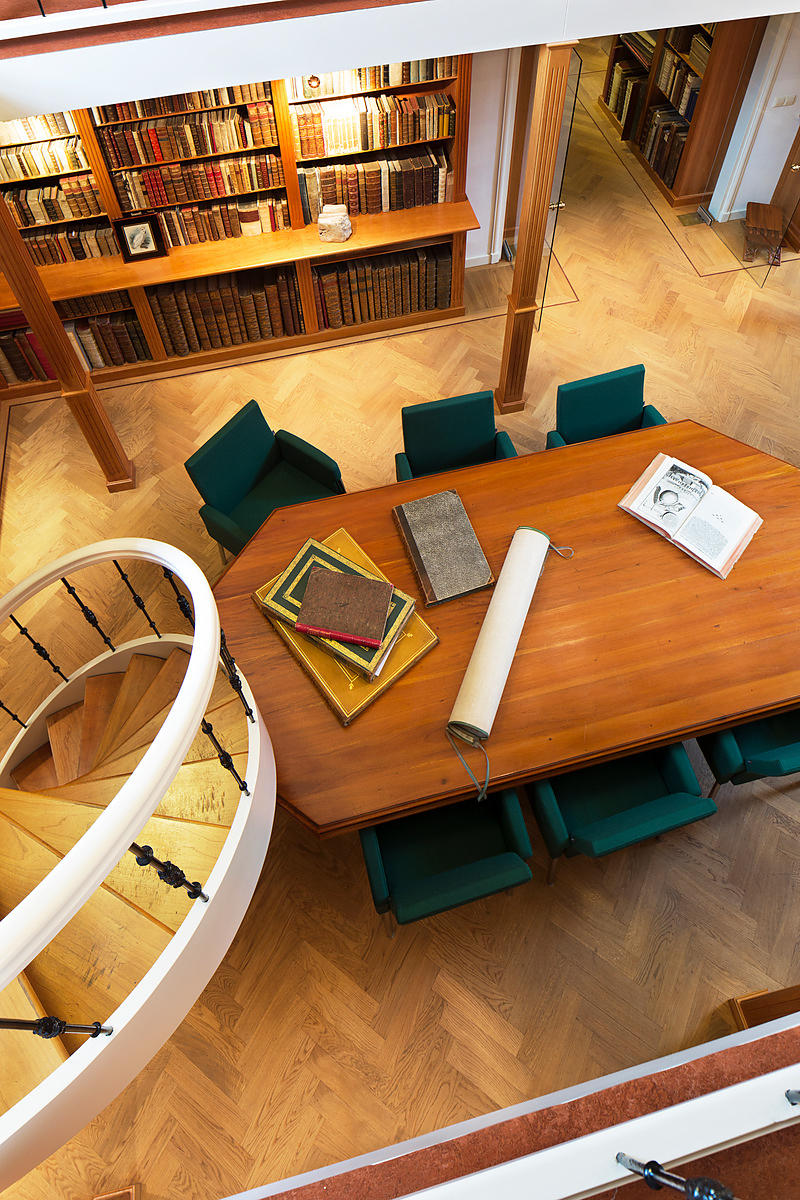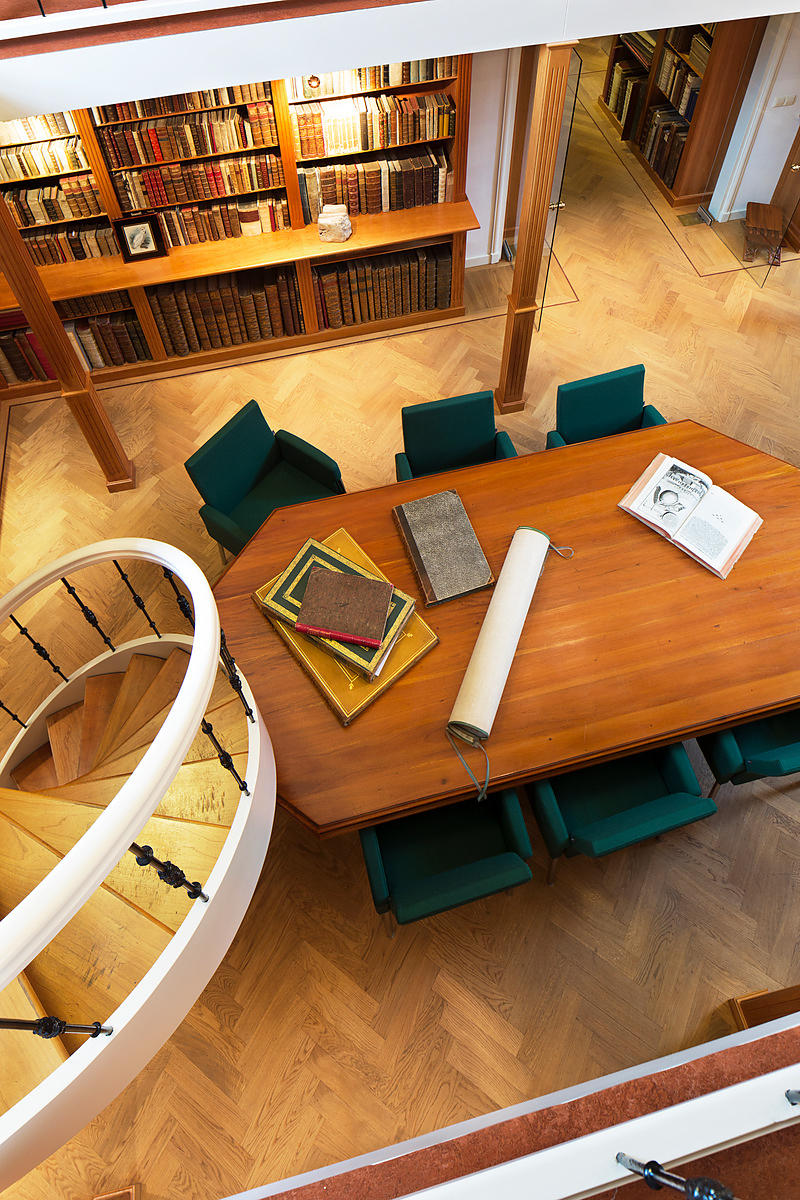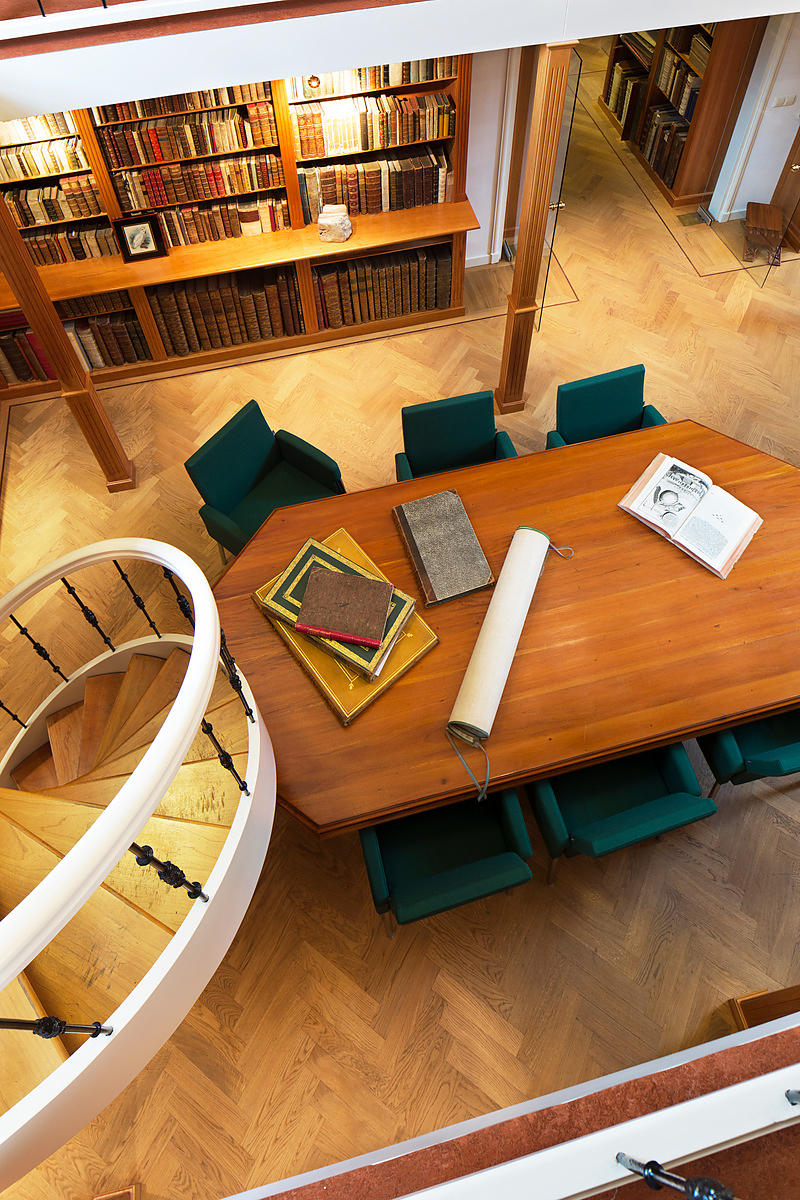 [WEBER, Lukas?].
Cinquantes principales vues pittoresques en mignature de la Suisse accompagnées d'un texte explicatif. Dessinées d'après nature. Gravées par les plus habiles artistes.
Zürich, Hans Felix Leuthold, [ca. 1840]. Oblong Royal 16mo (13 x 16 cm). With a letterpress title-page, 50 aquatint alpine views of Switzerland (plate size 10.5 x 13 cm; image 7.5 x 10.5 cm), printed in black and blue (a la poupée) and further meticulously hand-coloured for the publisher, each view with the imprint, plate number and caption in the foot margin in French, and each preceded by a letterpress leaf with the German description on the recto and the French description on the verso. Publisher's original half red sheepskin, gold-tooled spine.
€ 7,500
A stunning, finely executed and very rare series of miniature alpine views, printed in two colours (black and blue) and meticulously hand-coloured for the publisher (often with tiny flowers and distant human figures carefully coloured), each plate preceded by a brief letterpress description in German and French, published ca. 1840. The plates show mountains, glaciers, waterfalls, lakes and streams, mostly with traditional alpine houses, small human figures in local costume, wild and domestic animals, and sometimes ruins, bridges, churches and other buildings, (row, sail and steam) boats, etc. It includes views of several Swiss cities (Zürich, Luzern, Interlaken, Bern, Freiburg, Lausanne, Montreux, Geneva, etc. Among plates 28-38 one finds views of nearly every site mentioned in Hans Christian Andersen's famous fairytale Iisjomfruen (The ice maiden, Die Eisjungfrau), written and published in 1861: the town of Grindelwald, Staubbach waterfall the mountains Mönch, Eiger, Wetterhorn and of course the Jungfrau itself. The view of Fribourg (44) shows Joseph Chaley's pioneering suspension bridge over the Sarine river, built in 1834, with a 273 meter span, which remained the longest in the world for sixteen years, and one view of Zürich (3) shows the stone Münsterbrücke, opened in 1838. The book does not identify the artists or engravers, but some plates may have been executed by Lukas Weber (1811-1860) after Bury, August Corrodi, Wilhelm Ulrich Oppermann and Straub. We have located only two other copies.
With the text leaves foxed but otherwise in very good condition, with the foxing only slightly affecting an occasional plate and with a small marginal tear in 1 plate. The binding is scuffed at and around the board edges, the hinges have been professionally restored, and the head of the first free endleaf has been cut away, but the binding is otherwise good. A very rare and charming set of Swiss views, coloured and bound for the publisher.
M. Krebser, Thun und seine Landschaft (2004), p. 178; Perret, Guide des livres sur la montagne et l'alpinisme (1997) (not seen, but cited by Thomson); cf. C. Thomson, The exotic and the beautiful (Norman Bobins coll.) (2005), 500; not in Abbey, Travel; Engelmann, Biblbiotheca geographica.
Related Subjects: