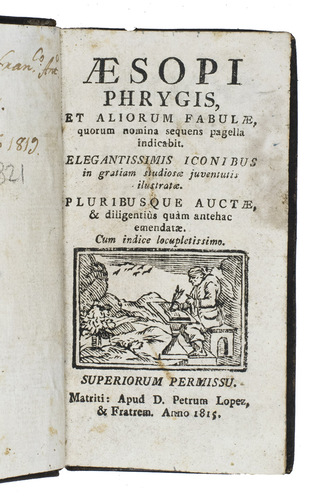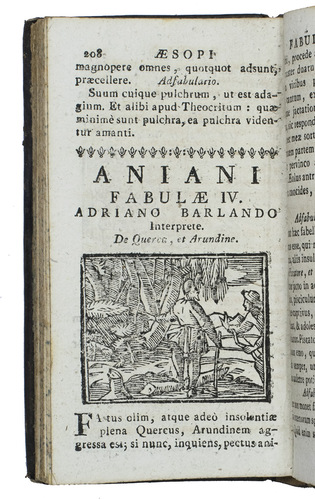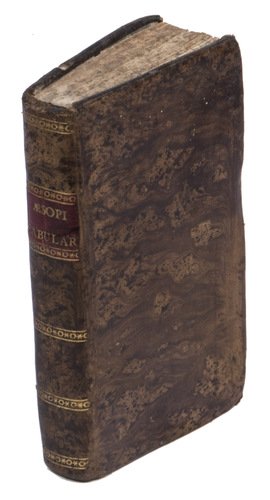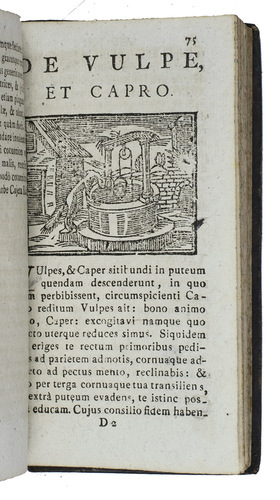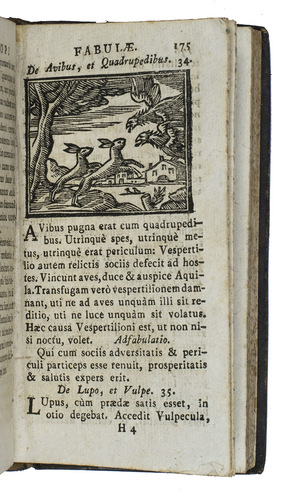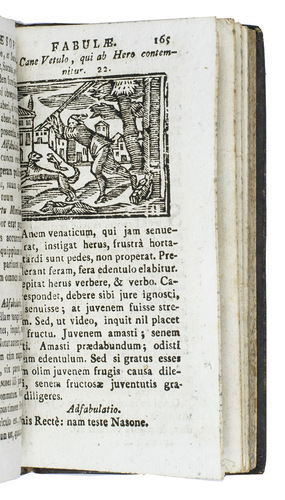 AESOP.
Aesopi Phrygis, et aliorum Fabulae .... Elegantissimis iconibus in gratiam studiose juventutis illustratae. Pluribusque auctae & diligentius quam antehac emendatae. Cum indice locupletissimo.
Madrid, for Petrus Lopez and his brother, 1815. 12mo. With woodcut of the writing Aesop on title and 86 woodcuts (ca. 43 x 56 mm.). Marbled calf over boards. 324, [12] pp.
€ 450
Nineteenth-century edition of de Dorpius redaction of the Aesop fables, the collection of the Aesop fables in prose, originally compiled by Martinus Dorpius (1485-1525), a humanist teaching in Louvain. This so-called Aesopus Dorpii, was first published in 1509 in Antwerp. All 349 Latin Fables are provided with an Adfabulation. The Dorpius compilation has been very important for the diffusion of Aesop as a textbook during the following centuries and was reprinted in a variety of ways at least two hundred times. Four of the woodcuts are illustrating the Vita, 82 the Fables.
Ownerships entry of Franc. Ant. Vetonnes, 1819, on first fly-leaf. The woodcuts are partly rather worn out. Title a bit soiled, some slight browning at the end. Cf. Bodemann, 64,1-3 (1623, 1734, 1788: Madrid with 81 woodcuts).
Related Subjects: