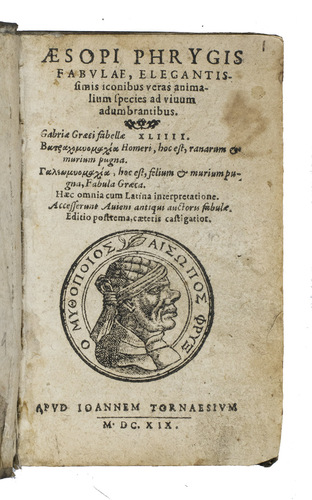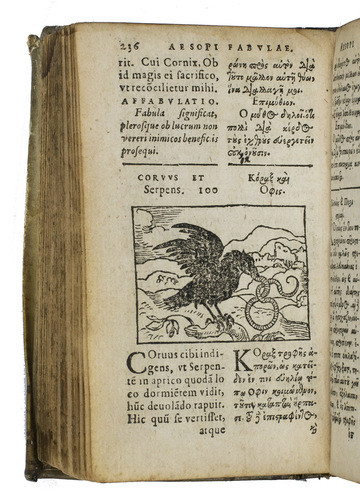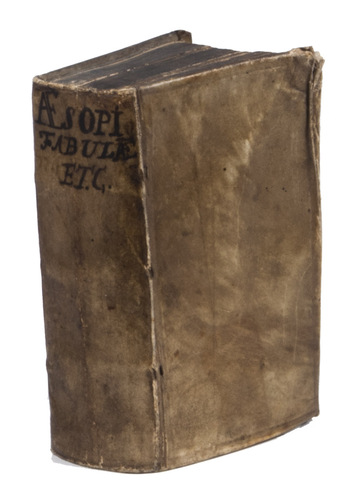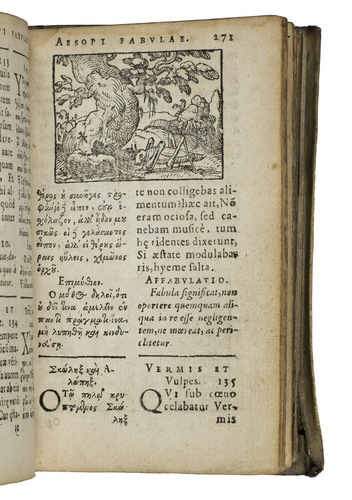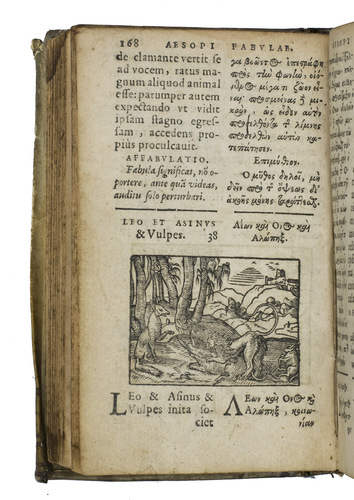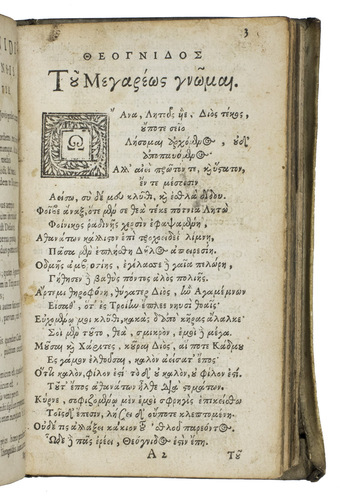 AESOP.
Aesopi Phrygis Fabulae, elegantissimis iconibus veras animalium species ad ivum adumbrantibus. Gabriae Graeci fabellae XLIII. [Greek: Batrachomyomachia] Homeri, hoc est, ranarum & murium pugna. [Greek: Galeomyomachia], hoc est, felium & murium pugna, fabla Graeca. Haec omnia cum Latina interpretation. Accesserunt Avieni antique auctoris fabulae. Editio postrema, ceteris castigatior.
[Genève or Lyon], Jean de Tournes, 1619. 2 volumes bound as 1. 16mo. With the woodcut portrait of Aesop in a roundel on the title-page and 61 woodcuts (ca. 3.5 x 4.5 cm) in the text, illustrating the fables of Aesop, most after Bernard Salomon, but 22 from another series. Woodcut initials and ornaments. Text in two columns: Greek (left) and Latin (right).
[With:] 2) THEOGNIS and others. [Greek text] Theognidis, Phocylidis, Pythagorae, Solonis & aliorum Poemata gnomica ... Opera Friderici Sylbrgii. Utrecht, Johannes I Janssonius van Waesberge, 1651. 12mo. With printers device on title-page and some woodcut initials. Contemporary overlapping vellum. 410, [6]; [8], 168 pp.
€ 1,750
Ad. 1: One of the many Aesop editions based on the famous first illustrated edition by Jean de Tournes, Lyon 1571, which was a landmark in humanistic scholarship and printing with woodcuts by Bernard Salomon (Bodemann 29.1). The De Tournes family moved to Geneva in 1585 to escape religious persecution as Hugenots. In 1619 Jean de Tournes III sold his house in Lyon to the printer Guichard Juliéron, who probably issued the present edition in Lyon under the name of Jean de Tournes.
Ad 2: A rare collection of Greek poetry and other works by Theognis and Phocylides, ideas and thoughts of Pythagoras, and the mottos of Solon. The editor and translator, Fredericus Sylberg (1536-1596) was a classical philologist working as a corrector and editor for the publisher Henr. Commelin at Heidelberg.
Ad. 1: with owners entry on the front paste-down: "Sum ex libris Hugonis Suchier, Ritelii [= Rinteln], 1881". There are more than a dozen errors in the pagination, but both books are nevertheless complete. Some woodcuts slightly worn, boards slightly damaged. Ad. 2: minor water stains (pp. 115-158). Ad 1: cf. Bodeman, 29.2. Ad 2: STCN (2 copies).
Related Subjects: