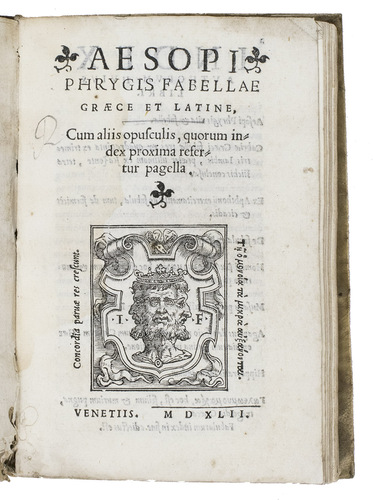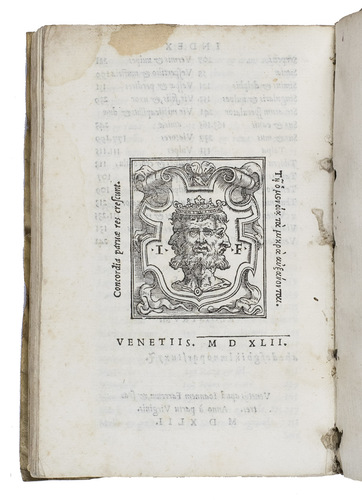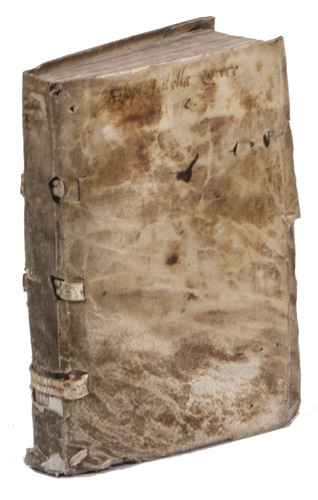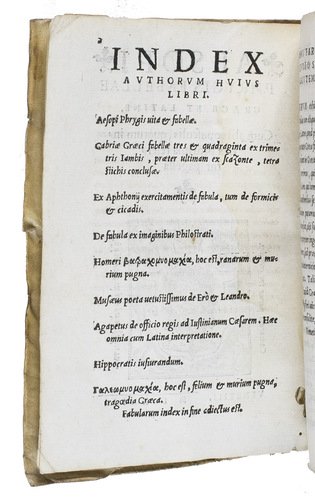 AESOP.
Fabellae Graece et Latine, cum aliis opusculis, quorum index proxima refertur pagella.
Venice, (colophon: Giovanni Farri and brothers), 1542. Small 8vo (16 x 11 cm). With 1 woodcut decorated initial but further with spaces left for manuscript Greek and Latin initials (with printed guide letters). Contemporary limp sheepskin parchment, with fragments of a vellum manuscript used to reinforce the spine. 364, [4] pp.
€ 2,500
Venice school edition of Aesop's fables with parallel text in Greek and Latin. The book is neatly printed and the clear Greek type has relatively few ligatures. Besides the life of Aesop and Aesop's fables, the book contains several collections of fables and single fables by other authors (pp. 232-364): [Ignatius von Nicaea], Gabriae Graeci fabellae (often added to the Aesop canon); Aphthonius, Excercitamentis de fabula; Philostratus, De fabula; pseudo Homer, Batrachomyomachia (the battle of frogs and mice, a parody of Homer's Iliad); Musaeus, De Ero & Leandro (Hero and Leander; Agapetus, De officio regis; Hippocrates, Ius iurandum (the Hippocratic oath!), and [Theodorus Prodromus], Galeomnomachia (the battle between the cats and the mice), the last two in Greek only. The book ends with a 4-page index and the colophon.
With a few contemporary manuscript notes in brown ink. With some marginal worm holes, mostly in the gutter of quires r and s, and some mostly marginal water stains, more serious in quire c, and a dark stain in the upper outside corner of 2 leaves, not approaching the text, otherwise in good condition. The binding is wrinkled, with a 1½ x 2 cm gap in the backstrip, some small tears and the 2 pair of ties lost. A nice early student edition of Aesop with very extensive additions. EDIT 16, CNCE 364; STC Italian, p. 8; USTC 807871.
Related Subjects: