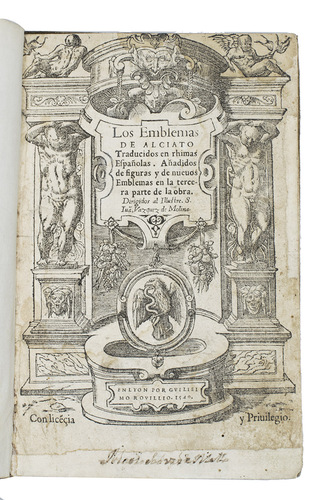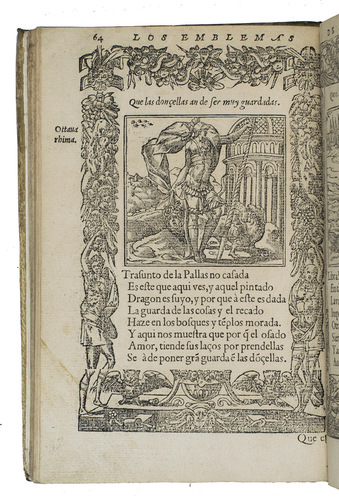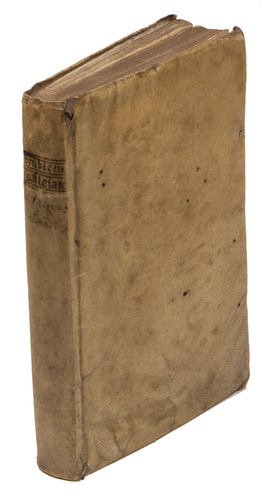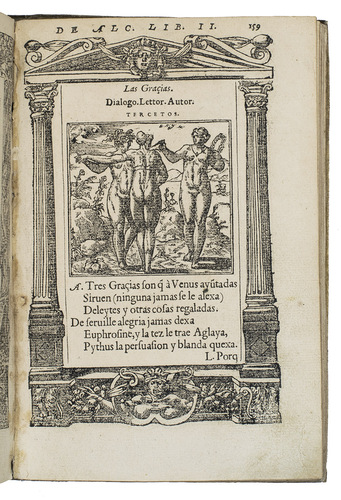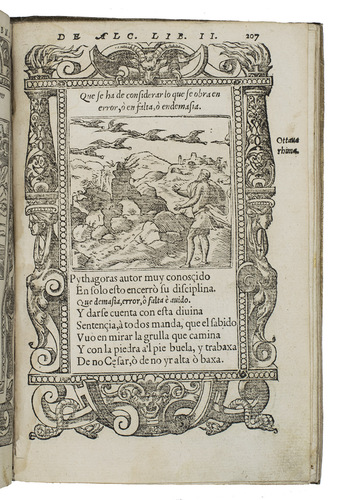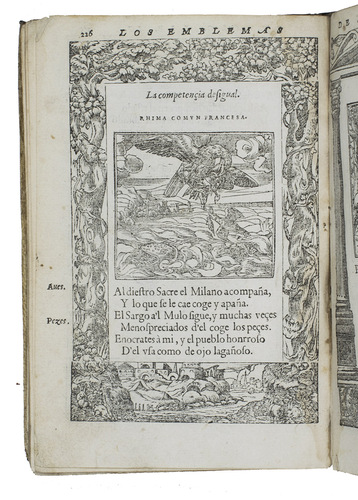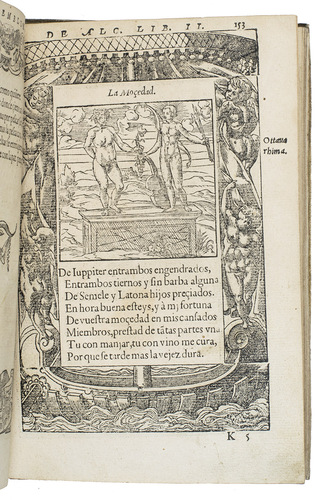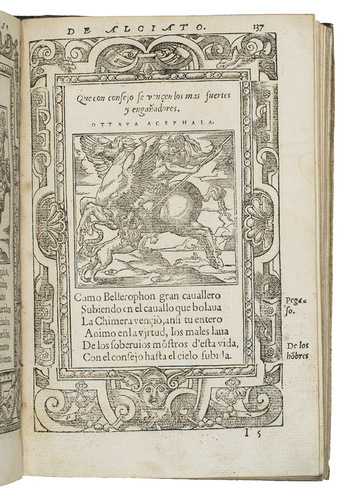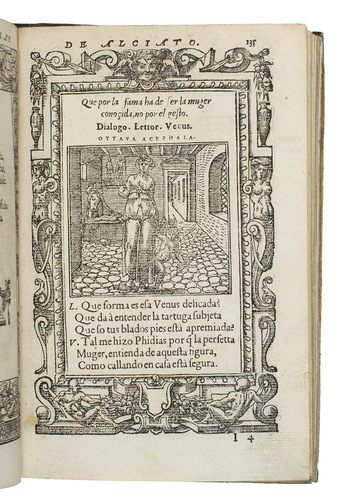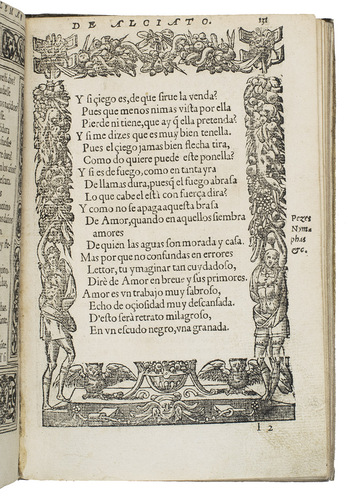 ALCIATO, Andrea.
Los emblemas ... traducidos en rhimas Españolas. ...
Lyon, Guillaume Rouille [printed by Macé Bonhomme], 1549. 8vo (18.5 x 12.5 cm). With an elaborate woodcut architectural frame; 210 emblems (200 with woodcuts); nearly every page in one of about 34 different richly decorated woodcut frames. Early 18th-century (Spanish?) sheepskin parchment. 256, [6] pp.
€ 18,000
Rouille issue of the first Spanish edition of the first emblem book, by the legal scholar Andrea Alciato (1492-1550) in Milan, first published in Latin at Augsburg in 1531 with only 104 emblems (97 with woodcuts), but greatly expanded up to the author's death. The present edition has more emblems and more woodcuts than any earlier edition, also more than the French and Italian editions by the same publishers in the same year and more than the competing editions by De Tournes. It brings the work nearly to its definitive form. Alciato not only produced a work that was to continue through hundreds of editions over the centuries, he invented a whole new genre, the emblem book, which combines allegorical images with a brief motto that aims to give the core of the idea and explanatory text (here in verse), the combination of text and image intended to give more meaning to both and to encourage contemplation by the reader.
In most respects, the present Spanish edition follows the 1548 Latin edition but Bernardino Daza who translated it into Spanish claimed to have followed a printed copy with corrections in Alciato's hand, making the present Spanish text an essential source for the author's intentions, rather than just a translation.
With several early owners' inscriptions, some struck through; a ca. 1815 bookseller's engraved on salmon-coloured paper; and an engraved armorial bookplate. Lacking the final blank leaf R4. As in many copies, the descender of the 9 in the imprint date "1549" has not printed, so that the date looks like "1540". Occasional and mostly marginal stains and a few marginal reinforcements. In spite of these defects, most leaves are in good or very good condition. Adams, Rawles & Saunders F029; Baudrier 9, p. 167; Fairfax Murray (French) 9; Green, Andrea Alciati 36; Iberian books 63018; Landwehr, Romanic emblem books, 40; USTC 342602; cf. Adams A614 (Bonhomme issue); Jammes, Emblèmes 5 (Bonhomme issue); Mortimer (French) 15 (1549 French ed.); Palau 6061 (Bonhomme issue); Praz, p. 250 (1548 & 1550 Latin eds.).
Related Subjects: