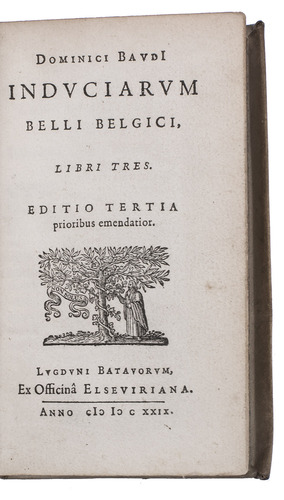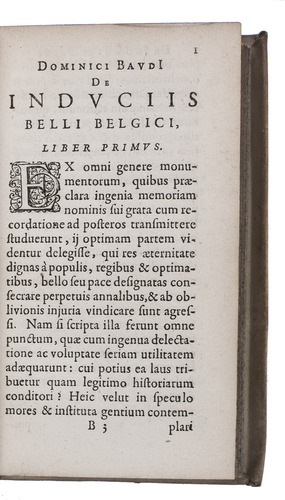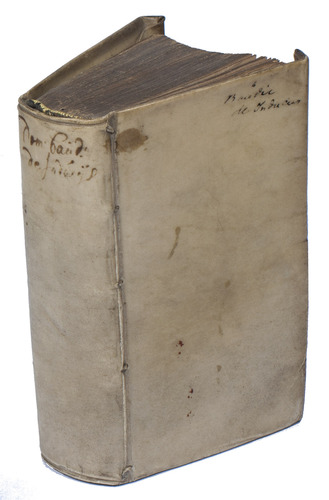 BAUDIUS, Dominicus.
Induciarum belli Belgici, libri tres. Editia tertia prioribus emendatior.
Leiden, Louis Elzevier, 1629. 12mo. Woodcut printer's device on title, woodcut initials. Contemporary overlapping vellum over boards. [28], 468, [8 blank] pp.
€ 500
The third edition of this important history of the years 1608-1611, so crucial for the history of the Dutch Republic.
In 1602 Baudius was appointed extraordinary professor of Rethoric at the University of Leiden In 1611 he became ordinary professor of history. In the same year he was appointed historian for the States-General together with Johannes Meursius, with the assignment to write on the events of 1608-1611: the negotiations leading to, and the first years of the Truce in 1609 (-1621). This resulted in the present Induciarum belli Belgici, libri tres (Three books about the Truce in the Dutch war), first published in Leiden in 1613. In Leiden he befriended amongst others Daniel Heinsius and Hugo Grotius. He must have had an attractive and cheerful personality as his classes were very popular.
Good copy from the library of A.M. Ledeboer, one of the most famous Dutch bibliographers of the nineteenth century. Rahir 276; Willems 307.
Related Subjects: