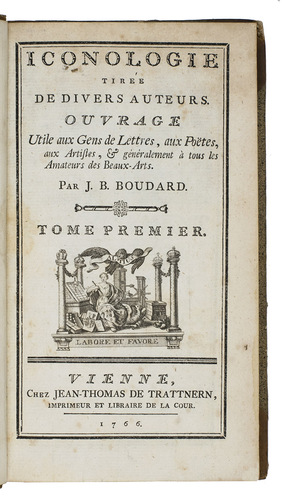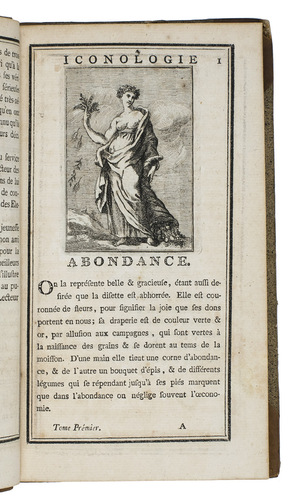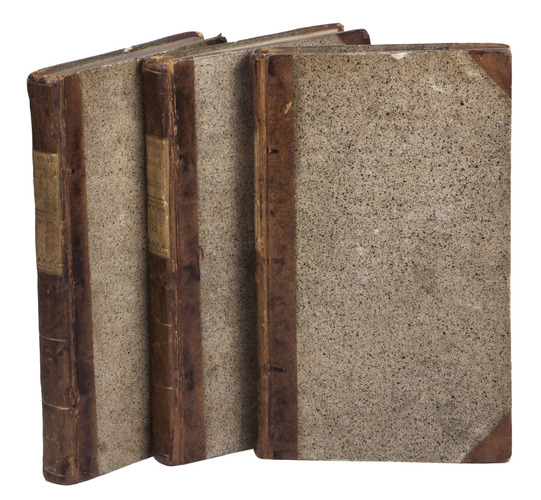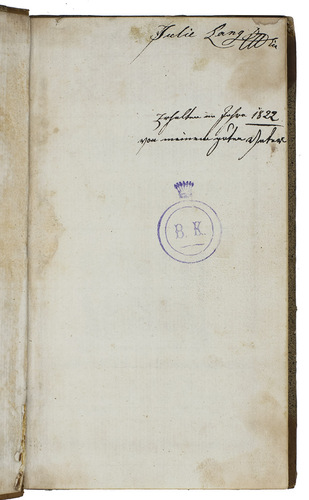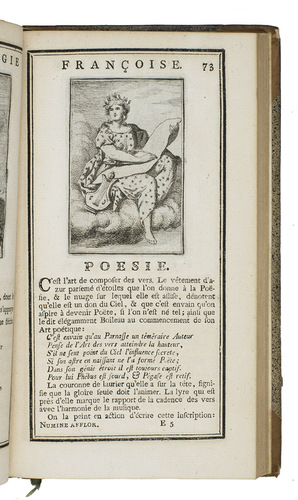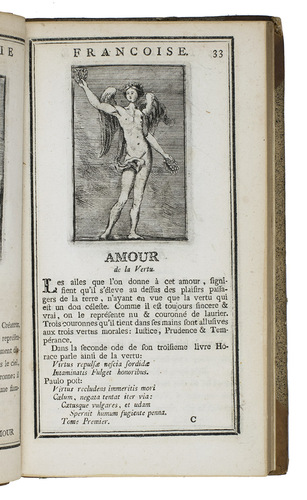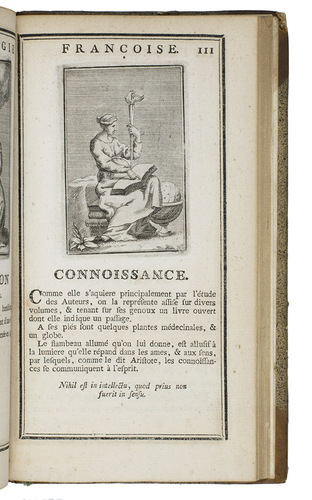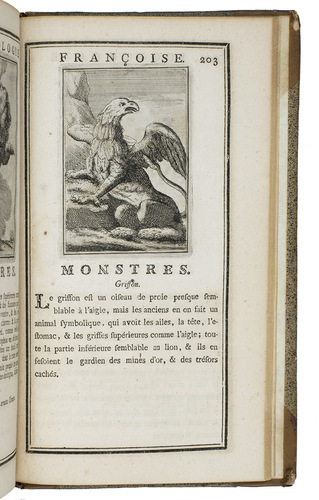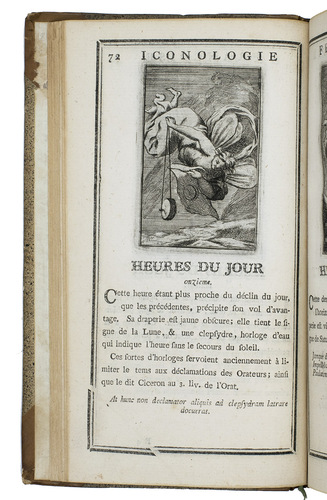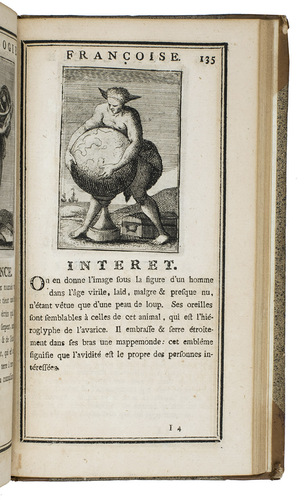 BOUDARD, Jean-Baptiste
Iconologie tirée de divers auteurs. Ouvrage utile aux gens de lettres, aux pöetes, aux artistes, & généralement à tous les amateurs des beaux-arts.
Vienna, Johan Thomas von Trattner, 1766.
1766. 3 vols. 8vo. With Trattners engraved device on the 3 title-pages. Contemporary half calf. [16], 203, [8]; [2], 219, [8]; [2], 208, [12] pp.
€ 1,750
The second edition of an interesting iconographical dictionary by the French sculptor Jean-Baptiste Boudard (1710-1768) who spent most of his active life in Italy, from 1749 to his death in 1678 at the Bourbon court in Parma. The first edition, with parallel texts in French and an Italian translation by his friend Abate Giuseppe Pezzana, was published in Parma in 1759. The terms iconology, used by Boudard, and iconography have both been used from at least the 17th century, but most authors do not distinguish the two. After an important introduction on iconography in general, follow the 630 emblems, arranged alphabetically and based on the most influential iconographical work of the 17th century, Cesare Ripas Iconologica. Boudard found Ripa's work so indispensable for his classes at the local Academy of Fine Arts that he published this "digest", picturing allegorical emblems of virtues, vices, emotions, arts, sciences, including series of mythological subjects, the continents, the seasons, the senses, the works of mercy, the Beatitudes etc. The present copy includes A6, the leaf containing emblems 11 and 12: "Adulation" and "Adultere", sometimes lacking (perhaps the adultery emblem was considered inappropriate for some audiences).
With the owners inscription of Julie Lang, a round owners stamp with the initials "B.K." on the first free endleaf of each volume and the handwritten inscription, "Erhalten im Jahre 1822 ..." on the first free end-leaf in vol. 1. In very good condition. The binding shows some very slight signs of wear, mostly around the corners. Praz, p. 28; Thieme-Becker, 4, p. 436; Vinet, 876.
Related Subjects: