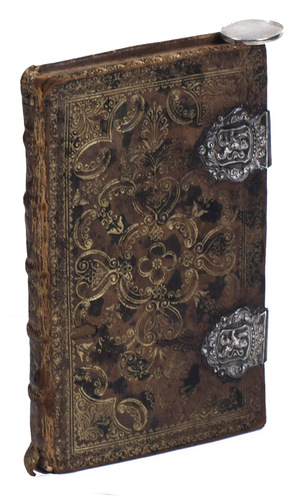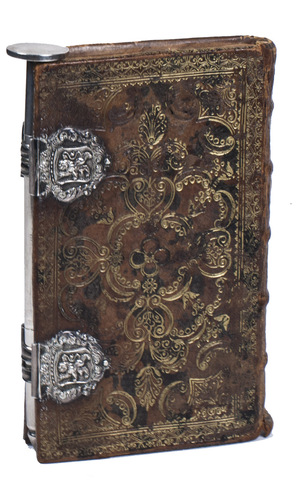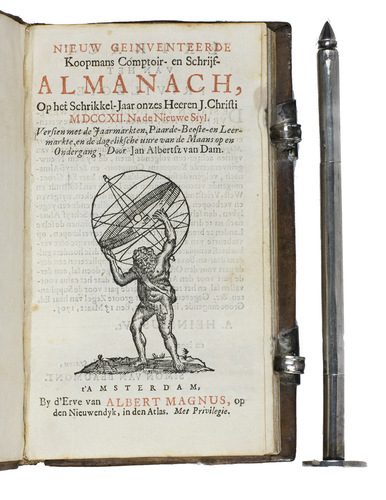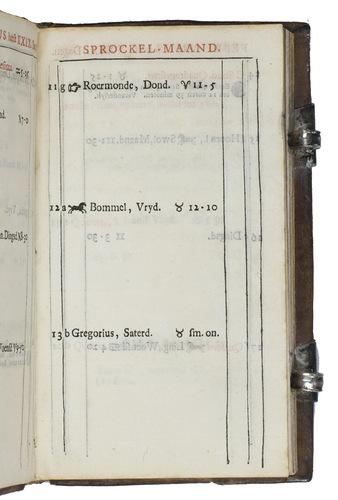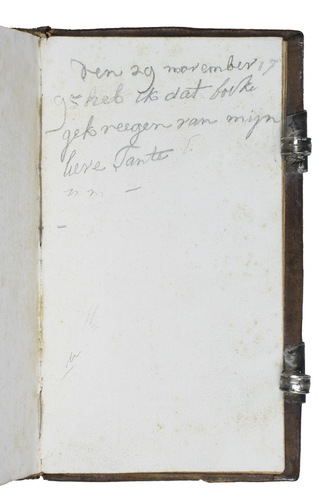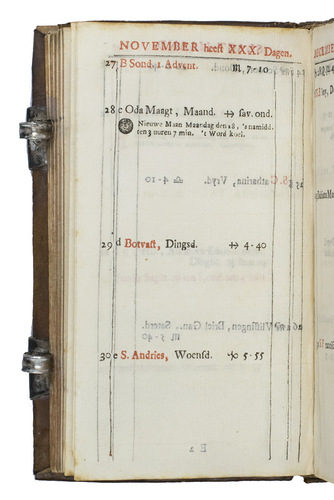 DAM, Jan Albertsz. van.
Nieuw geinventeerde koopmans comptoir- en schrijf-almanach, op het schrikkel-jaar onzes heeren J. Christi M DCC XII. Na de nieuwe styl. Versien met de jaarmarkten, paarde- beeste- en leer-markte, en de dageliksche uure van de maans op en ondergang.
Amsterdam, the heirs of Albert Magnus, [1711 (for the year 1712)]. 12mo. Printed in red and black throught, the title-page with Magnus's woodcut device (Atlas with an armillary sphere on his shoulders), numerous typographical symbols in the text: for example a horse and a goat representing horse and other animal market days, moons in different phases, planetary signs and manicules (pointing hands). With a small etching of an angel (39 mm tall) holding a wreath, cut out of an unidentified source and loosely inserted between 2 blank pages at the end of the book. Contemporary, elaborately gold-tooled mottled calf over thin wooden boards by the so-called Art Book Bindery (1705-1741) in the style made famous by Albert Magnus himself, with more than 100 impressions of about a dozen stamps and one roll, gold-tooled board edges. Further with 4 silver anchor plates (2 on each board), each with the coat of arms of the States of Holland in a decorative cartouche, and each with a silver eye extending over the fore edge, with a silver combination stylus/lead pencil used to fasten the book through the eyes, gilt edges. [120] pp. bound with 46 blank free endleaves: [12] pp. at the front and [22 (coated paper)], [12] pp. at the back.
€ 7,500
An unrecorded early 18th-century edition of a Dutch almanac, printed by the heirs of Albert Magnus in Amsterdam, in a remarkable, beautifully gold-tooled binding with pin fastenings. The present work is a merchant's almanac for the leap year 1712, which could also be used as a type of diary and notebook in one. Ample blank space is left for each day throughout the printed almanac and it is bound together with 22 pages (11 leaves) of blank, coated paper on which the silver stylus (or the graphite in it) could be used to make notes, as well as numerous plain free endleaves at the front (6 leaves each). Unsurprisingly, these blank pages do contain some 18th-century manuscript annotations. The printed almanac collates A-D12 E-F6 = 60 ll.
The present work is not only the only known, otherwise unrecorded copy of Van Dams almanac for the year 1712, other copies of Van Dam's merchant almanacs for other years are also very rare. For example, the edition for the next leap year (1716), is known from only one copy, held by the Dutch Royal (national) Library in the Hague.
Albert Magnus (1642-1689) was a renowned book binder and publisher in Amsterdam. His publications and those of his heirs show his characteristic device of the figure of Atlas carrying the world in the form of an armillary sphere, this also alludes to Magnus's shop in Amsterdam: "in the atlas". His daughter Geertrui married the printer, publisher and engraver Cornelis Danckerts II, who were together with Magnus's widow took responsibility for the early 18th-century publications like the present almanac.
With 18th-century manuscript annotations on the blank pages. The binding shows some signs of wear, the foot of the spine is slightly damaged, slight foxing to the last few pages of the almanac and first few blank, coated pages, the fore edge is slightly dented around the rings of the fastenings. Overall in very good condition. Cf. STCN 434855081 (1 copy of Van Dam/Magnus heirs almanac for 1716; WorldCat 1286805547 (same copy of almanac for 1716); for the bindery: Storm van Leeuwen, DDB 18th cent., vol. 1 pp. 332-344.
Related Subjects: