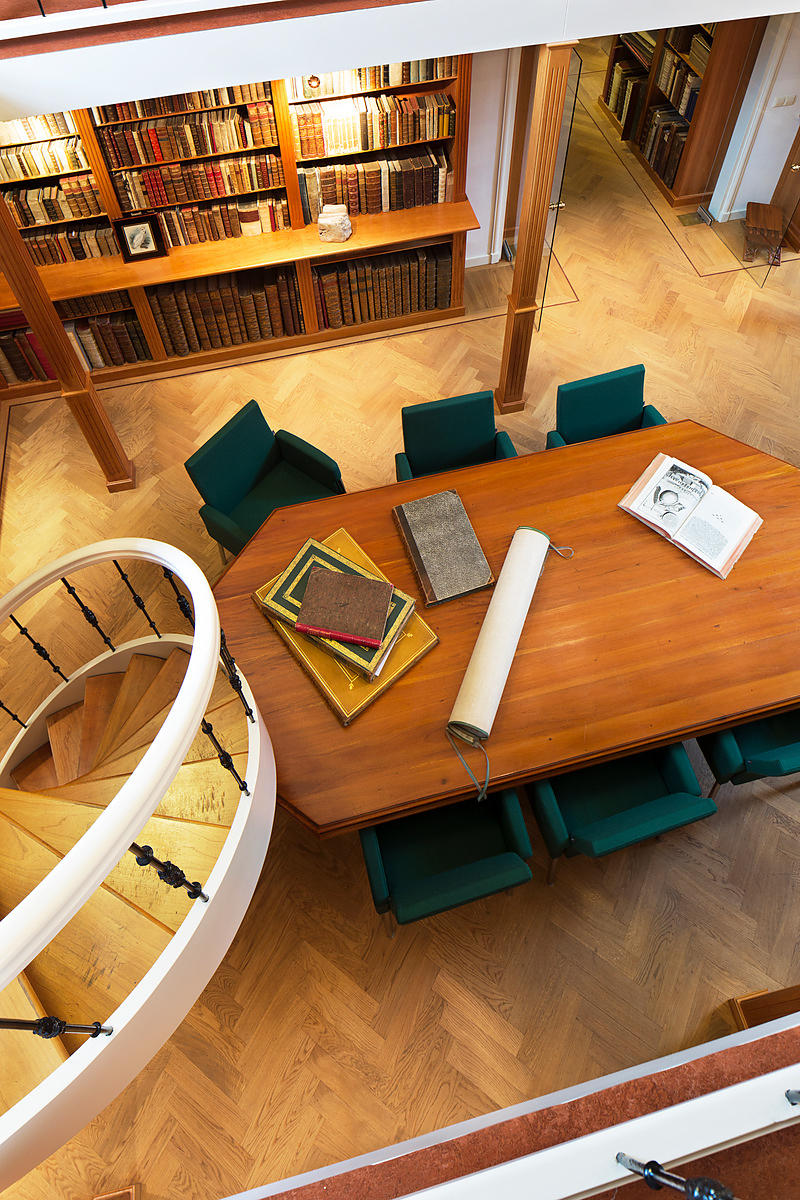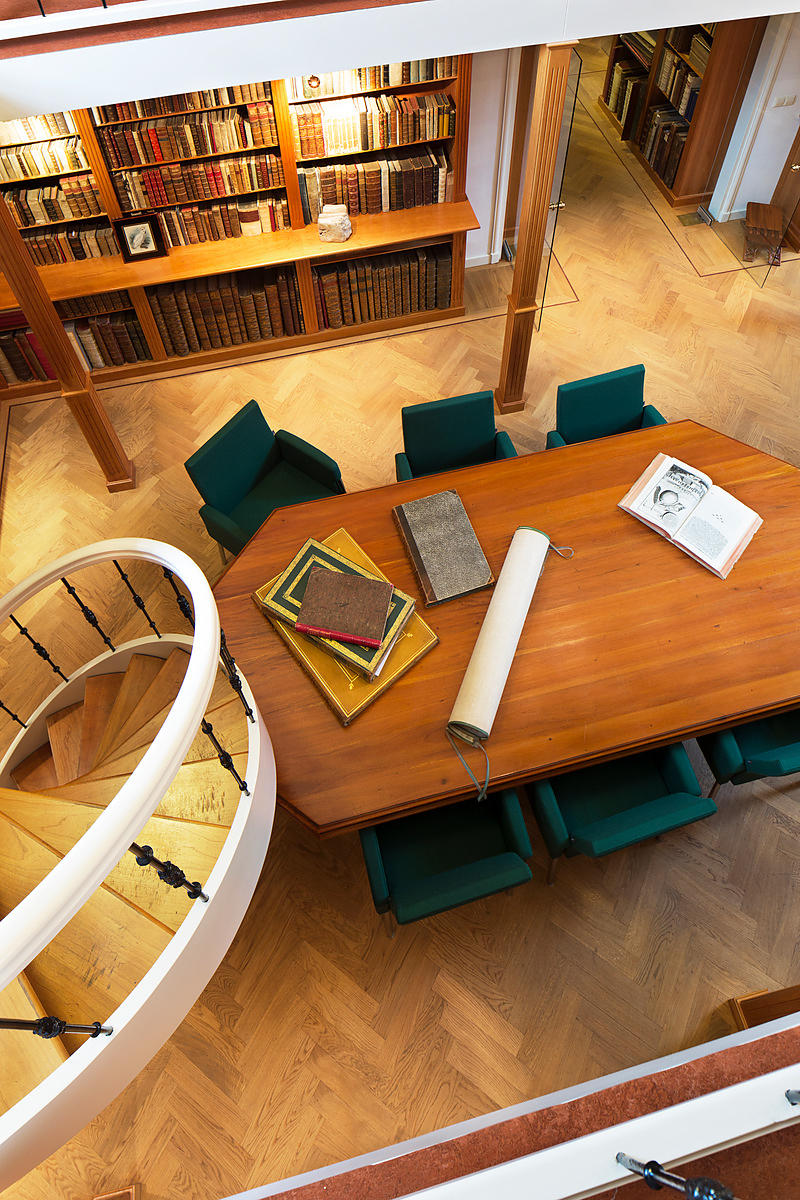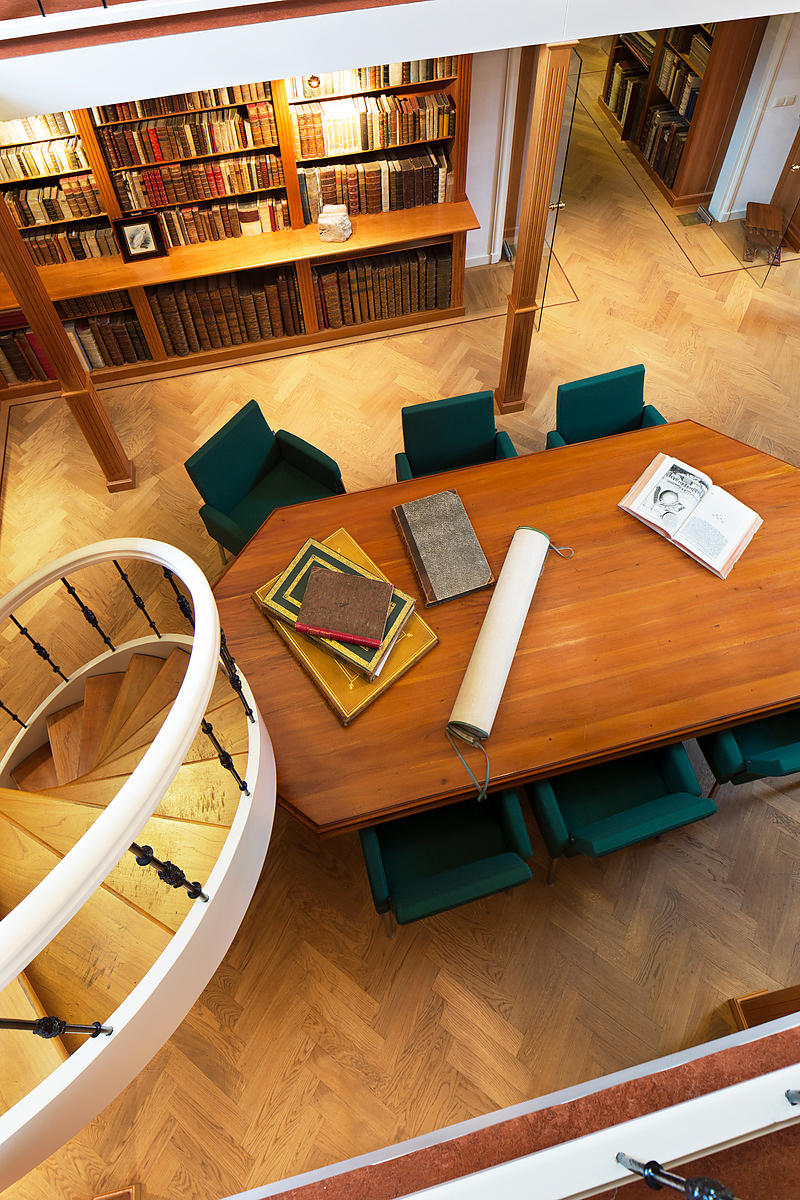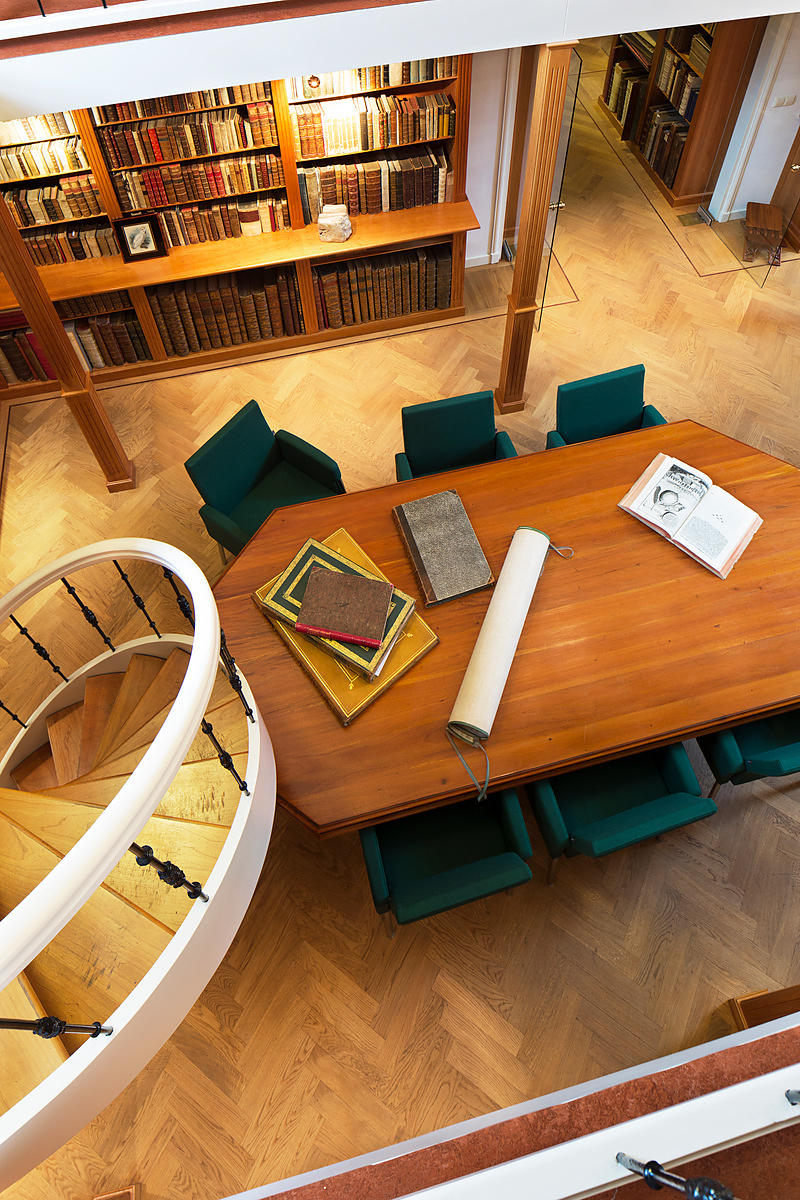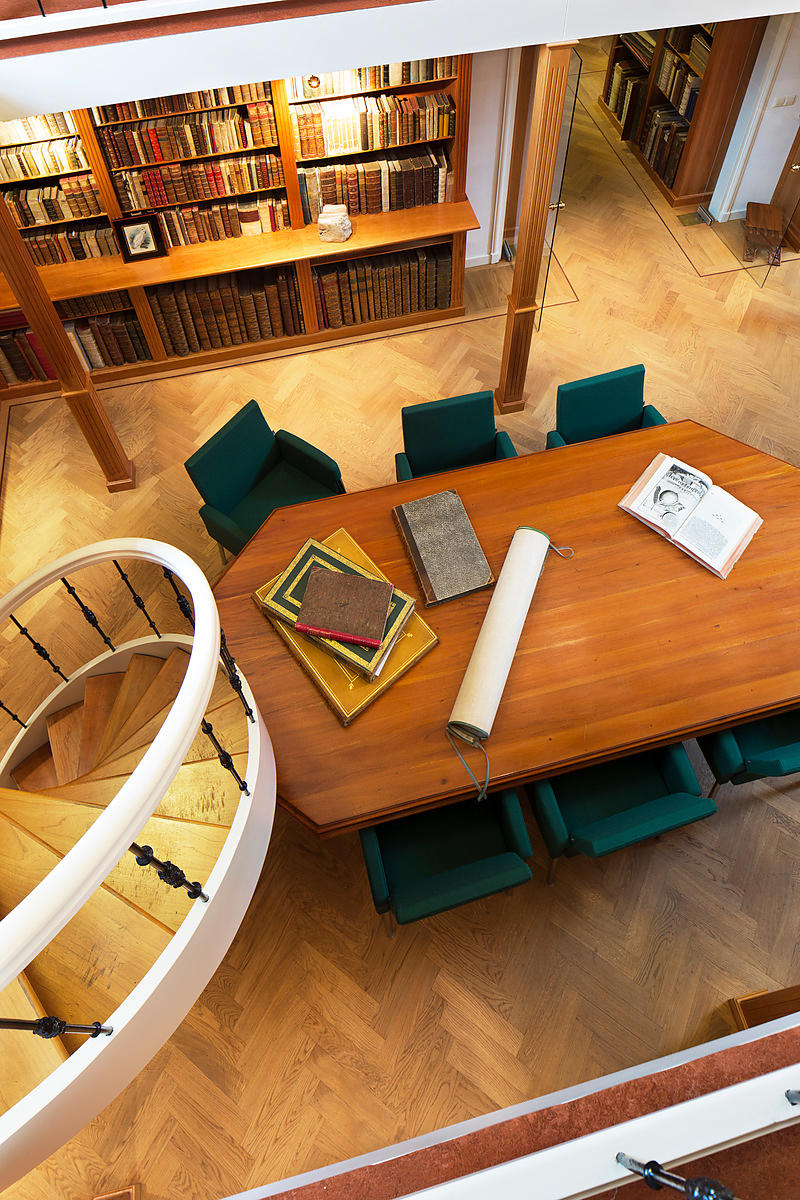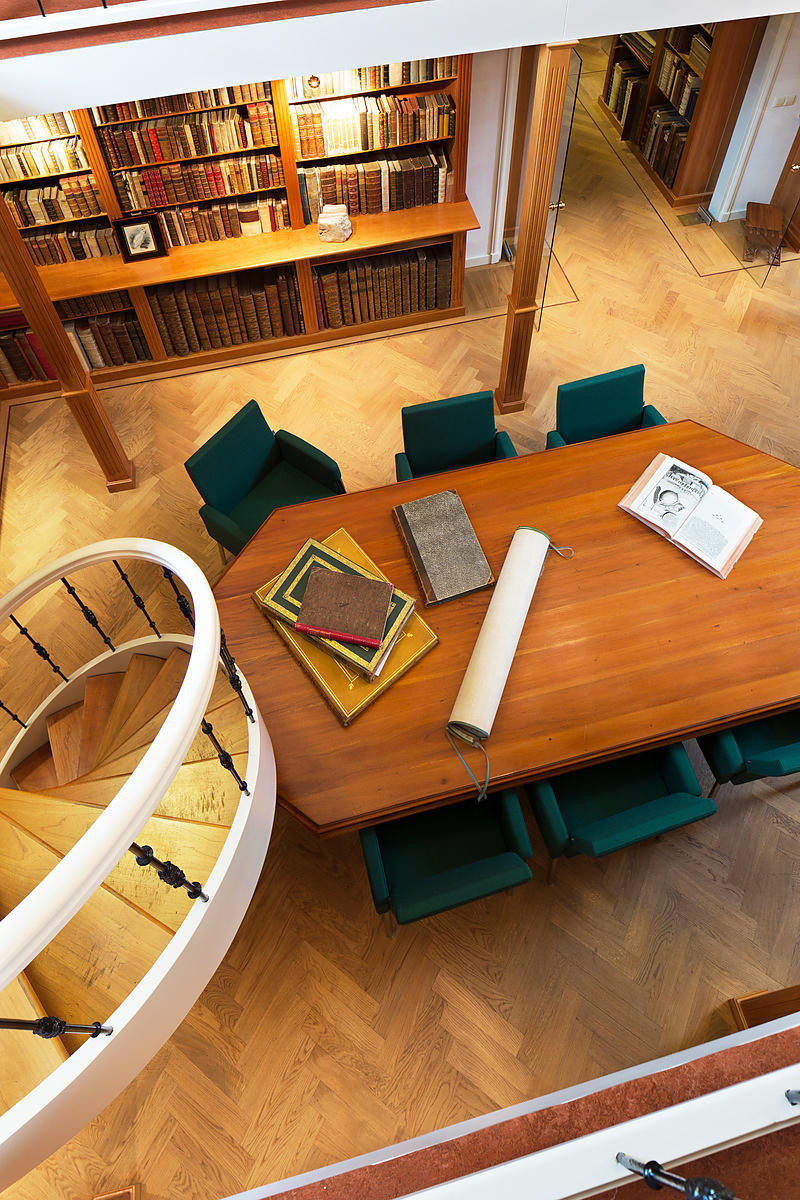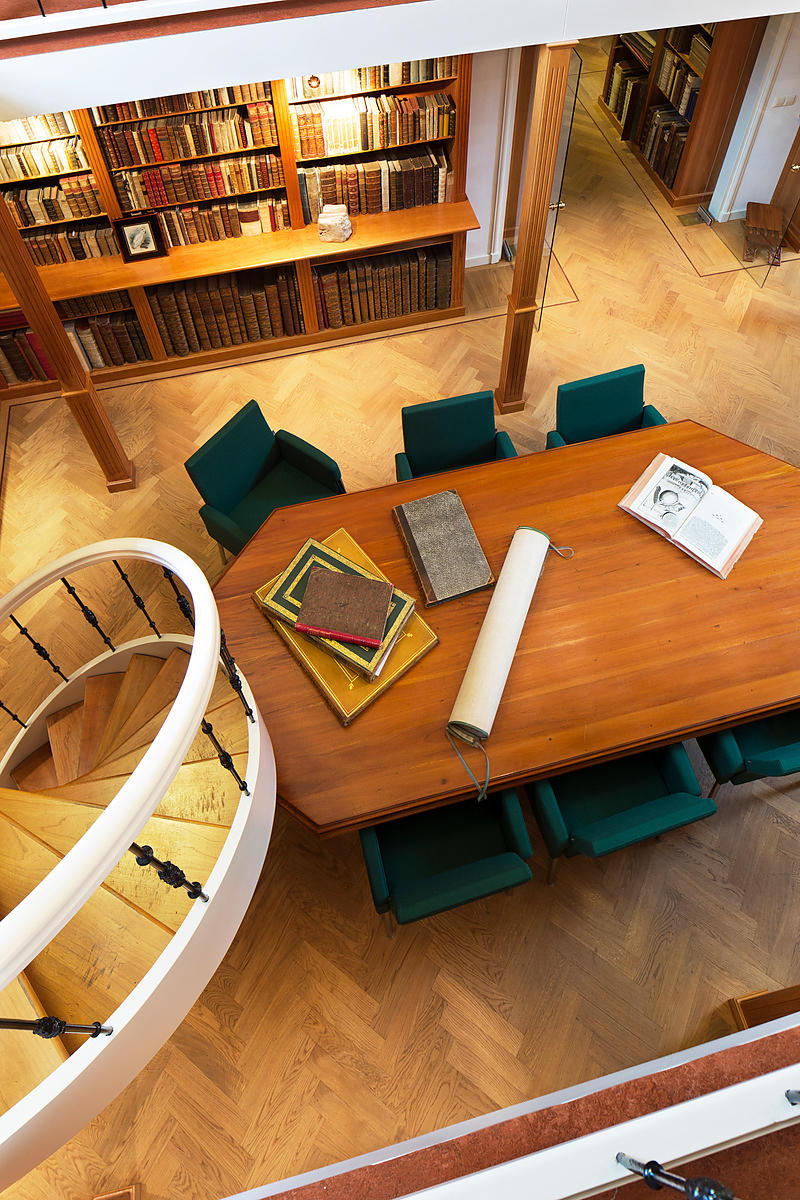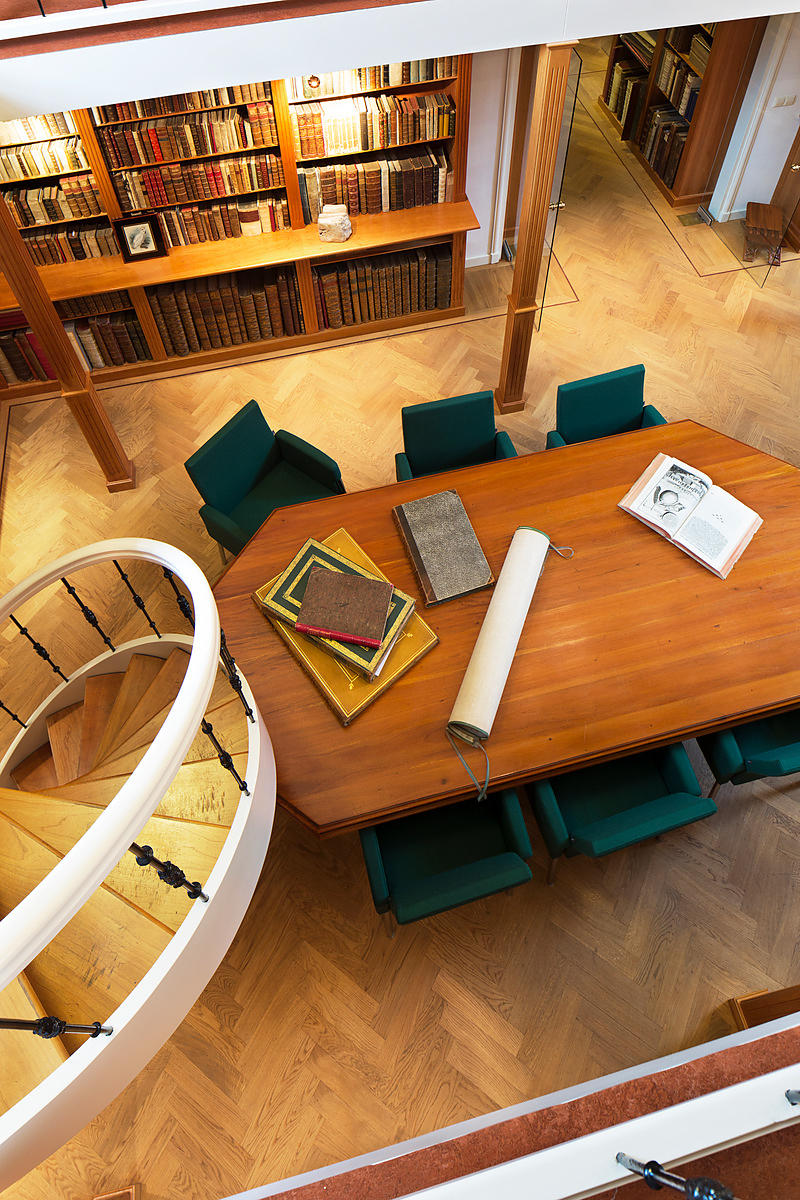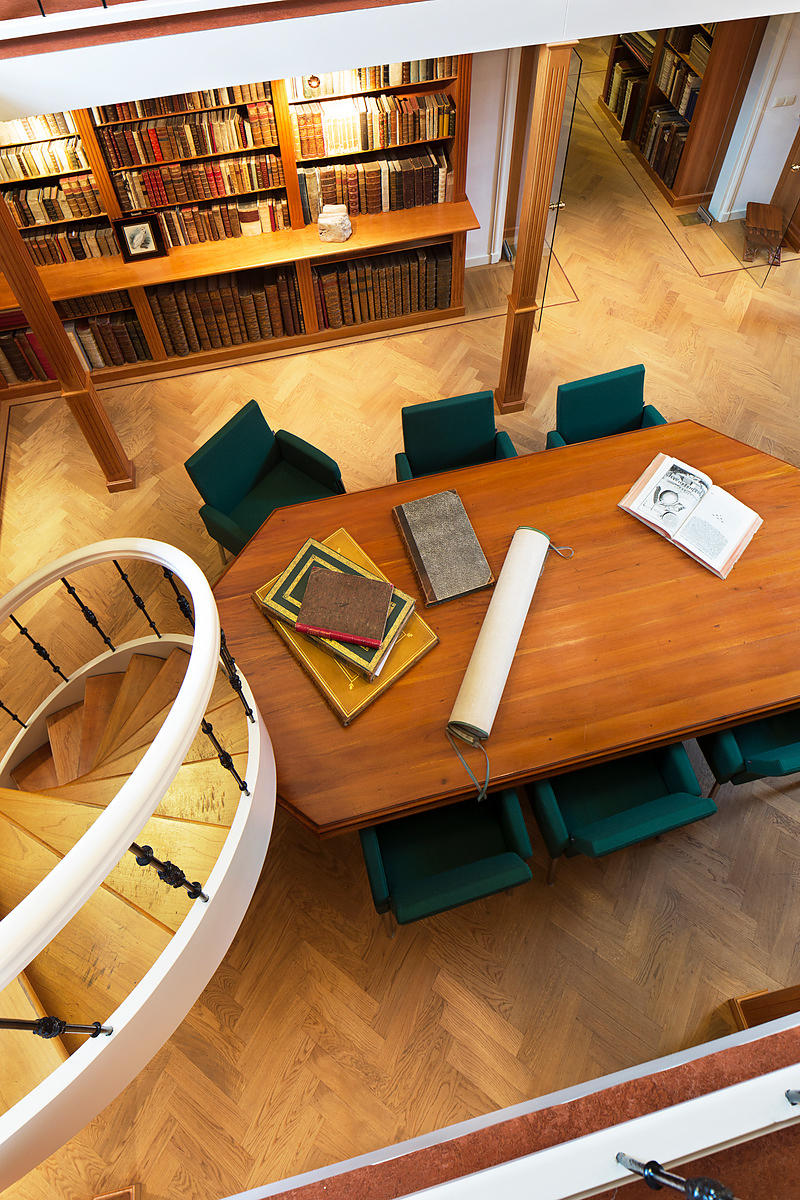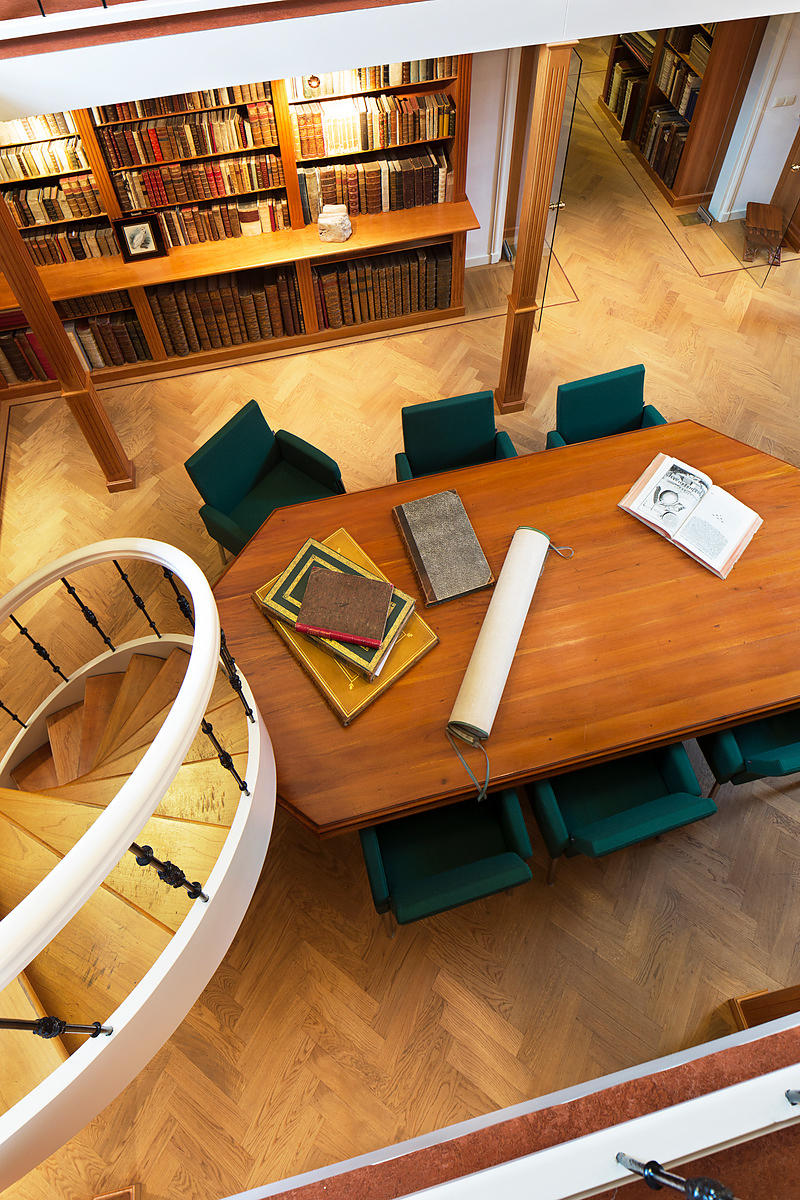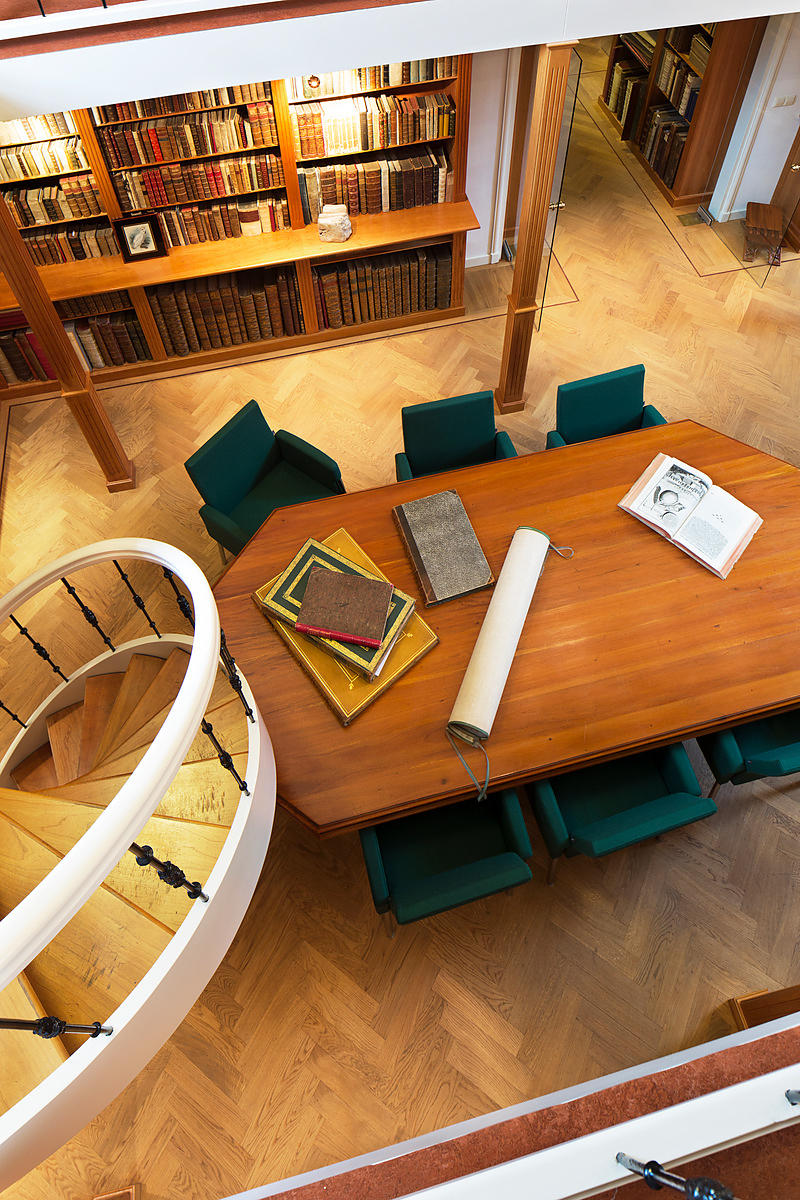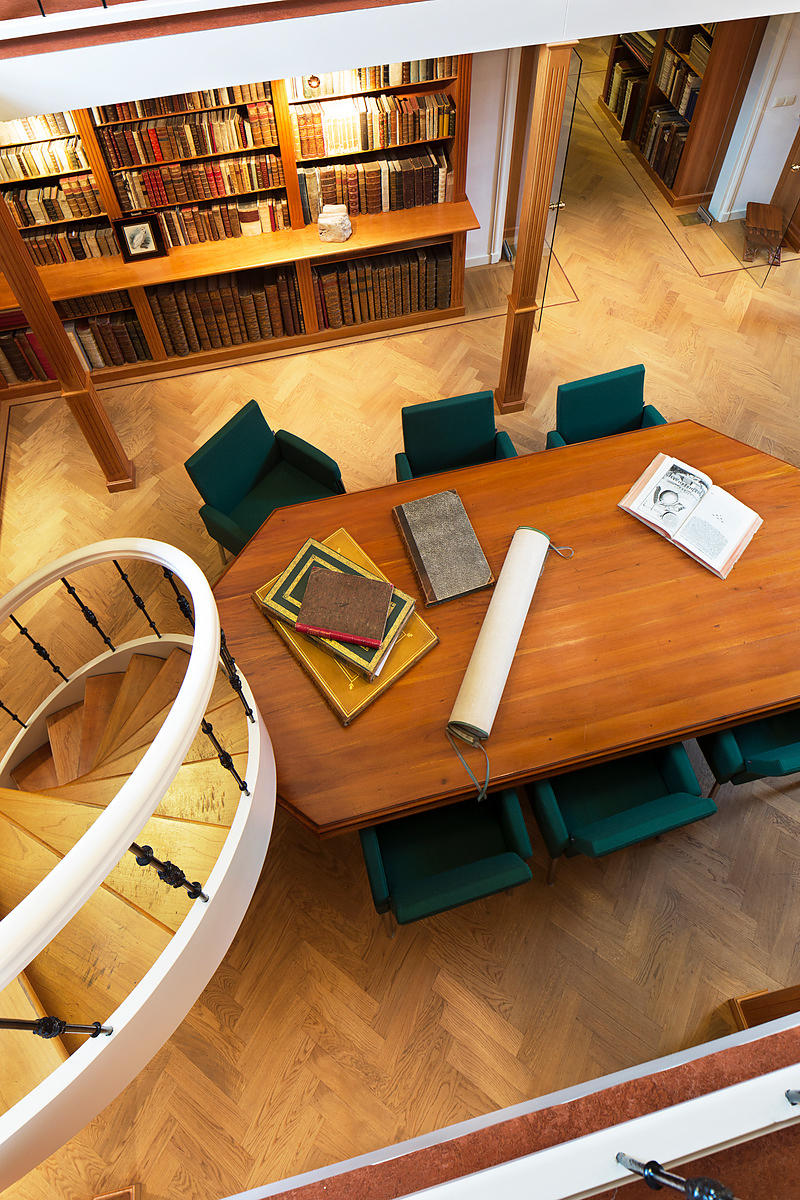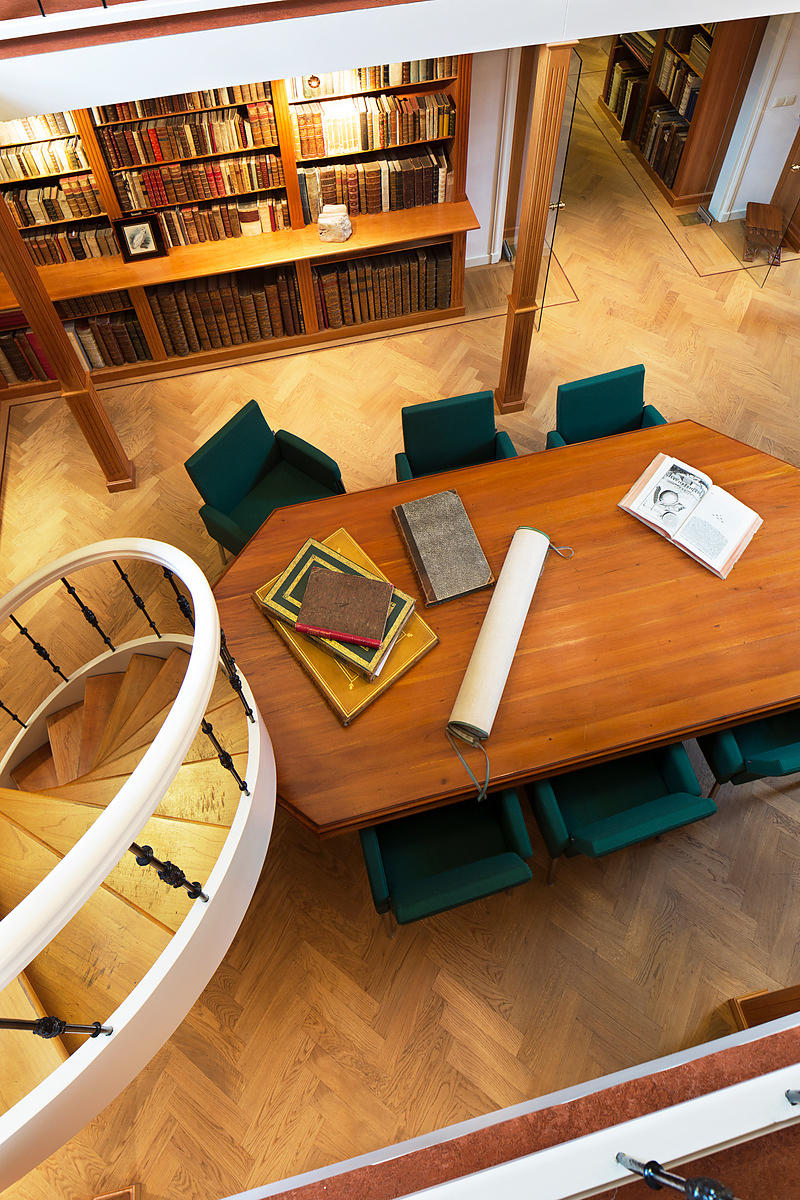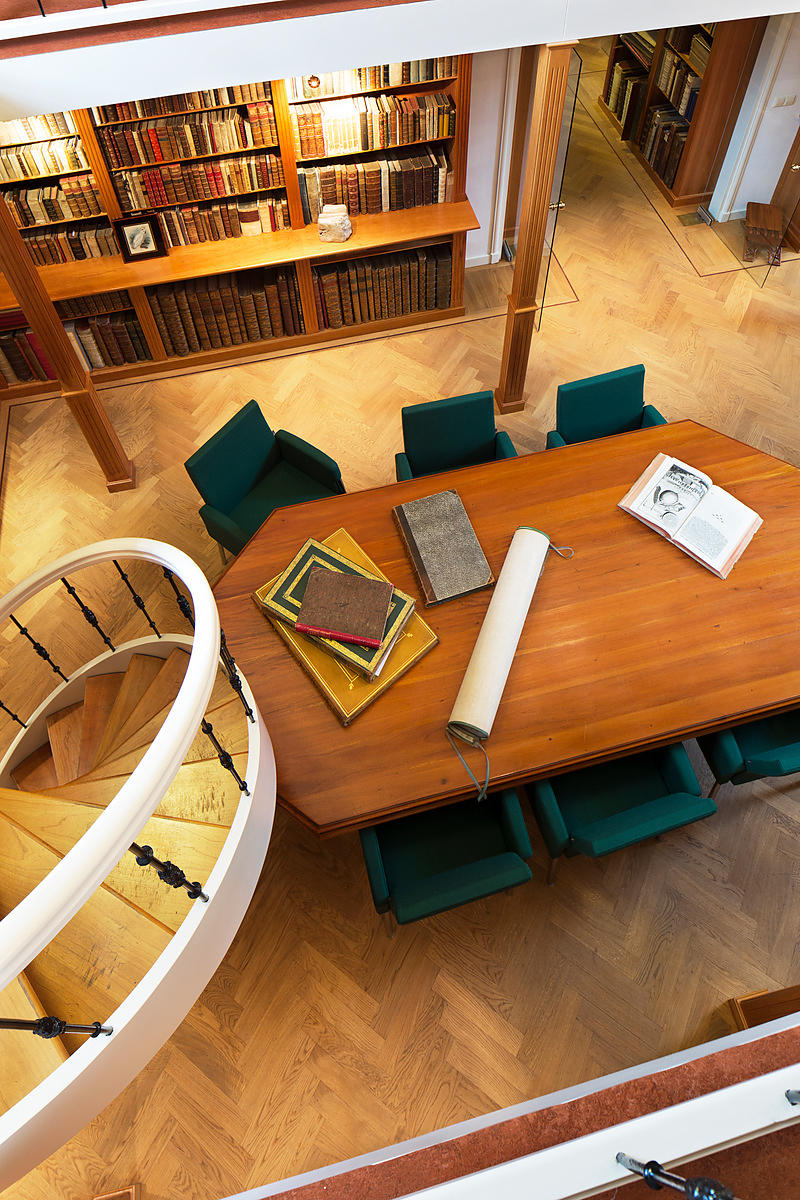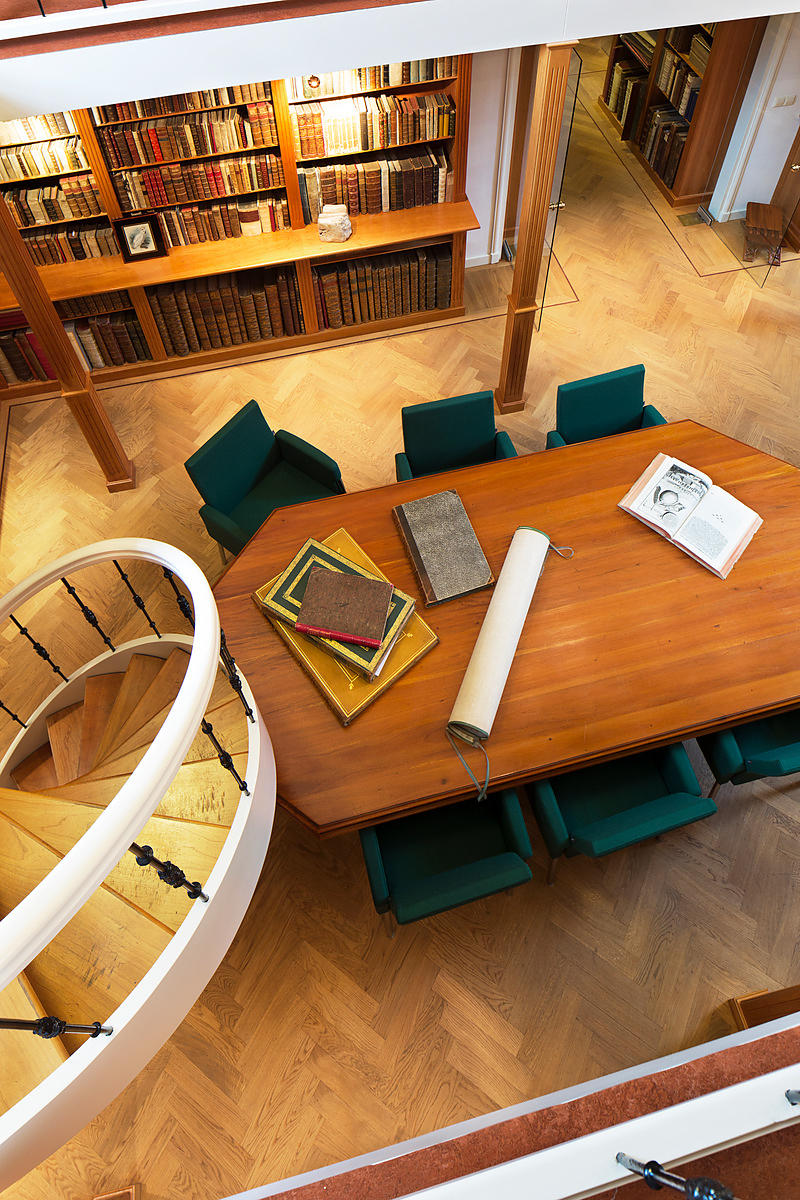 ERASMUS, Desiderius.
In Evangelium Marci paraphrasis, ... nunc recens & nata, & formulis excusa.With Froben's woodcut device on the title-page and a larger version of it on the verso of the last page, and with 1 9-line, 3 6-line and many 4-line historiated woodcut initials.
With: (2) ERASMUS, Desiderius. Paraphrasis in Evangelium secundum Johannem, ad illustrissimum Principem Ferdinandum, nunc primum excusa.Basel, Johannes Froben, (colophon: February) 1523. Title printed in a richly decorated woodcut architectural frame designed by Hans Holbein the younger (1497-1543) and cut by Hans Lützelburger.(3) ERASMUS, Desiderius. In acta apostolorum paraphrasis ..., nunc primum recens & nata & excusa.Basel, Johannes Froben, February 1524. With a small woodcut printer's device of Froben on the title-page and a larger one on the verso of the last page. (4) GREGORIUS NAZIANZENUS. De theologia libri quinq[ue], nuper è Graeco sermone in Latinu[m], à Petro Mosellano Protegenese traduti.[colophon:] Basel, Johannes Froben, 1523. With Froben's woodcut device (and his name) on the title-page and a larger version on the verso of the last leaf.(5) HERMAS. Pastoris Nuntii poenetentiae, visiones quinq[ue], mandata duodecim, similitudines vero decem, in quibus apparuit & locutus est Hermae, discipulo Pauli Apostoli. Cui etia[m] in principio apparuit Ecclesia in variis figuris.[colophon:] Strasbourg, Johannes Scottus, 1522. With 1 8-line historiated woodcut initial.
Folio. All texts set in a Venetian-style roman type. Contemporary calf over paperboards, sewn on 5 double cords. With a 14th-century religious manuscript on vellum used as paste-downs, that at the back pasted over a leaf from an incunable. 147, [1]; 194, [1 blank], [1]; [12], 122, [1 blank], [1] pp.; [46]; [31], [1 blank] ll.
€ 12,500
Erasmus's famous paraphrases of two of the four gospels and the Acta Apostolorum, all three in their first editions, bound together with two patristic works by Gregory of Nazianzus and Hermas . Erasmus used the term "paraphrase" to mean "a form of continuing commentary on a certain text". His famous paraphrases of the New Testament are a milestone in the history of Christian faith in the first decades of the 16th century, when the Reformation was fully unfolding and Luther reached his pinnacle. Together with the works of Gregorius Nazianzenus and Hermas, edited by two well-known German humanists, this volume provides great insights into the history of early humanism and the Reformation, especially in Germany.
Ad 1: Second issue of the first edition of Erasmuss paraphrase of the Gospel of Mark, dated 1524 on the title-page and collating. Later that year 1524 the text was reprinted by Knobloch in Strasbourg, Cervicornus in Cologne and Michiel Hillen van Hoochstraten in Antwerp.
Ad 2: First edition of Erasmuss paraphrase of the Gospel of John. Erasmus dedicated it to the Archduke Ferdinand I of Austria on 7 January 1523.
Ad 3: First edition of Erasmuss paraphrase of the Acts of the Apostles.
Ad 4: First edition of the Latin translation by Petrus Mosellanus (1493-1524) of the works of Gregory Nazianzus (ca. 329-390 AD), also known as Gregory the Theologian, a 4th-century Archbishop of Constantinople and theologian, widely considered the most accomplished rhetorical stylist of the patristic age.
Petrus Mosellanus Protegensis (real name Peter Schade; 1493-1524) was a German humanist scholar. He was also one of Erasmuss correspondents writing to him on 8 August 1522 from Basel that he had not seen yet his translation of Gregorius.
Ad 5: First edition of an early Christian Vulgate translation in Latin of "The Shepherd of Hermas", edited by Nicolaus Gerbellius (ca. 1485-1560), a German humanist, jurist and doctor of civil and canon law and member of a circle of literary men living in Strasbourg.
From the Redemptorist monastery in Hennef-Geistingen, Germany. With a contemporary owner's inscription on the contemporary paper paste-down that was mounted over the vellum manuscript leaf used as front paste-down but has been mostly torn out: "Johannes de Jong, canonicus ecclesiasticus Sancti Cassii Bonnensis possessor huius liber" ("Johannes de Jong, canon of the Church of Saint Cassius at Bonn is the possessor of this book"). The first four works are annotated in two different 16th-century hands.
Binding worn, especially around the spine where some leather is gone, hinges cracked and weak, corners bumped, some marginal water stains (especially at the beginning and at the end of the book), half of the last blank leaf gone, the handwritten contents of the Gospel of Marc is quite fragile and the outer corners are damaged with some loss of text, but otherwise an important convolute in good condition. Ad 1: Adams, E749; Bezzel 1502; Erasmiana Lovaniensia (Cat. exhib. Louvain 1986), item 80, vol. 1, part 2 (with erroneous VD16 references). Ad 2: Bezzel 1482; USTC 625982; VD16, E3343. Ad 3: VD16, E3353, part 5; Erasmiana Lovaniensia (Cat. exhib. Louvain 1986), item 80; not in USTC. Ad 4: USTC 640592; VD16. Ad 5: Muller, Bibl. Strasb., II, no. 102; USTC 683201; VD16, H2453; edition of the original Greek text by M. Whittaker, in: GCS, 48 (Berlin, 1956) and by R. Joly, in: SC, 53 (Paris, 1958). Ads 1-3: cf. J. Chomarat, "Grammar and rhetoric in the paraphrases of the Gospels by Erasmus", in: Erasmus of Rotterdam Soc. Yearbook, 1 (1981), pp. 30-68.
Related Subjects: