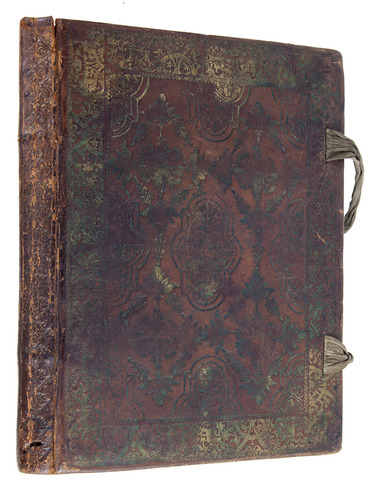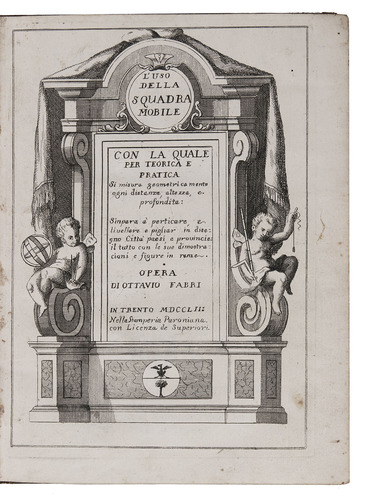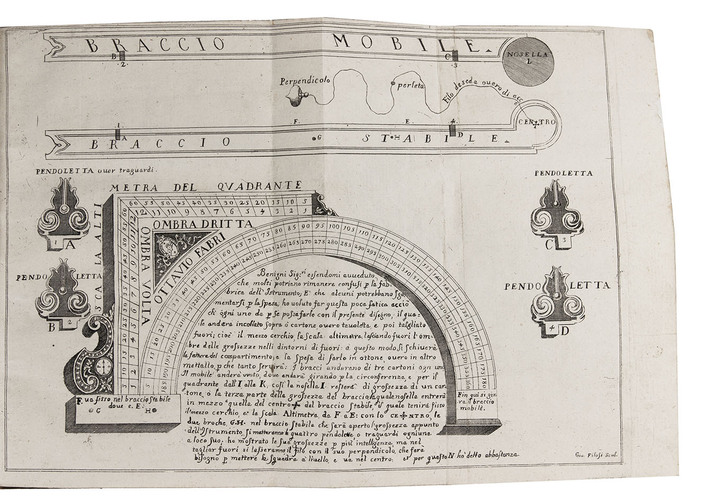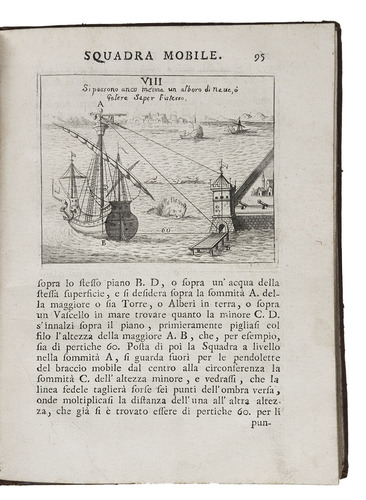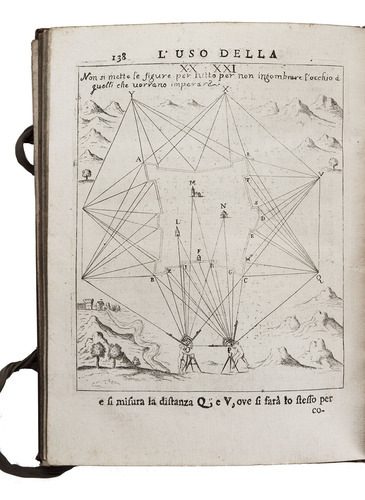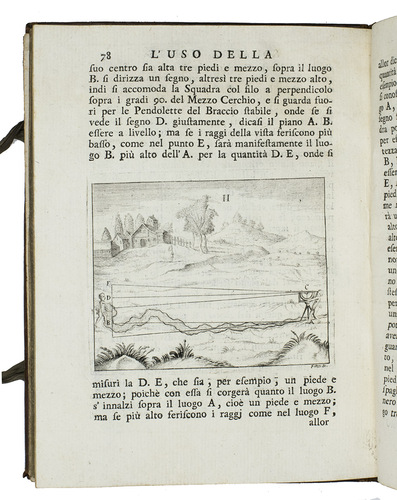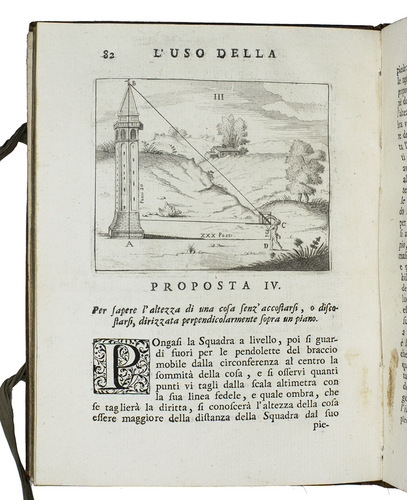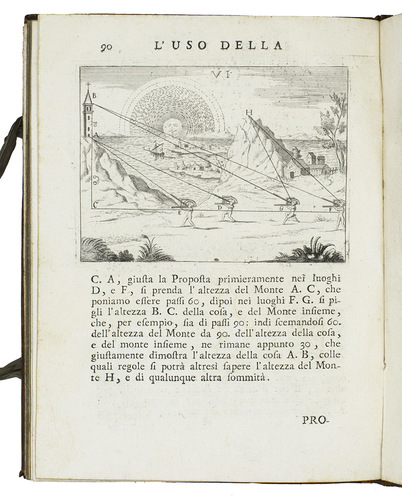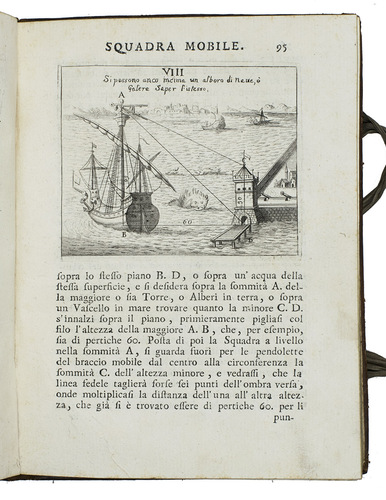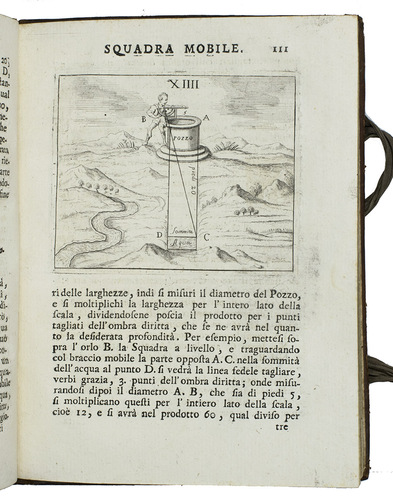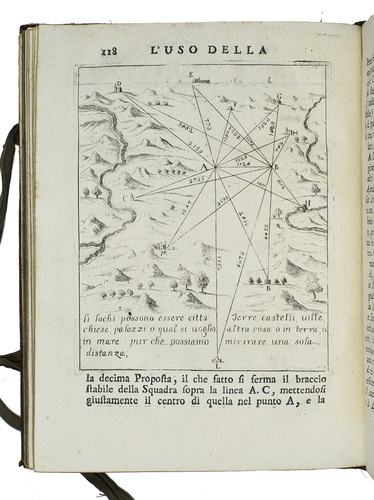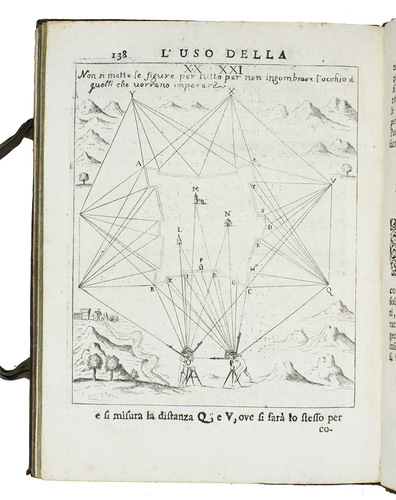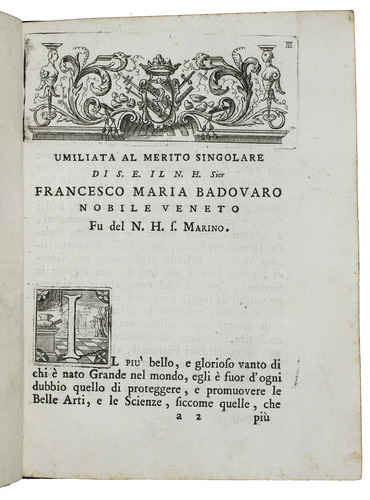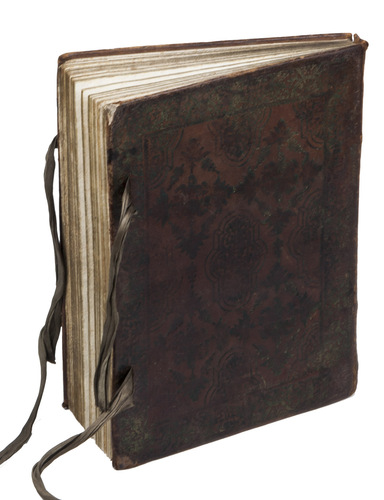 FABRI, Ottavio.
L'uso della squadra mobile, con la quale per teorica, e pratica si misura geometricamente ogni distanza, altezza, e profondità; ... accresciuta in questa terza edizione di parecchie istruzioni, ..., ec. da Giovanni Vettori.
Trent, Stamparia Vescovile Paroniana [= Giambattista Parone, printer to the Diocese of Trent], 1753. 4to. With engraved architectural title-page, 1 unnumbered folding and 3 numbered illustration plates, 25 engraved illustrations in the text, engraved arms of the dedicatee, 1 engraved pictorial initial letter. Richly gold-tooled contemporary tanned sheepskin, silk ties, gilt edges. XII, 9-144 pp.
€ 3,500
Ninth copy located of the "third" (actually fifth) and last edition, revised, expanded and extensively illustrated with new plates, of a classic work on surveying and mensuration, with instructions and patterns for making a theolodite. The large folding plate (19.5 x 27.5 cm) showing the theolodite was probably designed to be cut up by the person who wished to make one, the paper scales, pointers, etc. being pasted on the surface of the instrument, which might be made of metal, wood or cardboard. The theolodite is shown again in the first plate in the text, and other plates show its use for measuring height, distance, depth, etc. in a wide variety of circumstances, both on land and aboard a ship. The book covers the theory as well, and the 3 numbered plates at the end show plane and solid geometrical figures, and scales of inches ("oncie") for 25 Italian cities.
With bookplate. In very good condition, with only occasional minor spots or stains. The binding is good, though the spine is slightly damaged and the finisher apparently used a poor grade of gold for the tooling, as much of it has oxidized or even rubbed off, though the tooling itself remains clear. A very rare expanded and extensively illustrated edition of a classic of surveying. Riccardi I, F-col. 434; KVK (2 copies); WorldCat (same 2 copies); Cat. Bibl. Trentino (6 copies in 3 Trento libraries); cf. Ist. Cent. Cat. Unico (other editions).
Related Subjects: