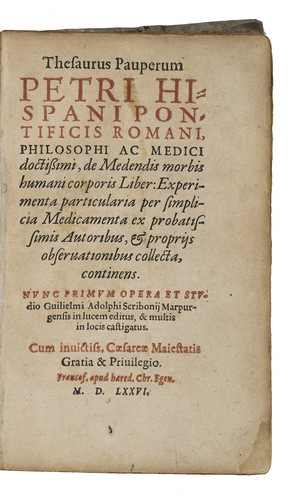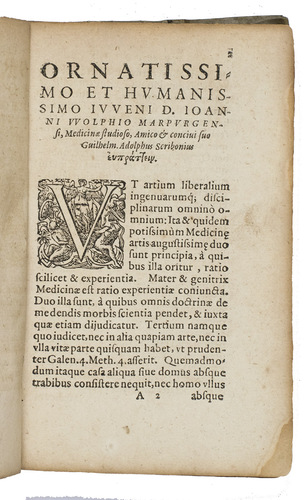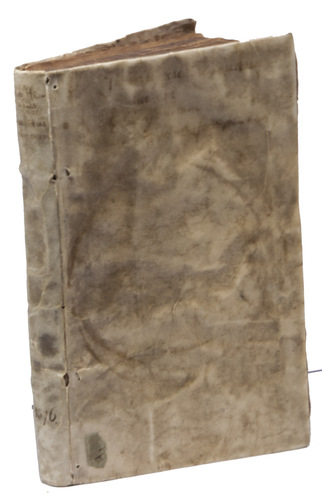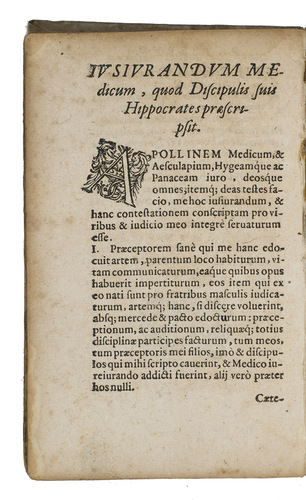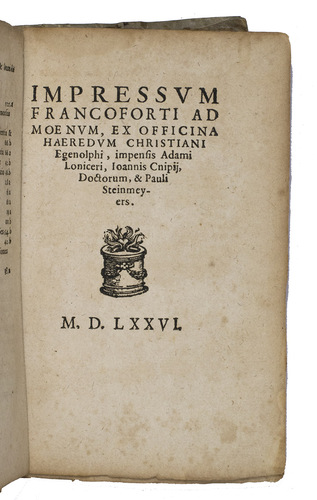 JOHN XXI, Pope.
Thesaurus pauperum Petri hispani pontificis romani, philosophi ac medici doctissimi, de medendis morbis humani corporis liber: experimenta particularia per simplicia medicamenta ex probatissimis autoribus, & propriis observationibus collecta, continens.
Frankfurt, heirs of Christian Egenolff, 1576. 8vo. Title-page in red and black, Egenolffs woodcut burning heart device below the colophon, 3 woodcut arabesque tailpieces, and 3 woodcut decorated initials (3 different series). Contemporary limp vellum, faded manuscript title on spine. 112, [7, last 3 pages blank] ll.
€ 3,500
First Latin Egenolff edition of a mediaeval collection of medicinal recipes intended, as the title "Treasury for the Poor" suggests, to provide readily available and inexpensive remedies to common ailments, probably for medical practitioners of modest means, students and (when they were at least able to read Latin) common people who might need to take care of their own ailments. One of the most important sources for medieval pharmacology, it makes much use of animal parts and common plants and gives a very intimate picture of medical practices among the common people from medieval times until far into the Renaissance. Many recipes are said to derive from Hippocrates, Galen and Avicenna, and an appendix presents the Hippocratic oath. It is widely believed that the oath was written by Hippocrates, himself, or by one of his students, to establish certain ethical standards. It was first printed in Salamanca ca. 1485, when it was attached to Juan de Pastranas Compendium grammaticae, so that it was sometimes incorrectly attributed to him. From at least ca. 1492 it was attributed to "Piero Spano" or "Petrus Hispanicus" (Peter of Spain), which received various interpretations but is now generally believed to refer to the Portuguese Peter Juliani (ca. 1215-1277), better known from his 1276 election as Pope John XXI, as the present edition suggests. It went through dozens of editions in numerous languages before 1600, but declined in popularity in the course of the 17th century. Beginning with a German edition of 1537, Christian Egenolff and his heirs were the leading publishers.
The book collates A-P8 = 120 ll., with only the colophon on P6, and with P7 and P8 blank. These three leaves are often lacking, but the present copy includes all three.
With the bookplate of J.B. Holzinger on the front paste down. Bookblock detached from binding, and some leaves detached as well. Browned and with some pencil annotations in the margins, otherwise still in good condition. Durling 2595; Thorndike II, pp. 488-513; VD16, J673; cf. Hagelin, Materia medica, p. 23 (1525 Lyon ed.); USTC 697013 (second Egenolff ed.).
Related Subjects: