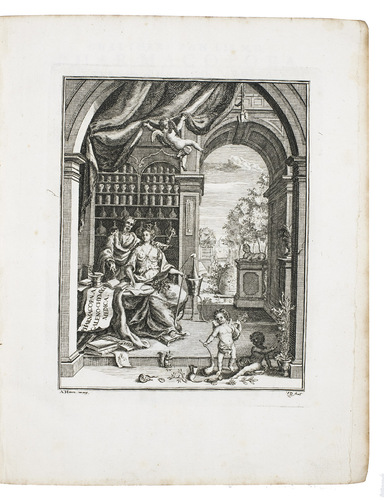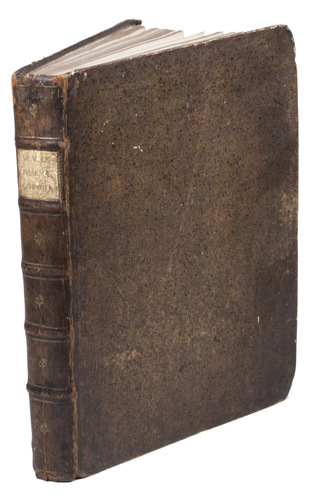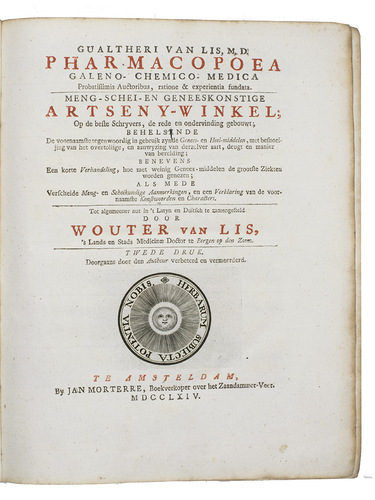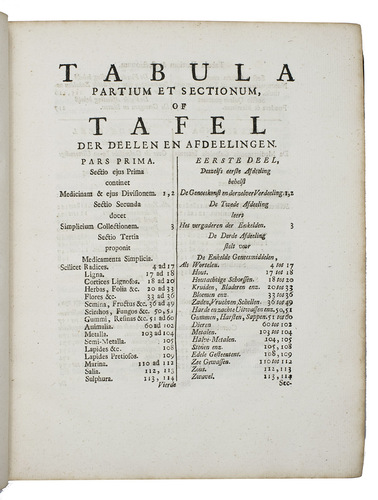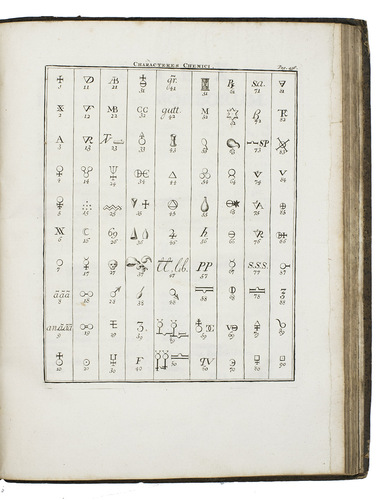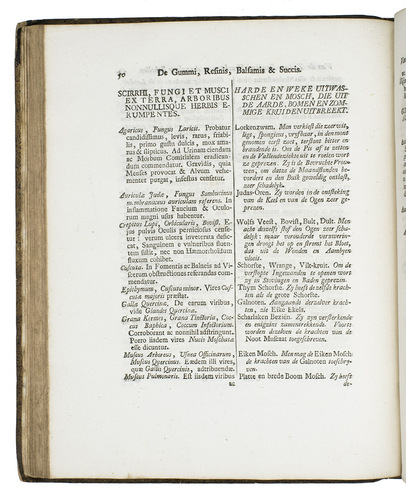 LIS, Wouter van.
Pharmacopoea Galeno- chemico- medica probatissimis auctoribus, ratione & experiential fundata. Meng- schei- en geneeskonstige artseny-winkel; op de beste schryvers, de rede en ondervinding gebouwt; ... benevens een korte verhandeling, hoe met weinig genees-middelen de grootste ziekten worden genezen; als mede ... een verklaring van de voornaamste konstwoorden en characters.
Amsterdam, Jan Morterre, 1764. 4to. With engraved frontispiece by V.D. after A. Hordyk, title-page in red and black, with vignette in a roundel: the sun surrounded by the motto "Herbarum subiecta potential nobis", one full-page plate with the chemical symbols, printed in two columns. Half calf , gold-tooled spine, spine label lettered in gold. [34)], 436, [60] pp.
€ 500
Second edition of an interesting pharmacological guide and recipe book in Dutch and Latin, the two languages printed in two columns facing each other. The first edition had been published in Rotterdam by Philip & Jakobus Losel in 1747. Though never formally designated as a standard by a government or medical institution, the defining trait of a pharmacopoeia, it nevertheless served as one in practice, not only in the Netherlands but also in Japanese translation, making it important for the introduction of European pharmacological knowledge into Japan. The book is divided into six parts: (1) simple drugs; (2) Gallenica, the medicines treated by Galenus; (3) Chymnica; (4) diseases; (5) practical information; (6) a glossary and chemical symbols. The manual gives a unique survey of 18th-century pharmacology and medicine in the Netherlands. Blake, p. 273; STCN (3 copies); Wittop Koning, Compendium ..., p. 80; cf. BMN I, p. 381 (1st ed.); not in Wellcome.
Related Subjects: