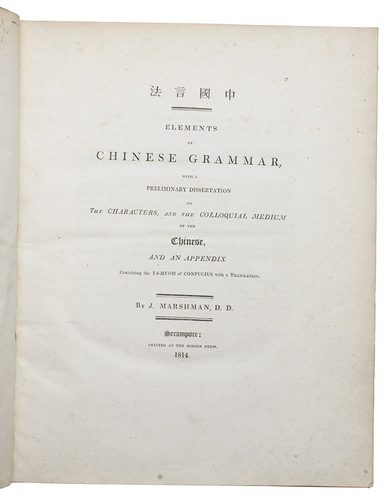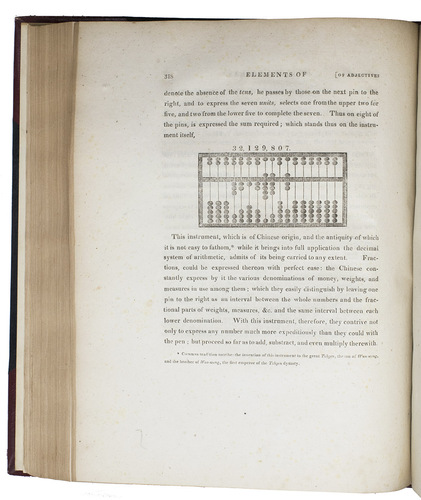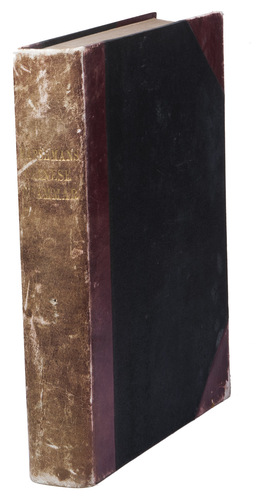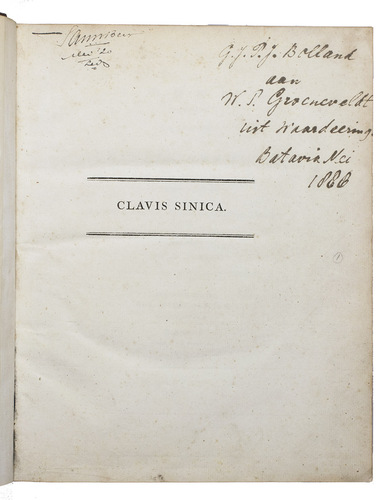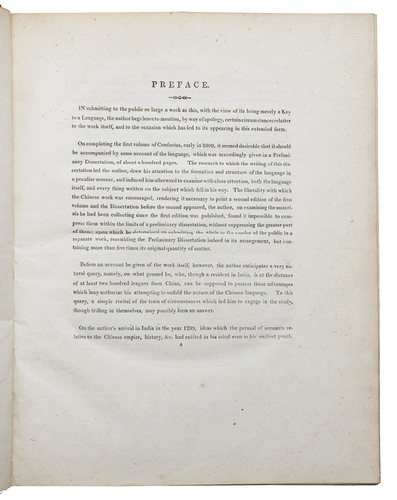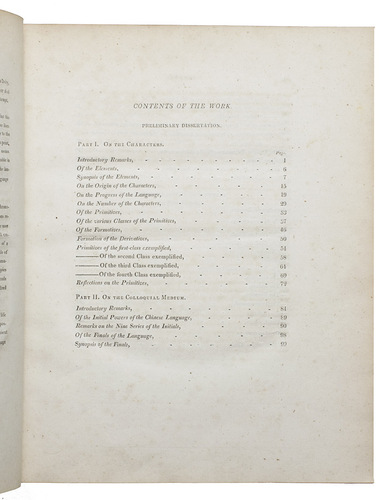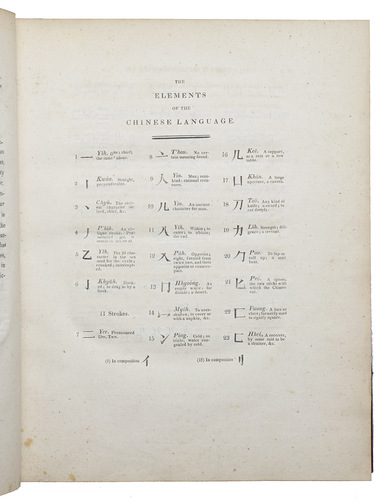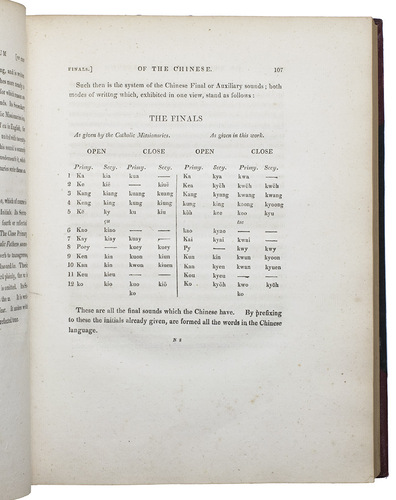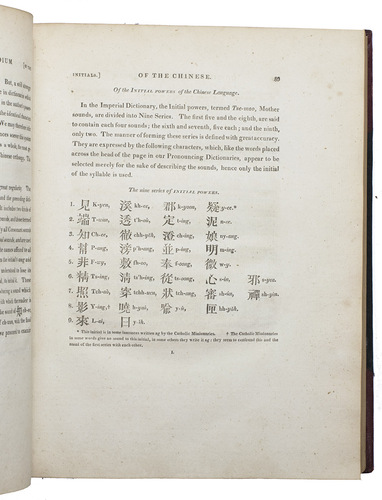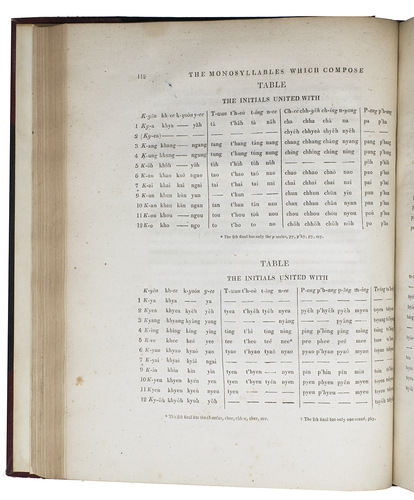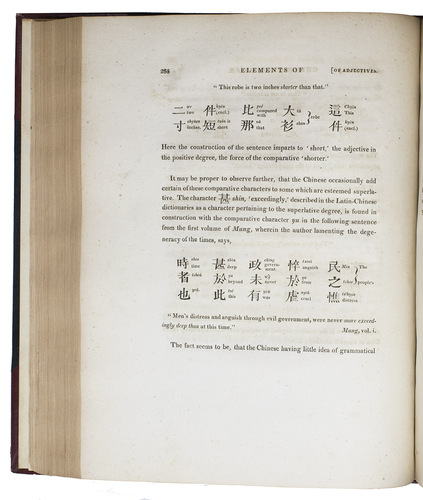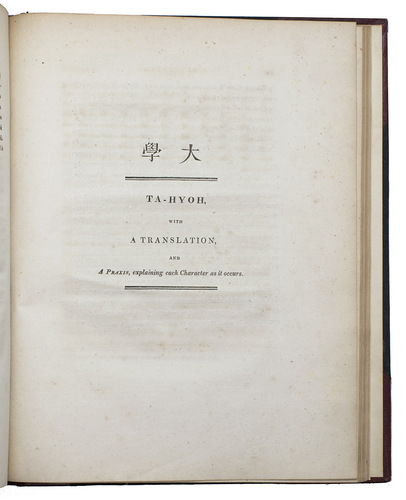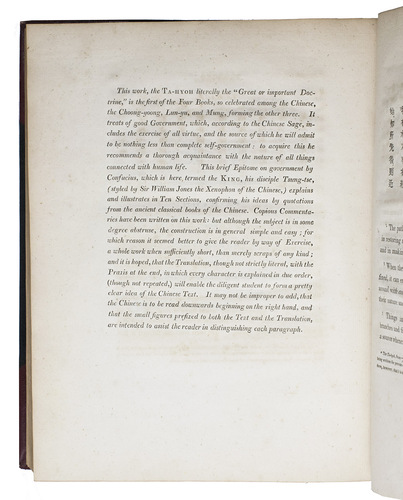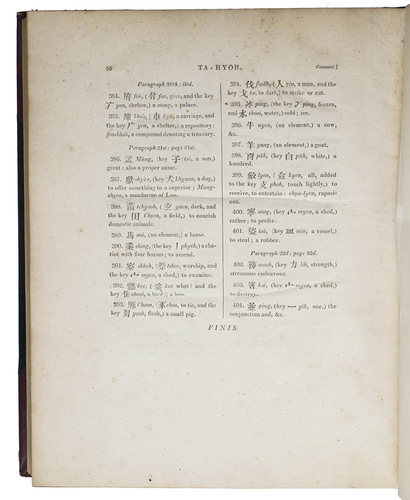 MARSHMAN, Joshua.
Elements of Chinese grammar, with a preliminary dissertation on the characters, and the colloquial medium of the Chinese, and an appendix containing the Ta-Hyoh of Confucius with a translation.
Serampore, printed at the mission press, 1814. Large 4to. With one woodcut illustration of a suanpan (abacus of Chinese origin) on p. 318. Text is set in roman type (Latin alphabet) and Chinese characters and occasionally in Bengali characters. Contemporary half red calf and black cloth sides with the title in gold on the spine. [1], [1 blank], [1], [1 blank], XVI, VII, [1 blank], 2, 566, 56 pp.
€ 5,500
The first edition of the Elements of Chinese grammar by the English Baptist missionary Joshua Marshman (1768-1837), an outstanding work in the history of Chinese linguistics and the first extensive book printed by Europeans using cast metal movable Chinese type (preceded only by Marshmans Gospel of the Apostle John in 1813). It is also the first English-language grammar of any Chinese language. His present book, published in 1814, is one of the most extensive grammars of colloquial Chinese. It provides an extensive description of the characters and colloquial medium of the Chinese, their origin and development. Marshman illustrated his grammar with numerous examples and explains each grammatical concept in detail, including case, agreement, pronouns, verbs, mood, tense, prosody, parts of speech and dialect variation. Although Marshman refers to the language simply as "Chinese", there were several completely different Chinese languages that all used more-or-less the same characters (one advantage of word characters over a phonetic alphabet is that people who could not understand each others spoken language could still read each others texts, because the character represents the meaning of the word, not its sound). T'oung Pao, Joshua Marshman and the study of Spoken Chinese (2020) explicitly refers to the language Marshman studied as Mandarin.
The authors sixteen-page preface is especially important for more than just his comments on the Chinese type. He gives very detailed autobiographical information, centring on the origins of his study of the Chinese language, which caught his interest when he first arrived in India in 1799, with very precise information about the people and books that aided him (his principal teachers were the Scottish missionary Claudius Buchanan and the Armenian Christian Joannes Lassar, born in China, whom Buchanan hired to help at Kolkata and Serampore).
From the collection of the former Dutch diplomat Roland van den Berg, ambassador to Beijing (1962-1966 and 1986-1992), Seoul (1978-1982) and Tokyo (1992-1995). With two earlier owner's inscriptions on the half-title: "[...?] Mei '20 [...?]" and "G.J.P.J. Bolland aan W.P. Groeneveldt uit waardeering. Batavia Mei 1888". The binding shows signs of wear and the spine is somewhat faded to brown, some occasional very minor spotting and very slight browning. With a hole in the foot margin of leaf 2N2 and the foot margin of leaf 2U1, neither affecting the text. Otherwise in good condition. Cordier, Sinica, 1661; Diehl 85; Lowendahl 775; Lust 1020; Ma Min, "Joshua Marshman and the first Chinese book printed with movable metal type", in: Journal of cultural interaction in East Asia, 6 (2015), pp. 3-18, at p. 13.
Related Subjects: