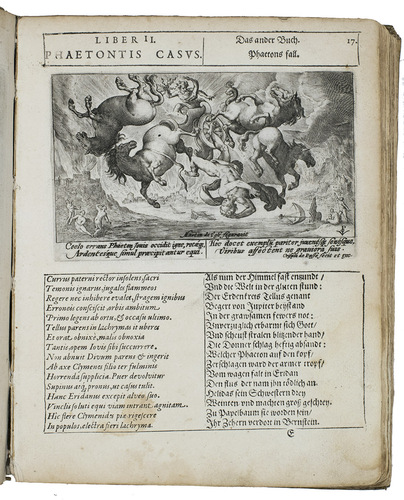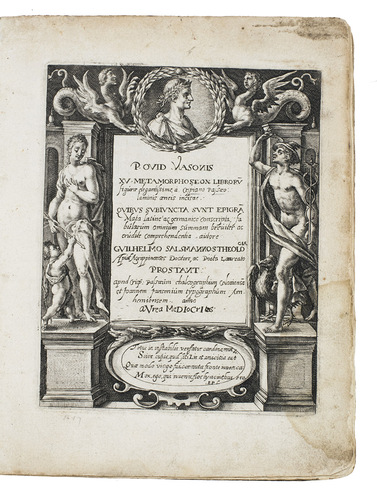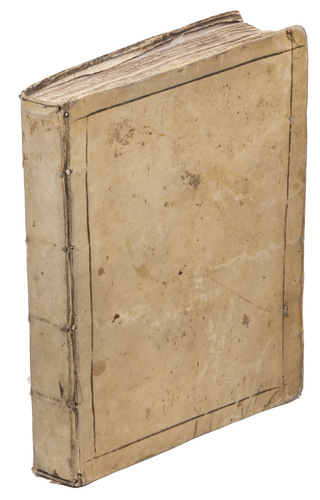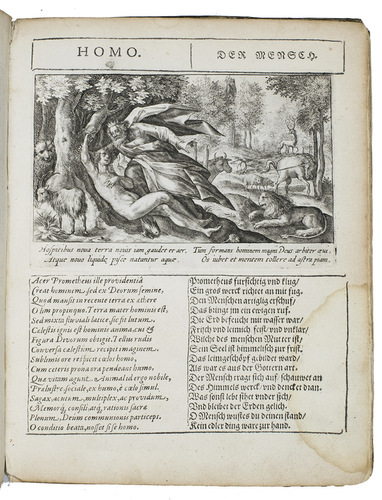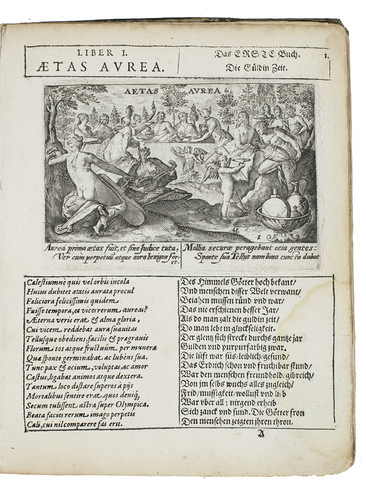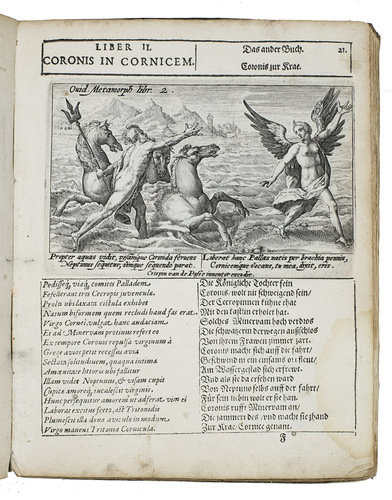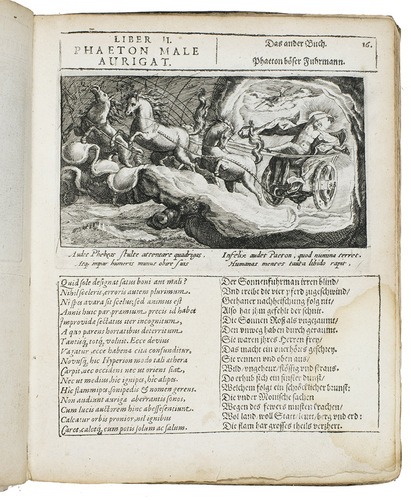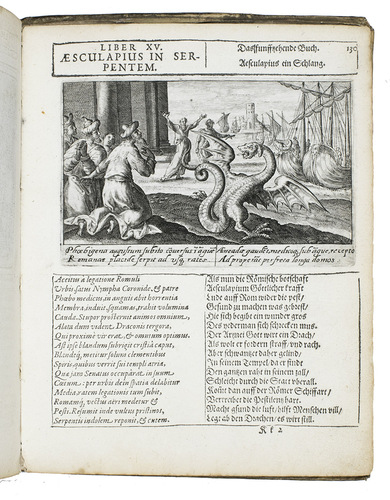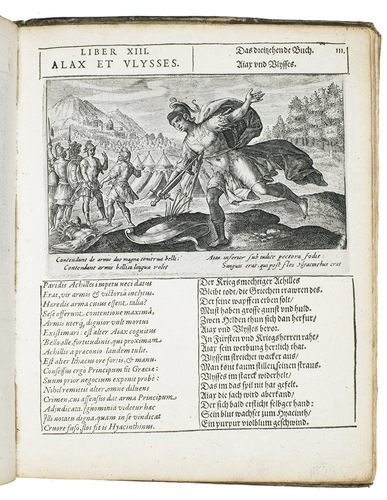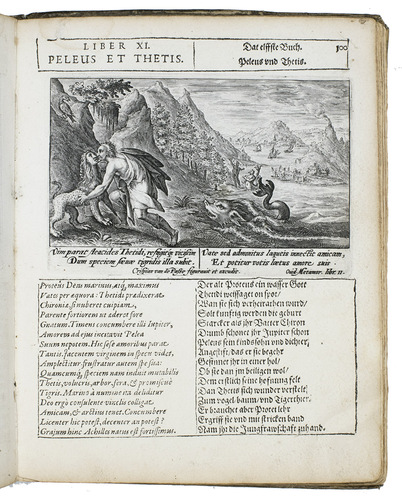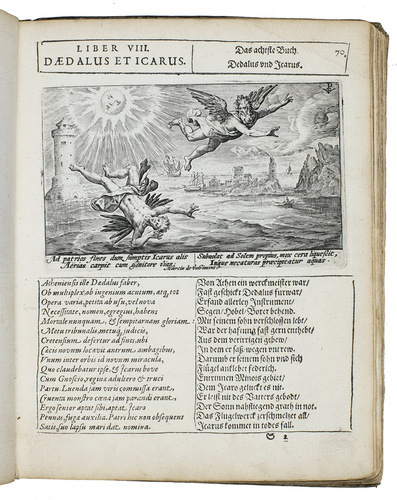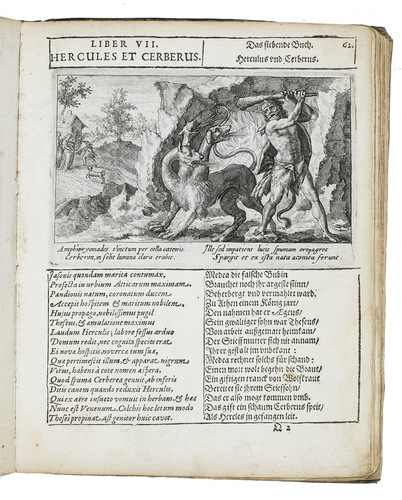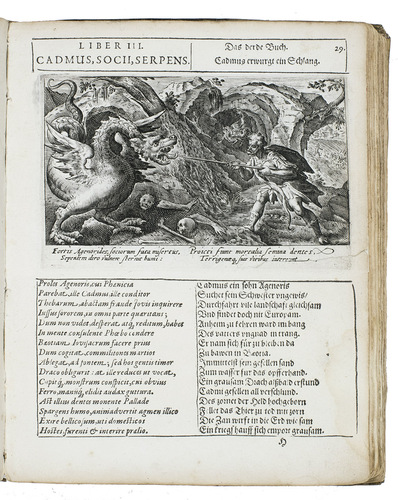 PASSE, Crispijn de. - OVID.
P. Ovid. Nasonis XV. Metamorphoseon librorum figurae elegantissime a Cr[i]spiano Passaeo laminis aeneis incisae. Quibus subiuncta sunt epigrammata Latine ac Germanice conscripta ... autore Guilhelmo Salsmanno.
Cologne, Crispijn de Passe I; Arnhem, Jan Jansz., 1607. 4to. With an engraved title-page (15 x 12.5 cm) and 2 unnumbered and 132 numbered engravings (ca. 8.5 x 13.5 cm) by Crispijn de Passe I. Contemporary vellum. 136 ll.
€ 9,500
First and only edition of a print series by Crispijn de Passe I (1564-1637) illustrating the Metamorphoses of Ovid, published as a book together with explanatory texts in letterpress verses in Latin and German by Willem Salsman (fl. 1607-1629), one of De Passe's main contributing poets in Cologne, summarizing the content of the prints. De Passe published the present 1607 edition together with Jan Jansz. (ca. 1560?-1630) in Arnhem (father of the great atlas printer Johannes Janssonius in Amsterdam). The engraved title-page refers to De Passe "chalcographium" and Jansz. "typographium" suggesting that Jansz. printed the letterpress in Arnhem and then De Passe printed the copperplates on the sheets in his Cologne workshop.
De Passe had published this series of plates already in Cologne (where he worked and lived from 1589 to 1611) with the title: Metamorphoseoon Ovidianarum typi aliquot artificiosissime delineati, [1604], with one plate (no. 46) dated 1602 and another (no. 4) 1604, so he engraved the series during at least those three years. That also shows he did not engrave the plates in the order of the 15 books of the Metamorphoses. Maarten de Vos supplied the drawings for several of the plates (nos. 17, 33, 35, 41, 70, 93 and 95) and he might have drawn more had he not died on 3 December 1603, before the engraving of the series was completed.
For the present edition of the print series, in book form with explanatory texts, De Passe designed a new title-page to fit the vertical format. The imprint ends with a chronogram "anno aVrea MeDIoCrItas" (year of the golden mean, the capitals giving MDCVII or 1607). Flanking the title are Venus, with Cupid, and Mercury, personifying love and eloquence. In pride of place at the head is the laurelled Ovid in a roundel. At the foot is a four-line verse by B[altasar] P[egand], who wrote several poems for De Passe in Cologne. After the title follows the rhymed foreword by Salsmann in Latin and German, which explains that the illustrations are intended for all lovers of art, and also for painters, goldsmiths, glass-painters and engravers. So these prints could become an important source of inspiration for the applied arts.
With the bookplate of Bob Luza (auction cat. Amsterdam, Van Gendt, 15-16 December 1981, lot 70). Some marginal water stains, not affecting the plates, little tears in some plates (repaired), some thumbing throughout and hinges weak, otherwise in good condition, with the prints in very good and sharp impressions. Veldman, Profit and pleasure: print books by Crispijn de Passe (2001), chap. V, pp. 73-84 and figs. XXVIII-XXIX & 116-249; Hollstein XV, 852; Franken 1338; Hein A. van Spaendonck, Catalogus van de Arnhemse drukken 16.
Related Subjects: