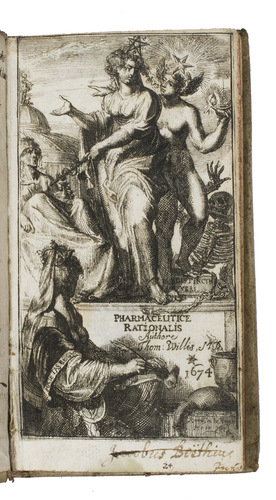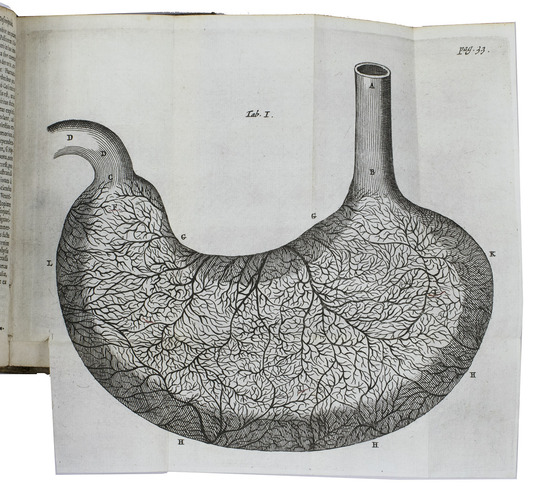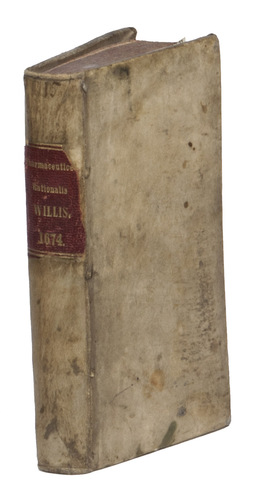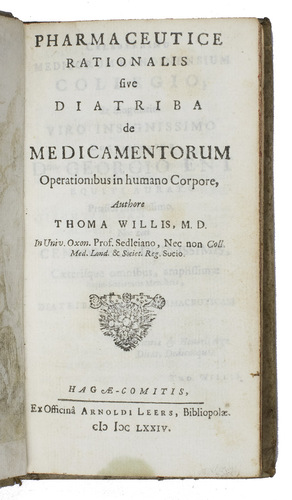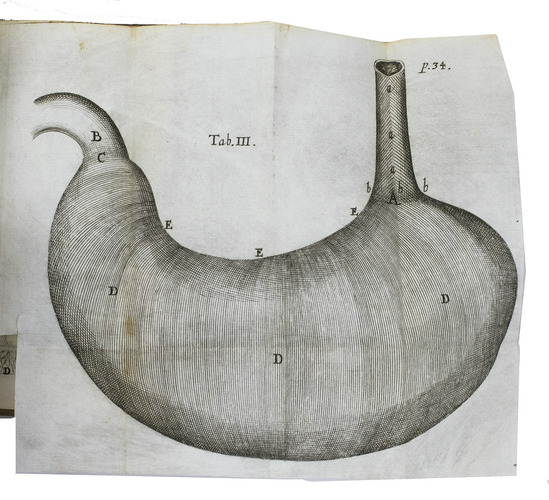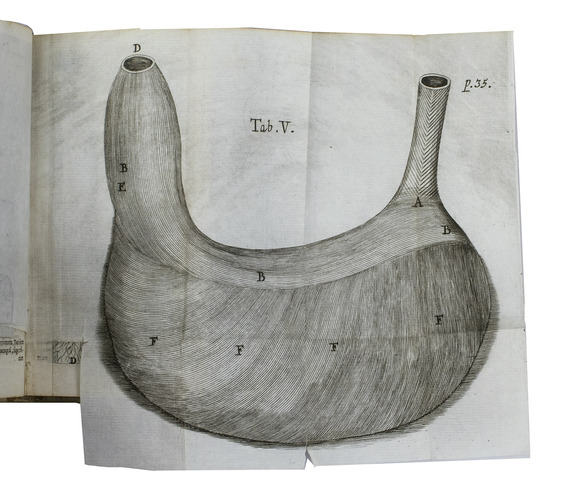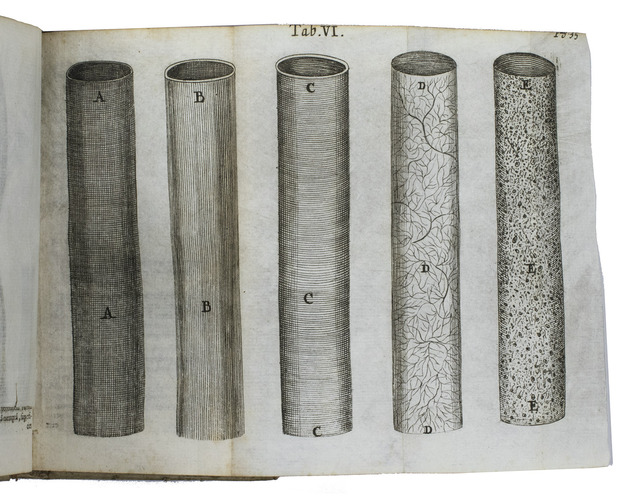 WILLIS, Thomas.
Pharmaceutice rationalis sive diatriba de medicamentorum operationibus in humano corpore.
The Hague, Arnold Leers, 1674. 12mo. With an engraved emblematic frontispiece by Romeyn de Hooghe, dated 1674, and 6 folding engraved plates of human stomach and intestines. Contemporary(?) vellum, with a red morocco spine label, red sprinkled edges. [40], 330, [9], [5 blank] pp.
€ 950
The Hague edition of a Latin pharmacological work, with 6 anatomical folding plates and an engraved frontispiece by Romeyn de Hooghe, the text and illustrations based on the first edition of the same year, published by the University printing office at Oxford, but the frontispiece is wholly new. A second volume followed in 1675 and a translation into English by Pordage in the same year.
The Pharmaceutice rationalis or, an exercitation of the operation of medicines in humane bodies, as the title of the English edition reads, is one of the great books of 17th-century English medicine, it is the first scientific work on pharmacology as well as a valuable epitome of the materia medica of the time. Willis describes, for example, the sweetish flavour of urine in diabetes mellitus, differentiating between it and diabetes insipidus. He gives a clear account of whooping cough and the first satisfactory figures on the structure of the lungs. Leerss present edition of volume one is the only edition produced outside the Oxford University printing office in 1674.
Thomas Willis (1621-1675), leader of the English iatrochemists, who attempted to explain the workings of the body from current knowledge of chemical interactions, was an English doctor who played an important part in the history of anatomy, neurology and psychiatry. He was a founding member of the Royal Society. In 1656 and 1659 he published two significant medical works, De fermentatione and De febribus.
With an early owners inscription by Jacobus Boëthius in the foot margin of the frontispiece, presumably the author of the medical dissertation and thesis at Upsala 1718 and Harderwijk 1724, from Westmanland in Sweden, rather than vicar of Mora in Sweden (1647-1718), some early notes on the back paste-down and an 1856 memorial inscription on the front paste-down. In good condition. Roger French, Medicine before science: the business of medicine from the Middle Ages to the Enlightenment (2003), p. 197 (in note); Saskia Klerk, Galen reconsidered: studying drug properties and the foundations of medicine in the Dutch Republic ca. 1550-1700 (2015), p. 179 (in note); Krivatsy 13036; STCN (4 copies); WorldCat (6 copies).
Related Subjects: