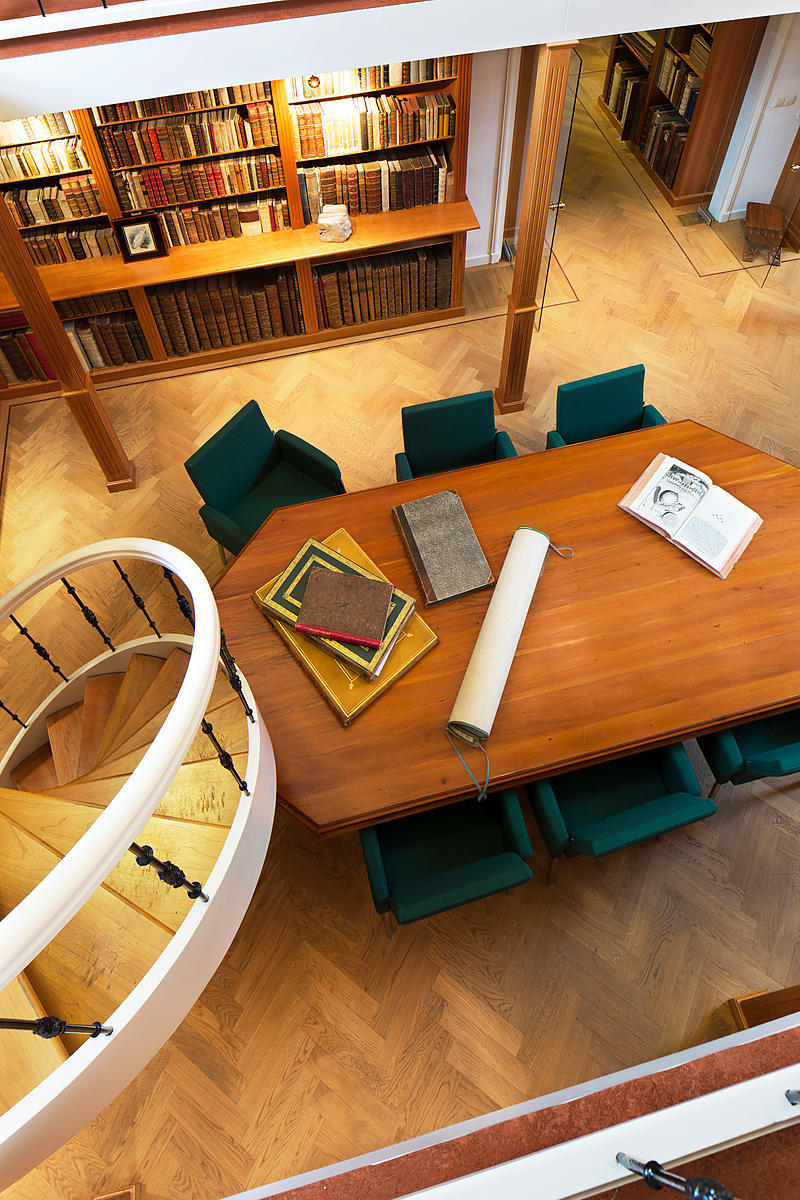 [BOOKS OF SECRETS].
Kunstbüchlin, gerechten gründtlichen gebrauchs aller kunstbaren Werckleut. Ertzarbeyt, in un[d] ausserhalb feurs, auss alchimistischem und natürlichem grund ... Jede Farben zubereyten, erhalten, bessern und widerbringen.
Frankfurt am Main, Christian Egenolph, [ca. 1540]. With woodcut illustration on title-page, depicting about 25 tools, implements and pieces of equipment for painting, metalworking, smelting, woodworking and other arts and crafts.
With:
(2)
Den sack der consten, uyt den Italiaens ende Franssoys in onse Nederlantsche tale overgheset, tot vermakinghe van alle sware gheesten, ende voor de ghene die gheerne wat nieus willen hooren.
Antwerpen, Godtgaf Verhulst, 1622. With woodcut illustration on title-page and a small woodcut illustration in text.
(3) CERVIO, Vincenzo.
Il trinciante ..., ampliato, et ridotto a perfettione dal cavalier reale Fusoritto da Narni.
Including:
Aggiunta fattaal trinciante.
Venice, heirs of Giovanni Varisco, (1593). 2 parts. With Varisco's woodcut device on title-page of part 1 and a more attractive larger variant on the title-page of part 2 (repeated above the colophon), 4 full-page woodcuts on 2 integral leaves and 2 (of 3) folding woodcut plates.
(4) PROCACCHI, Giaccomo.
Voorlegh boeck ofte maniere om verscheyden soorten van spijse soo gesooden als gebraden, aende vorck voor te snyden ende om dienen.
Leiden, Jacob Roels, 1639. With 3 folding woodcut plates and 13 full-page woodcuts on integral leaves. The numbering of the plates omits no. 8 as usual.
(5)
Konstig en vermaakelijk tyd-verdryf, der Hollandsche jufferen of onderricht der papiere sny-konst. ... Het eerst deel [all published].
Amsterdam, Johannes ten Hoorn, 1686. With about two dozen woodcuts in text.
(6)
Verklaringe van verscheyden kunst-rijcke wercken en hare beweginghe, door oorlogie-werck ghedreven, ... Alles te sien in't Oude Doolhof tot Amsterdam.
Amsterdam, Tymon Houthaak, 1650. With an engraved illustration of a labyrinth on title-page and 4 further illustrations on integral leaves (1 full-page and blank on the verso, by P. Holsteyn after A. Vinckenbrinck; 3 in text). Lacking the folding engraved plate of David and Goliath.
6 works in 1 volume. Small 4to (19.5 x 16 cm). Half vellum (ca. 1730).
Full description
€ 45,000