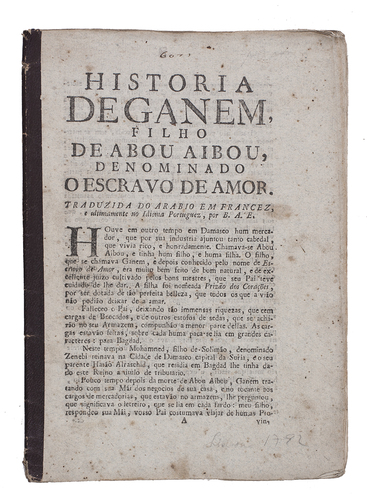 [ALF LAYLA WA-LAYLA].
Historia de Ganem, filho de Abou Aibou, denominado o escravo de amor. Traduzida do Arabio em Francez, e ultimamente no idioma Portuguez, por B.A.E.
(Colophon: Lisbon, Francisco Borges de Sousa, 1792). Small 4to (21 x 15 cm). Disbound, spine lined with a strip of black paper. 39, [1 blank] pp.
€ 4,950
Extremely rare second edition of a rare Portuguese translation of the History of Ganem, the slave of love, a story from the Arabian Nights. The story tells of Ganem, a son of a merchant from Damascus, who upon his father's death travels to Baghdad to sell his father's leftover stock. Once in Baghdad the young Ganem falls in love with the favourite concubine of the caliph. The story is translated into Portuguese from the French translation of Jean Antoine Galland from the beginning of the 18th-century.
With spots on the first and last leaves, a stain on leaf B1 and a couple tiny holes in the outer margin of the last leaf. In good condition. Porbase (1 copy); WorldCat (1 copy); cf. Rodrigues, Novelística estrangeira 268.
Related Subjects: