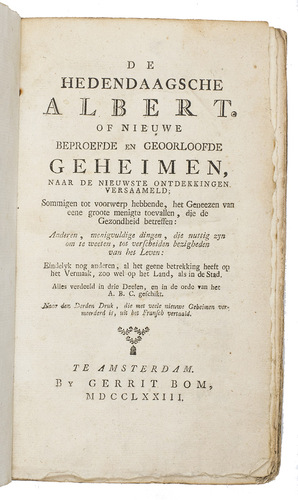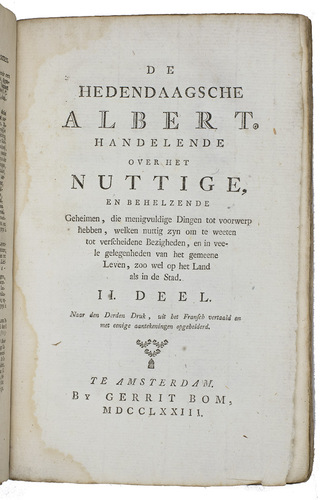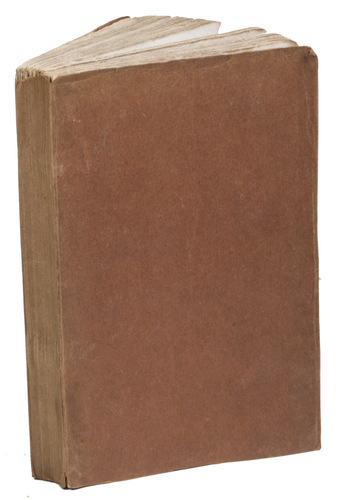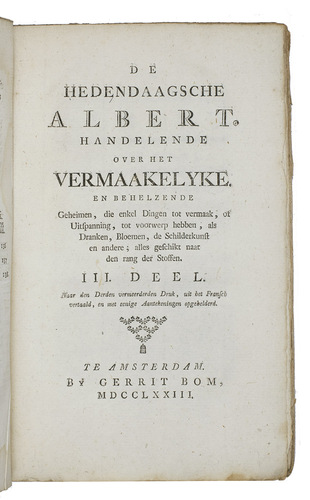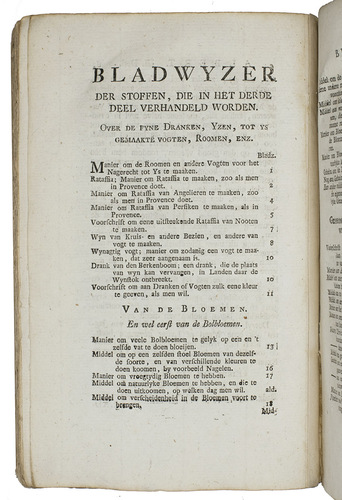 [ALLETZ, Pons-Augustin].
De hedendaagsche Albert, of nieuwe beproefde en geoorloofde geheimen, naar de nieuwste ontdekkingen versaameld; sommigen tot voorwerp hebbende, het geneezen van eene groote menigte toevallen, die de gezondheid betreffen: Anderen, menigvuldige dingen, die nuttig zyn om te weeten ... Eindelyk nog anderen, al het geene betrekking heeft op het vermaak ... Alles verdeeld in drie deelen, en in de orde van het A.B.C. geschikt. Naar den derden druk, die met veele nieuwe geheimen vermeerderd is, uit het Fransch vertaald.
Amsterdam, Gerrit Bom, 1773. 3 parts in 1 volume. Large 8vo. Later pink paper wrappers. VII, 108, [4]; [2], 142, [4]; [2], 64, [6] pp.
€ 1,250
Dutch translation of one of the compilations, reference books and manuals by Pons-Augustin Alletz (1703-1785), a French agronomist.
De hedendaagsche Albert is a popular manual of practical medicine and pharmacopoeia, including many quack remedies and recipes, ranging from recipes for insect bites, cramps, burns, worms, etc. till fevers, falling illness and madness (part 1); practical life, beauty and cooking, esp. advises and recipes for life in the countryside: poultry, wine, cattle horses, hunting, bee-keeping, etc. (part 2); and the last (part 3) on pastimes and amusements: the ratafias, painting secrets, flowers, etc..
The title refers to an old medieval compilation, in two parts: (1) by Pseudo Albertus Magnus - The Secrets of Albert the Great - , and (2) the Little Albert.
Despite the information given by the printer Gerrit Bom that he publishes this new edition because there are already more than ten (bad) pirated editions, our copy is very rare. We could trace only two copies in the Netherlands (University of Amsterdam, Museum Meermanno).
Including various stock-lists of Gerrit Bom's publishing house at the end of each part. Wrappers slightly discoloured, some staining on the paste-downs, slightly frayed along the edges, otherwise in good condition. BMN I, p. 152; not in Muller, Scheepers, Waller, Buisman, etc.
Related Subjects: