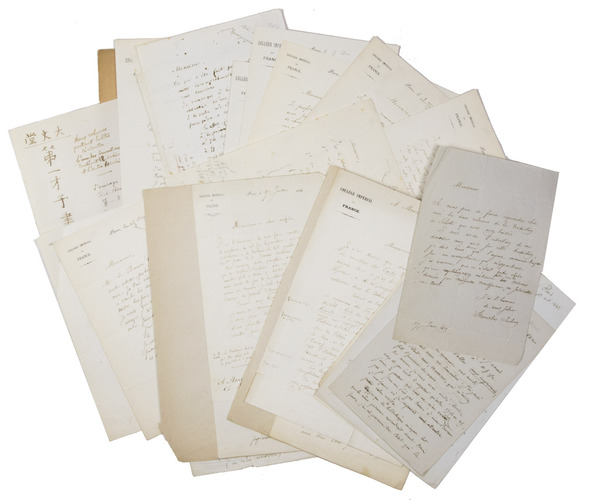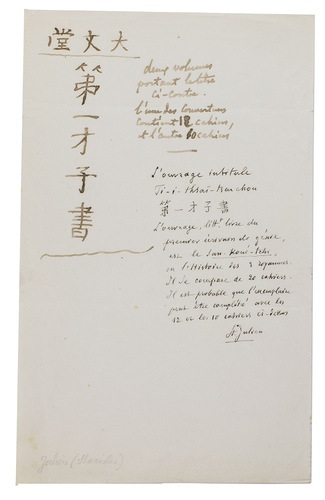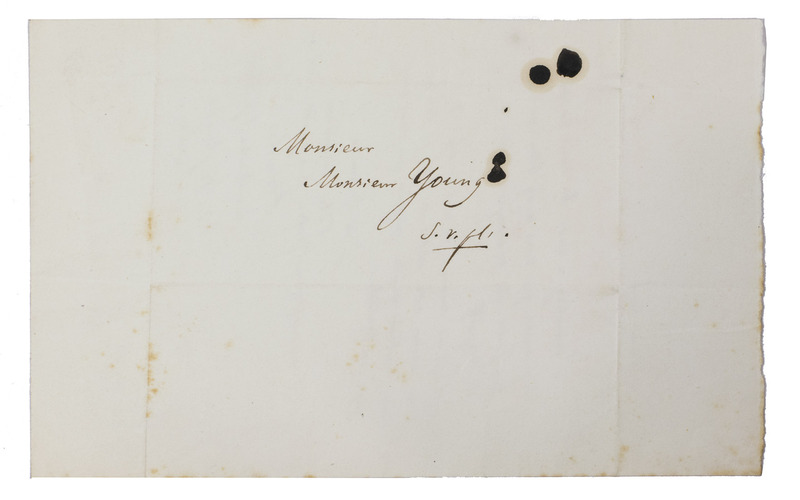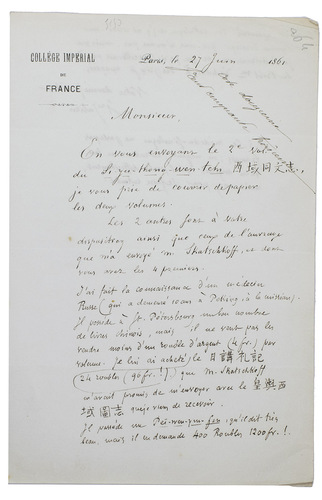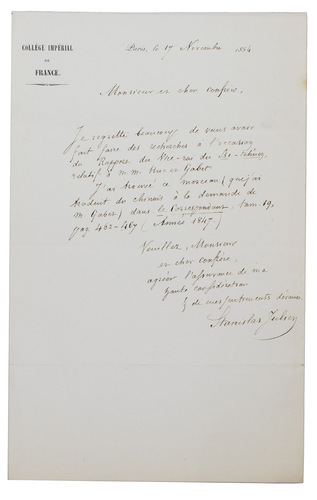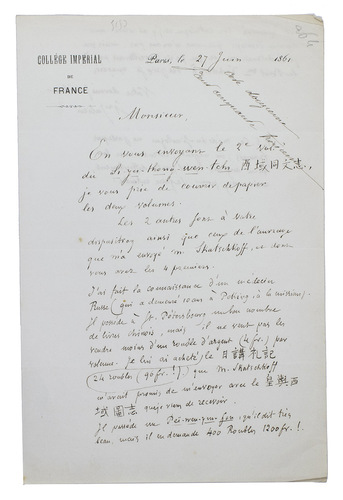 [AUTOGRAPH LETTERS]. JULIEN, Stanislas Aignan.
[Collection of 28 autograph letters by Stanislas Julien to several correspondents].
Paris, 17 January 1839 - 13 April 1869. Varying sizes, most on similar paper 21 x 13.5 cm. Autograph letters written in French, in a neat cursive in brown ink, signed and dated, many of the letters have been written on paper with a "Collége[!] Imperial de France" letterhead. One with Paris postal stamps on the back (addressed to Monsieur Desnoyers, 17 January 1839). 5 letters are mounted on additional leaves (4 letters in 2 pairs, each pair on a separate leaf and 1 dated 13 April 1869 on a separate leaf). The whole collection is kept together in a clear plastic cover. 28 letters on 28 (folded) leaves.
€ 12,500
Collection of 28 letters by the great French sinologist Stanislas Aignan Julien (1799-1873) to several correspondents, such as the French archaeologist Charles Lenormant (1802-1859) and the librarian of the Muséum National d'Histoire Naturelle in Paris: the French geologist and archaeologist Jules P.F.S. Desnoyers (1800-1887). Julien succeeded Jean-Pierre Abel-Rémusat as Professor of Chinese at the Collège de France in Paris in 1832. He studied Taoist and Buddhist writings, as well as Chinese grammar, syntax and culture, translating several Chinese works into French (among them the important Histoire et fabrication de la porcelaine chinoise, 1856).
The present letters present a captivating into Julien's working life as a renowned sinologist and his network of colleagues, government officials, and other correspondents. He mentions, for example, Baron Gros, meaning Jean-Baptiste-Louis Gros (1793-1870) a French diplomat who was minister-in-command of French troops during the Anglo-French expedition to China (1856-1860). As well as a gentleman named Skatschkoff, who was mentioned in a German botanical book as the former consul general of Russia in China and two famous German 19th-century Orientalists: Julius von Mohl (1800-1876) and Christian Lassen (1800-1876). Julien mentions his works (for example one on grammar which was to be printed in Vienna), other translations and books multiple times and when citing works in Chinese he often provides the Chinese characters alongside the transliteration. While all his letters in the present collection are written in French, Julien often signs off using the English phrase "yours truly".
With some additional pencil annotations and underlining and with faint creases from having previously been folded for sending. Occasionally slightly browned or foxed, but the contents of the letters remain clearly legible. Overall, they are in very good condition. For Julien: NBG XXVII, cols. 219-221.
Related Subjects: