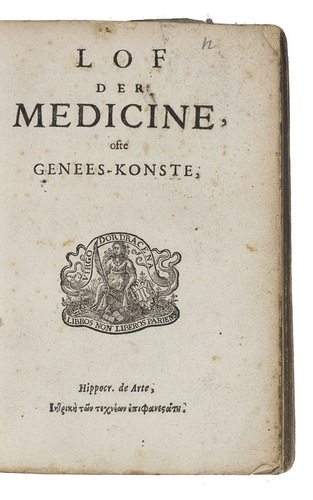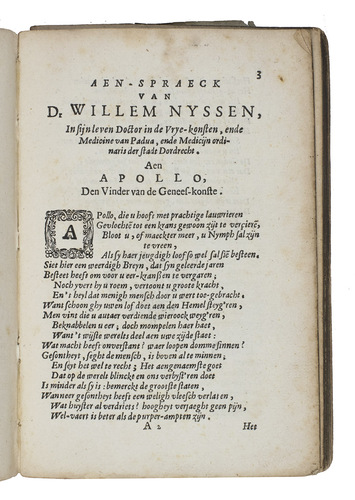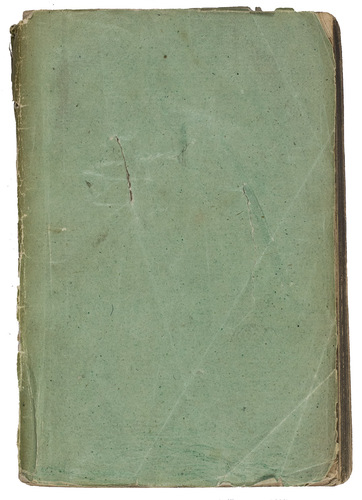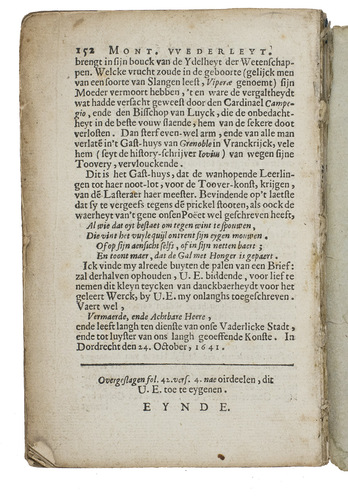 [BEVERWIJCK, Jan van].
Lof der medicine, ofte genees-konste.
[Dordrecht, Hendrick van Esch, 1642?]. Small 8vo. With Van Esch's woodcut Maid of Dordrecht device on the title-page, a woodcut tail-piece, a woodcut factotum and 2 woodcut decorative initials. Wrappers (ca. 1800?) made from laid paper coloured green and glazed on the outer surface. 152 pp.
€ 1,250
Second edition of an interesting medical work by Jan van Beverwijck, in Latin Beverovicus, (1594-1647), a Dutch translation of his Medicinae encomium, Dordrecht, 1633, in praise of medicine, first translated into Dutch for a 1635 folio edition, printed and published by Van Esch. New in the present edition are an introductory verse by the late Willem Nijssen (d. 1637), city physician of Dordrecht and an added a confutation of the complaint against the necessity of medicine in Montaigne's Essays (longer than the "main" work and presented in a sort of dialogue between Beverwijk and Montaigne). Next to Andreas Vesalius, Van Beverwijck was one of the few Dutch physicians enjoying international fame. He had studied at Padova, at the time the most advanced university for medicine, and became town physician and lector in surgery in his native Dordrecht. Pages 35-152 contain Bergh-val ofte wederlegginge van Michiel de Montaigne, tegens de nootsakelickheyt der genees-konste, with a divisional title (without imprint) on C2r and the text dated at the end, Dordrecht, 21 October 1641. The present edition is often bound with the 1642 first edition of Van Beverwijcks Schat der ongesontheyt, and the STCN suggests that the two were issued together.
In good condition. Wrappers tattered, especially the spine, and nearly detached, parts of the sewing loose. Baumann, Beverwijk, 19a (bound with Schat der ongesontheyt, 1642); Bibl. Med. Neerl. p. 1; Krivatsy 1202 (bound with Schat der ongesontheyt, 1642); STCN 832932388 (4 copies); cf. Waller 1013; Wellcome, p. 159 (both 1730 French ed.).
Related Subjects: