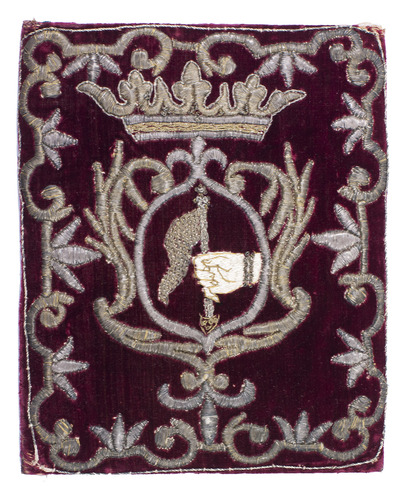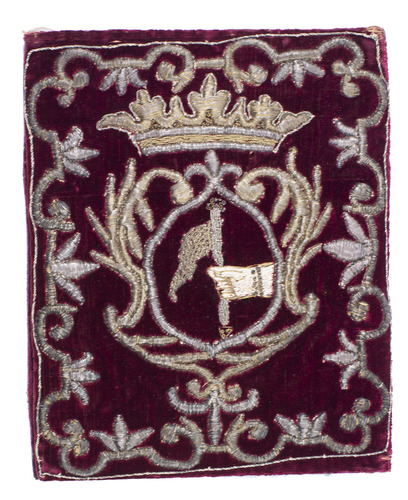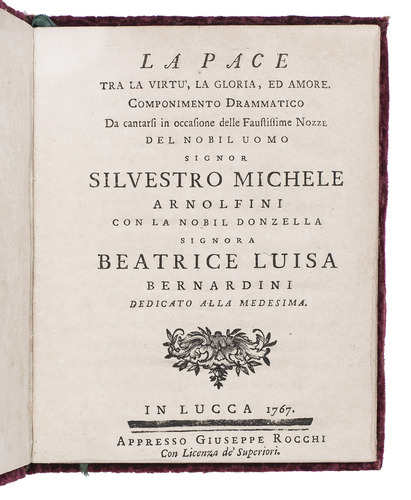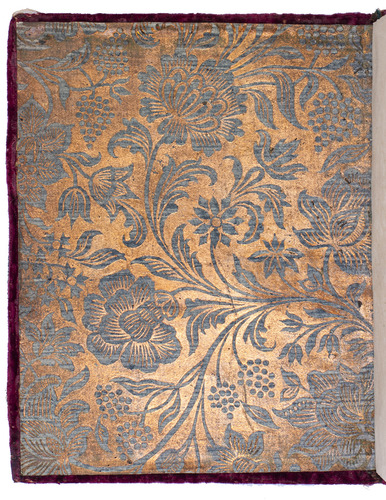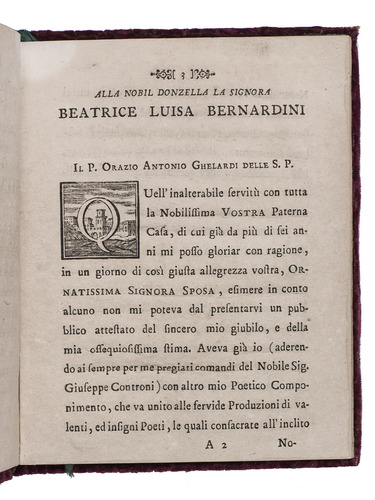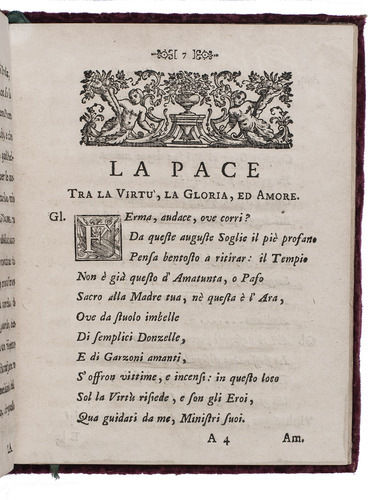 [BINDING]. [GHELARDI SCOLOPI, Orazio Antonio].
La pace tra la virtu', la gloria, ed amore. Componimento drammatico da cantarsi in occasione delle faustissime nozze del nobil uomo signor Silvestro Michele Arnolfini con la nobil donzella signora Beatrice Luisa Bernardini dedicato alla medesima.
Lucca, Giuseppe Rocchi, 1767. Small 4to (17 x 14 cm). Contemporary red velvet, embroidered with silver and gold thread and white and yellow silk (each board with an emblematic image: a crowned mirror[?] showing a hand planting a flag, perhaps intended as the groom's hand on the front and the bride's hand on the back), sewn without supports through 3 holes, brocade paper endpapers (grape vines and large flowers, white on a copper background), green silk ribbon marker. 24 pp.
€ 15,000
Only copy located of a memento book for the occasion of the marriage of Silvestro Michele Arnolfini and Beatrice Luisa Bernardini, both from noble families that had been prominent in Lucca since the 16th century. The present copy is bound in red velvet with gold and silver embroidery and brocade paper endpapers, no doubt for the bride and groom. The text is a dramatic composition in verse to be sung at the wedding, with a 4-page introduction where the priest-author speaks of music and poetry, but also takes the opportunity to provide moral advice while flattering the bride and groom.
Very slightly and evenly browned and with minor wear to the corners of the binding, with the book and binding in very good condition. An extremely rare memento of the 1767 marriage of a noble couple in Lucca, giving us a view of attitudes toward and social circumstances of marriage, in an emblematic red velvet binding, embroidered in silver and gold. Memorie e documenti per servire all' istoria del Ducato di Lucca, X (1831), p. 233, note 2; Cesare Lucchesini, Opere editie e inedite, XX (1834), p. 38 & note 60 (based on the 1831 Memorie); not in ICCU; KVK; WorldCat.
Related Subjects: