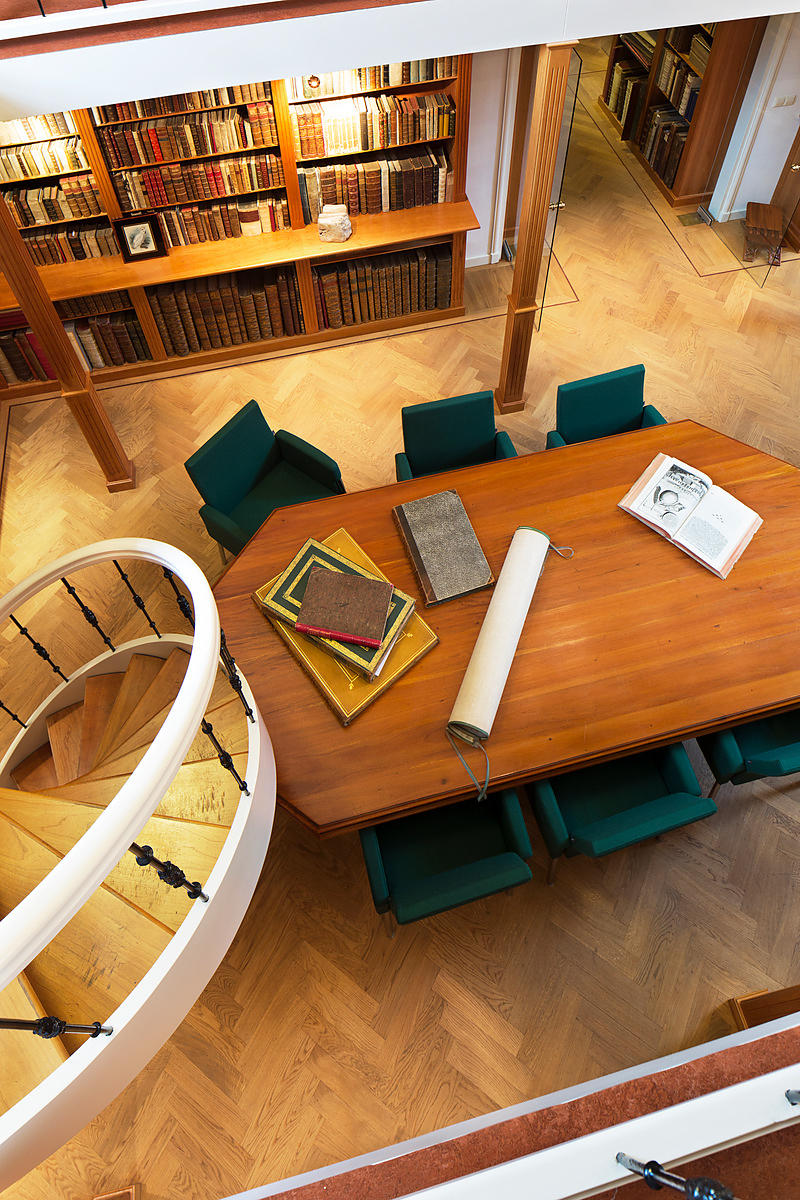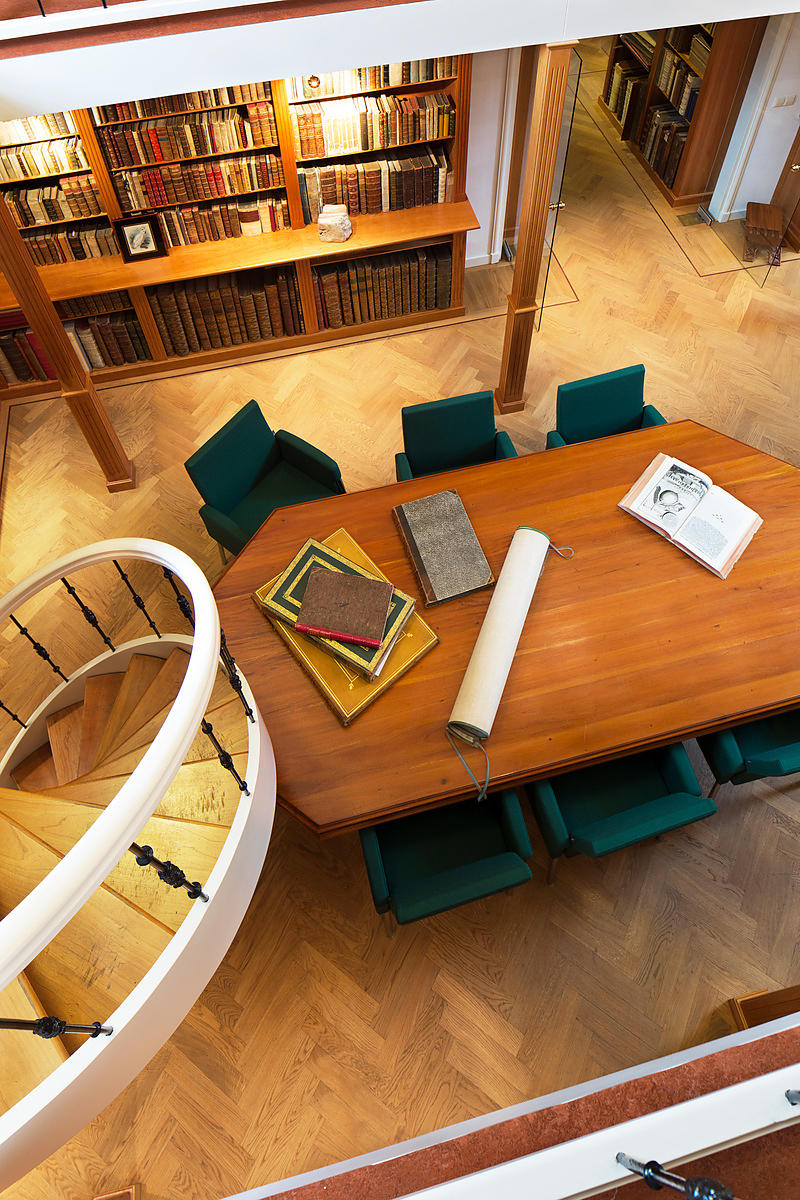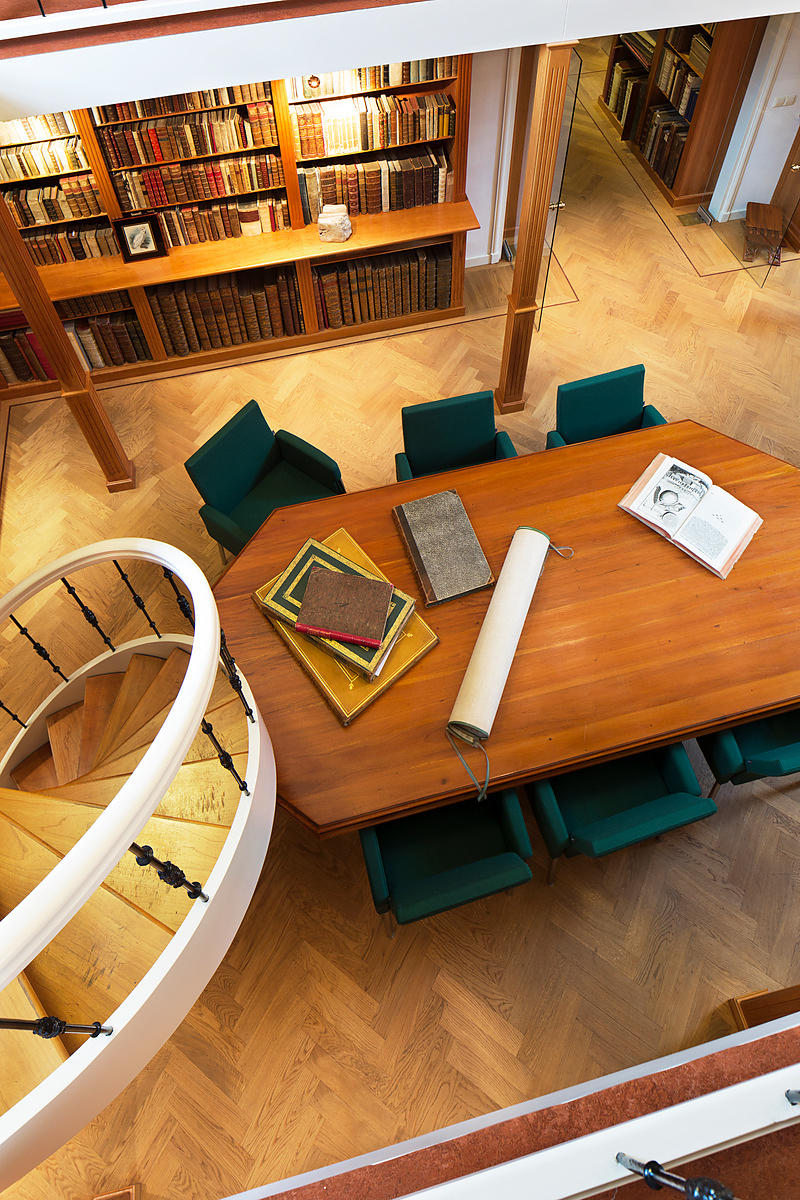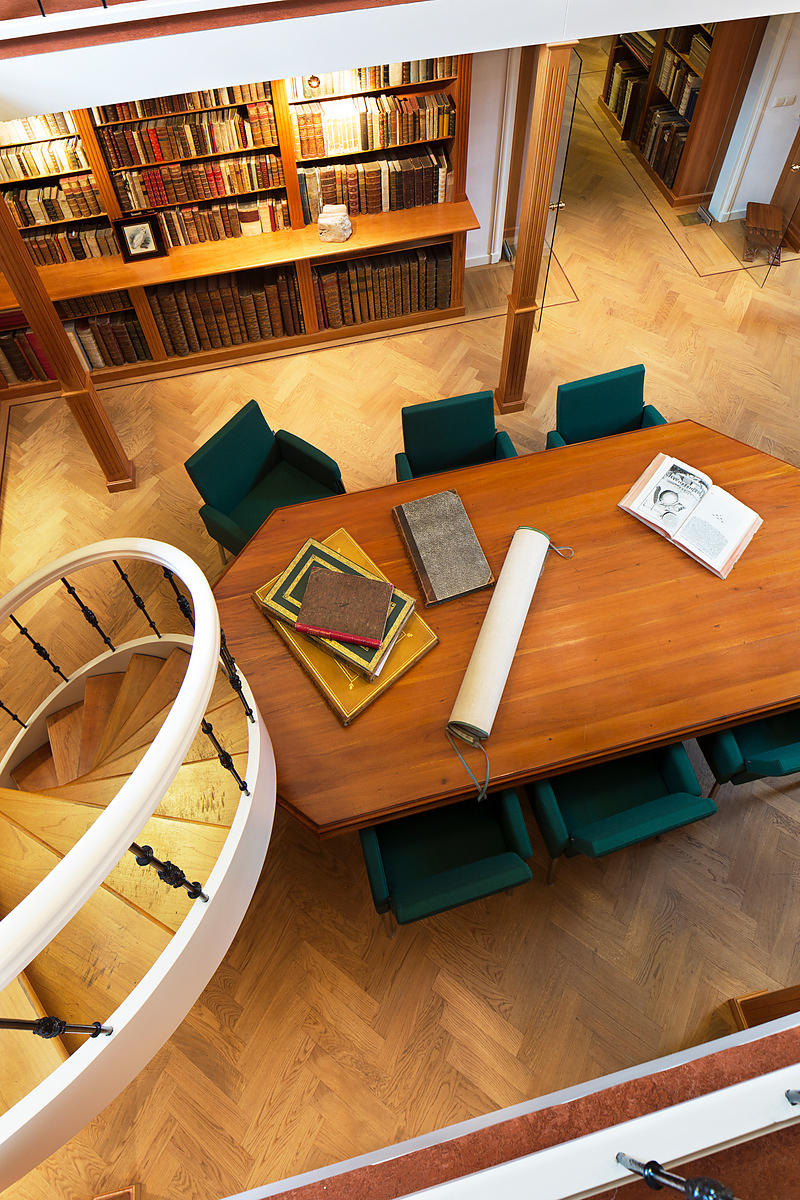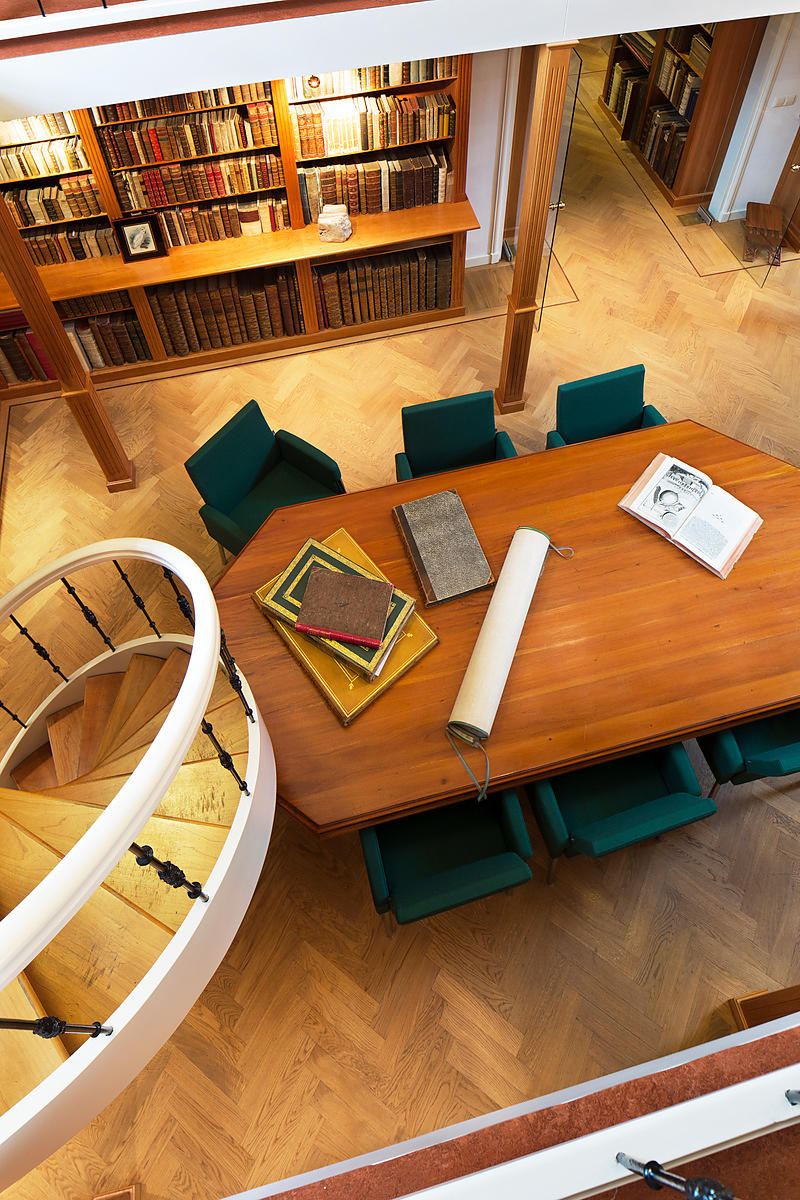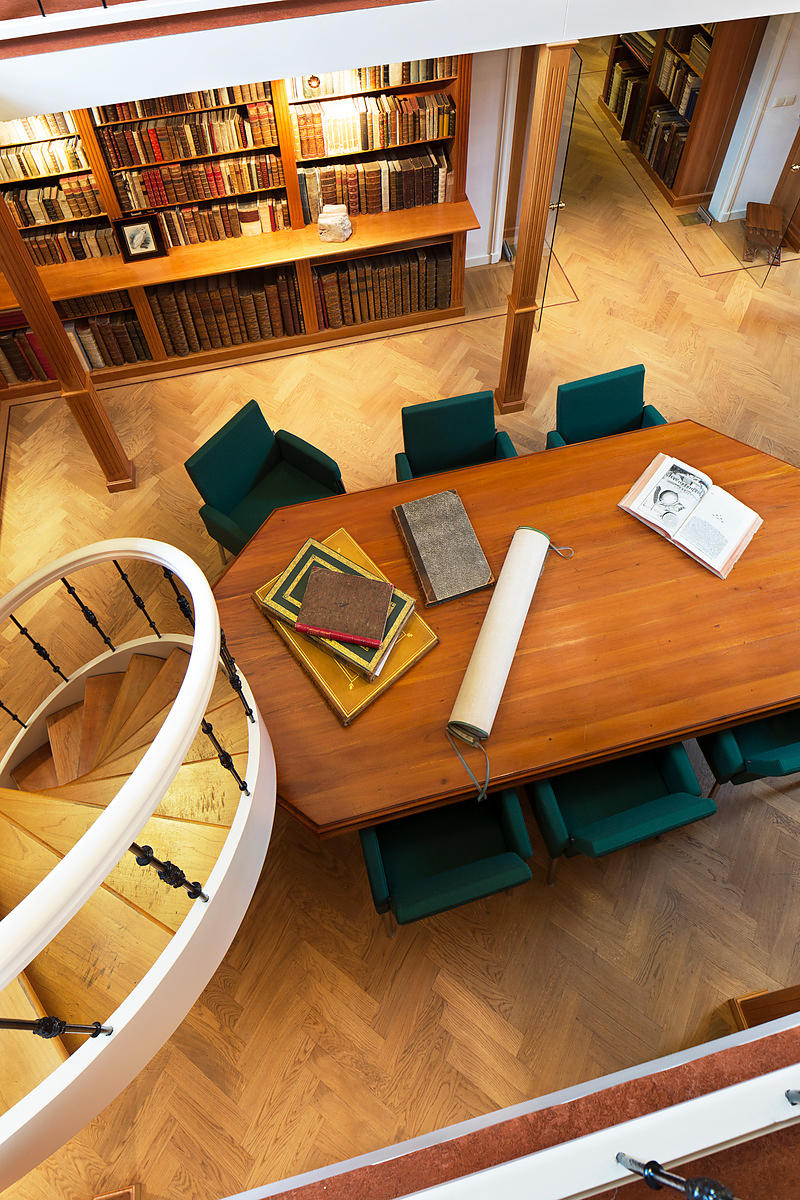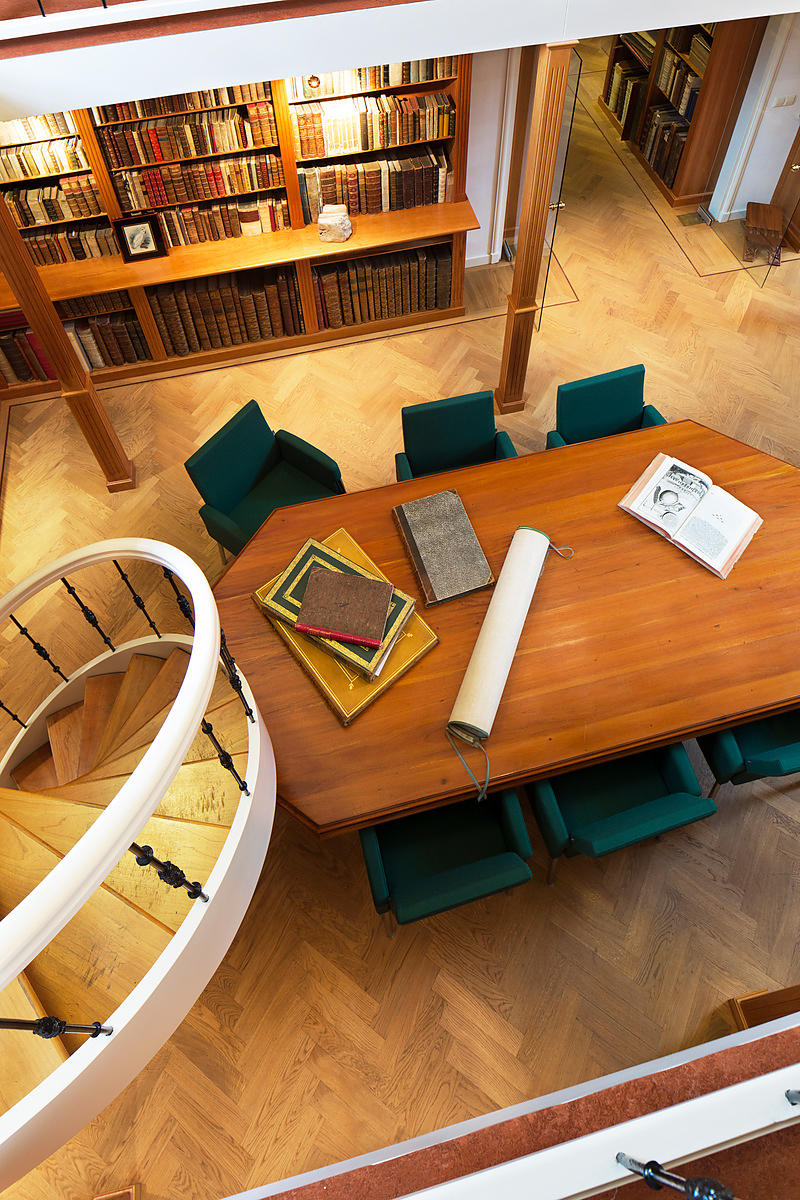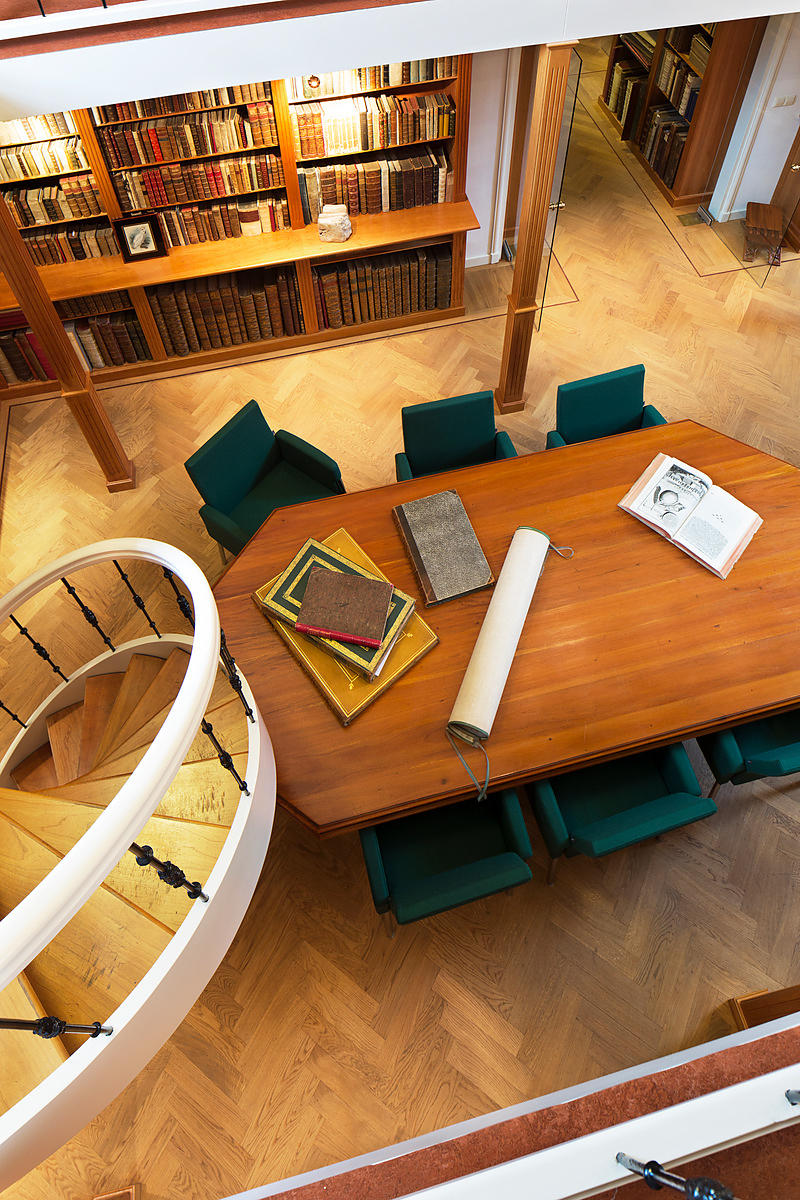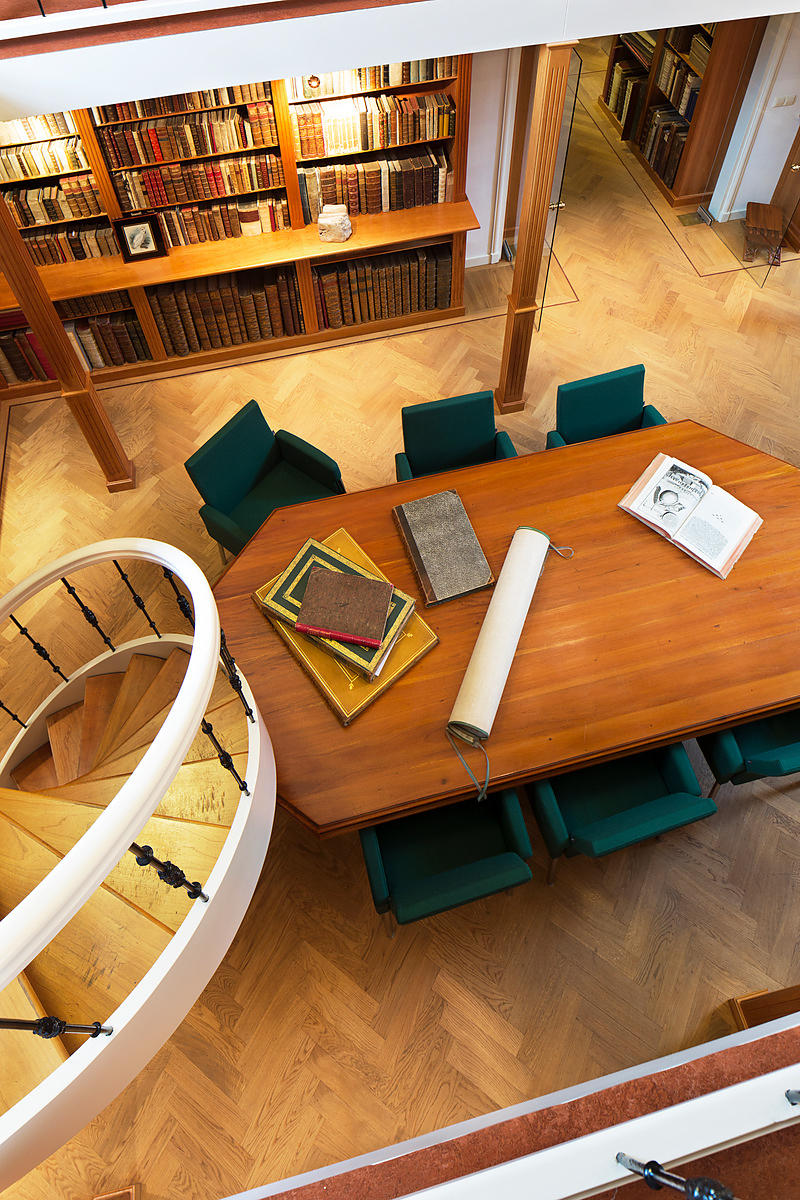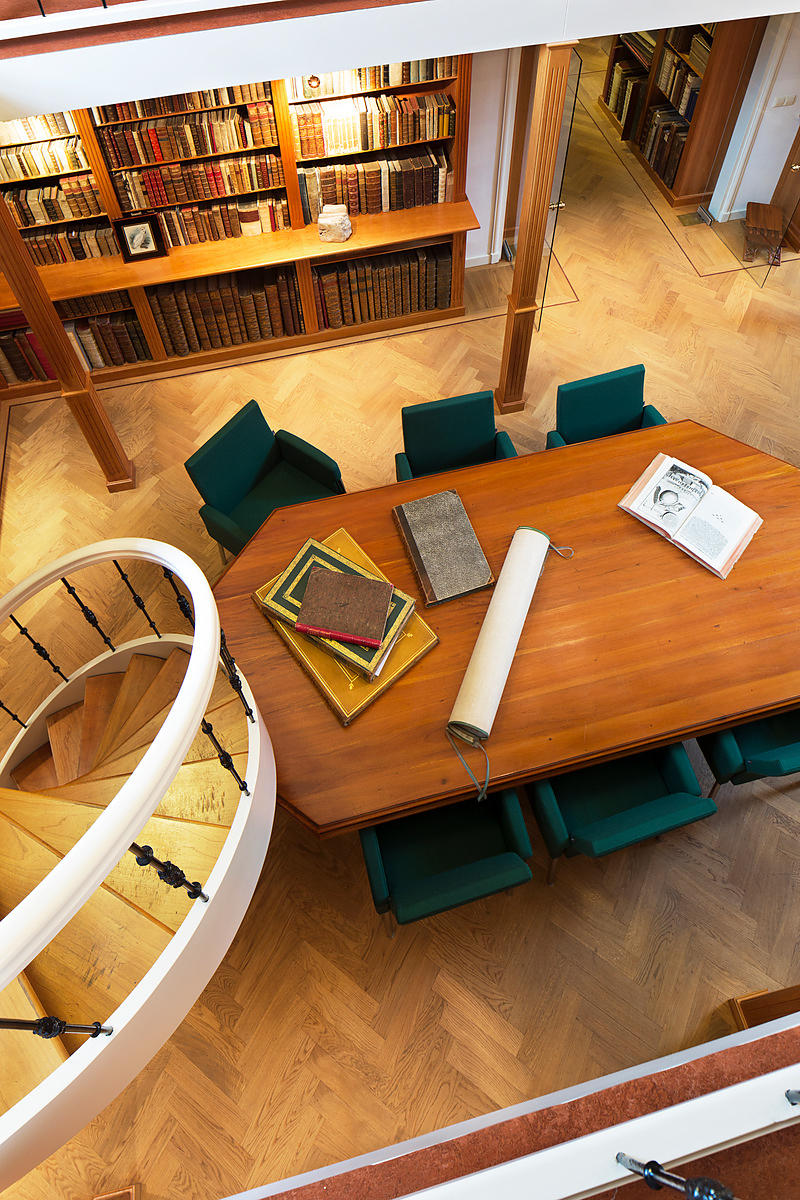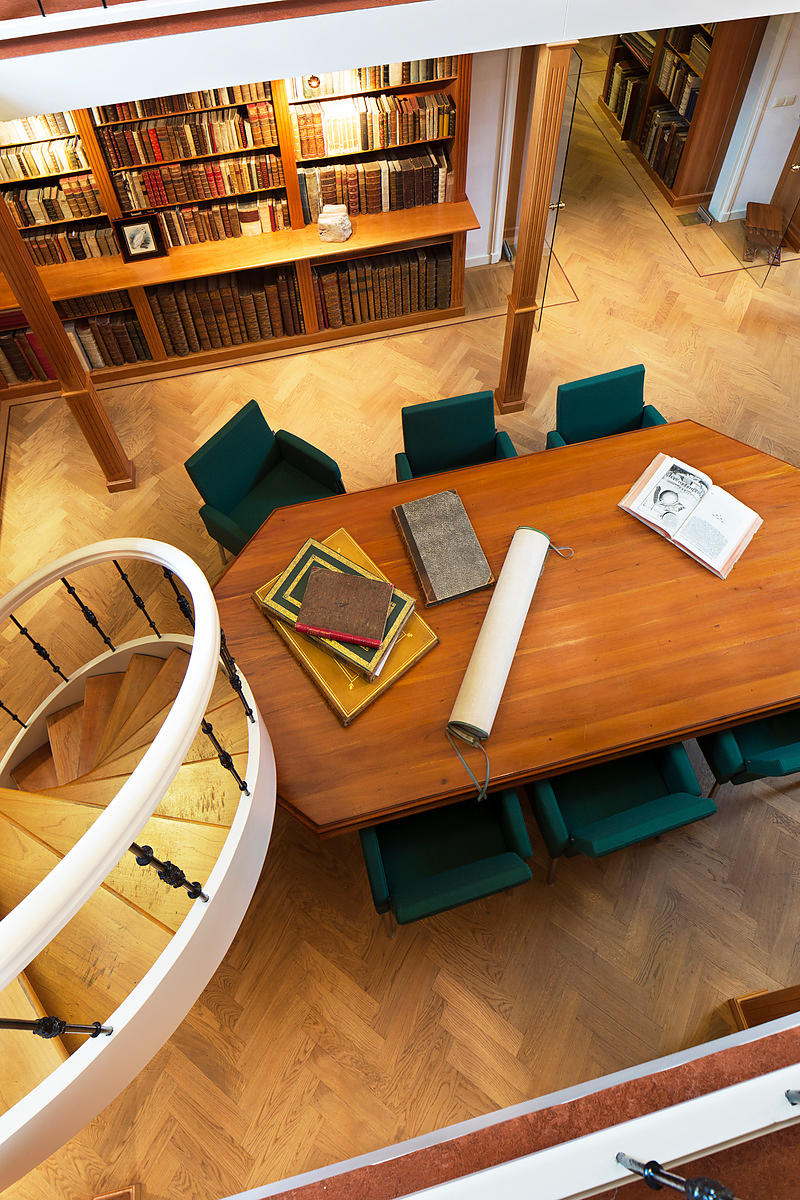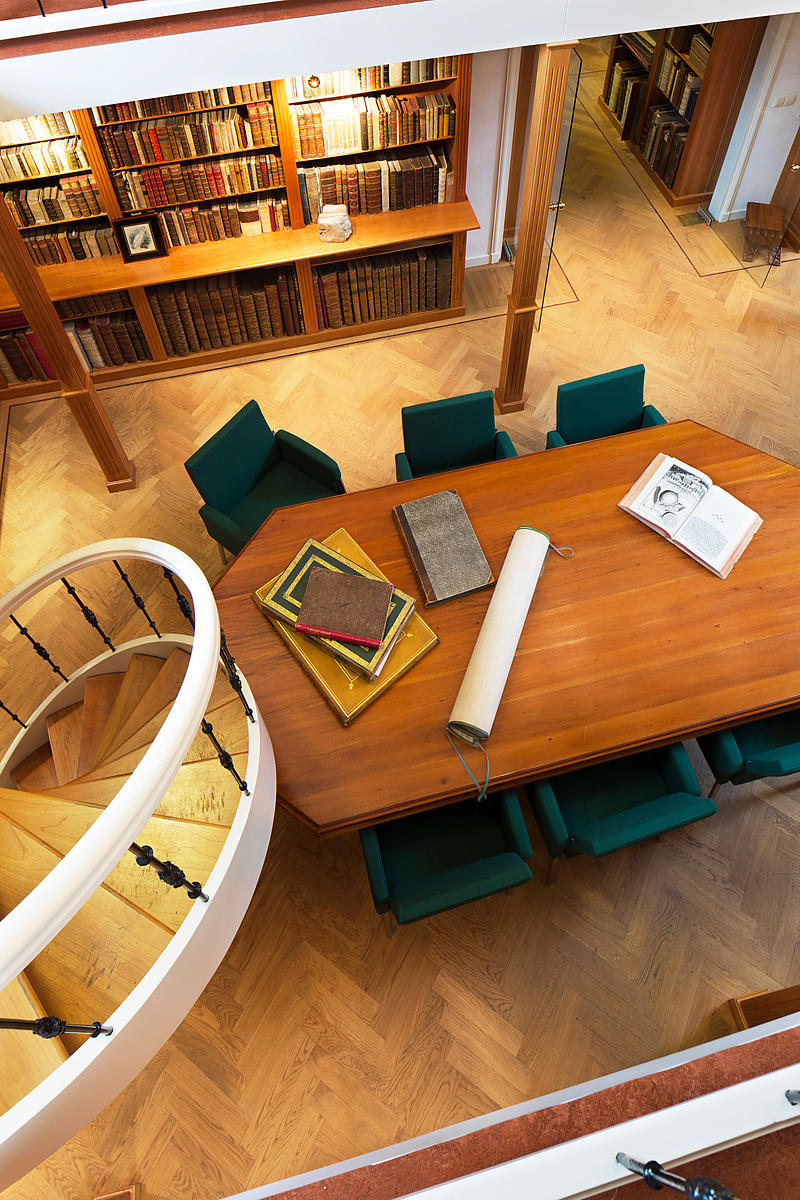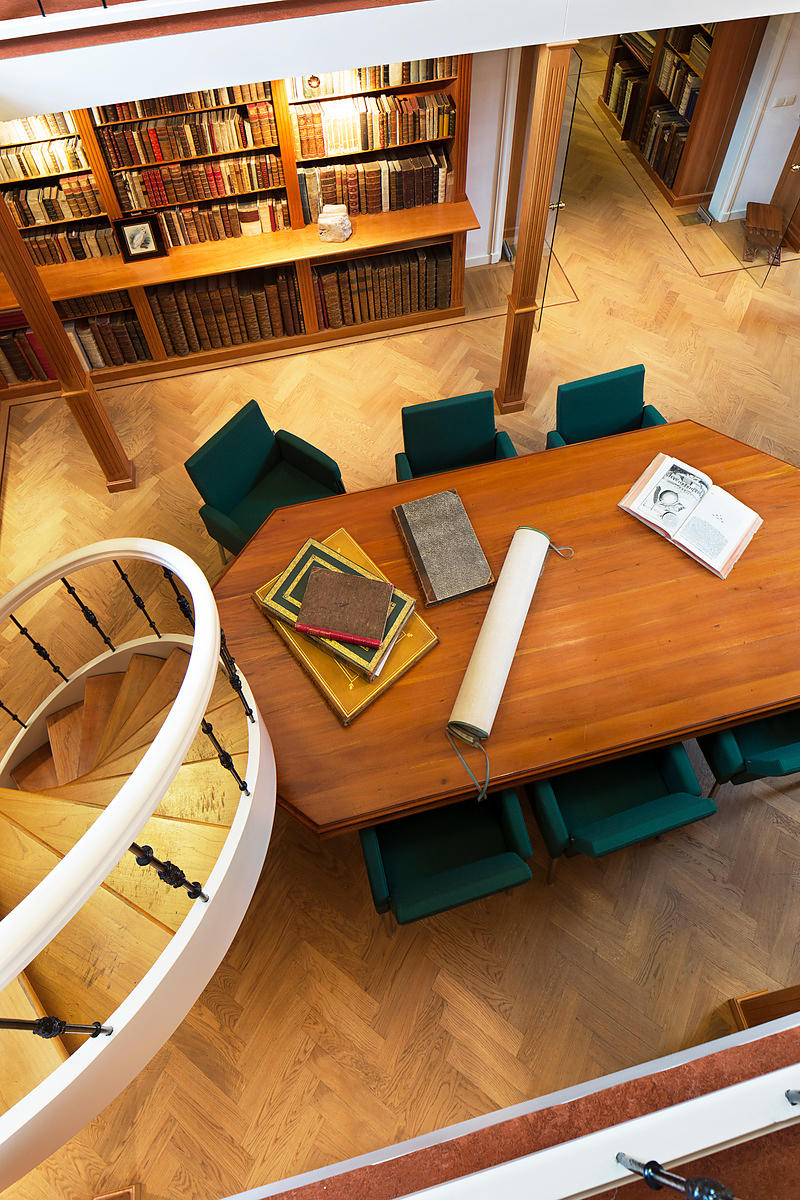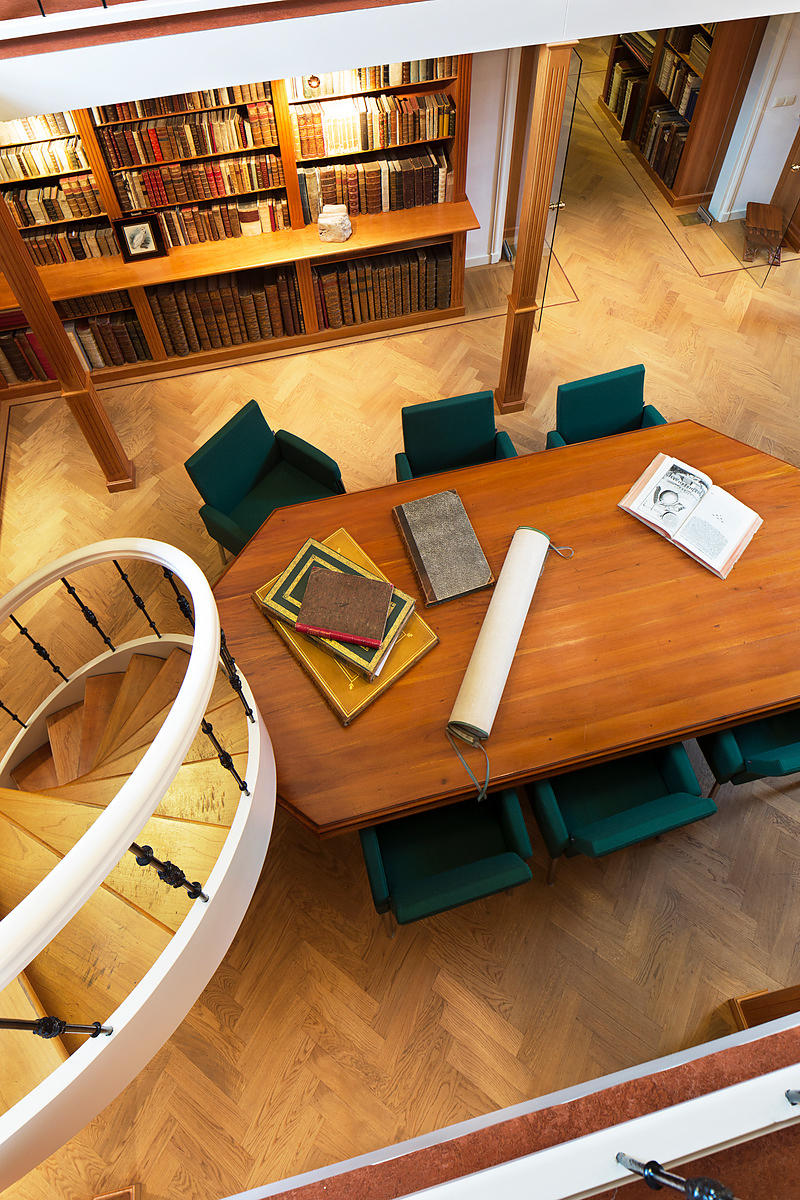 [BOOKS OF SECRETS].
Kunstbüchlin, gerechten gründtlichen gebrauchs aller kunstbaren Werckleut ...
Frankfurt am Main, Christian Egenolph, [ca. 1540]. With a woodcut illustration on title-page.
With:
(2) Den sack der consten, uyt den Italiaens ende Franssoys in onse Nederlantsche tale overgheset, ...
Antwerpen, Godtgaf Verhulst, 1622. With a woodcut illustration on the title-page and a small woodcut illustration in the text.
(3) CERVIO, Vincenzo. Il trinciante ..., ampliato, et ridotto a perfettione dal cavalier reale Fusoritto da Narni.
Venice, heirs of Giovanni Varisco, (1593). 2 parts. With 4 full-page woodcuts and 2 folding woodcut plates.
(4) PROCACCHI, Giaccomo. Voorlegh boeck ofte maniere om verscheyden soorten van spijse soo gesooden als gebraden, aende vorck voor te snyden ende om dienen.
Leiden, Jacob Roels, 1639. With 3 folding woodcut plates and 13 full-page woodcuts.
(5) Konstig en vermaakelijk tyd-verdryf, der Hollandsche jufferen of onderricht der papiere sny-konst. ... Het eerst deel [all published].
Amsterdam, Johannes ten Hoorn, 1686. With about two dozen woodcuts in the text.
(6) Verklaringe van verscheyden kunst-rijcke wercken en hare beweginghe, door oorlogie-werck ghedreven, ... Alles te sien in't Oude Doolhof tot Amsterdam.
Amsterdam, Tymon Houthaak, 1650. With an engraved illustration of a labyrinth on the title-page and 4 further illustrations.
6 works in 1 volume. Small 4to (19.5 x 16 cm). Half vellum (ca. 1730).
€ 45,000
Ad 1: Third copy located of the undated fourth(?) edition of a popular and influential German book of secrets, first published in 1535. All early editions are very rare. "lt ... contains vernacular [recipes] for tempering iron and steel, etching and colouring metal, removing stains from cloth, making inks, colours and dyes, and for various other chemical preparations" (Paisey).
Ad 2: Only copy located of the 1622 edition of a popular collection of curious medical recipes. All early editions are extremely rare. It contains remedies for ailments (for humans and animals) and solutions to other problems concerning drunkenness, night vision, reducing the size of a virgin's breasts, improving the relationship between man and wife, making dogs dance, etc.
Ad 3: The best illustrated edition of an elaborate Italian gastronomic treatise, detailing the carving and serving of meat, fish, fruit, shellfish and fowl. Cervio's work is superior to the essays of his predecessors Romoli and Scappi, making it the most complete Renaissance treatise on the art of culinary carving. It promotes the Italian method of carving, where one holds the food up in the air with a fork and carves it in this posture, transforming the operation into a spectacular performance for the diners to admire.
Ad 4: Third copy located of the first Dutch book on carving, translated from the Italian. The woodcuts, made after the engravings of the original German edition, give excellent models of early carving knives and forks, and curious illustrations of various animals and body parts.
Ad 5: Third copy located of the first and only edition of an early Dutch guide to the art of paper cutting. In the second half of the 17th century it became a rage in the Netherlands, leading to the publication of the present manual, which gives information on techniques, materials and examples.
Ad 6: Third copy located of the fourth edition of an illustrated description (intended as souvenir) of the "Oude Doolhof" (old labyrinth) of Amsterdam, a was a sculpture garden with a labyrinth, exhibiting fountains, sculptures and clockwork automata, showing historical, mythical and biblical figures and spectacles. Ad 1: USTC 670344 (2 copies); Ferguson, Books of secrets I, p. 15; Paisey, "Some sources of the "Kunstbüchlein" of 1535" in: Gutenberg-Jahrbuch LV (1980), pp. 113-117. Ad 2: cf. Debaene, Nederlandse volksboeken, p. 262 (1st ed.). Ad 3: Bagnasco 455; Vicaire, p. 159; Westbury, pp. 46-47.Ad 4: Landwehr, Het Nederlandse kookboek 10; STCN (1 copy); Vicaire, p. 711; Witteveen & Cuperus 5069. Ad 5: S. Metken, Geschnittenes Papier, p. 18; STCN (1 copy); WorldCat (1 copy). Ad 6: Meijer, "Het oude doolhof te Amsterdam", in: Oud Holland vol. 1 (1883), pp. 119-135; Spies, De Amsterdamse doolhoven, pp. 70-71; STCN (2 copies).
Related Subjects: