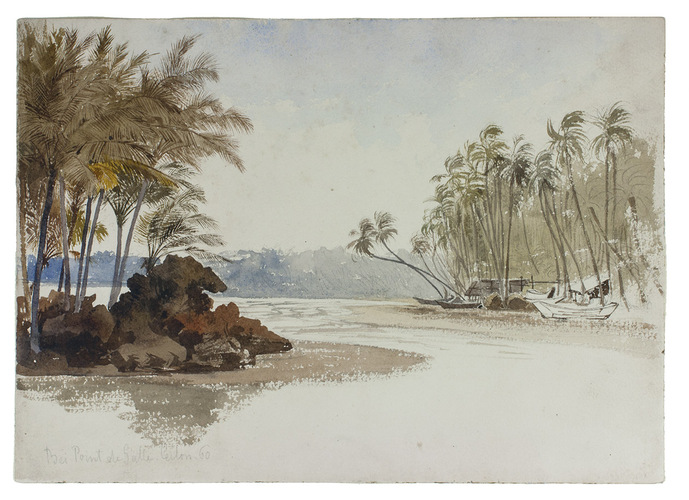 [CEYLON]. [BERG, Albert].
Bei Point de Galle.
Ceylon, 1860. Watercolour on paper (25.5 x 36 cm), inscribed and dated in pencil (lower left) "Bei Point de Galle. Ceilon [18]60"; signed "AB" and numbered "334" on the back. Mounted in a passe-partout.
€ 4,750
A very attractive watercolour view of Point de Galle in Ceylon (Sri Lanka) by Albert Berg (1825-1884), German diplomat, explorer and landscape painter. The view looks out over the water, with a group of palm trees close by on the left next to an outcropping, and another group further away at right, with several boats and a small building. Berg was part of the "Eulenberg Expedition", a Prussian diplomatic mission to Japan, China and Thailand (1859-1862), led by Friedrich Albrecht zu Eulenberg. The expedition sailed to Japan by way of Ceylon (Sri Lanka), where Berg drew the present view. The official account, partly edited by Berg, was published in seven volumes from 1864 to 1873 as Preussische Expedition nach Ost-Asien (1860-1862).
In fine condition. For Berg: Thieme & Becker III, p. 385; for the Eulenberg Expedition: Howgego, 1850 to 1940, E19.
Related Subjects: