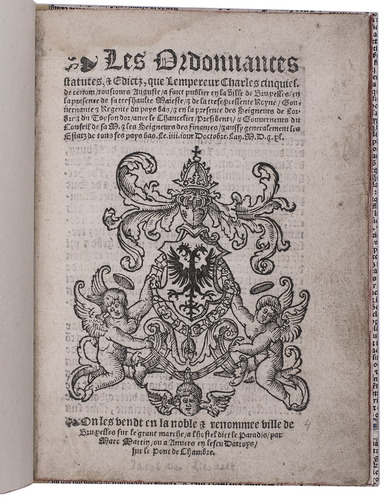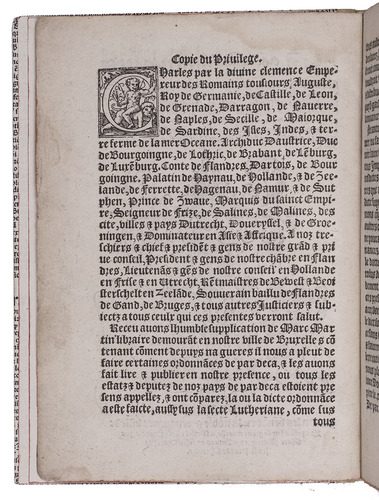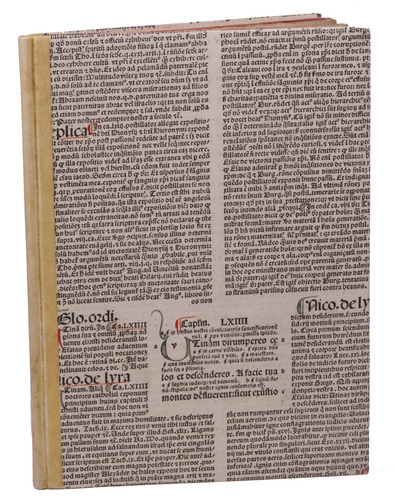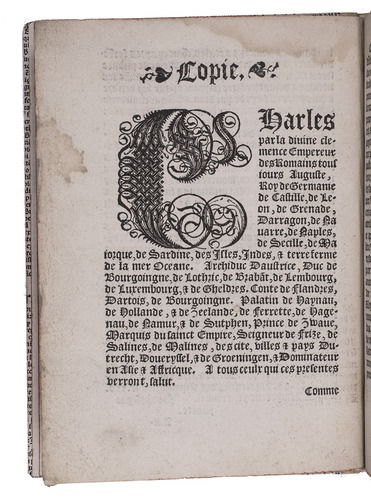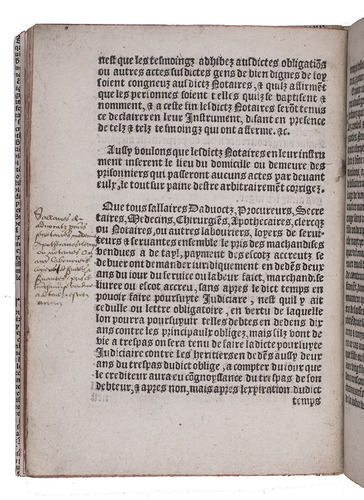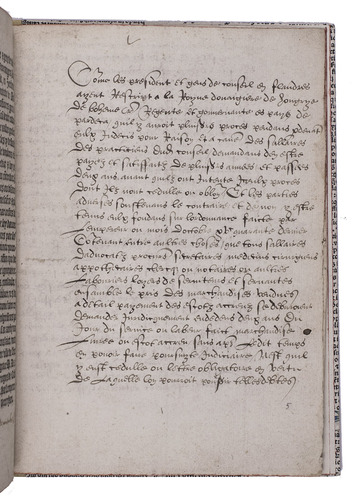 [CHARLES V, Emperor].
Les ordonnances[,] statutes, & edictz, que lEmpereur Charles cinquies. de ce nom, tousjours auguste, a faict publier en la ville de Bruxelles, en la presence de sa tres haulte Majeste, & de la tres excellente Royne, Gouvernante & Regente du Pays Bas, & en la presence des Seigneurs de lOrdre & du Toyson dOr, avec le Chancelier, Presidentz, & Gouverneurs du Conseil de sa M. & les Seigneurs des finances, & aussy generalement les Estatz de tous ses Pays Bas. Le .iiii. jour dOctobre. l[']an .M.D.&.xl.
Brussels, Marck Martens; Antwerp, "en l[]escu dArtoys, sur le Pont de Chambre" [= the printing office of Jacob van Liesvelt], [privilege dated from Brussels, 7 October 1540]. 4° (20.5 × 15 cm). Title-page with an elaborate large woodcut showing the Imperial coat-of-arms. 20th-century half sheepskin parchment, boards covered with 2 leaves from Froben & Petris 2° Latin Bible, Basel, 1498, red edges. [20] pp.
€ 9,500
Very rare first edition of the ordinances, statutes and edicts issued by Charles V at Brussels on 4 October 1540, partly new, partly confirming a number of earlier ordinances, etc. on trade customs, contracts and monopolies, money and currency, merchants from abroad, the relation between canon and civil law, notaries, marriages, and "pour extirper les erreurs et heresies", giving an interesting view of daily life, especially in Flanders in the years around 1540. Marck Martens in Brussels was a publisher and bookseller, not a printer, and the Antwerp address is that of the printer Jacob van Liesvelt (their roles are more explicitly noted in other joint publications).
Nijhoff-Kronenberg describes two different works under its item 3646 (1 copy of ordinances of 22 September 1540, collating a4 b2, and 1 copy of ordinances of 4 October 1540, collating A-B4 C2, in the collection of Eric von Rath, said to be the present copy), because they are found together in two other editions (items 1653 = USTC 55902 and 3645). It notes, however, that they were probably issued separately (the two have not been found bound together) and concludes (probably correctly) that ite
The present copy shows mostly the variants noted for 3646. The USTC sensibly omits a-b in its description of 3646, which means it should have omitted the copy at The Hague, which contains only a-b. Unfortunately the USTC transcribes the title of 3645 citing 3646 and vice versa, and as a result USTC 13023 and 80737 each apparently includes some copies of each.
Martens and Van Liesvelt also published Dutch editions as Ordinantien, statuyten ende edict, also beginning in 1540. Vervliet first records his vine-leaf ornament 137 in 1541 by Matthias Crom in Antwerp, but Van Liesvelt used it not only in the present edition, but also in Een nyen evaluacie boecxken, text dated 1 July 1539 and likely published in that year.
Although the book contains no direct indication of its provenance, it is said to be the copy owned by the librarian, university professor and incunabulist Erich von Rath (1881-1948) in Bonn, cited by Nijhoff-Kronenberg. As noted above, it has 3 pages in manuscript on the contemporary free endleaves giving ordinances, etc. from Mary of Hungary, Governor of the Habsburg Low Countries, in 1549. The book itself also has several contemporary manuscript notes in the margins, at least one referring to 3 November 1540. With minor and mostly marginal stains, but still in good condition and with generous margins, occasionally preserving part of a deckle at the fore-edge and a tranchefile at the foot. The modern binding, including the leaves from the 1498 Bible used to cover its boards, is in very good condition. A very rare first edition of Charles V's ordinances, giving a picture of life in Flanders ca. 1540. French vernacular books 12615 (4 [recté 3] copies) & 12616 (4 copies) mixing N-K 3645 & 3646; Nijhoff-Kronenberg 3646 part 1 (present copy only); Machiels K94; USTC 80737 (4 [recté 3] copies) & 13023 (4 copies) mixing N-K 3645 & 3646; cf. BMC STC Dutch, p. 140 = French, p. 478 (apparently a sloppy reprint); not in Adams.
Related Subjects: