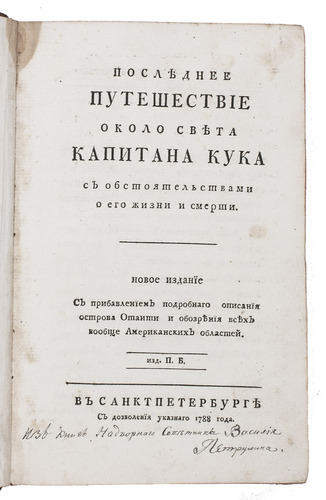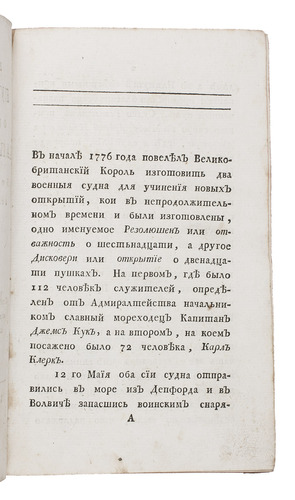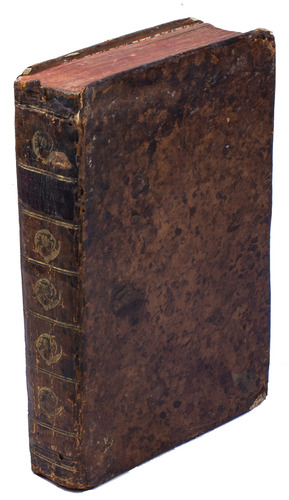 [COOK, James (subject)]. ZIMMERMANN, Heinrich.
Posliednee puteshestvie okolo svieta Kapitana Kuka s obstoiatel'stvami o ego zhizni i smerti ...
St Petersburg, P.B. [= Peter Bogdanovich], 1788. 8vo. Contemporary sprinkled calf. [4], 211, [1 blank] pp.
€ 28,500
Extremely rare second Russian edition, revised and augmented, of Heinrich Zimmermann's valuable account of Cook's third and final voyage, with a description of Cook's death at Kealakekua Bay, Hawaii. Zimmermann's account is followed by articles on Tahiti, a life of James Cook, and an essay on America in general, abridged from the Akademicheskiia izviestiia for 1781 and not included in the first Russian edition of 1786. Though Cook famously discovered Hawaii during his third voyage, Russian interest centred on his explorations of the American Northwest coast, where Russian fur traders had tried to establish permanent posts since the 1770's. Indeed, the first permanent Russian settlement was established only four years prior to the present publication.
Zimmermann's account was first published in Germany in 1781; it was the earliest account of Cook's final voyage to appear on the continent. It has an "ingenuousness and charm which differentiates it from the other accounts. His appreciation of Cook's character deserves to rank with that of Samwell" (Holmes).
Foot of title-page with owner's entry (in Russian), back of title-page with stamp of the Russian book collector V.A. Krylov, last page and flyleaf with owner's stamps. Inner front hinge cracked, some smudges, binding chafed, spine damaged at head and foot, some wormholes. Overall a very good copy of an extremely rare Russian edition of Zimmerman's account. Beddie 1570; Forbes 154; Howes 11435; Strathern, Navigations 631 (vii); cf. Holmes 40 (first German ed.).
Related Subjects: