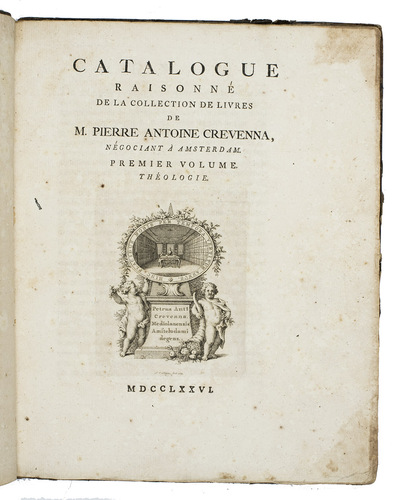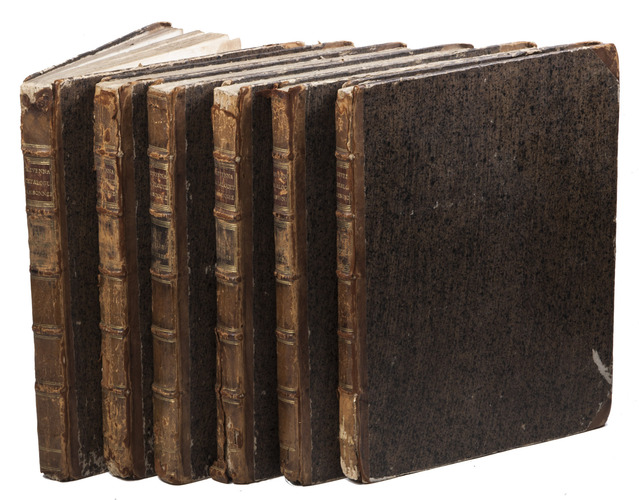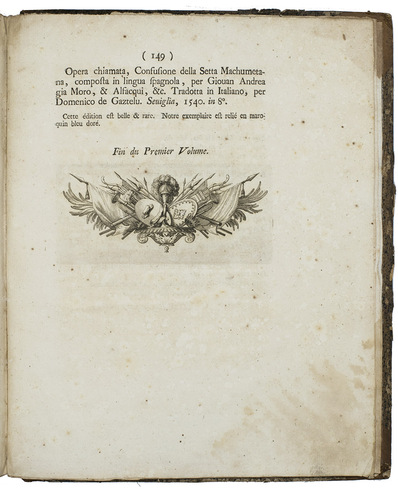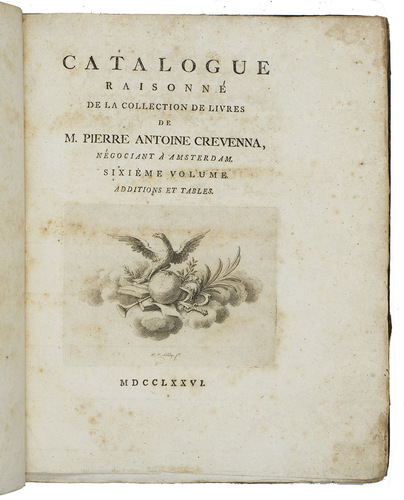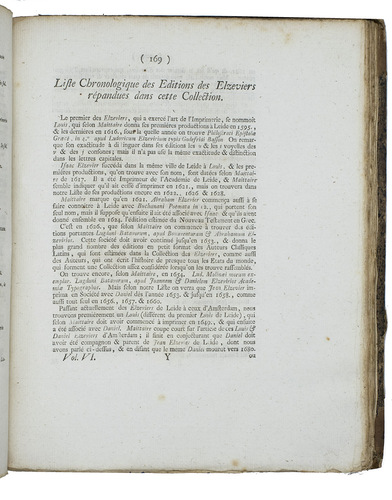 [CREVENNA, Pierre Antoine Bolongaro, and Carl' Andrea OLTOLINA].
Catalogue raisonné de la collection de livres de M. Pierre Antoine Crevenna, négociant à Amsterdam.
[Amsterdam], [Crevenna], 1776. 6 volumes. Large 4to (27.5 x 22.5 cm). With an engraved title vignette in each volume. Uniform contemporary calf. [2], VIII, 149, [1]; [2], 244, [1], [1 blank]; 322, [1], [1 blank]; 327, [1]; 346, [1], [1 blank]; [4], 336, [3], [1 blank] pp.
€ 4,950
Rare and famous catalogue of the private library of one of the most important 18th-century book collectors, the Amsterdam tobacco merchant Pietro Antonio or Pierre Antoine Bolongaro Crevenna (1736-1792). In 1775, Crevenna began to publish a detailed descriptive catalogue of his collection in a limited edition of 150 copies for his friends, putting no copies on the market. Already when the first volume appeared the lucky recipients, including the great bibliophile Johan Meerman, recognized the importance of the catalogue, not only because of the importance of the library itself, which probably contained more than 20,000 books, but also because of the detailed bibliographical notes, carefully distinguishing editions and noting variants within editions. They convinced him that it should reach a larger audience and he increased the press run of the remaining volumes to 300 copies and printed an additional 150 copies of volume 1. The present issue, with the second corrected edition of volume 1, is rarer than the first.
The catalogue extensively describes his rich collection of rare books, including the many incunabula and early manuscripts for which the catalogue is especially known. Volume 6 forms a large appendix to the catalogue, with additions and corrections, a chronological list of Crevennas manuscripts and of his incunabula, as well as various indexes. Both before and after publication, his library attracted eminent visitors from around the world, including the Russian Czar Peter the Great. With this luxurious catalogue Crevenna clearly intended to glorify his library and he continued to expand it to 1787 but he over-extended himself with his purchases and went bankrupt in that year. He had to sell his magnificent collection by auction in 1790 and 1793.
Bindings a little worn and rubbed, spines a little cracked or rubbed, some browning and foxing (a few leaves are quite browned), but overall in good condition. A complete and untrimmed set of this rare and famous catalogue, with some bolts unopened. Jos van Heel, "Bolongaro Crevenna: een Italiaans koopman en bibliofiel in Amsterdam", in: Jaarboek Ned. boekgeschiedenis, 5 (1998), pp. 73-93, at pp. 84-87; STCN (3 copies); Vandenhole I, 289; cf. Dietsche Warande 6 (1864), pp. 301-302.
Related Subjects: