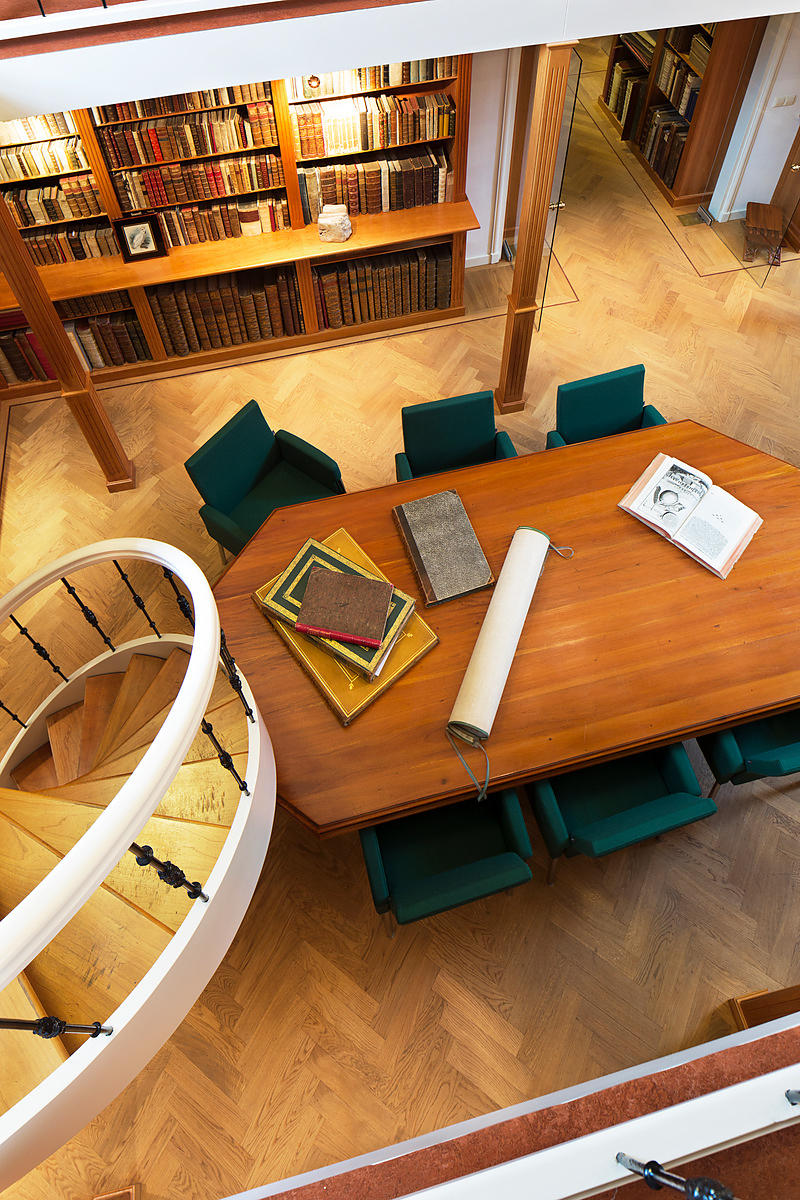 [DUTCH CALVINIST CARICATURE]. [Hieronymus SWEERTS].
De vergelykinge Christi met de Roomsche Paus, by forme van een stichtelyke, en leerzame samenspraak, voor de liefhebbers der waarheid.
Amsterdam, Jan van der Heyden, 1753. 1mo (full sheet) broadside (48,5 x 29 cm). Letterpress satirical broadside, with an anonymous, hand-coloured engraving, the title and imprint in red, 2 woodcut decorated initials, and a band of typographic ornaments separating the two columns of text.
€ 850
Rare and popular Dutch Calvinist satirical poem, illustrated at the head with an engraving showing the humble Christ riding a donkey facing the luxuriously dressed pope riding a luxuriously caparisoned horse. The engraving has its own title and text in the foot margin of the plate: "Vergelycking van Christus en de Paus" with a poem in two columns of 5 and 4 lines, each line with a rhyming couplet comparing the "Heer" (the Lord, meaning Jesus) with the "Knegt" (the servant, meaning the Pope, who is supposed to serve Christ but acts as though he is higher and is therefore the anti-Christ, as noted in the final couplet. The Dutch printer, author and engraver Hieronymus Sweerts wrote this poem. The letterpress text below the engraving is a poem in a similar vein, also in two columns, but reading across rather than down the columns. The left column has 50 numbered lines, each with a short biblical text (each preceded by the biblical reference), presented as Christ telling the reader what he says or does (though some in fact come from the Old Testament). The right column, presented as the words of the Pope and rhyming with the words of Christ, says he does just the opposite. A final unnumbered rhymed couplet, printed in red below the 50th, say, "The reader sees from this sample, whether its an error that people call the Pope the anti-Christ". This caricature mocks with the pride of the Pope and the Roman Catholic church, by using a sixteenth-century image motif (Rijksmuseum).
Very slightly soiled or stained, but overall in very good condition. Rijksmuseum (2 copies); STCN (1 copy); Worldcat (1 or 2 copies); for Hieronymus Sweerts: Alle de gedichten van Hieronymus Sweerts (Amsterdam, Cornelis Sweerts, 1697), pp. 117-118; Nieuw Nederlandsch biografisch woordenboek 3.
Related Subjects: