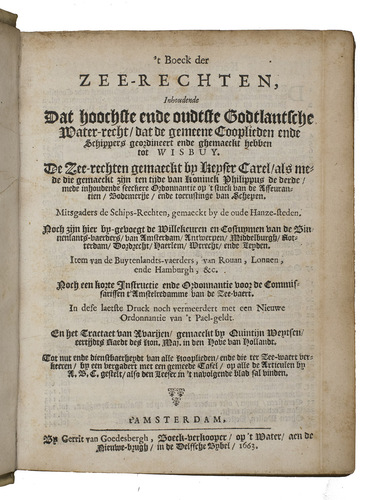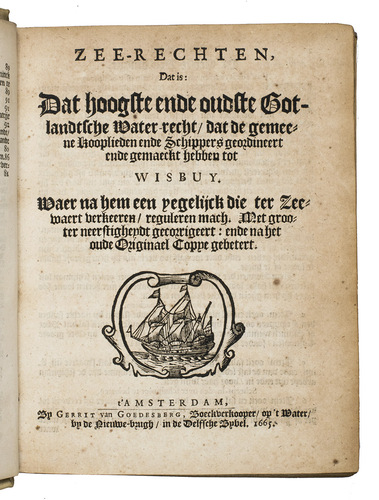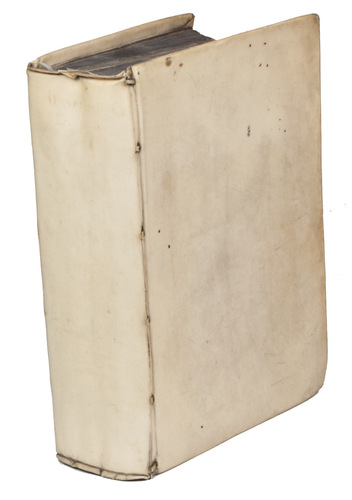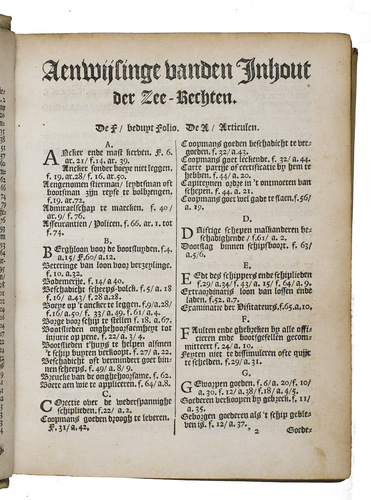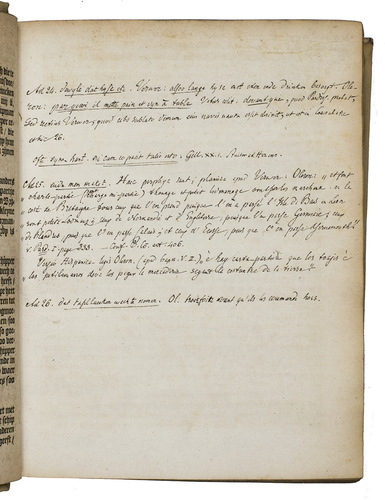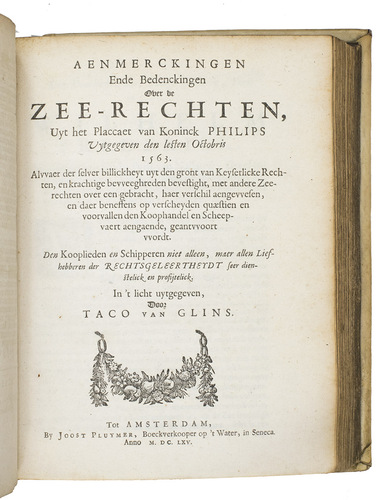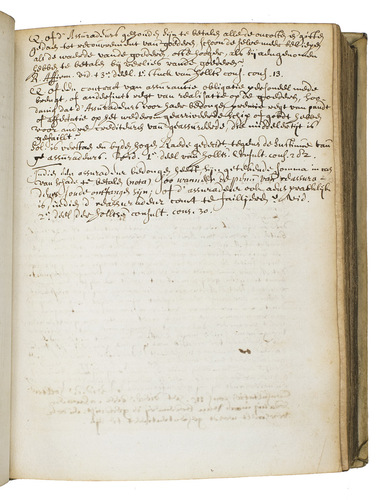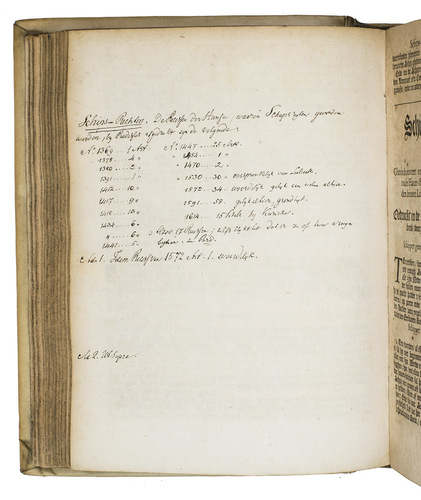 [DUTCH MARITIME HISTORY].
Boek der zee-rechten.Amsterdam, Gerrit van Goedesbergh, 1665. With the index of the 1663 edition.
With: (2) Extract uyt het register van de willekeuren der stadt Amsterdamme ....Amsterdam, Gerrit van Goedesberg, 1662.With: (3) Quintyn WEYTSEN. Een tractaet van Avarien ... The Hague, Jasper Doll, 1651 (colophon: Leyden, Philips de Croy, 1651).With: (4) Taco van GLINS. Aenmerckingen ende bedenckingen over de Zee-rechten, uyt het Placcaet van Koninck Philips uytgegeven den letsten Octobris 1563 ...
Amsterdam, Joost Pluymer, 1665.4to. All titles with woodcut title-vignettes and some with woodcut head- and tailpieces or woodcut initials. All titles are interleaved. Contemporary vellum over boards. [8]; 144; [8]; 23; [12], 139 pp. with some blank leaves between the different ordinances.
€ 1,250
Ad 1-3: Rare interesting collection of laws, ordinances, instructions, decrees, etc., regarding Dutch navigation and shipping in Holland and in Europe during the Dutch golden age; containing also a treatise on the insurance of ships and cargos by Quintijn Weytsen (1518-1565). The edition of the treatise by Weytsen in our copy is the enlarged edition by Simon van Leeuwen (1626-1682).
Ad 4: First edition of an important manual on Dutch maritime law, long considered the standard work on the subject. Further editions appeared in 1695, 1707, 1710, 1727 and 1753. Taco van Glins (1619-1673) was a lawyer from Friesland who had studied in Leiden and who became Professor of Law in Franeker in 1673.
With some annotations in contemporary handwriting on the blank leaves or in the margin and some underlining throughout the text. Some browning, otherwise a good copy. Ad 1: Goudsmit, p. 148. Ad 2: STCN (3 copies; only as part of the Boek der zee-rechten). Ad 3: STCN (6 copies). Ad 4: Dekkers, p. 63, 2; NNBW II, cols. 467-470; STCN (8 copies).
Related Subjects: