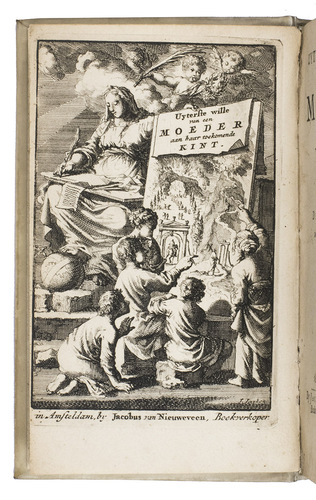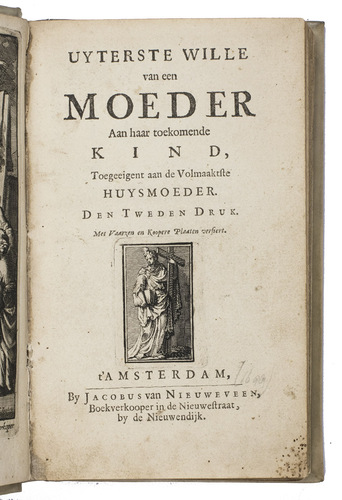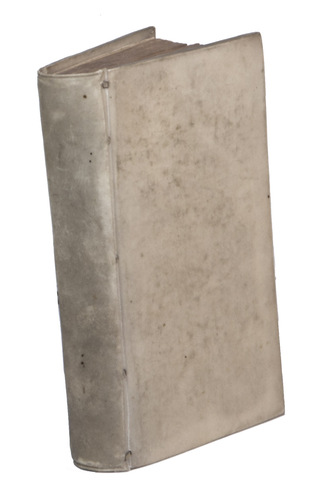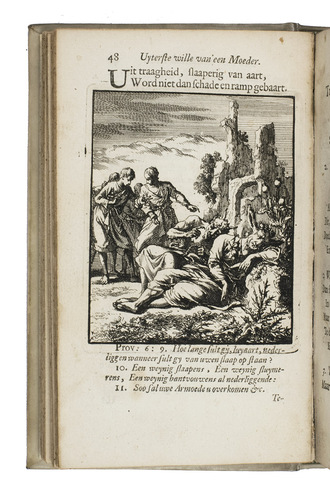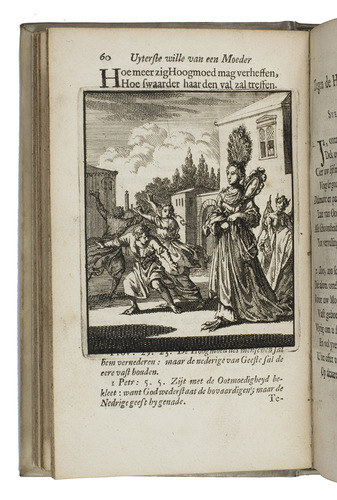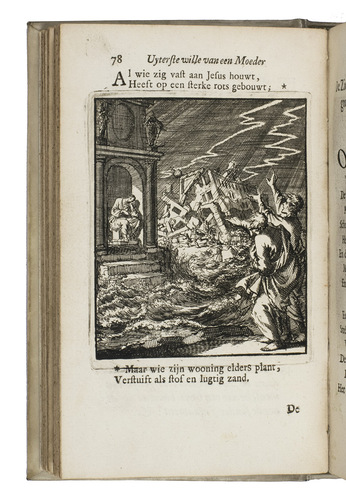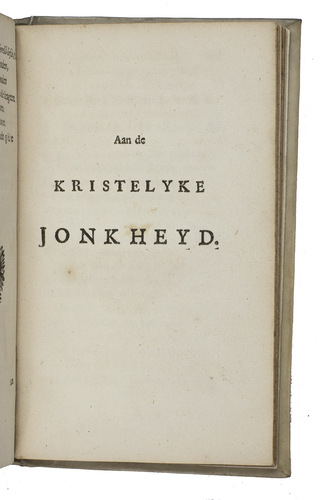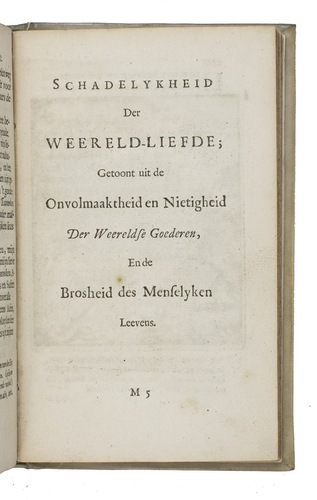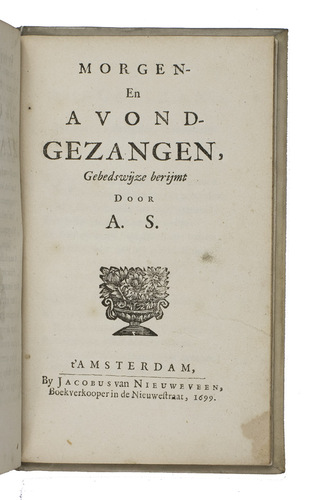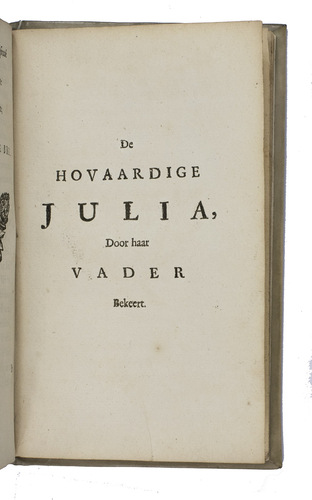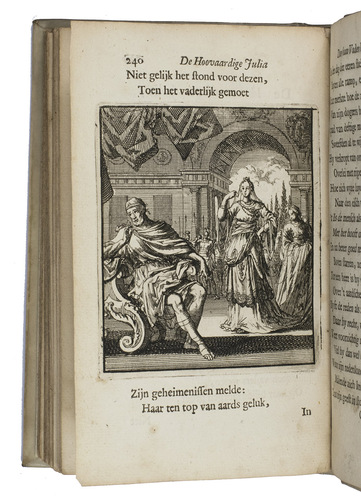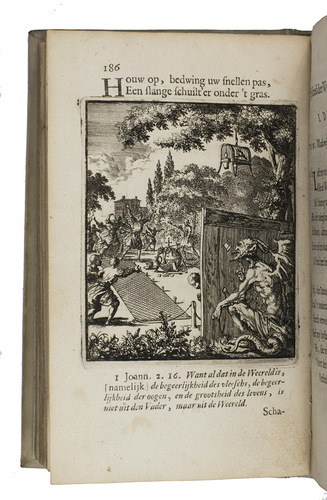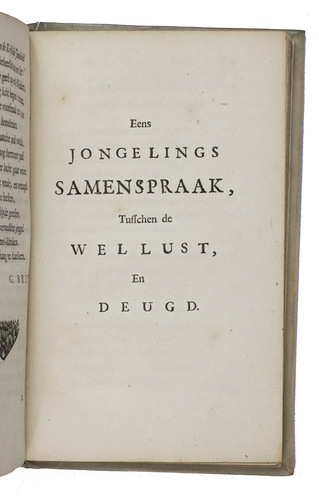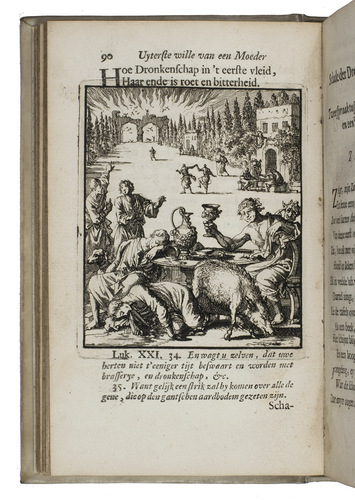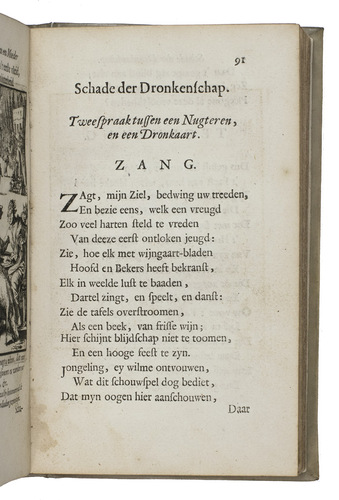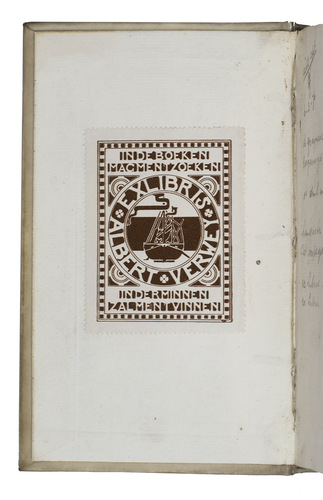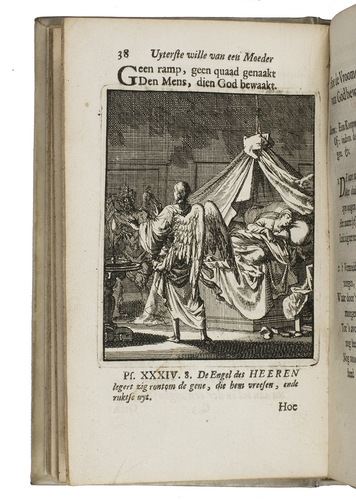 [JOCELIN, Elizabeth Brook].
Uyterste wille van een moeder aan haar toekomende kind, toegeeigent aan de volmaaktste huysmoeder. Den Tweden Druk. [With extensive verses and other additions by Adriaan SPINNEKER].
Together in a single edition with:
HOUTE, Soetgen van den. Uyterste wille, dewelk sy hare kinderen David, Betgen en Tanneken, tot een memorie en voor het alderbeste goet heeft nagelaten, en heeft dat met haren dood bevestigt, tot Gent in Vlaenderen. [With several educational verses by Gezine BRIT].
SPINNEKER, Adriaan. Morgen- en avondgezangen, gebedswijze berijmt.
Amsterdam, Jacobus van Nieuweveen, 1699. 3 works plus additional verses in 1 volume. Small 8vo. A single edition, containing three main works, each with its own title-page with Van Nieuweveens imprint (the first undated, the others 1699) and with all engravings on integral leaves (frontispiece and 16 nearly full-page emblematic engravings by Jan Luyken and 6 smaller emblematic engravings plus 2 small engravings of Hope and Faith, some possibly by Jan Luyken). The first work with a richly engraved allegorical frontispiece, an engraved figure of Faith (with cross and book) on the title-page, and 7 nearly full-page engraved emblems; the second with an engraved figure of Hope (with anchor and bird) on the title-page, a nearly full-page engraved portrait of the author writing in her prison cell, 2 nearly full-page engraved emblems and 4 smaller emblematic engravings in the main text, and 6 nearly full-page engraved emblems and 2 smaller ones accompanying the added verses; and a woodcut vase of flowers on title-page of the third work. Further with several woodcut tailpieces and decorated initials. Contemporary vellum. [8], "259" [= 267], [1, 4 blank] pp.
€ 2,500
First illustrated edition in any language of Jocelins famous Legacie, intended for children and adults, with 25 beautiful engravings, mostly made for this edition by Jan Luyken, and the first edition to supplement the Legacie with an earlier related Anabaptist work presented as a children's book - each of the two presents a mother's spiritual legacy to her child(ren) - together with a new children's hymnbook (songs for morning and evening prayer). They were published together as a single edition, each of the three main works with its own title-page (with imprint), but with a single series of page numbers and quire signatures. They are also here for the first time accompanied by additional verses, at least mostly written for this edition by the Mennonite poet Gezine or Geesje Brit (1669?-1747) and Mennonite preacher Adriaan Spinneker (1678-1745), apparently the moving spirits behind the present edition. Brit contributed a laudatory verse to the first work and added three or four extensive verses (with their own divisional title-pages without imprints) to the second, while Spinneker contributed numerous verses and explanations of the emblems in the first work as well as the hymns of the third work. Although the first title-page is undated and the publishers note to the reader in the preliminaries is dated 10 December 1698, the first work ends on I1r with a catchword pointing to the 1699 title-page of the second work on I2r (I1v is blank), so they could not have been issued separately.
The frontispiece is signed by the artist and engraver Jan Luyken, who was also responsible for the 16 nearly full-page unsigned engravings. Only one of the 8 smaller engravings is signed, by the engraver Johannes van den Aveele (1655-1727), but it differs from the others stylistically (and unlike them has an oval scrollwork cartouche inside the rectangular frame) so it is not clear whether Jan Luyken or Van den Aveele was responsible for the other seven.
With the bookplates of Albert Verwey and A.J. van den Tol. In fine condition. Klaversma & Hannema 1425; Landwehr, Emblem & fable books, 386; Praz p. 383; STCN 843284927; Van Eeghen & Van der Kellen 339; cf. Bibelebontse Berg, pp. 152-154, discussing the "Uyterste wille van Soetgen van den Houte", with 3 ills.; not in De Vries, Emblemata; for Geesje Brit: http://resources.huygens.knaw.nl/bwn1780-1830/DVN/lemmata/data/brit.
Related Subjects: