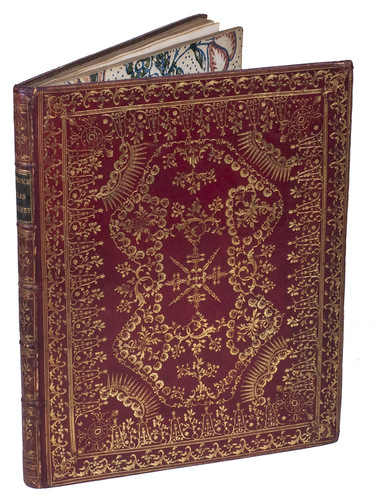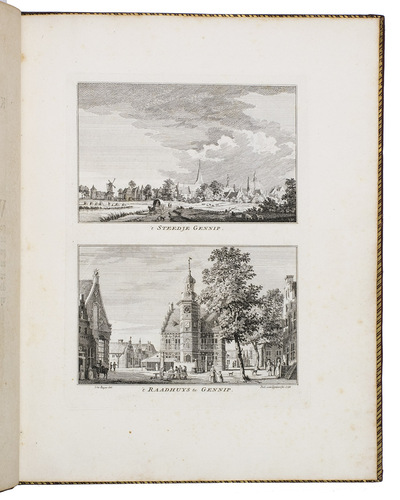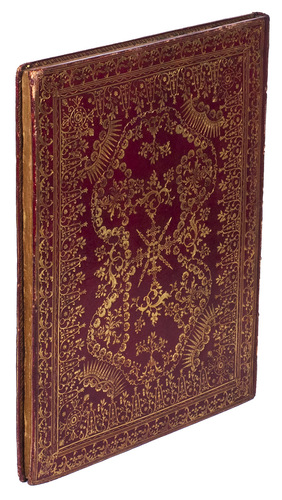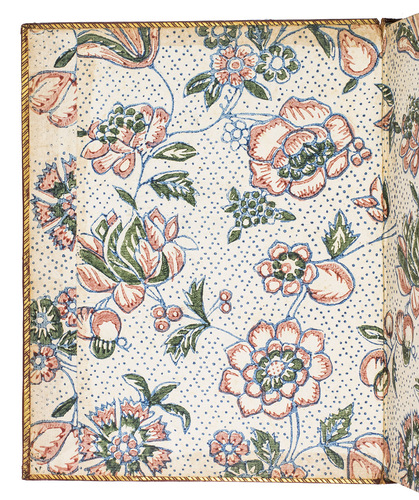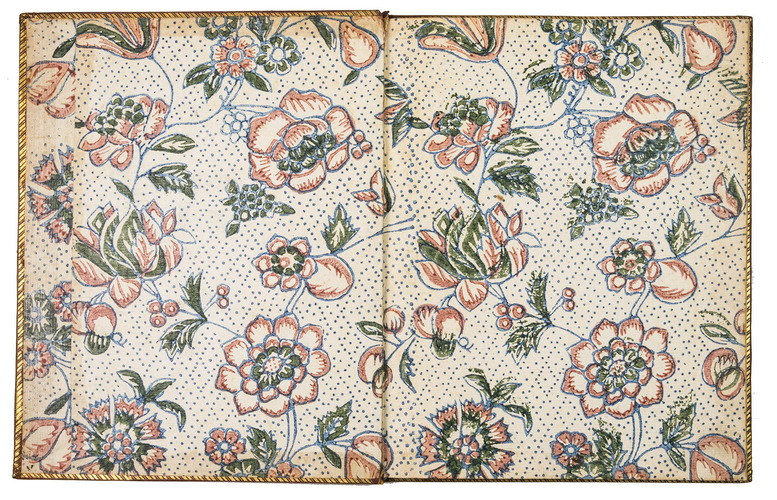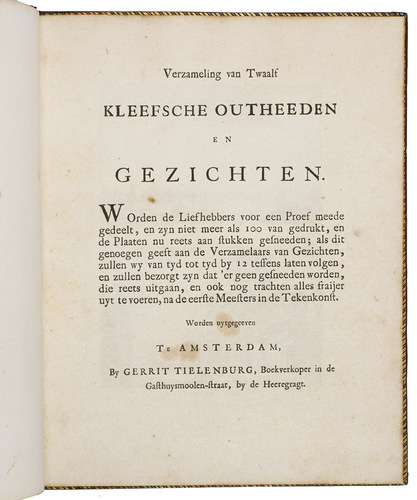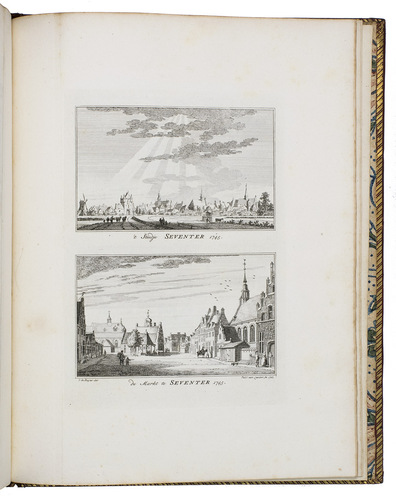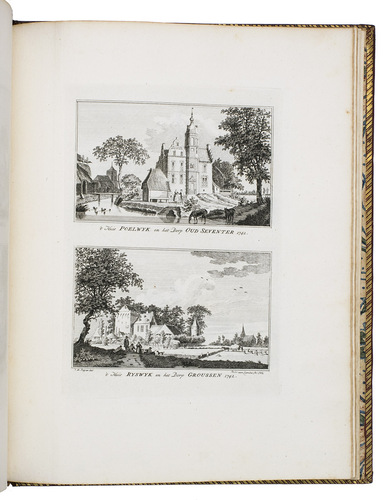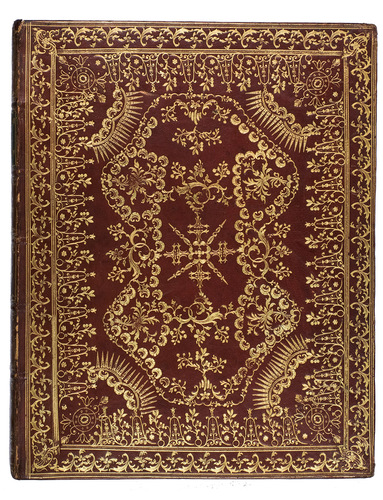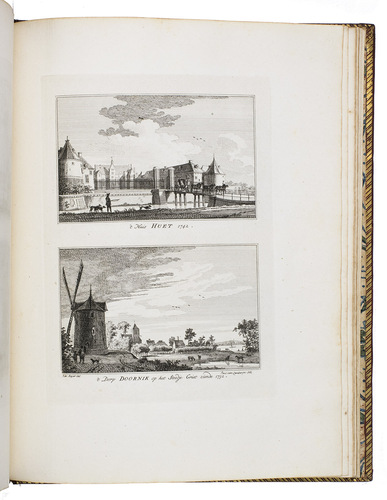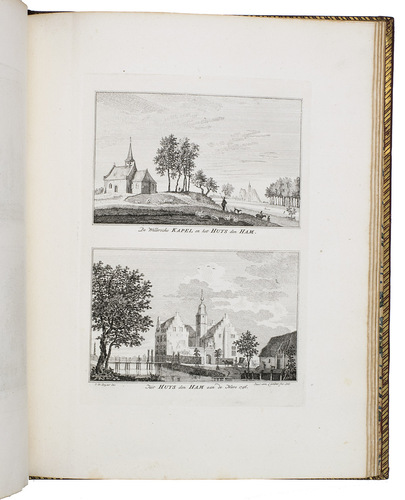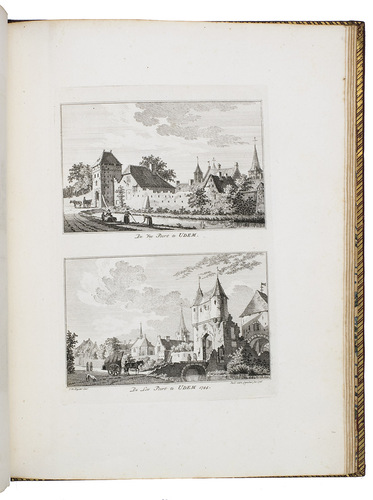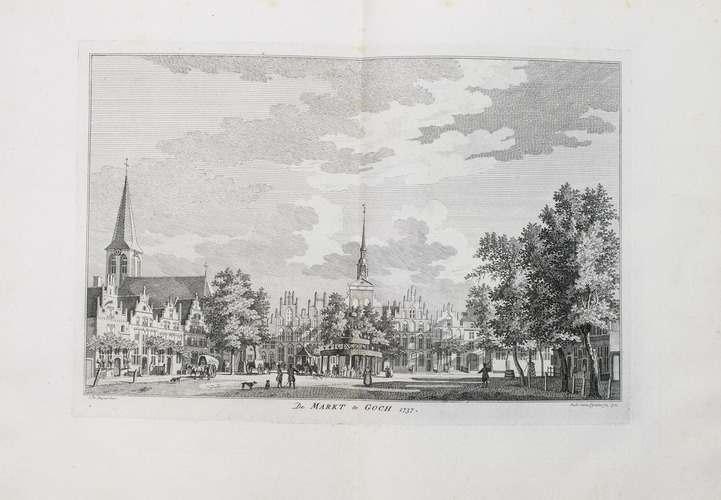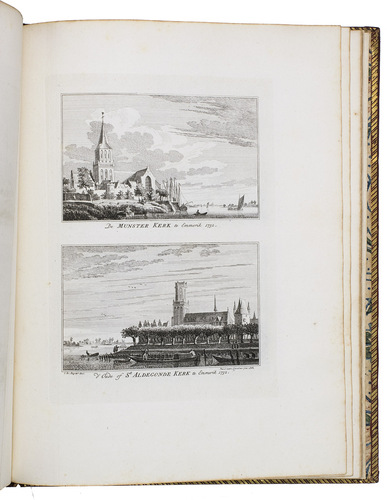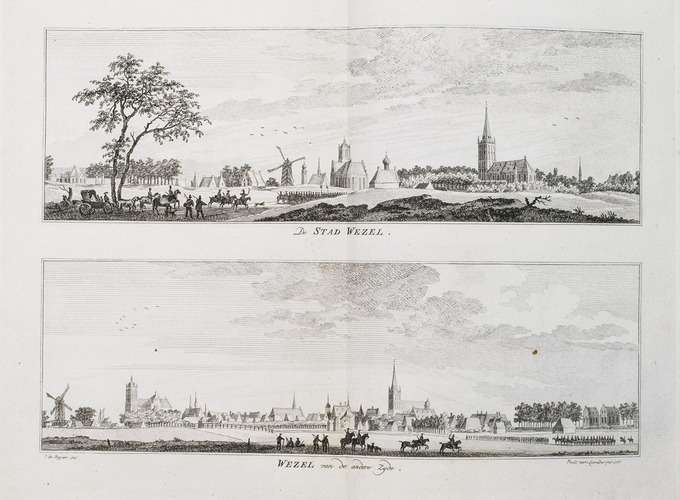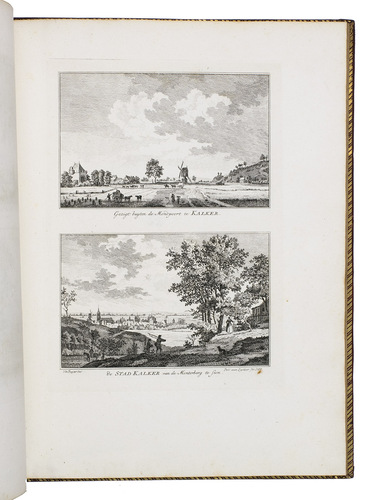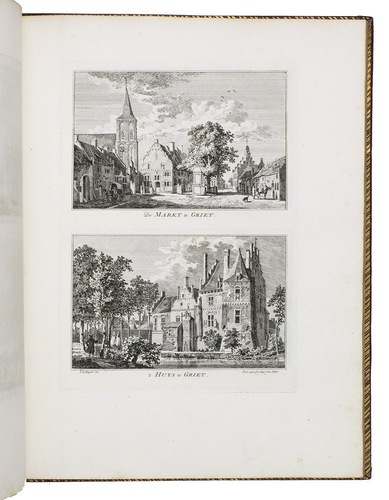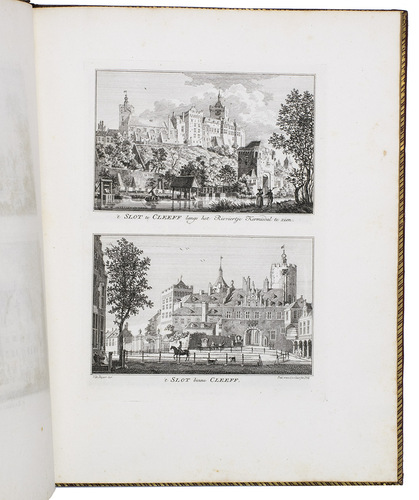 [KLEEFSCHE OUTHEEDEN - VIEWS]. BEIJER, Jan de (draughtsman) and Paulus van LIENDER (engraver).
Verzameling van twaalf Kleefsche outheden en gezichten.
Amsterdam, Gerrit Tielenburg, (signed in the plates:) 1758-1762. Large 4to (29 x 23 cm). With 50 leaves showing 46 engravings containing a total of 91 views: 42 leaves with 2 views per leaf, 6 leaves with 2 double page views each, and 1 double page view on 2 leaves. All engraved plates are signed "J. de Beyer del. Paul: van Liender fec [year: between 1758 and 1762]". All views are captioned beneath the illustration, telling the viewer what building, town, or view they are seeing, and some captions even mention the year when the view was captured by De Beyer. Near contemporary (ca. 1778) elaborately gold-tooled red morocco, with a green morocco title-label lettered in gold on the spine, gold-tooled edges and turn-ins, floral decorated paper end leaves, gilt edges. [1], [1 blank] pp. and 50 leaves showing 91 engraved views.
€ 12,500
Splendidly bound, incredibly rare collection of views of the castles, houses, churches and towns surrounding the city of Kleve in present-day Germany near the Dutch border at Arnhem and Nijmegen. Here in their first edition, these views were published in instalments by Gerrit Tielenburg in Amsterdam from 1758 to 1762 (see the signatures in the plates) or shortly after. The present work gives an incredible insight into the Dutch-German countryside in the middle of the 18th century. The views were drawn by the Dutch master draughtsman of (city-) views, Jan de Beijer (1703-1780). In total, he produced some 1500 drawings, over 600 of which were reproduced as engravings by other artists. One of these other artist was Paulus van Liender (1731-1797), who engraved De Beijer's drawings for the present publication. In addition to being an expert engraver, De Liender was also draughtsman and painter of Dutch landscapes. Drawings by Jan de Beijer and engravings, for example by De Liender, based on his work can be found in numerous museums, archives, and private collections.
The present splendid near contemporary (ca. 1778) binding has coincidentally been described in great detail by Storm van Leeuwen his acclaimed work on 18th-century Dutch decorated bookbinding (see vol. IIA p. 481-483). It almost certainly is a Dutch binding, and it might even have been made in a Rotterdam bindery. It contains similar rolls and stamps to 4 gold-tooled red morocco bindings covering a set of works printed in Rotterdam in 1778, which were dedicated and given to Stadtholder William V.
With blind-stamped initials at the head of the second free flyleaf "R.v.L.". The title page is slightly browned, and with some very light foxing throughout, but the engraved views remain fine and clean. Overall in very good condition. Not in STCN; WorldCat; 1 copy in the BnF https://gallica.bnf.fr/ark:/12148/btv1b8452138v (93 views on 50 leaves, 4 double page engraved ll.); for the binding: Storm van Leeuwen, Dutch decorated bookbinding in the 18th century, part IIA p. 481 etc.
Related Subjects: