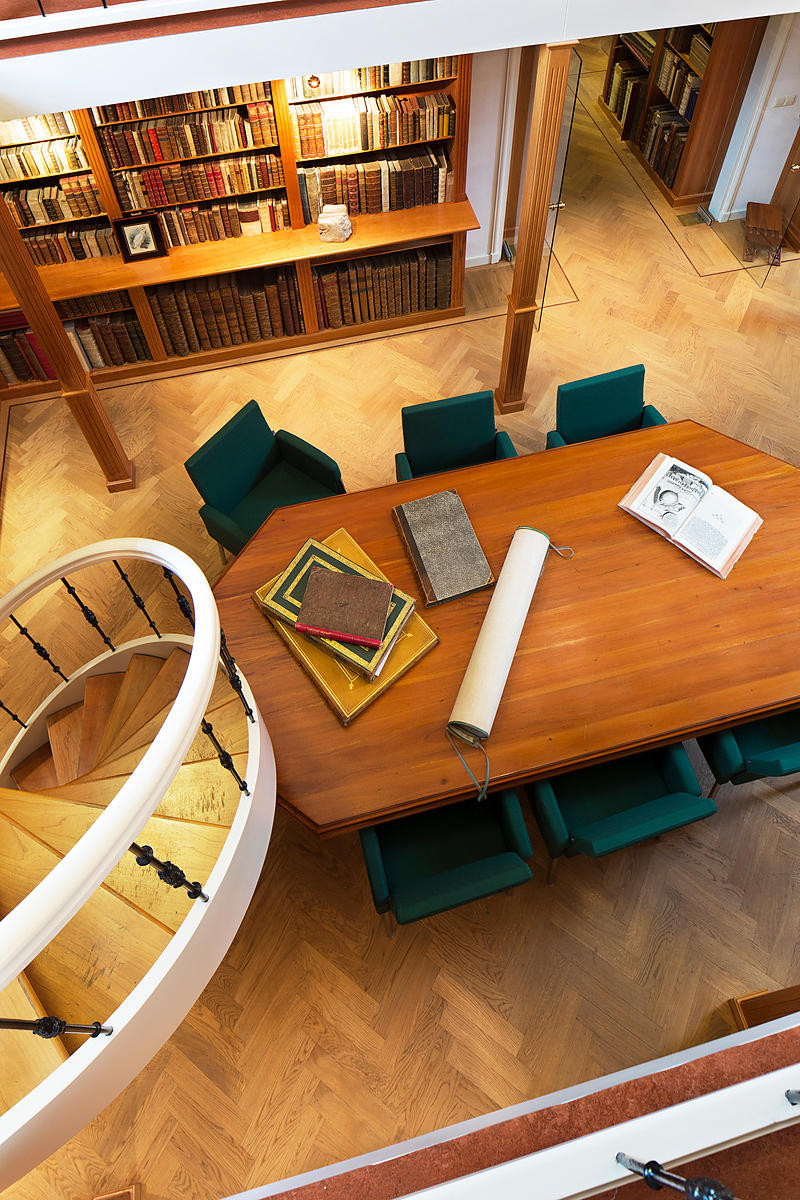 [LETTER - DIPLOMATIC]. ISMAIL ibn SHARIF, Moulay, ruler of Morocco.
[Diplomatic letter to the English emissary [Charles Stewart] acknowledging the English desire for improved diplomatic relations, and offering a truce and a peace treaty].
[Meknes (Morocco), 3 Safar 1133 AH (= 23 December 1720)]. Whole sheet (57 x 43 cm). An elaborately decorated letter in ink on paper, with the stylized architectural and arabesque decorations (including Arabic inscriptions) drawn in black outline, coloured and supplemented in green with some blue, and highlighted with gold, and the 8-line Arabic text of the letter itself in brown.
€ 28,000
An important and beautifully decorated diplomatic letter in Arabic, from Moulay Ismail ibn Sharif, ruler of Morocco, to the English emissary Charles Stuart, who was in Morocco to negotiate improved relations between the countries. While relations between Britain and Morocco had long been tense, their mutual opposition to French domination of Spain led to cooperation during the War of the Spanish Succession (1702-1713/14) helping Britain gain control of Gibraltar in 1704. Its extremely important strategic position, guarding the mouth of the Mediterranean, meant that Britain was determined to retain control there, but that required cooperation with Morocco, especially since Gibraltar depended on neighbouring lands for food and supplies. The 22 July 1714 treaty of Tetuan settled matters temporarily, but England was eager to establish longer-term security. King George I therefore sent Commodore Charles Stewart (1681-1741) to Morocco with a small squadron to negotiate with Moulay Ismail ibn Sharif (1634?-1727). He set off on 24 September and arrived on 22 December. Ismail was a fierce opponent whom many Europeans called "bloodthirsty". He had fought for and won Moroccan independence from the Ottoman Empire. If reports of the year of his birth are correct he was now past 85 but remained firmly in power. The present letter, written the day after Stewart's arrival, presents his guarded response, acknowledging the English desire for an extended truce, close friendship and good communications. Some groundwork had apparently been laid before Stewart's arrival, for the letter notes communications made through the pasha Hamet ben Ali ben Abdallah and Ibn al Attar and indicates that they had already come to an agreement over the content. Ismail expresses the hope that the ambassador will find the terms satisfactory. He had secured his country's independence from the Ottomans only 25 years before and perhaps for that reason takes pains to emphasize the continuity of its government, noting that his relative Ahmad al Mansour (1549-1603) had had friendly relations with Queen Elizabeth (1533-1603): in fact he had a representative at the English court in 1600, when Morocco and England were allied against the Spanish. Charles Stewart and Hamet ben Ali ben Abdallah signed the peace treaty at Ceuta in January 1721 and Stewart then had an audience with Ismail ibn Shaif in Meknes and was able to return home with nearly 300 British who had been enslaved in Morocco.
The sheet is folded in two above the text of the letter and was formerly folded further, probably for delivery. These folds show some wear and minor tears, the edges are slightly tattered (occasionally affecting a small piece of the border) and the paper shows some unobtrusive spotting. The whole remains in good condition and only slightly trimmed at the sides and head, the foot retaining its deckle. A beautifully decorated diplomatic letter from the great Moroccan ruler Moulay Ismail ibn Sharif to the English emissary Commodore Charles Stewart, leading to improved relations between Islamic Morocco and Christian Britain. For background information: N. Matar, British captives from the Mediterranean to the Atlantic, 1563-1760 (2014); N. Matar, Europe through Arab eyes, 1578-1727 (2008).
Related Subjects: