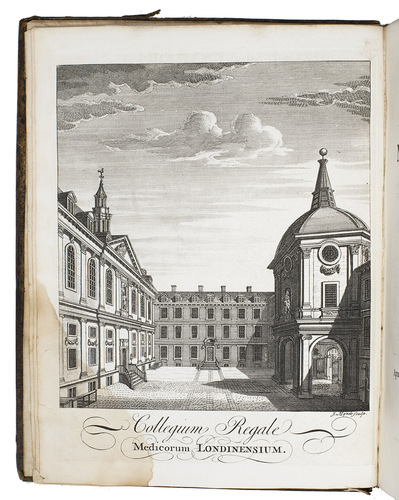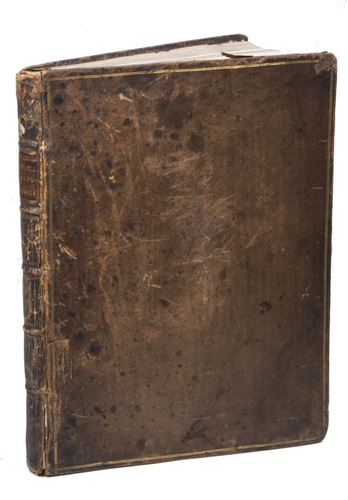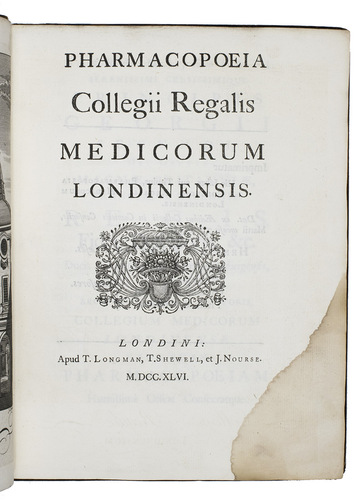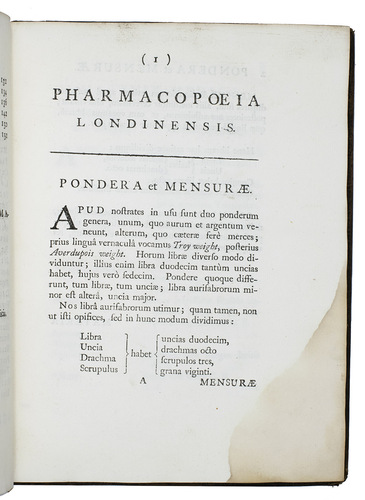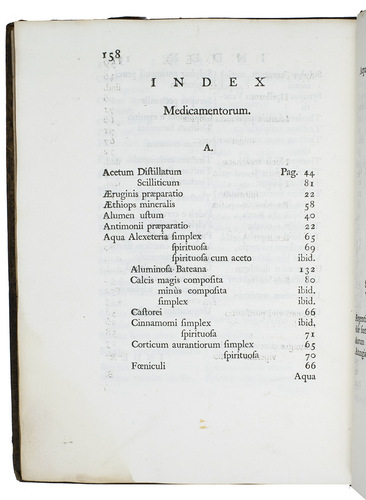 [LONDON - PHARMACOPOEIA].
Pharmacopoeia collegii regalis medicorum Londinensis.
London, T. Longman, T. Shewell and J. Nourse, 1746. 4to. With engraved frontispiece showing the inner court of the Royal College of Physicians in Warwick Lane, London (Collegium Regale Medicorum Londinensium) by J. Mynde [1725], woodcut vignette on title-page. Calf, each board with a frame of double fillets in gold, red morocco spine label, lettered in gold.Full calf over boards with double gilt ruling along the edges, ribbed spine with red morocco title label, lettered in gold. (2), XVI, 174 pp.
€ 650
Corrected and augmented edition of the famous pharmacopoeia of the Royal College of Physicians at London, first published in 1618, but extensively revised for the folio edition of 1721 by the great physician, naturalist and collector Sir Hans Sloane (1660-1753) who succeeded Isaac Newton as president of the Royal Society in 1727, and served as president of the College from 1719 to 1735.
The English introduction says "the President and College have, with great Care, Pains, and Industry, revised, corrected, and reformed a Book by them formerly published, intitled, Pharmacopoeia Collegii Regalis Medicorum Londinensis, prescribing and directing the Manner of preparing all sorts of Medicines therein contained, together with the true Weights and Measures by which they ought to be made: Which Book is now perfected and ready to be published ...".
A review in the Dutch Boekzaal der geleerde werelt eulogizes Sharps 1746 edition, "which is, in all its simplicity and plainness, considered by far the best pharmacopoeia ever printed".
The text is divided into chapters on ponderea et mensurae (weights and measures), materia medica, preparationes simpliciores, conservae, condita, succi, extracta et resinae, olea per expressionem, olea per distillationem, etc. Boekzaal der geleerde werelt, 32 (1746), p. 586; ESTC T94945.
Related Subjects: