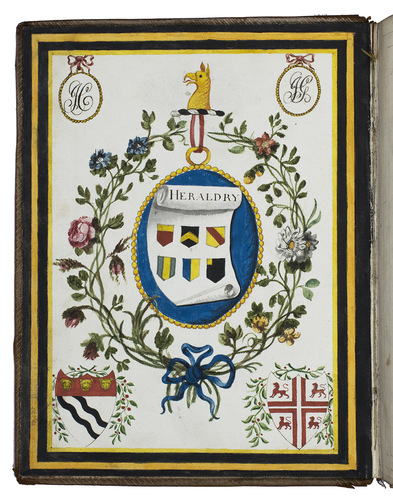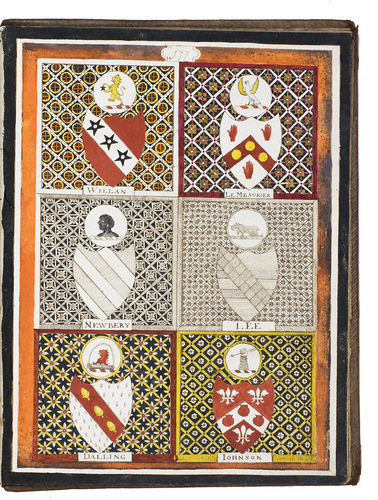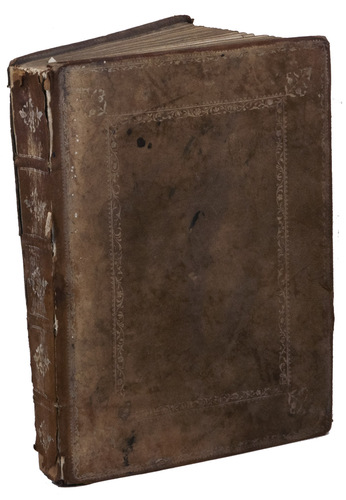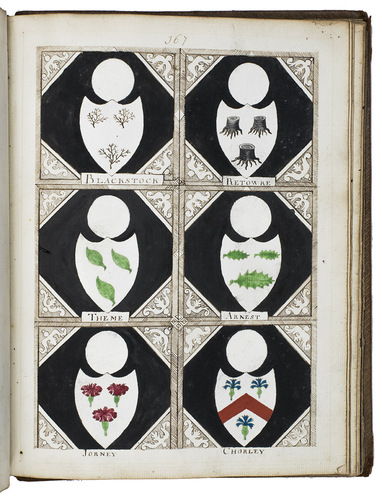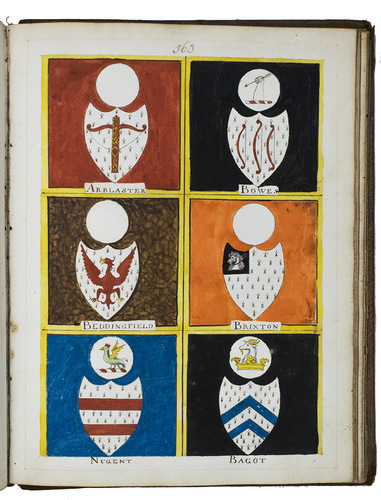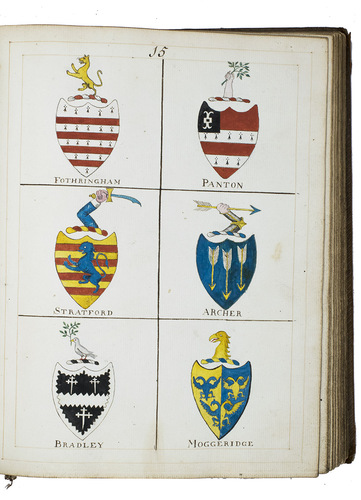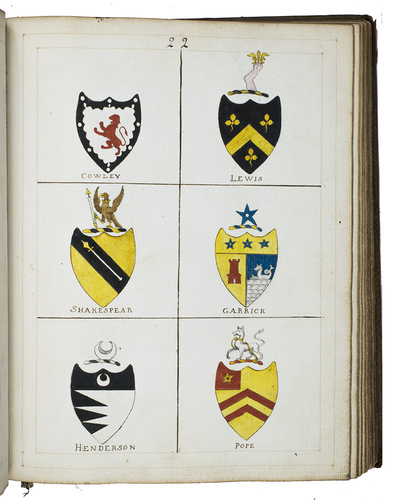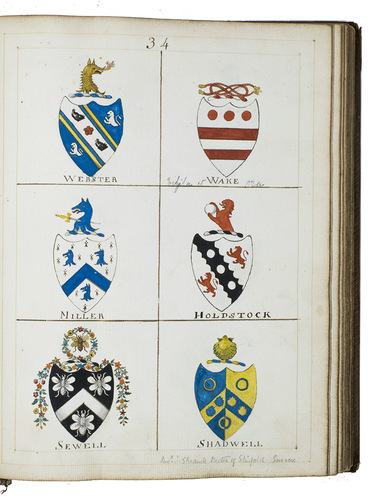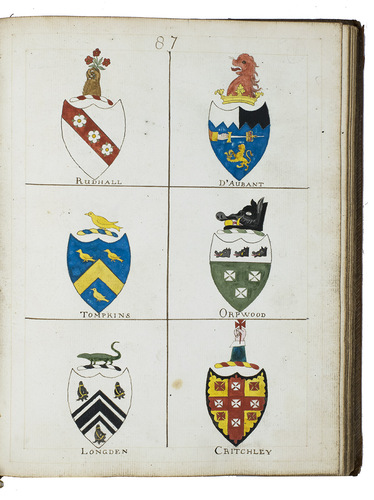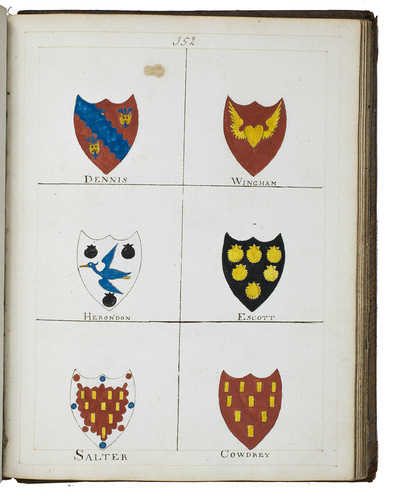 [MANUSCRIPT - HERALDRY - ENGLAND]. CLEMENTS, Joseph and J. GOLDING.
(title-page:) Heraldry.
[England (Kent?), ca. 1775-1795]. Large 4to (ca. 27 x 21 cm). Manuscript in English on paper, mostly containing coats of arms with captions and a hand-written index. Completely written in brown ink in a neat 18th-century hand. With a hand-drawn and contemporary hand-coloured title-page, 108 contemporary hand-coloured smaller coats of arms showing motives on the crest and 1050 contemporary hand-coloured larger coats of arms of English noble families. Contemporary sheepskin, blind-tooled boards and spine, marbled endpapers. [2], 183 ll.
€ 9,000
Interesting and beautifully finished heraldic manuscript on the English nobility, showing the coats of arms of important 16th-, 17th- and 18th-century English noble families. The present manuscript contains more than 1050 coats of arms, all finely hand-painted with a close attention to detail. They are almost all painted on a plain background, with exception of three pages. The work opens with a hand-painted title-page, followed by an heraldic ordinary which helped the reader to interpret the subsequent family crests, illustrated with a six-to-six grid filled with 36 coats of arms. The succeeding pages are the main body of the manuscript, which are all divided in to a grid formation of six shields to a page. They contain the heraldic shields of 1050 English noble families, all having some important family members from the 16th till the 18th century. On three pages, the coats of arms have a coloured or decorated background, making them visually very appealing. The first of these pages show six families ("Arblaster", "Bowes", "Beddingfield", "Briston", "Nugent' and "Bagot" whose coats of arms share the characteristic of having a ground of ermines. The second pages show the coats of arms of six other families ("Blackstone", "Retowre", "Theme", "Arnest", "Jorney" and "Chorley"), all incorporating organic trinities (three stumps, woodbine leaves, gillyflowers, etc.). The last of these extraordinary leaves is definitely the most aesthetic one, arranging the crests and shields upon a highly decorated field of repeated geometric patterns, all executed with great diligence. Another striking page is p. 22, containg the coats of arms of three authors (Shakespeare, Howley and Pope) together with those of three actors (Henderson, Garrick and Lewis). The manuscript concludes with a detailed handwritten index.The title-page contains two monograms reading "JC" and "JG" and the two coats of arms on the title-page of the Kentish Clements (left) and Goulding (right) families. A note in pencil on the facing page states that this manuscript was made by Joseph Clements and J. Goulding in ca. 1795. Altogether a stunning and appealing heraldic manuscript on the English nobility from the sixteenth until the eighteenth century, which is executed in great detail and giving a beautiful overview of the English nobility and their heraldic representations.
With some loosely inserted small leaves with notes upon the manuscript, all in later 20th-century hands. Also with a loosely inserted small card reading "Mrs. George Boudier. Ewhurst Rectory". George Boudier (1820-1899) was rector of Ewhurst, Sussex. It is likely that his wife obtained this manuscript in the 19th century.Binding a little worn: head, bottom and hinges of the spine slightly damaged, a few spots on the sheepskin, tooling (likely silver-tooling) on the boards and spine faded. Internally only a few very minor spots throughout, but overall in very good condition.
Related Subjects: