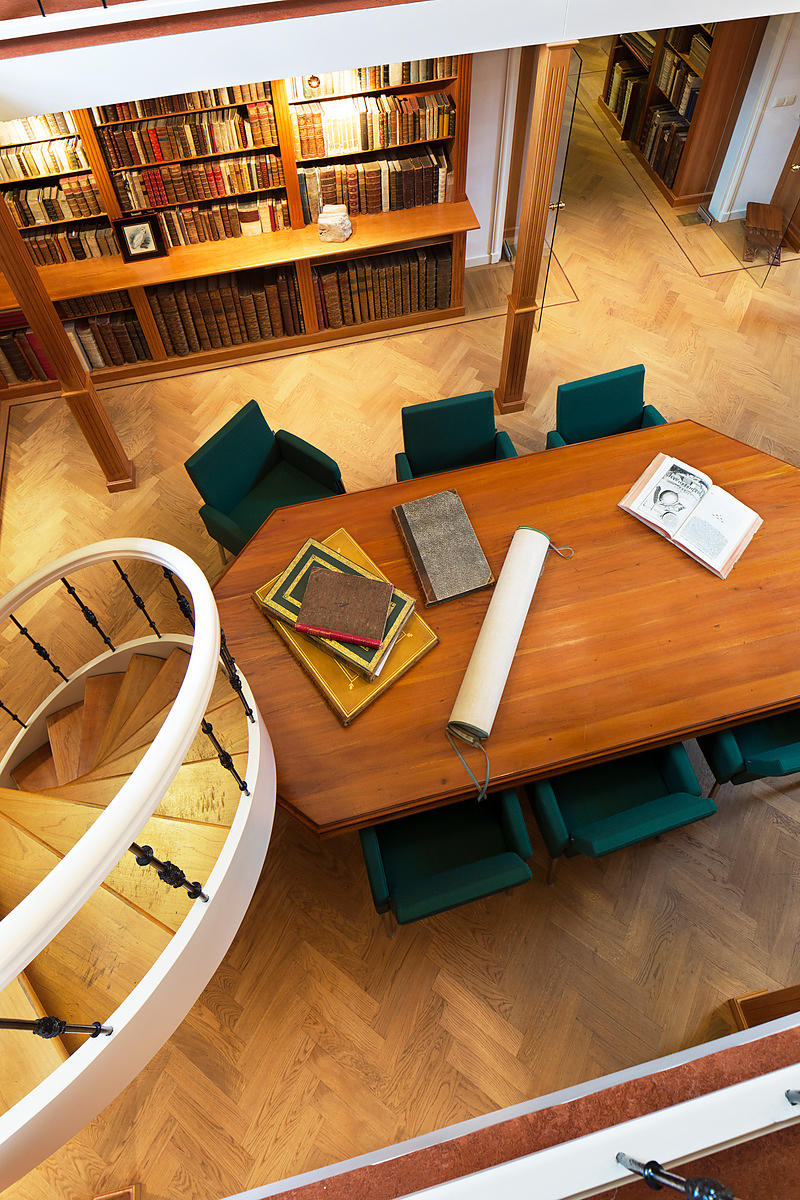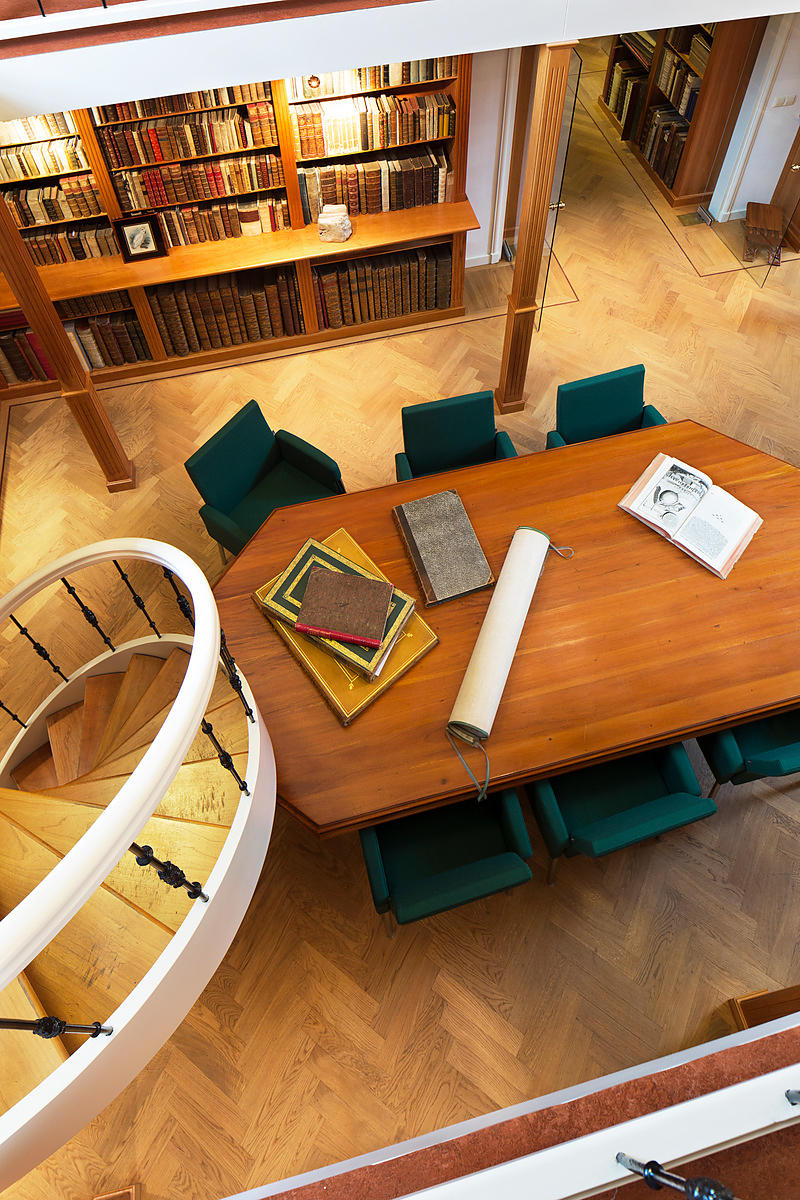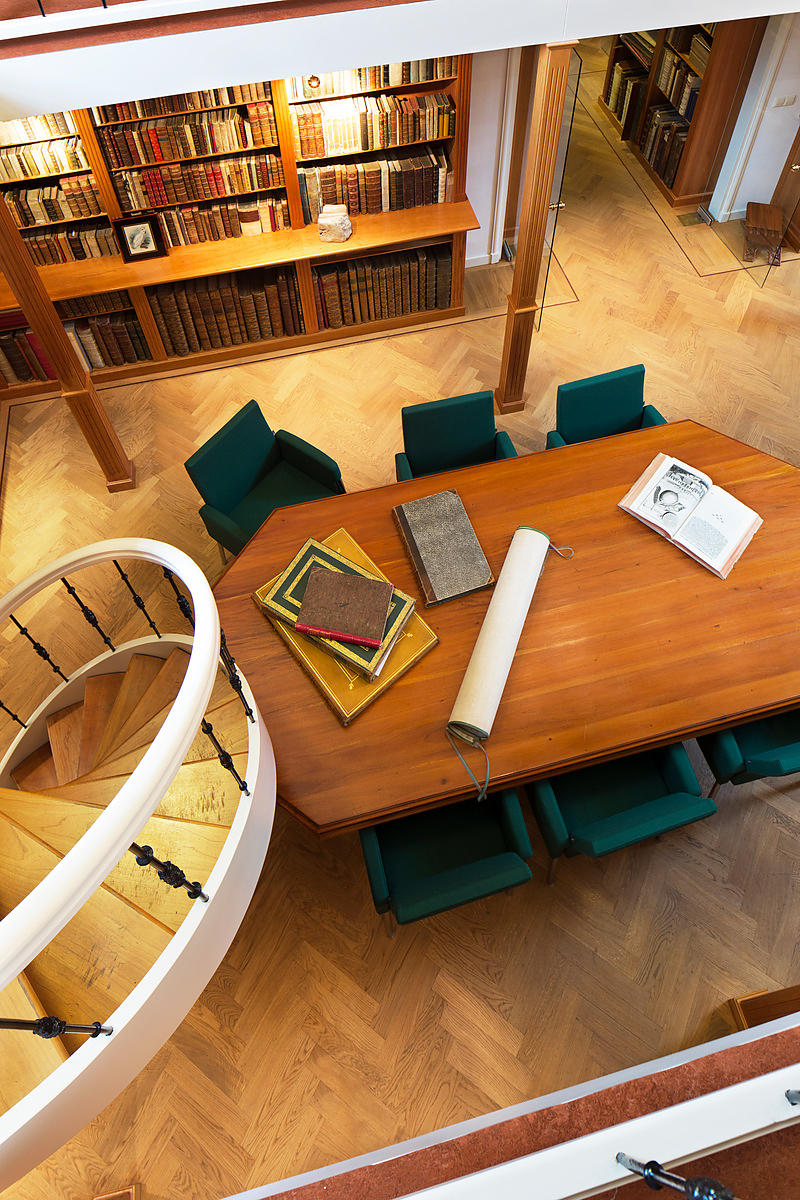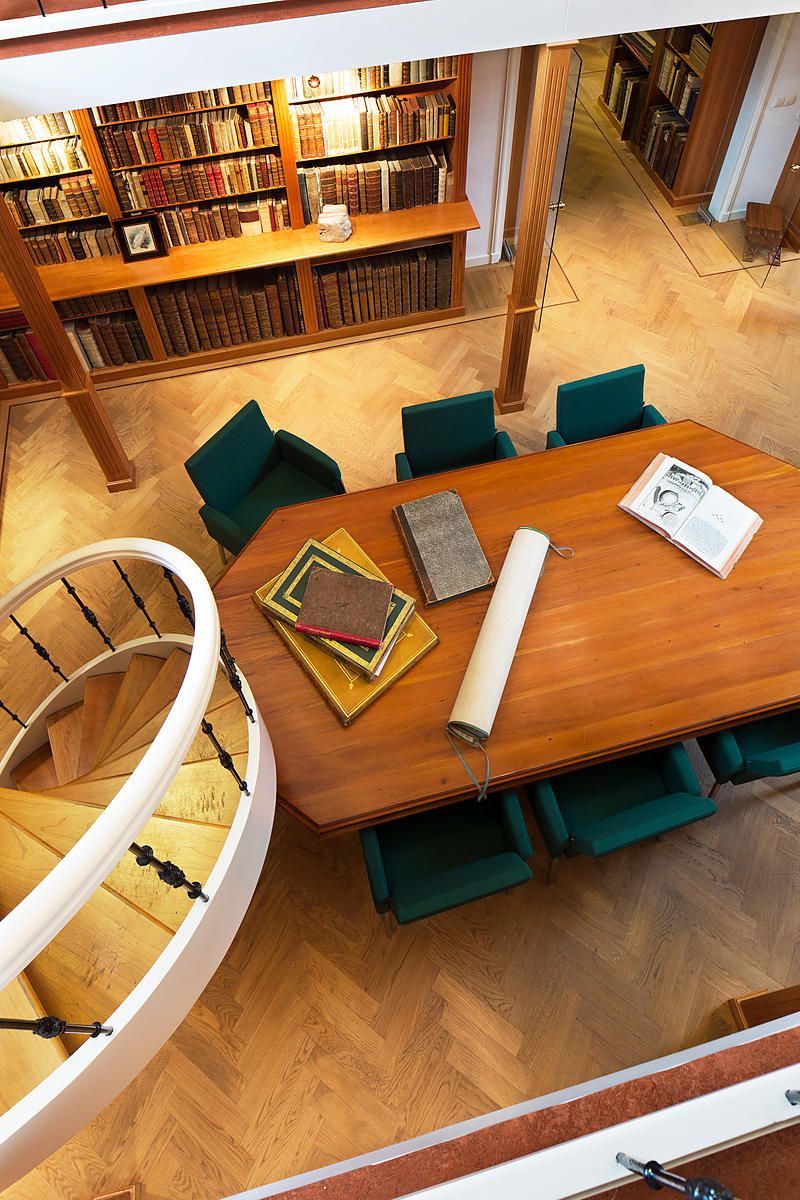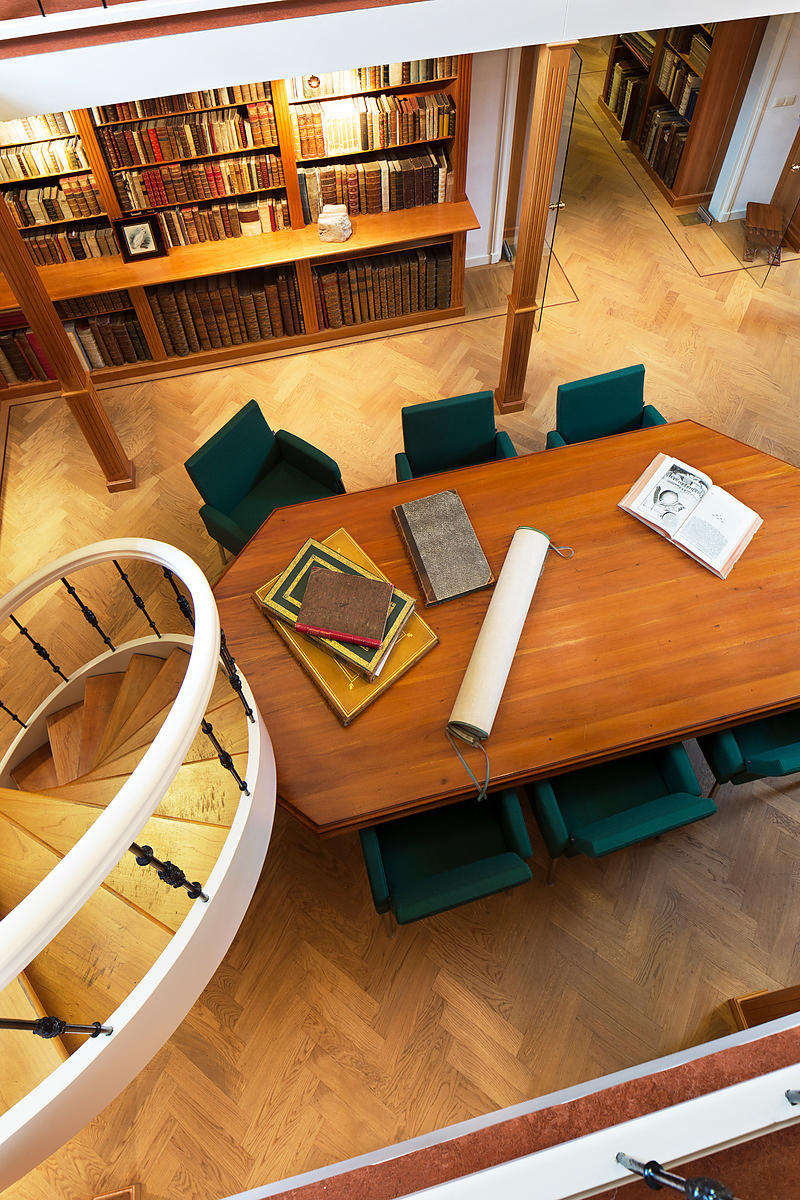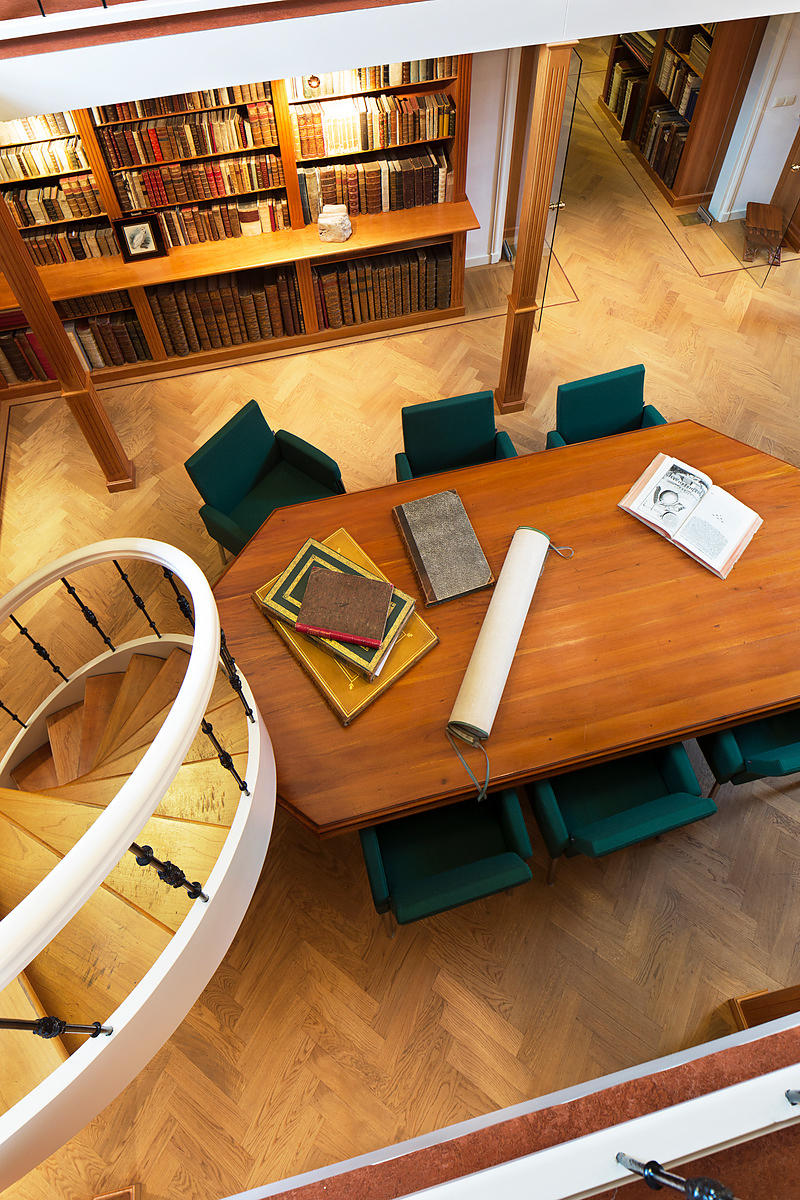 [MANUSCRIPT - SHAN (BURMESE)].
[Buddhist sample book of magical tattoo patterns].
[Shan state (eastern or inland Myanmar (Burma)], [late 19th century?]. Oblong (14 x 31.5 cm). Parabaik (accordion-fold) manuscript on 20 mulberry-bark-paper leaves, written in the Shan script in black and red, with circular and rectangular diagrams containing letters also in black and red, and about 120 illustrations, also in black and red, mostly patterns for making magical tattoos. Finished in the traditional Shan parabaik style, making covers of the two outer pages by adding wide reinforcing strips (about 4 cm) along all four sides and then applying black lacquer to the assembly. 38 pp., not counting the 2 cover pages.
€ 8,500
An extensive sample book showing magical tattoos that a Shan sayah (spiritual doctor) could apply to a Shan boys body, often on his arms, legs and back in addition to the extensive tattooing that often filled the skin from the waist to the thighs. The painful application of these tattoos (the boys were often given opium to help them withstand it) indicated that the boy had come of age. Already in the early 1300s Marco Polo, when travelling through what seems to be the Shan region (now eastern, so inland, Myanmar) noted the mens tattoos of lions, dragons, birds, etc., and Scott (p. 41) noted in 1896 that "the best sayahs carry about sample-books with them containing clever drawings, from which the patient may select the patterns he likes best." Extensive tattooing was reserved for men, though a woman might occasionally have a small tattoo, for example to bring good fortune in childbirth. The Shan or Tai people form the largest ethnic minority in Myanmar today.
The Shan tattoos could protect the bearer against illness, poisons (including snake bites), violence or weapons, and give courage in battle, persuasiveness in speech, inflame love, or strike fear or awe into the hearts of enemies.
The images in the tattoos reflect the mixture of Buddhist and animist elements typical of Shan religious practice of Theravada Buddhism. The present book shows male and female figures, sometimes a man and woman positioned feet to feet; men in lotus position with flaming ears and pagoda-shaped hats; a standing man with an incense burner(?), staff and mirror(?); a man (again with the pagoda-shaped hat) and woman with their child; a woman (mermaid?) holding a pair of scales; etc. A series of 12 very similar men on 4 consecutive pages, each holding a vase(?) aloft in his left hand and a circular string of beads(?) below in his right hand: they differ in the plants accompanying some figures, the symbols on the mens clothes and the texts encircling the figures.
With some transparent stains in the first and last two leaves and along the long edges where the leaves are hinged to each other, a couple black ink splotches, one possibly a deliberate attempt to obscure a demons face. One reinforcing strip along a short edge and part of one along a long edge lacking. Still generally in remarkably good condition. A rare and fascinating document of Shan culture and particular its unique magical Buddhist tattoos. Susan Conway, The Shan: cultural arts and crafts; Susan Conway, Tai magic: arts of the supernatural; Jotika Khur-yearn, "Shan manuscripts[!] collections outside the Shan state: preservation and cataloguing", in: Southeast Asia library group newsletter, 40 (December 2008), pp. 12-16; Jotika Khur-yearn, "An introduction to the world of Shan manuscripts" & "Exploring the world of Shan manuscripts" on http//:blogs.soas.ac.uk; Leslie Milne, Shans at home (1910), pp. 66-68; James Scott, The Burman: his life and notions (1896), pp. 39-47; Nicola Tannenbaum, "Tattoos: invulnerability and power in Shan cosmology", in: American ethnologist, 14 (1987), pp. 693-711; B.J. Terwiel, Shan manuscripts.
Related Subjects: