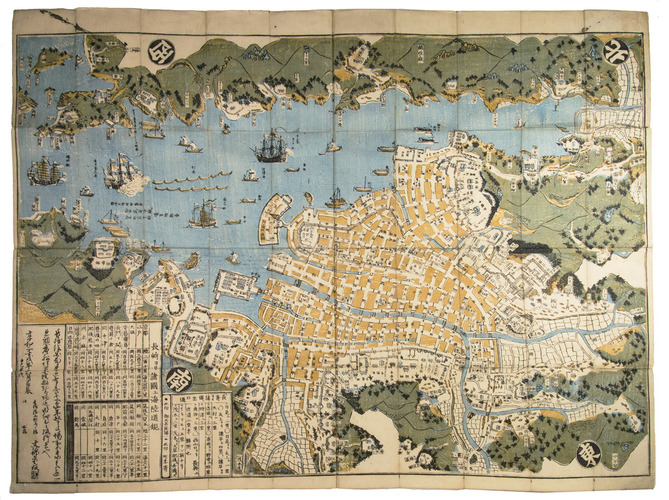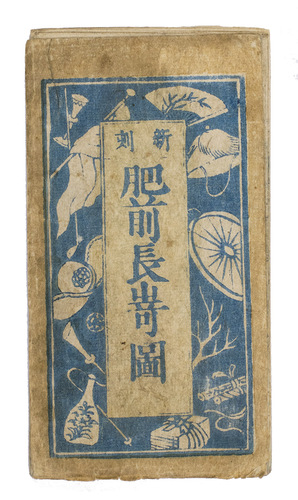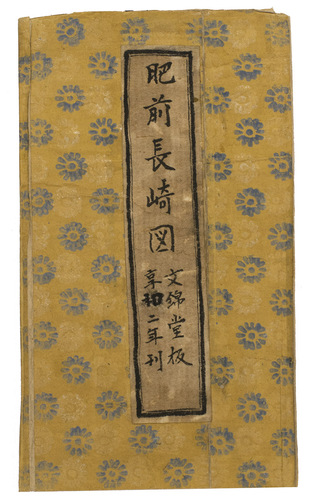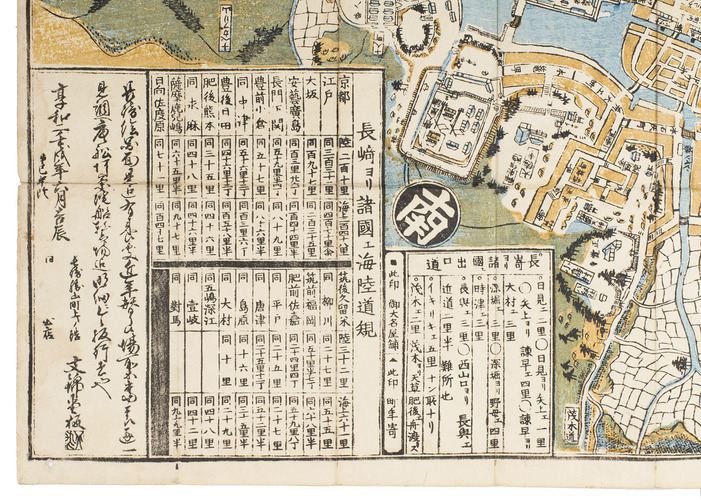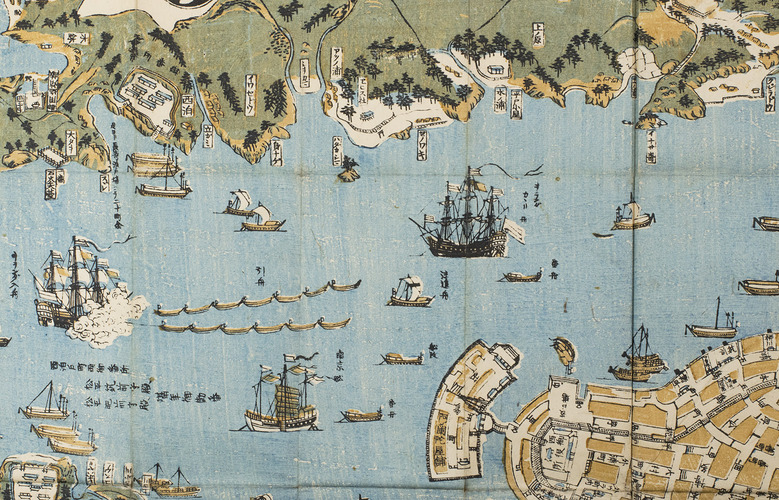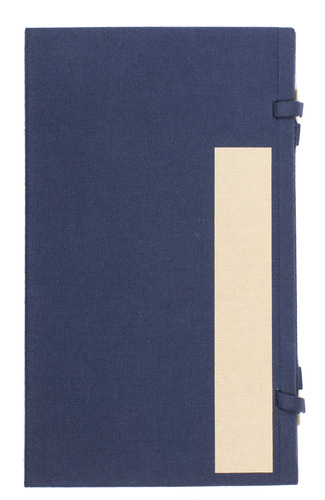 [MAP] BUNKINDO HAN.
Hishu Nagasaki (no) zu (plan of Nagasaki, Hizen province).
(Nagasaki, Bunkindo, 1821). 615 x 870 mm. Large folding woodcut map of the port and city of Nagasaki, printed in three colours (ochre, blue and green) on four sheets. In Japanese ochre paper etui decorated with blue and white flowers and title label with Japanese characters pasted on, preserved in later dark blue cloth slipcase in Japanese style closing with two ivory clasps.
€ 2,950
Fine and rare large woodcut map, printed in three colours, of the harbour of Nagasaki, with mountainous landscape in the background and Chinese junks and two Dutch vessels standing out in the harbour, one of the Dutch ships being towed by Japanese oared craft to the Dutch trading post on the artificial island Deshima, left of the centre of the map. The names of the streets, temples and government offices at Nagasaki are all indicated. The two inserts with Japanese characters give the distances between Nagasaki and neighbouring domains as well as distances (by land and by sea) between Nagasaki and important cities throughout Japan.
The map is printed by the Bunkindo publishing house in Nagasaki, who printed it for the first time in 1802 and later in 1813. An almost similar map was printed for the first time in 1764, at Nagasaki by Ohata Bunjiemon (another Bunjiemon edition appeared in 1778), differing for instance in the picturing of the Dutch vessels at the top. With each edition the map was slightly altered and improved.
Fine map in original publishers etui.Some minor wear at folding areas. Cf. Mc Govern,'List of Nagasaki maps', in: 'Imago mundi,' 15 (1960), p.108 (Bunkindo Han ed. of 1802); H. Bosma, Kômô-Jin. Roodharige vreemdelingen op Deshima (Exhib. cat. Vrije Universiteit, Amsterdam, 1983), 12 (Bunkindo Han ed. of 1802); Maggs Bros, Cat. 1311, 223 (Ohata Bunjiemon ed. of 1778).
Related Subjects: