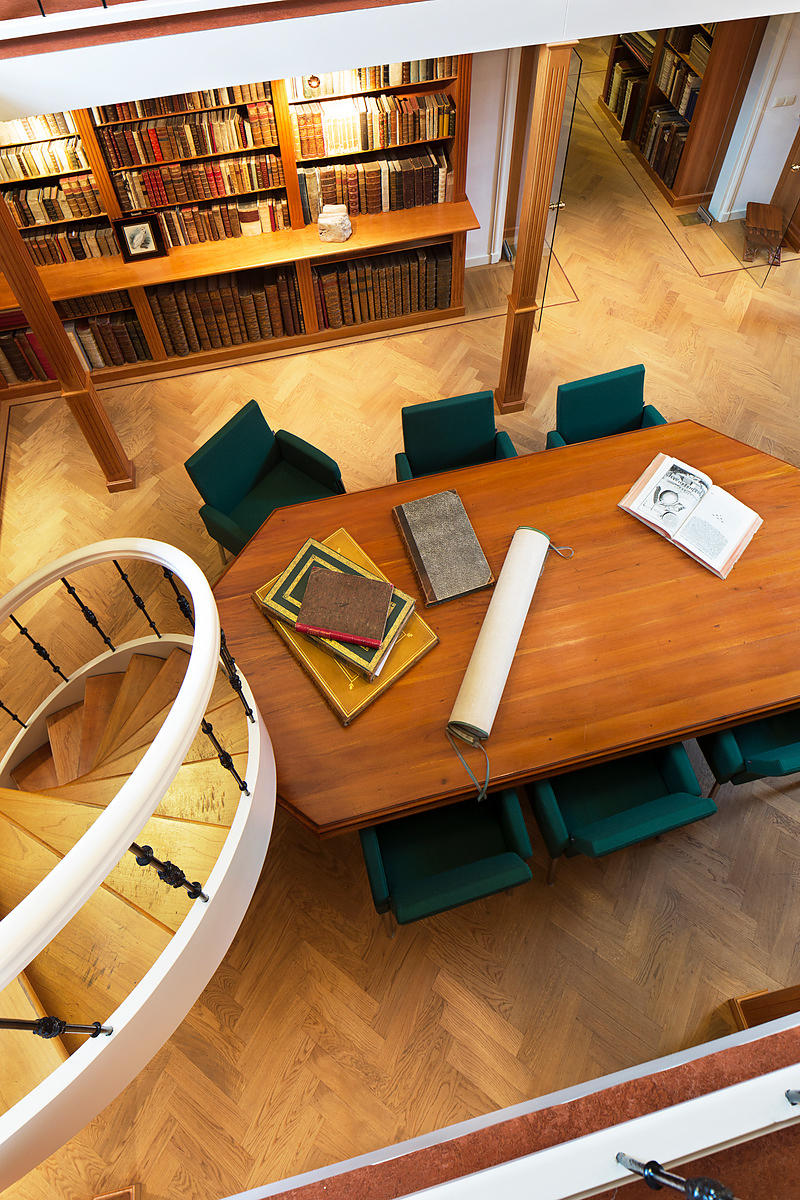 [MAP - NETHERLANDS - DELFT]. [BLEYSWIJCK, Dirk Evertsz. van].
[Afbeeldinge der stadt Delft].
Amsterdam, Pieter Smith, [1678?]. 4 sheets (83 x 126 cm. as assembled). Contemporary hand-coloured, engraved map of Delft, with Delft coats of arms at top centre; cartouche at top left with the Dutch lion in a fishing boat, and coats of arms of Delft, Schiedam, Enkhuizen, Brielle and Rotterdam; cartouche at top right with an inset map of Delfland and the coats of arms of Delfland and the water authorities, and views of the palaces of Honselerdijk and Rijswijk; a 14-line poem in praise of the map by Constantijn Huygens and a key at bottom right; compass and scale of Delftland or Rijnland rods at bottom left; and the names of the publisher and engraver at bottom left and left of centre, numerous figures, fruits and vegetables, real and mythical animals, etc. Mounted on linen and framed.
€ 9,500
A large, splendidly decorated map of the city of Delft in South Holland: "As a masterpiece of precision and of the engraver's art, it stands out above all that was produced in that genre before or after, whether for Delft or for other cities" (J. Soutendam in Obreen, p. 197). It also happens to be one of the best documented examples of map making and engraving of the Dutch golden age, with invoices, receipts and attached documents preserved for its production in the years 1675-77. The costs ran to well over 2500 guilders. In or shortly before 1675, the burgomasters of the city of Delft charged former burgomaster Van Bleyswijck (1639-1681), author of the 1667 Beschryvinge der stadt Delft (Description of the city of Delft), with the oversight of this map's production. Johannes Vercolje (1650-1693), Delft painter and mezzotint artist, executed most of the drawings, including that for the central map itself. The principal engraver was Johannes de Ram (1648-1693), as noted on the map. Romeyn de Hooghe was involved as well, but whether he carried out any work on the four main plates represented here is unclear.
Overall slightly soiled and browned and rubbed in places, with some loss of image or engraved text, most notably in the lower corners. A beautiful and remarkable city map in reasonable condition, professionally restored.
B. v.'t Hoff, Oude Plattegronden Delft 17 (pp. 37- 51); Obreen, Archief III, pp. 197-206; Koeman III, p. 98 (De Ram); Landwehr, De Hooghe etcher, p. 371.
Related Subjects: