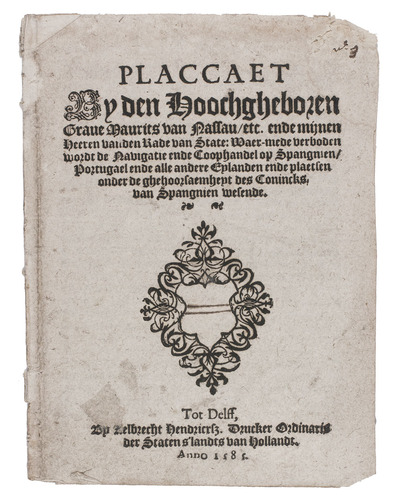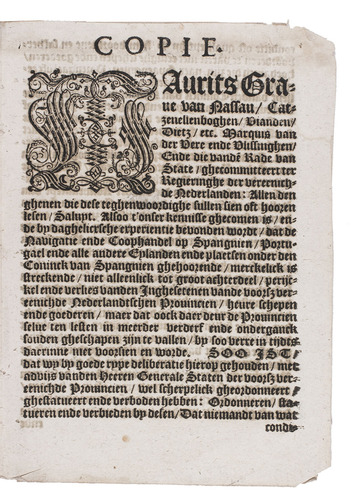 [MAURITS VAN NASSAU].
Placcaet by den hoochgheboren Grave Maurits van Nassau, ende ... mijnen heeren vanden Rade van State: waer-mede verboden wordt de navigatie ende coophandel op Spangnien, Portugael ende alle andere eylanden ende plaetsen onder de ghehoorsaemheyt des Conincks van Spangnien wesende.
Delft, Aelbrecht Hendricksz., 1585. 4to. Disbound. [6], [2 blank] pp.
€ 1,500
Second copy located of the first and only edition of a proclamation issued by Maurits of Nassau, Prince of Orange, and the State Council of the United Dutch Provinces on 29 November 1585, forbidding maritime travel to and commerce with Spain, Portugal and other lands under the Spanish crown. Maurits issued it at a crucial turning point in the Dutch war of independence from Spain. Antwerp, the cultural and economic capital of the Low Countries had fallen to the Spanish siege in August 1585 and many on both sides expected that would be the end of the Dutch revolt. But the Dutch controlled the waterways and were able to cut off Spain's trade and therefore the sources of finance for the war, finally taking the upper hand in the revolt.
An early owner has drawn a band across the blank shield in the title-page. With remnants from a later binding. Very slightly browned and with some minor marginal tears, cuts, etc., but still in good condition. Extremely rare proclamation. STCN (1 copy); Typ. Batava 6418 (same copy); not in Google Books; Picarta; WorldCat.
Related Subjects: