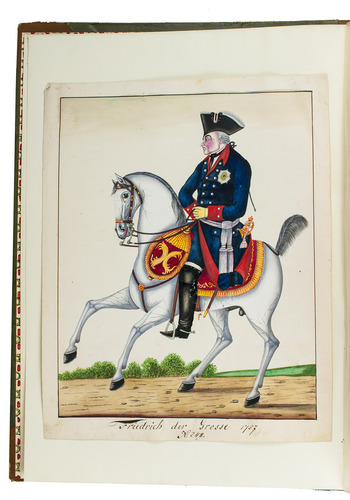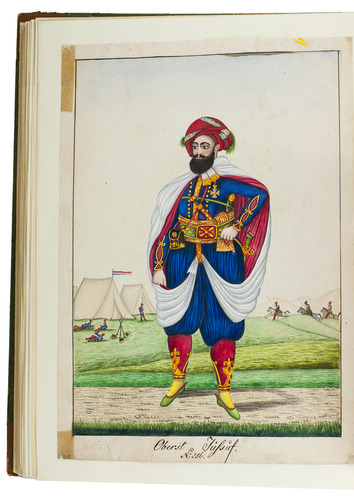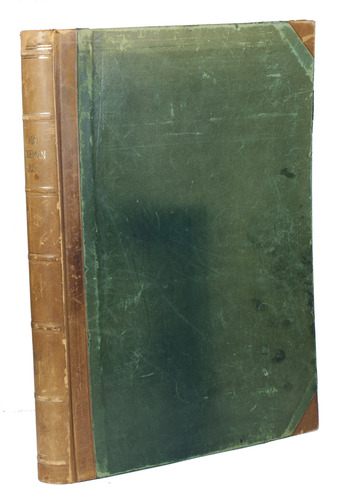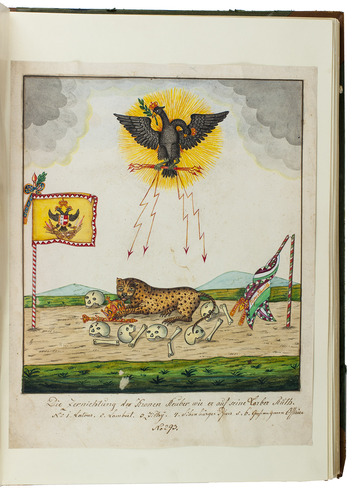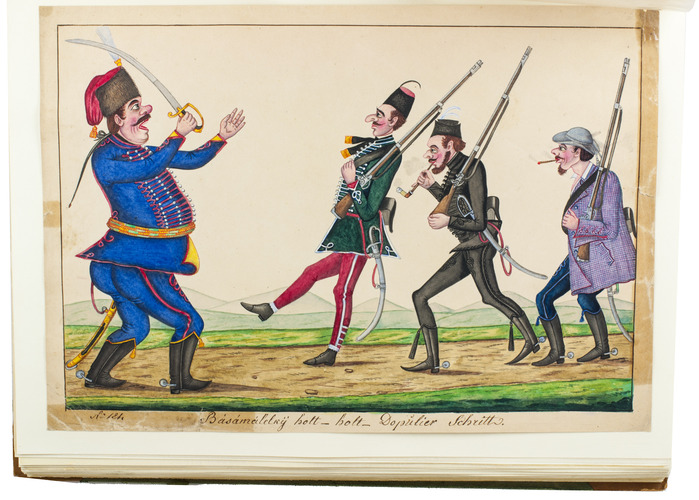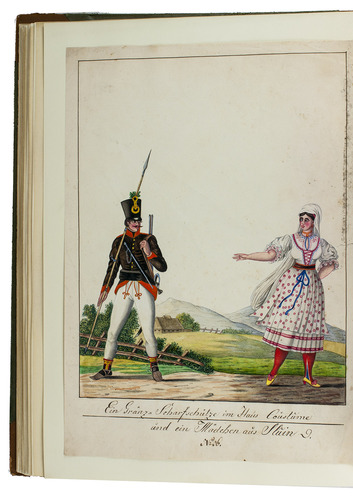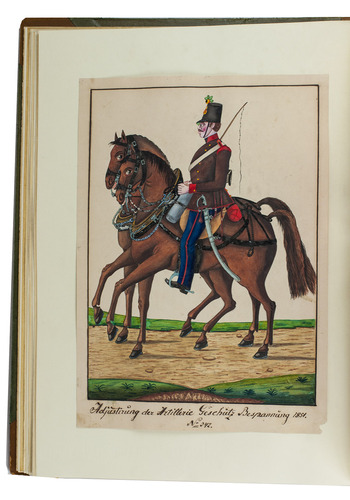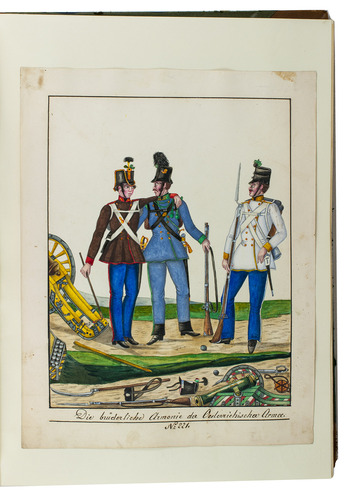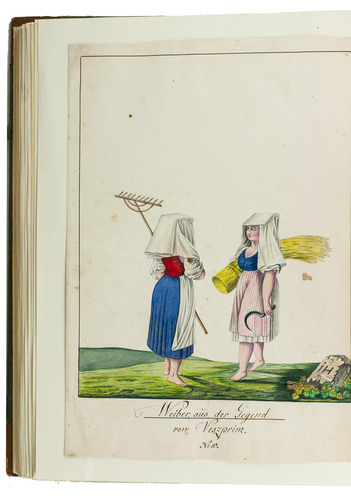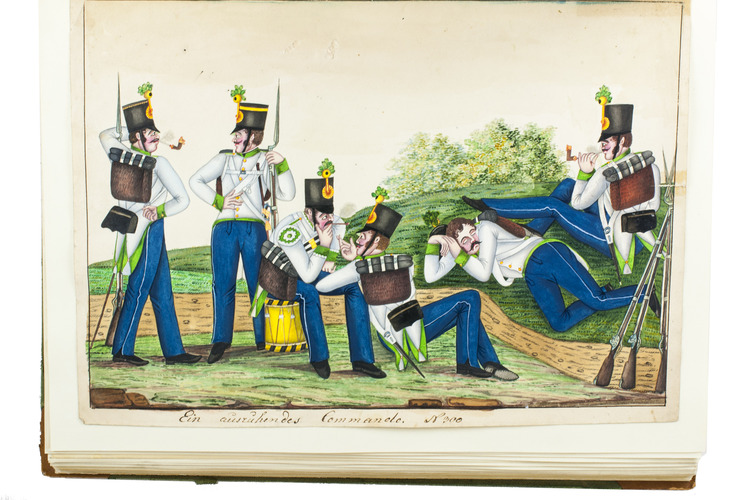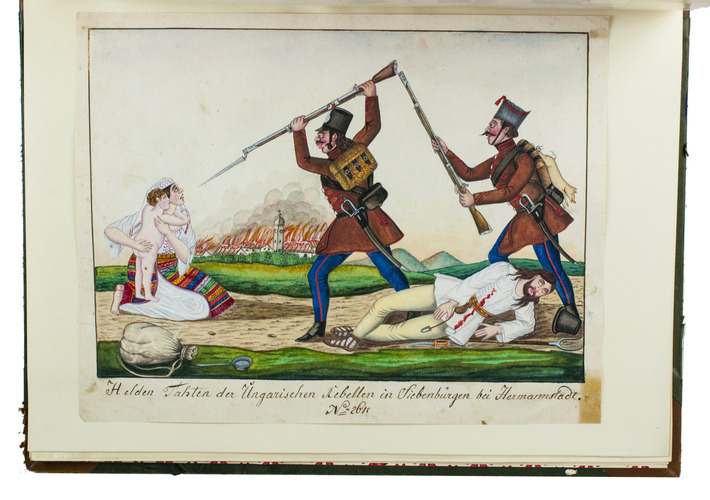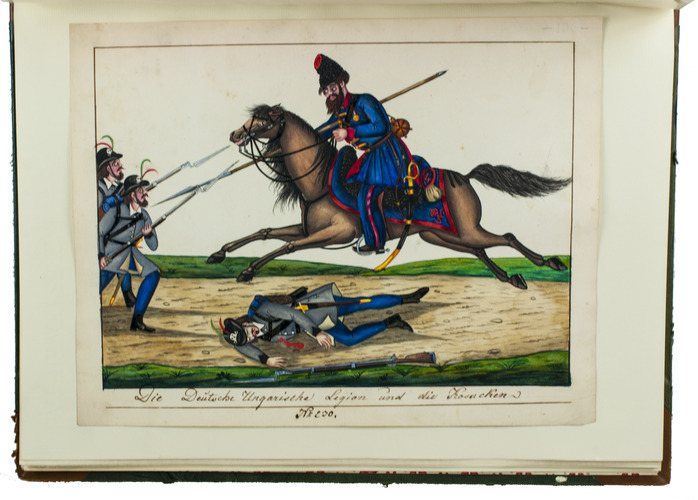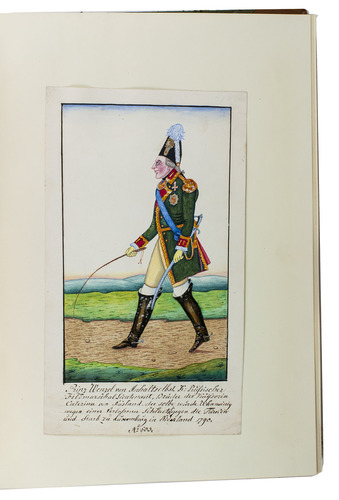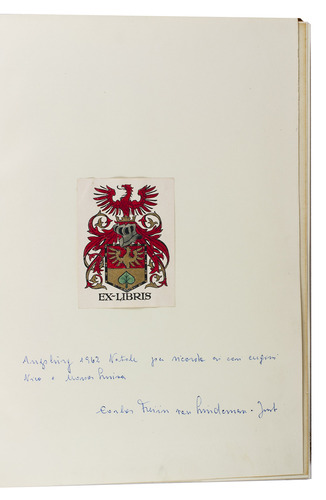 [MILITARY UNIFORMS].
[Military and quasi-military uniforms, portraits and scenes of battles, uprisings etc.].
[Austria or Saxony?, ca. 1870?]. Large folio album (39 x 30.5 cm). With 84 large watercolour drawings (28 x 16 cm to 25.5 x 36 cm) on wove paper, with captions in German and/or French, mounted on the (ca. 1962) album leaves, and with the coat of arms of Von Lindeman(n) of Sachsen-Anhalt (in coloured gouaches plus gold) mounted on the first page. Early 20th-century(?) half tanned sheepskin. [44] album ll.
€ 35,000
An extraordinary set of original watercolour drawings, apparently unpublished, celebrating the creation of the Austro-Hungarian Empire through the military events that led up to it and the uniforms of the various nations and regiments involved. Except for one drawing concerning 1631, the events depicted are dated from 1757 to 1852. Officers and others in uniform from every corner of the Empire are shown: Prussians, Hungarians, Austrians, Poles, Czechs, Croats, Dalmatians, Transylvanians, Serbians, Bosnians and many more, with a few examples of local militias and of foreign army regiments from France, the Ottoman Empire, Russia and the British Isles (including kilted Scottish Grenadiers at Waterloo). A few appear in Islamic dress, including turbans. Some show portraits of leading figures, including Frederick the Great (1712-1786), King of Prussia and Mohammed Said Pasja (1822-1863) wali (governor) of Egypt. The uniforms are depicted in great detail, with vivid and bright colours, and some show the changes in uniforms at two or three different dates in a short span of years. The present set of 84 was no doubt part of a collection of at least 536. They may have been prepared for a publication that remained unrealised.
The arms on the first page belong to the Von Lindeman(n) family of Sachsen-Anhalt, the binding has the name "Von Linden Just" on the spine and the first page bears a presentation inscription, below the arms, from the Freiin von Lindeman-Just, dated from Augsburg, 1962, to a relative in Italy.
With occasional mostly marginal tears (3 drawings with significant tears into the image and 1 with a smaller one), and occasional spots or small scuff marks, but most of the drawings are in good or very good condition. The binding is somewhat rubbed, but otherwise good. A wide-ranging view of military and quasi-military people and events, with special emphasis on uniforms, in the prehistory of the Austro-Hungarian Empire, 1757-1852.
Related Subjects: