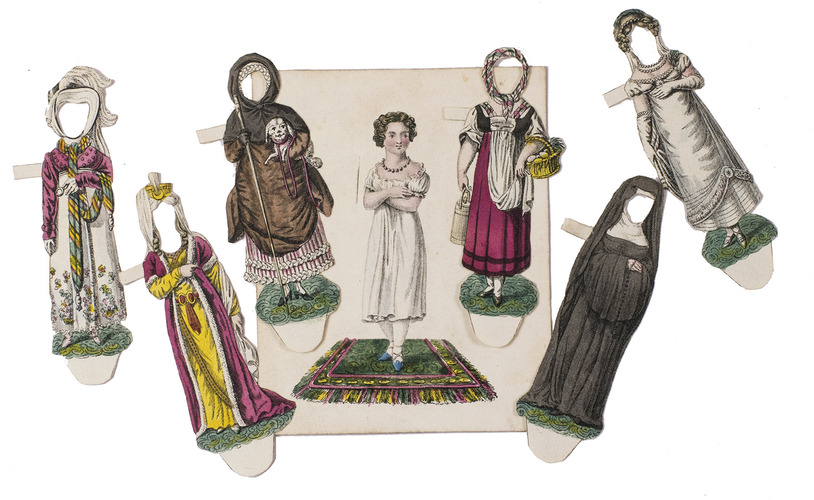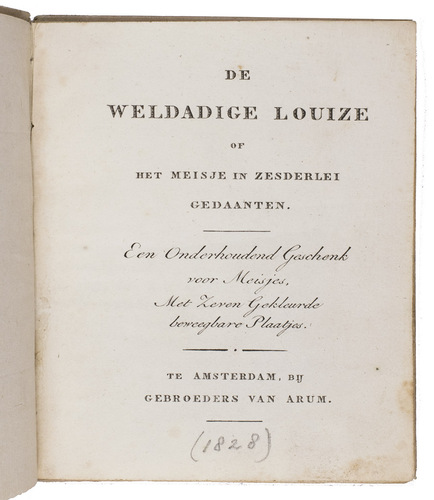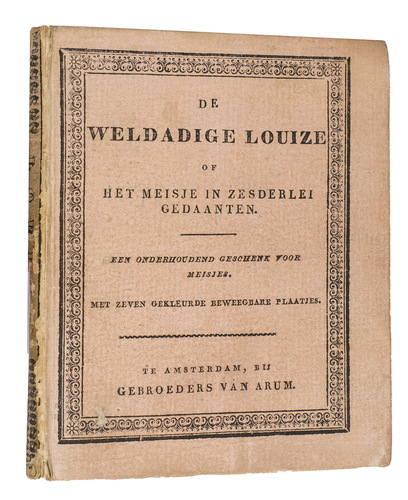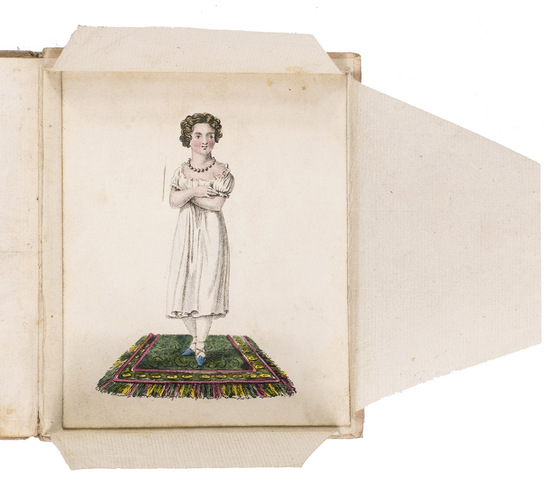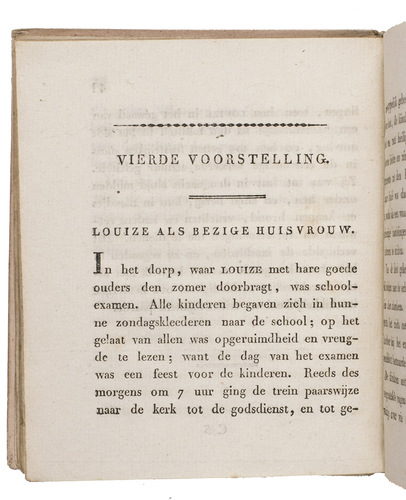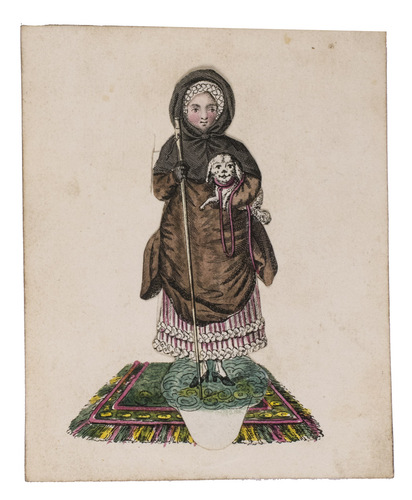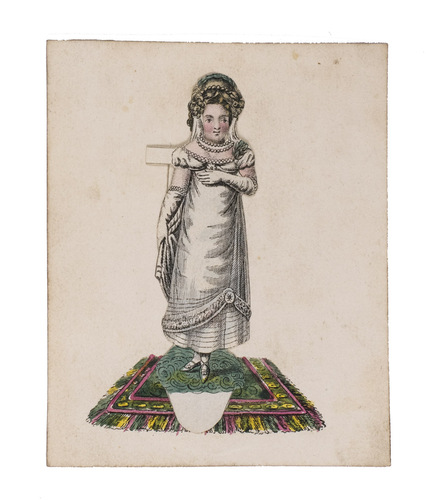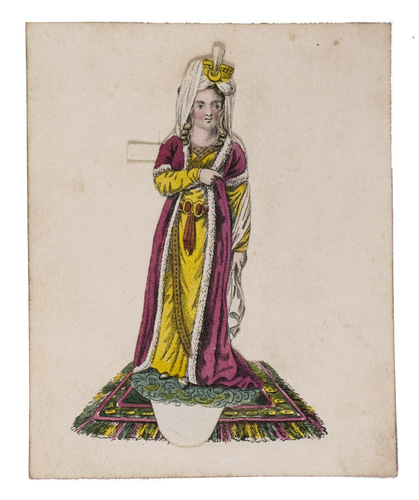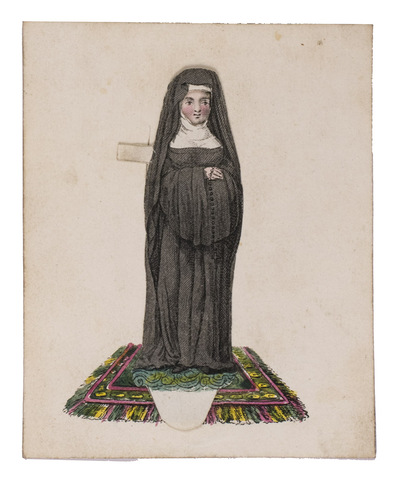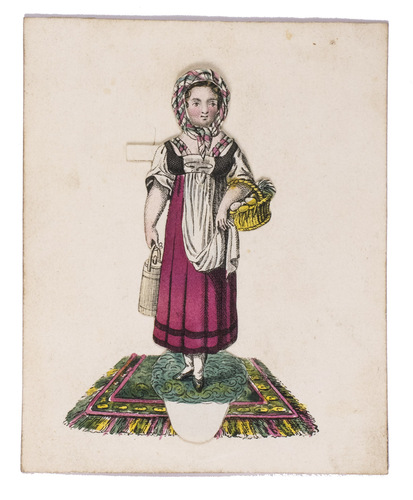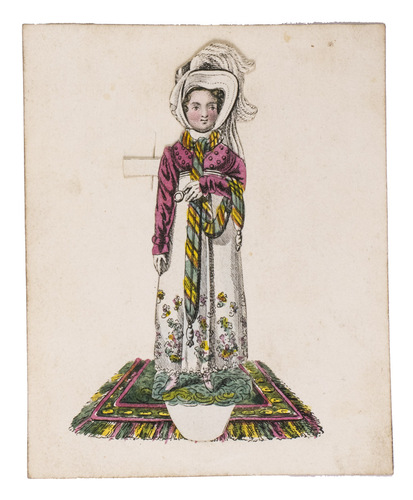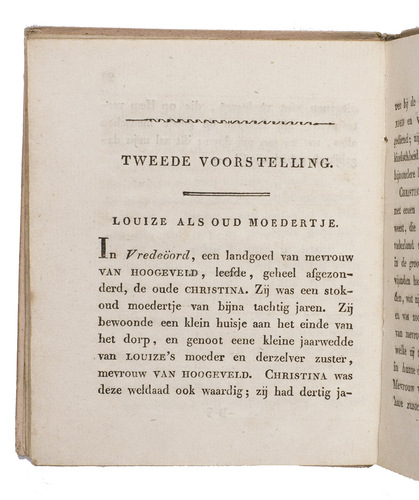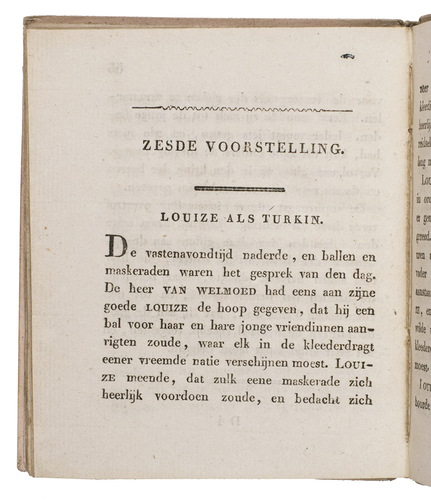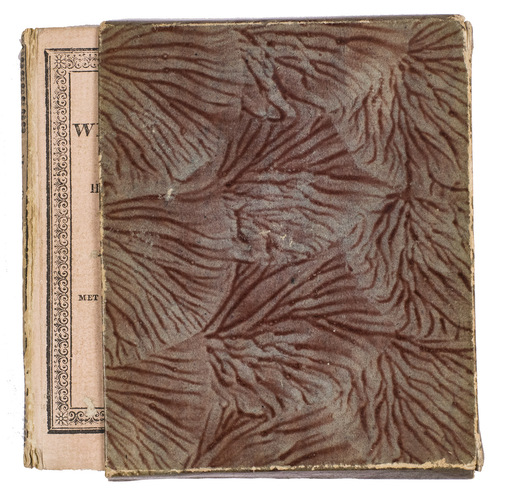 [MOVABLE DOLLS, subject].
De weldadige Louize of het meisje in zesderlei gedaanten. Een onderhoudend geschenk voor meisjes. Met zeven gekleurde beweegbare plaatjes.
Amsterdam, Gebroeders van Arum, [1828]. 12mo. One paper doll printed on cardstock plate with slits above left shoulder and below feet, into which tabs on six outfits printed on cardstock plates can be placed. Paper doll and outfits are hand-coloured. Rear paste-down functions as an envelope. Contemporary boards, upper board is printed with title and a decorative border. In custom box. 62 pp.
€ 2,500
A rare and wonderful Dutch early nineteenth-century childrens book, complete with the moveable dolls of its protagonist Louize. The book comes with the paper doll model of Louize, printed on cardstock plate with slits above the left shoulder and below her feet, into which tabs on six outfits printed on cardstock plates can be placed. Both the paper doll and her outfits are beautifully hand-coloured. The dolls costume follow and augment the storyline of the book. Louize who grows up in a wealthy family of traders in Amsterdam enjoys nothing more than dressing up. We first encounter her in her ball gown with her friends and family in presence to admire the young girl. Next she appears as an old woman, immediately recognised as a dear motherly friend of her parents. Louize undergoes more costume changes, dressed up as a farmer's girl, a busy housewife, a nun, and finally as a Turkish woman in traditional attire. She displays all the good traits associated with the characters she embodies on stage, all done for the entertainment of her guests. Children could pin the separate outfits of Louize to the cardstock plate and visualise her change through the chapters. The book appears to be modelled after Isabellens Verwandlungen, oder das Mädchen in sechs Gestalten. Ein unterhaltendes Kinderbuch für Mädchen mit sieben beweglichen Kupfern (Vienna, Heinrich Friedrich Müller, c. 1820).
Very good conditions, dolls complete and intact, binding slightly rubbed and some leaves slightly loose. Light water damage to back endpapers. Buijnsters, Papertoys, p. 331; Huiskamp W50; Ki.la.ki.le. 506A; Lust en Leering p. 393; Saakes 8 (1828), p. 392; WorldCat 63937436 (11 copies).
Related Subjects: