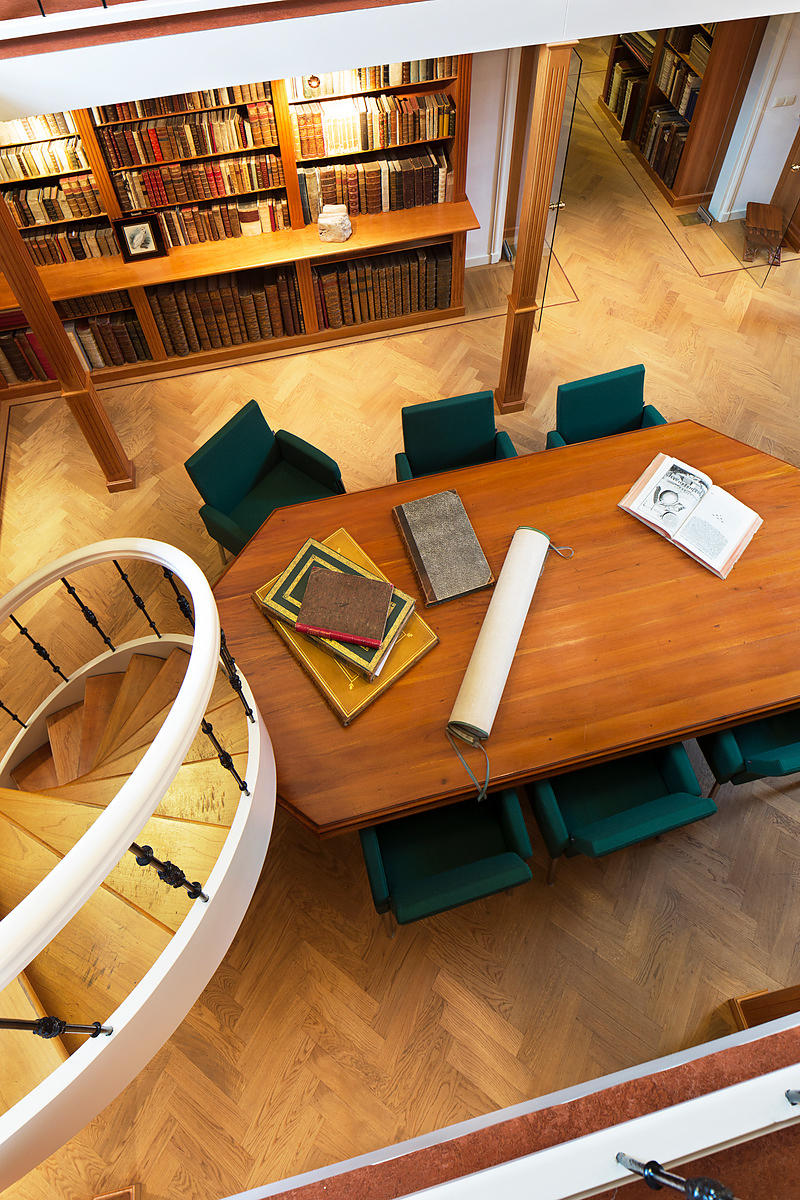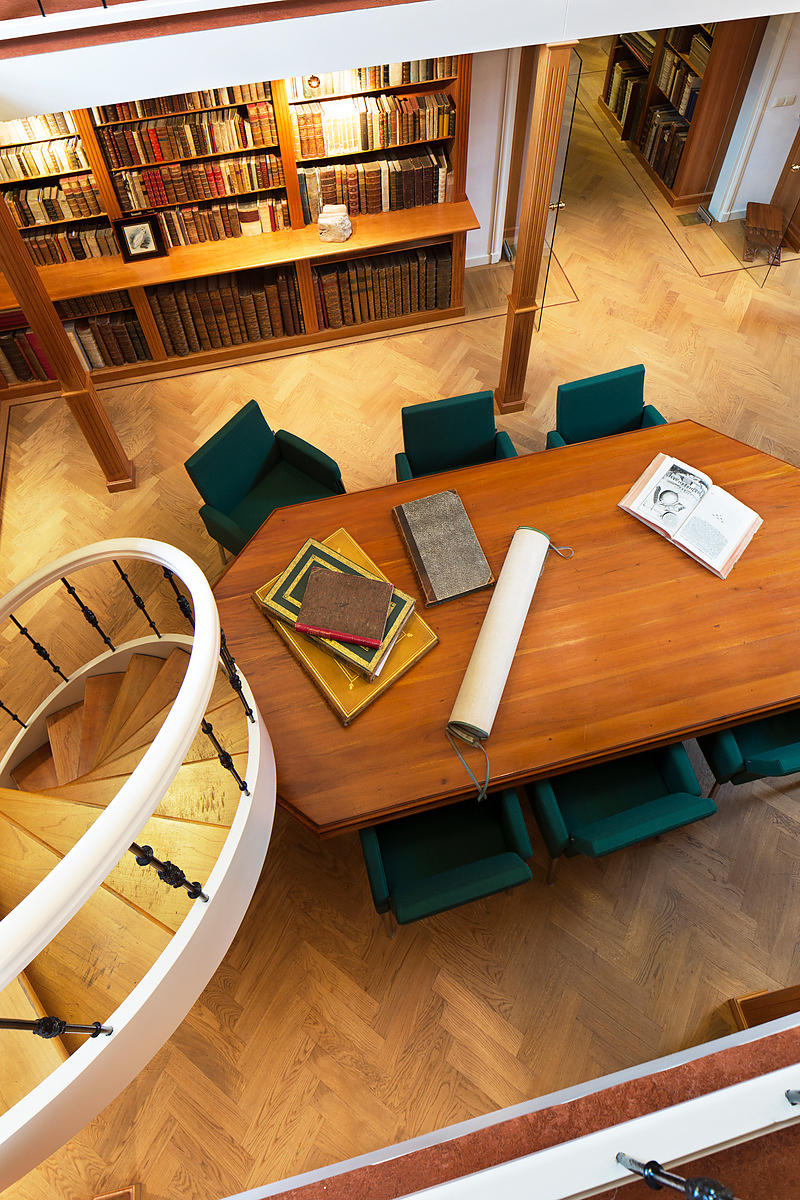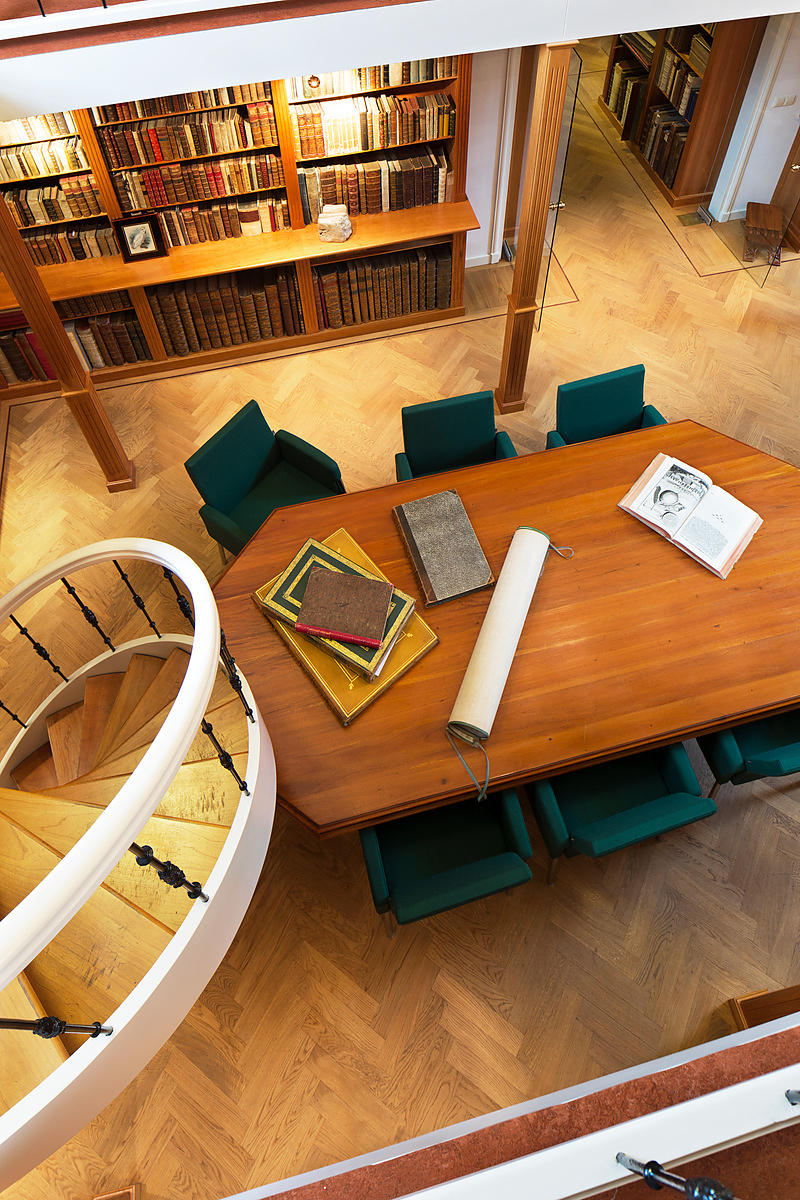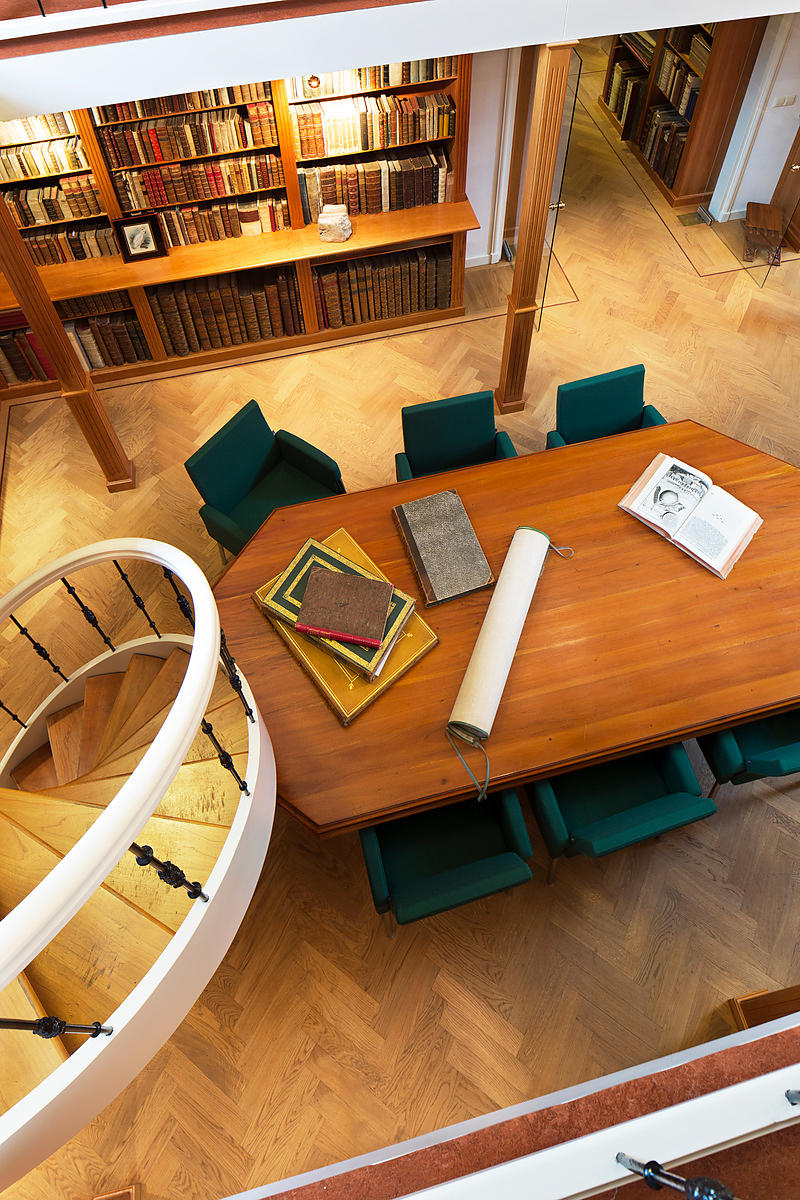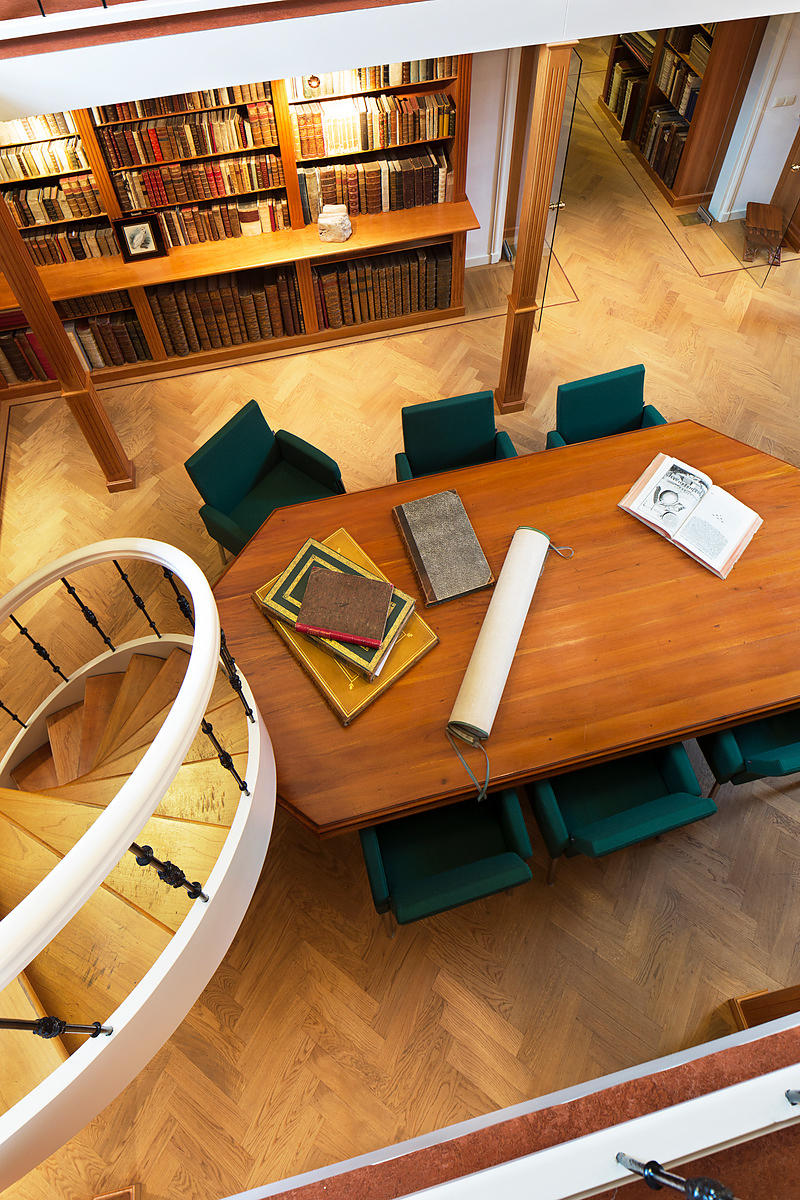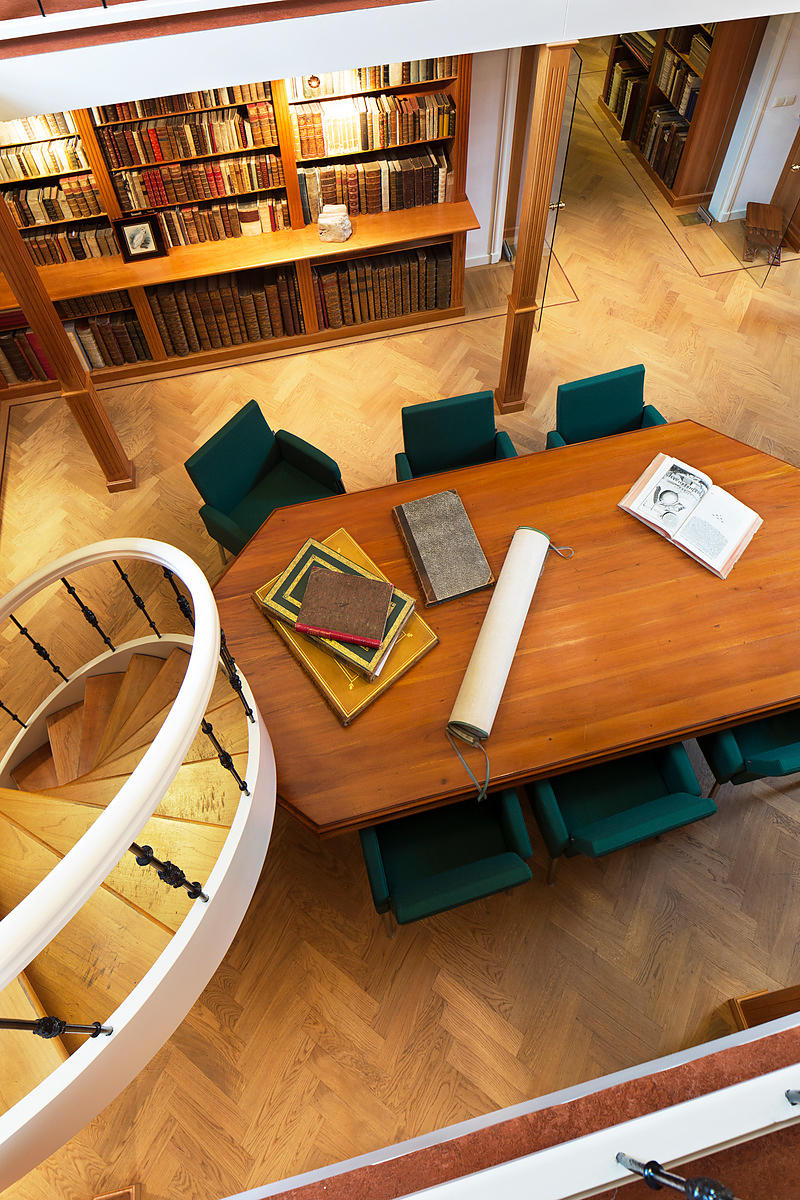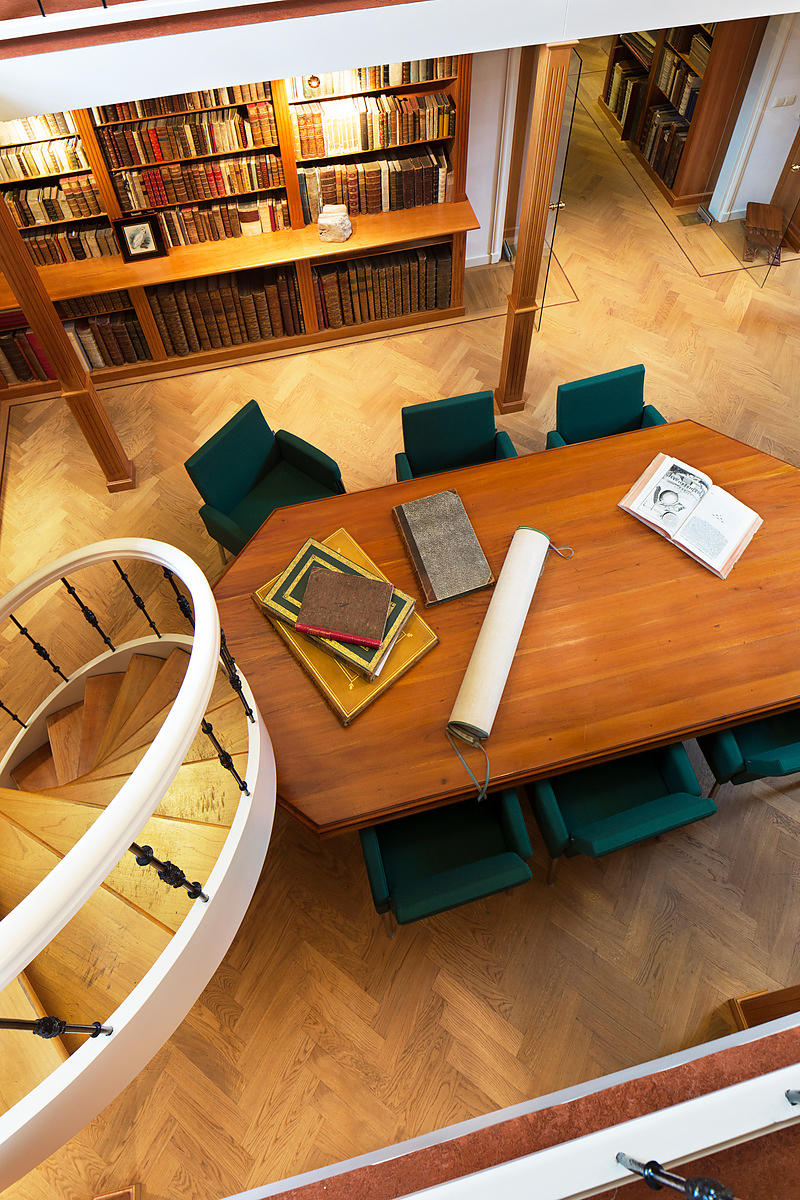 [PENTATEUCH].
[Each engraved title-page (in Hebrew):] Zeh sefer ... Hamisah humse Torah tiqun sofrim ... [vols. 2-5 also with letterpress title-pages, each (in Hebrew):] Sefer ... Hamisah humse Torah ... | [and in Latin:] Quinque libri Mosis. Magno labore, & industria, accuratissimé correcti prae omnibus qui hucusque thypis fuere mandati.
Including: PIZA, Jeudah Ribi Haim. Calendario facil & curiozo em Hebraico & Portuguez, ...
Amsterdam, Gerhard Johan Janson for Israel Mondovy, 5527-5529 [= 1766-1769]. 5 volumes. 8vo. Each volume with the same elaborately decorated engraved title-page by Aaron Santeroos and with the editor's woodcut authenticating device at the end of volume 5. Set in sephardic meruba types with incidental rabbinical (semi-cursive). Contemporary, richly gold-tooled mottled calf, gold-tooled board edges, gilt edges, each volume with hundreds of impressions of about 20 tools, plus the lettering. Each board has at the head a pair of winged putti holding a crown above (in Hebrew) "k[eter] * t[orah]" and the front boards with a Hebrew inscription below: Yako[v] [son of Rabbi] Itzak Leverdin Segal of blessed memory. [10], 65, 26; [1], 67-121, [2], 28; [2], 123-163, [2], 24; [2], "165" [= 166]-221, [2], 16; [2], 224-290, [8] ll.
€ 6,950
A Hebrew Torah (the Pentateuch, or first five books of the Old Testament) with Haftarot (selections from Prophets). It is a revised version of the 5486 [1726] Amsterdam edition, but now edited by Jeudah Ribi Haim Piza (1703-1785) who also contributes an introduction and compiled the calendar at the end of volume 5. It was intended primarily for the Portuguese-speaking sephardic community in The Netherlands and especially to supply the model texts for the scribe who wrote out the Torah scrolls. This edition is much rarer than the 1726 edition.
The present copy is in a remarkable decorative binding, executed with great skill in remembrance of a deceased rabbi: "Yakov, son of Rabbi Itzak Leverdin Segal of blessed memory". So it appears that Yakov had the book bound in memory of his father, who probably died before 1769. Little is known about them, but we suppose the son must be the Yakov ben Itzak Leverdin recorded in Rotterdam as the author of a manuscript almanac in 1769. He apparently died shortly before 25 April 1797, when the library of Yakov Leverdin was sold at his house in Rotterdam.
Although many of the individual stamps on the binding are very distinctive, we have not found them in Jan Storm van Leeuwen, Dutch decorated bookbinding, and we are grateful to him for confirming that he also does not find them. He believes the binding was "almost certainly" made in Amsterdam. The use of such a large and distinctive group of tools not recorded in the known binderies suggests that the book comes from a bindery (or at least a finisher's workshop) that has not previously been recognised. Since the workshop used an excellent set of stamps for the Hebrew alphabet the bindery may have catered especially to a Jewish market. Most of the tools, moreover, are well cut and the finisher has stamped them sharply and positioned them accurately in an attractive design.
With marginal tears in 4 leaves and occasional foxing. Two double-page openings are set to a wider measure, and the fore-edges of these 4 leaves and 1 other leaf were folded in to avoid shaving the text, but 3 were later folded out again so that marginal notes on 2 leaves are shaved. Otherwise in very good condition. The bindings are worn at the extremities, including damage to the heads and feet of the spines (with the loss of 2 headbands), all hinges worn and some showing cracks, and the ribbon markers detached. This affects some of the tooling on the spines and board edges, but nearly all tooling on the boards remains clear and in very good condition. Biblia Sacra 1769.OTpart.hebr.GJJ.b (same copy as STCN); Bibliography of the Hebrew Book 000304717; Israel Union List 005192194 (1 copy); STCN (1 copy); Storm van Leeuwen, Dutch decorated bookbinding, cat. no. 577 (same ed. in a very different luxury binding); WorldCat (8 copies incl. some incomplete); cf. Darlow & Moule 5158; Steinschneider 865.
Related Subjects: