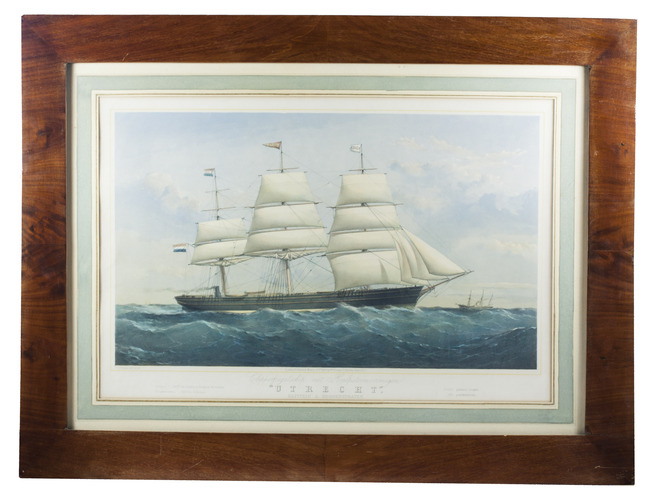 [PRINT]. DUTTON, Thomas Goldsworth.
Clipperfregatschip met hulpstoomvermogen "Utrecht", kapitein A. Hoogenstraten.
London, William Foster, 1869. Double-tinted lithograph, finished in colour (ca. 48 x 66.5 cm) in a passepartout and framed (ca. 67.5 x 88.5 cm).
€ 1,250
Rare portrait of the ship Utrecht, a full-rigged clipper with auxiliary power and screw propellers, built in 1868 for the firm of Van Zeylen & Decker in Rotterdam and capable of carrying 2009 tons. During the subsequent years, the ship made several voyages between Rotterdam and Batavia (Jakarta) and Semarang, carrying passengers and goods. Although the ship was equipped with an auxiliary steam engine, this system proved a failure and was removed in 1870-1871. After being sold to the firm of Voorhoeve & Jelier in Rotterdam, the ship sailed between Rotterdam, The United Kingdom, Ireland, the Dutch East Indies and San Francisco. The ship was sold in 1888 to the firm of C.M. Matzen in Hamburg and afterwards possibly to a firm in Norway.
The British lithographer Thomas Goldsworth Dutton was "not only the finest 19th century lithographer of shipping scenes and ship portraits but happily the most prolific" (Archibald). During his career he produced numerous portraits of ships, including mercantile vessels of international companies, a large number of war ships of the Royal Navy and several yachts, as well as naval actions during the Crimean War.
In fine condition, with only a few spots. Archibald, Dictionary of sea painters of Europe and America, p. 149; Holdsworth, Mail and passenger steamships of the nineteenth century, pp. 288-289; The Lloyd mail VII (1937), p. 509; Maritiemdigitaal (1 copy).
Related Subjects: