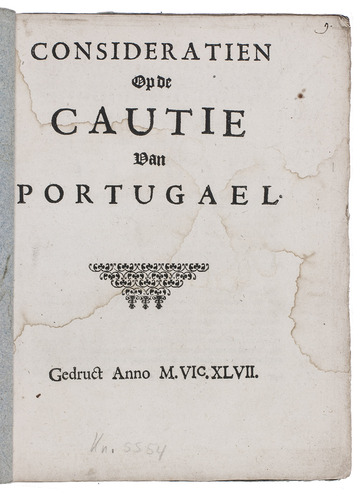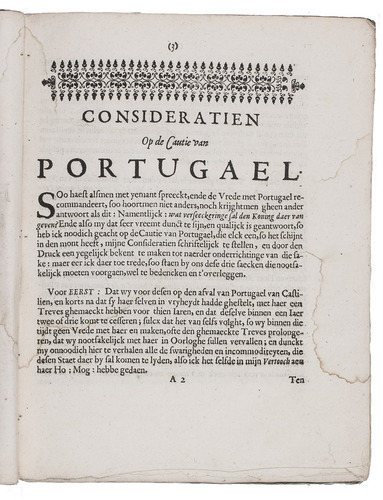 [WIC].
Consideratien op de cautie van Portugael.
[Amsterdam?], [Johannes van Marel (pseudonym)?], 1647. Small 4to (20 x 15.5 cm). Later blue paper wrappers. 15, [1 blank] pp.
€ 1,500
First and only edition of a rare pamphlet defending Portugal against the claims of the Dutch Government and the West India Company (WIC) in Brazil: one of the earliest and one of the three "most remarkable works" published by Portugal's supporters in the Netherlands (Asher, p. 194). In an effort to take back Brazil from the Dutch, the Portuguese had supported a local revolt in 1645 and the hostilities on land and sea between the Portuguese and the WIC had escalated rapidly. Portugal was suing for peace, and the present pamphlet presents their side. In a series of questions and answers, it sets forth the Dutch reservations about the peace and distrust of Portugal, and attempts point by point to refute all arguments against a settlement.
The author and printer of the pamphlet have not been identified, but the author himself refers to his own Vertooch aen de ... Staten Generael , published earlier in the same year.
With some waterstains, otherwise in good condition. Alden & Landis 647/51 (6 copies); Asher 225 & pp. 192-194; Borba de Moraes, p. 200; Knuttel 5554; Sabin 15933; STCN (6 copies); not in Van Doorninck.
Related Subjects: