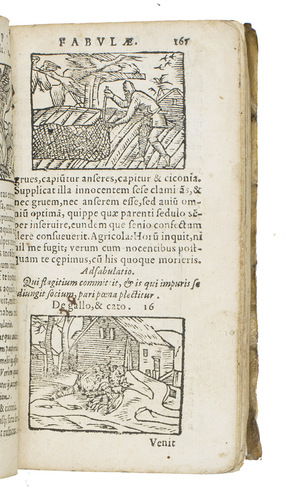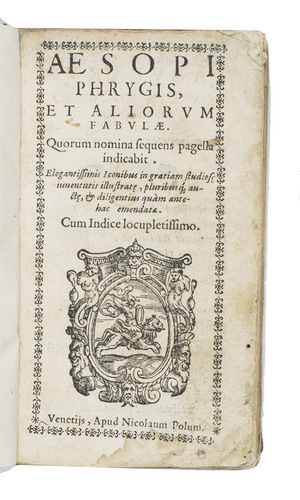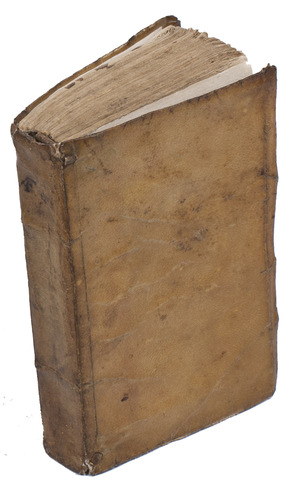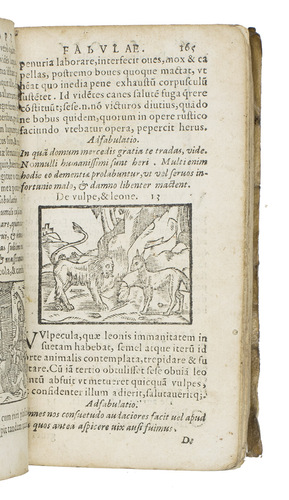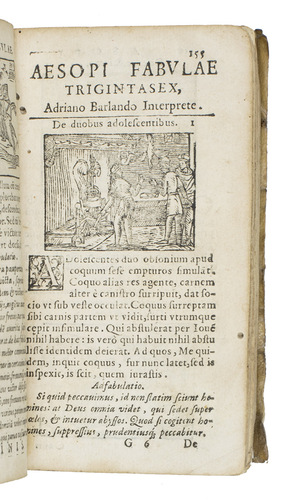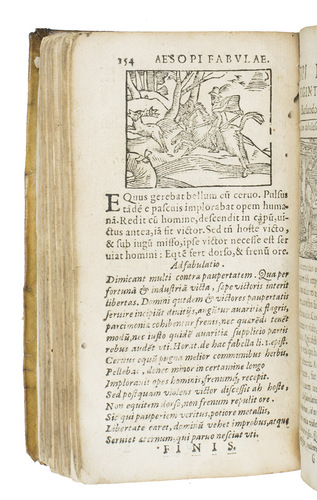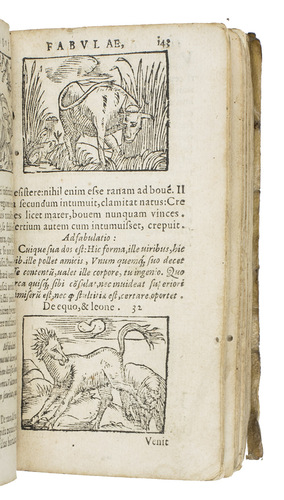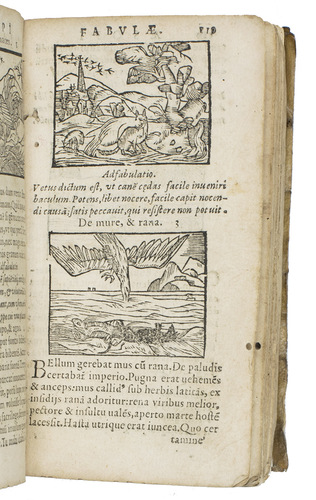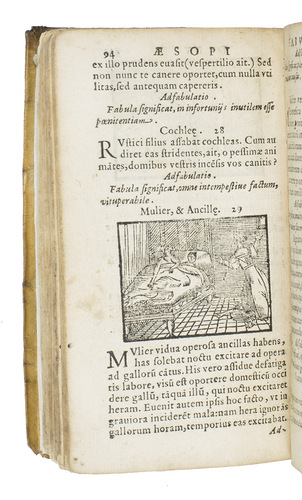 AESOP.
Aesopi Phrygis, et aliorum fabulae. Quorum nomina sequens pagella indicabit. Elegantissimis iconibus in gratiam studiosae iuventutis illustratae ... Cum indice locupletissimo.
Venice, Niccolò Polo, 1592. 12mo. With printers device with ornamental frame on title-page and 187 small woodcut illustrations. Contemporary limp vellum, rebound with modern endpapers. 282, [6] pp.
€ 2,250
Rare Latin edition of Aesops fables with 187 woodcut illustrations, based on the first illustrated edition of the "Aesopus Dorpii" to be published in Italy, by Dominicus Nicolinus at Venice in 1563 (Bodemann 31.3; Thoen 135). This Latin prose collection of fables compiled by Martinus Dorpius (1485-1525), a humanist teaching in Louvain, was first published in 1509 at Antwerp without illustrations. The Dorpius compilation proved very important for the diffusion of Aesop as a school textbook during the following centuries and went through at least two hundred editions to the mid-19th century, mostly in small formats.
With "Aesopi" written in ink on the foot edge. Rebound with modern endpapers; binding soiled and slightly worn. With a small hole in the margin running through the first half of the book. A good copy. EDIT16 CNCE 407 (1 copy); ICCU (same copy); USTC 807915 (same copy); WorldCat (3 copies); cf. Bodemann 31.1-3 (1556 Lyons, 1561 Paris & 1563 Venice eds.); Fabula docet ; Paul Thoen, "Aesopus Dorpii, essai sur lEsope Latin des temps modernes", in: Humanistica Lovaniensia, 19 (1970), pp. 241-289, nos. 112, 118, 131, 135 ("ca. 1550" [recté post 1634?] Venice, 1554 Lyons, 1561 Paris & 1563 Venice eds.).
Related Subjects: