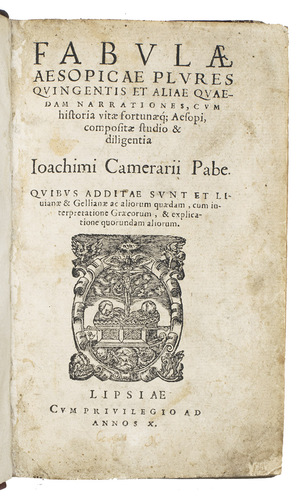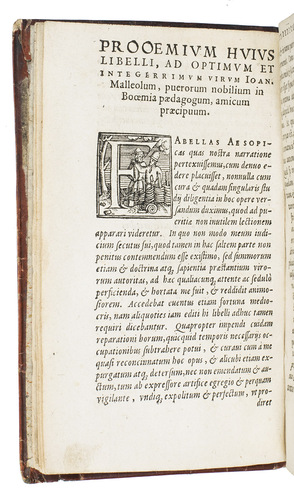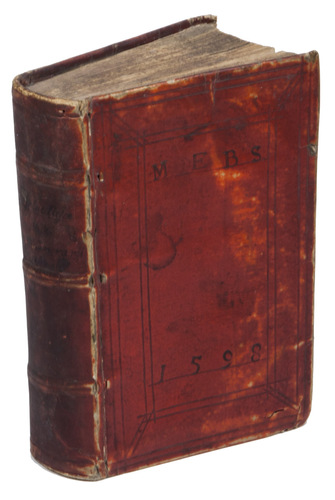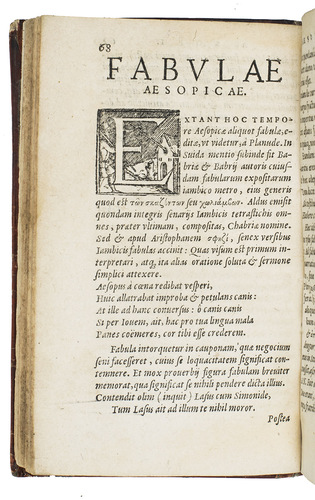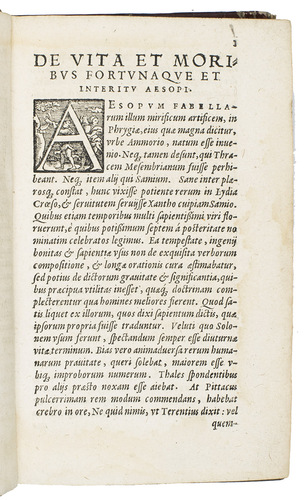 AESOP.
Fabulae Aesopicae plures quingentis et aliae quaedam narrationes, cum historia vitae fortunaeque Aesopi, compositae studio & diligentia Joachimi Camerarii Pabe[bergensis]. Quibus additae sunt et Livianae & Gellianae ac aliorum quaedam ...
Leipzig, [colophon: Ernest Vögelin, 1570]. 8vo. With Vögelins woodcut device on title-page and 4 woodcut initials with pictorial decoration. Blind-tooled red vellum, sewn on 3 supports, with a hollow back, each board with a double frame of double fillets, the inner and outer connected with diagonal double fillets, the front board with the owners initials and the date in the central field: "M E B S | 1598". [25], [1 blank], 342, 349-513, [32], [1 blank] pp.
€ 1,500
Vögelins 1570 Aesop edition, a nearly page for page (often line for line) reprint of his own important 1564 edition, including one of the most extensive collections of Aesop fables to that date, following but augmenting Camerariuss 1544 Leipzig edition. It contains more than 500 fables collected by the humanist classical scholar Joachim Camerarius (Bamberg 1500 - Leipzig 1574) who played a decisive role in the German Reformation, helped Philip Melanchthon with the composition of the famous Augsburg Confession, and published editions of many classical authors. The preface and printers note originally copied the 1564 date from the 1564 edition, but in the latter a correction slip changed the date to 1570. One can see in the present copy that the slip was present, but it has fallen off. Many copies lack the last printed leaf, present here, containing only the colophon.
Lacking the final blank leaf. Somewhat browned, the title-page thumbed and the corners of the last few leaves gone (not approaching the text), but generally in good condition. USTC 657123; VD16 A516; cf. Bodemann, 34.1-2 (1565 Plantin Antwerp ed. & 1571 Jean de Tournes Lyon ed.).
Related Subjects: