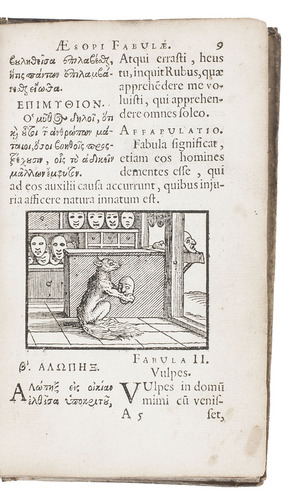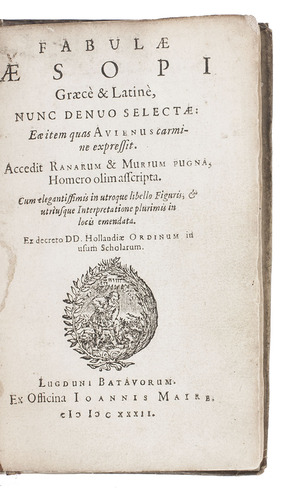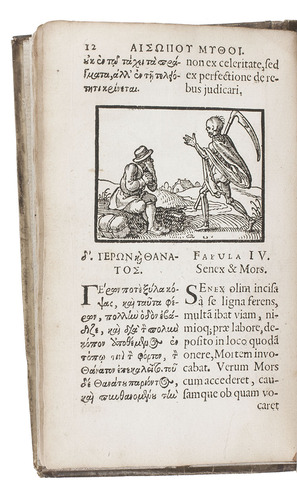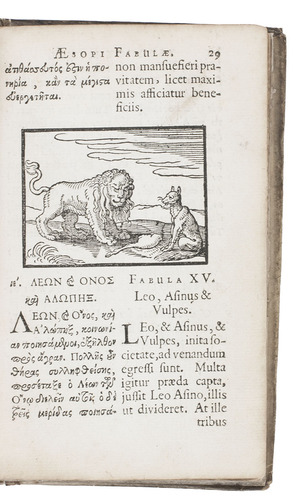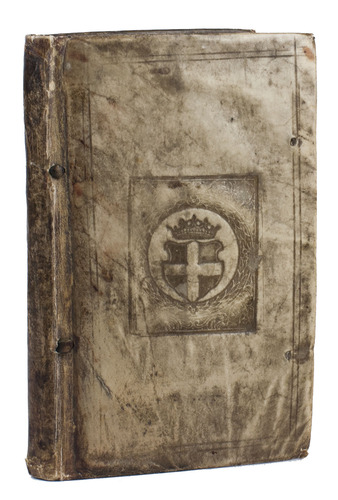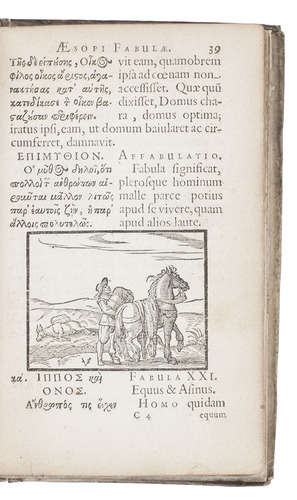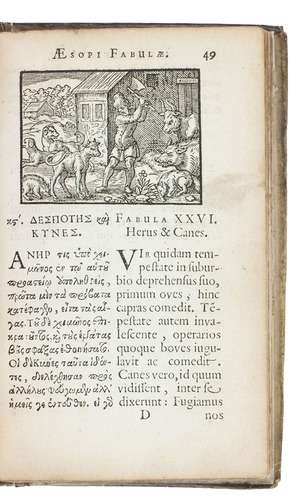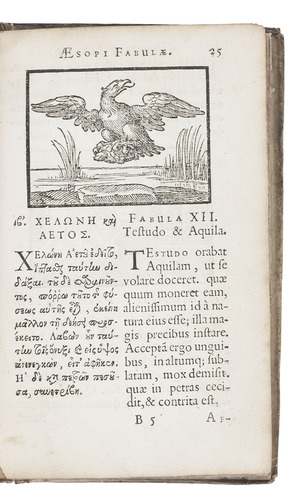 AESOP.
Fabulae ... Graecè & Latinè, nunc denuo selectae: eae item quas Avienus carmine expressit. Accedit Ranarum & murium pugna, Homero olim asscripta. Cum elegantissimis in utroque libello figuris, & utriusque interpretatione plurimis in locis emendata.
Leiden, Joannes Maire, 1632. 8vo. With 47 woodcut illustrations (5 x 6.5 cm) by Christoffel van Sichem II in the text. Contemporary vellum, each board with a panel stamp (59 x 50 mm) of the Amersfoort coat of arms. Most endpapers later. 158, [2] pp.
€ 3,500
Rare second(?) edition (one of three dated "1632") of a popular Greek and Latin school book, edited by the famous Dutch neo-Latin poet, humanist and Leiden Professor of Greek, Daniel Heinsius (1580-1655), with 47 beautiful woodcut illustrations by Christoffel van Sichem II. Aesop's fables were prescribed by the States of Holland in the Hollandsche schoolordre of 1625 as one of the books to be read in the 3rd class. Christoffel van Sichem II (ca. 1577-1658), the second of several woodcut artists in that family, studied with Jacques de Gheyn and was one of the leading Dutch book illustrators in the first half of the 17th century.
Although the book has no prize certificate or inscription and no owner's name, the coat-of-arms of the city of Amersfoort on the binding of a school book strongly suggests a prize binding for a student at the Amersfoort Latin school.
With an occasional contemporary manuscript note in Greek and Latin. With a small dark stain in the lower inside corner of the foot margin of many leaves, not approaching the text, and with very slight browning throughout, but still in good condition. The vellum of the binding is dirty and slightly rubbed but also good. Landwehr, Emblem & fable books F025 (2 copies); Hollstein XXVII, Van Sichem II, 31; for the panel-stamp: Spoelder, Prijsboeken, Amersfoort 1.
Related Subjects: