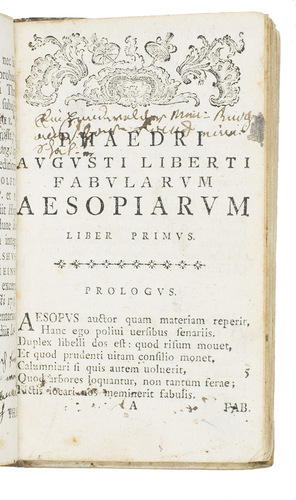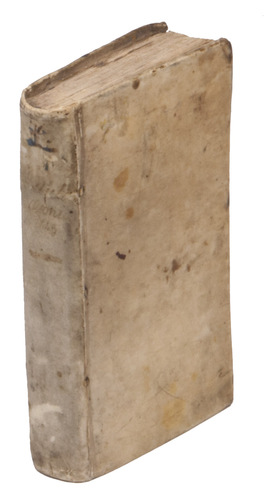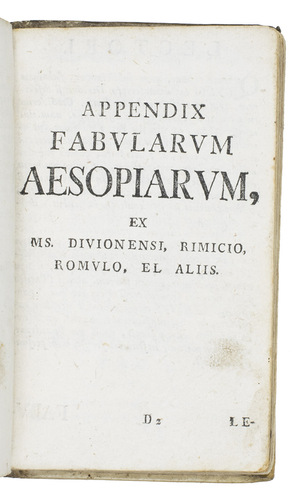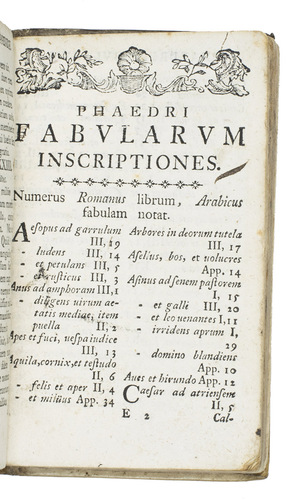 AESOP.
Phaedri Augusti liberti fabularum Aesopiarum libri V. Et novarum fabularum appendix. Cura et studio Petri Burmanni. Editio septima.
Berlin, Gottlieb August Langius, 1767. 12mo. With woodcut vignette on title-page and some woodcut head- and tailpieces.Contemporary vellum, manuscript title on spine. XVI, 98, [112] pp.
€ 395
"Seventh" edition of Phaedruss Latin verse translation and adaptation of 94 Aesop fables, without the commentaries by Gude, Rittershausen and others, in the redaction by Pieter Burman (1668-1741), professor of eloquence and history at the Utrecht University, which he first published in 1698. It includes the 34 fables added in the appendix of J.F. Nilants 1709 edition. Phaedrus wrote in the first century CE and went through dozens of editions, but the present edition calls itself the seventh, perhaps counting only editions of Burmans redaction of the five books. The first edition of the five books appeared at Troyes in 1596.
With several contemporary owner's inscriptions and annotations and drawings throughout; modern stamps on the pastedown. Binding soiled and margins cut close tot the text, but with practically no loss. A fair copy. Schwabe & Barbier (1826), I, p. 104.
Related Subjects: